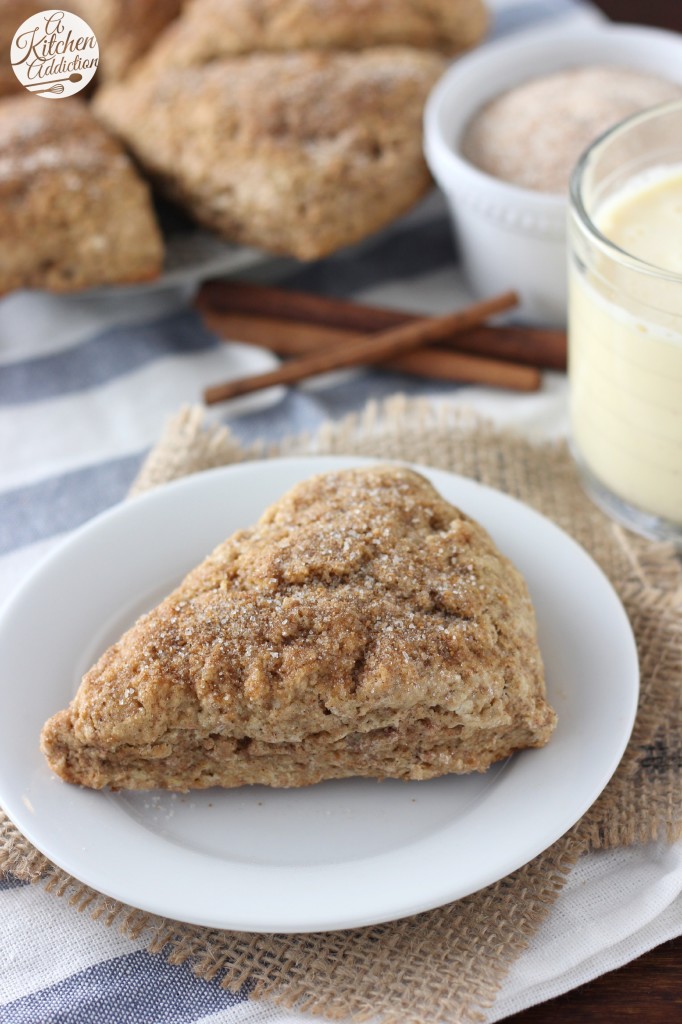 Have you already stuffed yourself with all kinds of candy, cookies, and baked goods? Or are you waiting until later this week to really dig in? Christmas is just a few days away, and I'm sure that most of us have already had more sweets than normal! This time of year can be difficult as far as staying healthy. We're constantly bombarded with holiday parties, family gatherings, work parties, etc. But it's no fun to eat only salads and skip the holiday sweets! It's about time that we had a way to enjoy holiday sweets without having to load up on refined sugars and fat!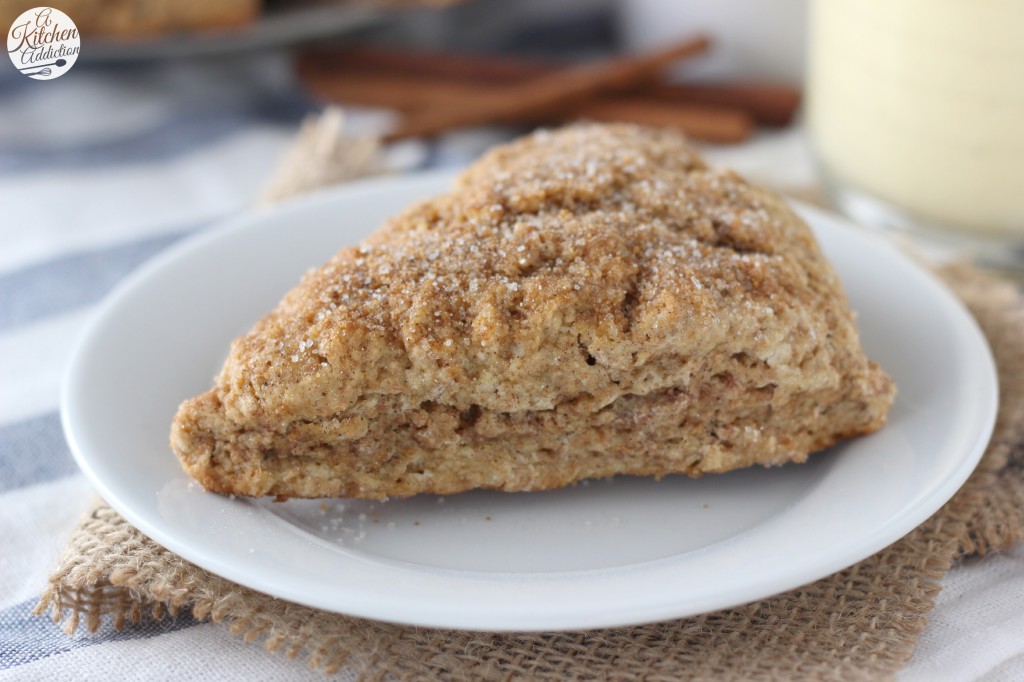 Enter these lightened up cinnamon eggnog scones. Tender flaky scones loaded with cinnamon, nutmeg, and, of course, eggnog. That's what you'll be tasting. What your taste testers won't know is that these scones are made with half whole wheat flour, yogurt, and a blend of pure, unrefined coconut and cane sugars! You can have lots of flavor that you crave this time of year without blowing your allotment of fat and sugar for the day! My friends over at Madhava Sweeteners want to encourage you to have "Healthier Holidays" this year. They even helped with this scone makeover.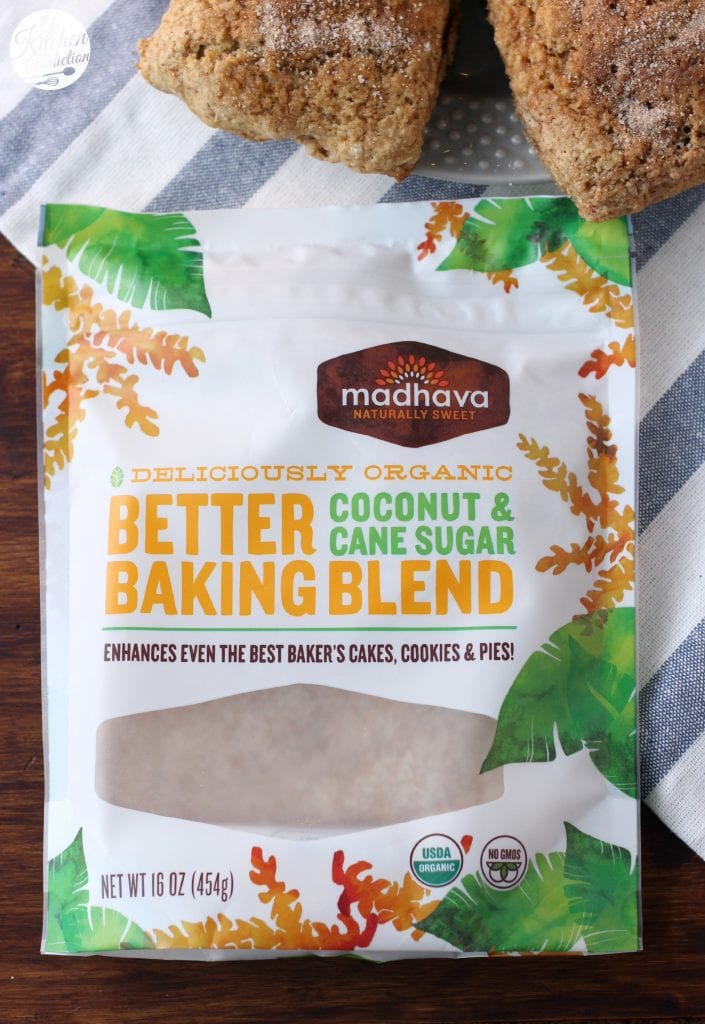 Madhava sent me their Organic Better Baking Blend. This blend of coconut and cane sugars is all-natural, organic, and made with non-GMO ingredients. Plus, it can be used on a 1:1 ratio to replace sugar in your favorite recipes!  You can keep the holidays sweet while making smarter choices for your health. (Be sure to read through to the end of the post to find out how you can enter to win Madhava Sweeteners products for yourself and how you can win weekly prizes from them through their Facebook page!) No need to deprive yourself of holiday favorites!
These scones are proof of that! Serve them up as part of a Christmas brunch or for a little something special for Christmas Eve. Both your taste buds and your body will thank you!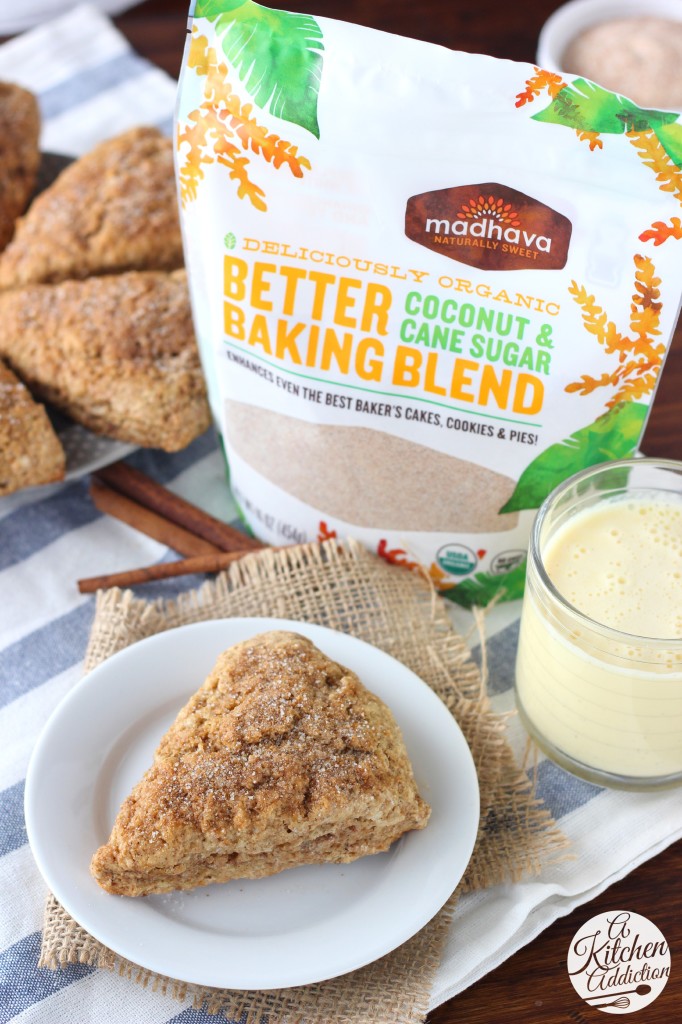 So, as you enter into all of the Christmas celebrations later this week, try giving some of your sweets a nutritional boost by using yogurt in place of some butter, whole wheat flour for some all-purpose, and by subbing Madhava Better Baking Blend for the sugar in the recipe! You won't be disappointed. Also, be sure to check out their other products that can help you through this holiday season and help you get the new year started off right!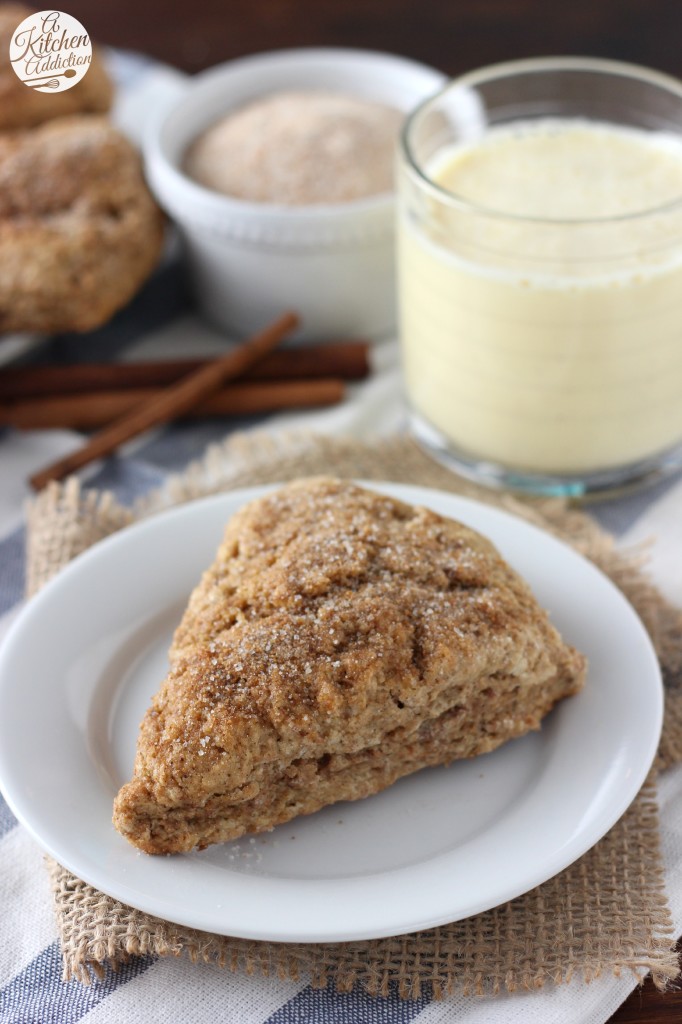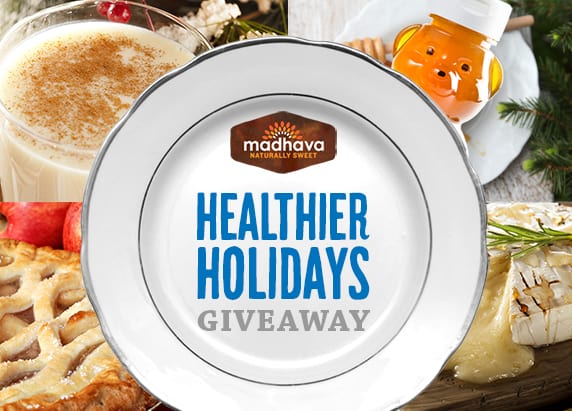 Be sure to check out Madhava's Facebook page where they are giving away weekly prizes as part of their Healthier Holidays with Madhava Giveaway! You could win the grand prize of  Nespresso VertuoLine Coffee and Espresso Maker and a supply of Madhava products!

Lightened Up Cinnamon Eggnog Scones
Author:
A Kitchen Addiction
Ingredients
For the Scones
1 C whole wheat or white whole wheat flour
1 C all-purpose flour
1½ tsp baking powder
½ tsp baking soda
½ tsp salt
2 tsp cinnamon
½ tsp nutmeg
½ tsp cloves
6 tbsp unsalted butter, cold and cut into pieces
1 C eggnog
For the Cinnamon Sugar Topping
1 tbsp eggnog
2 tbsp sugar
¼ tsp cinnamon
⅛ tsp nutmeg
Instructions
Preheat oven to 350. Line a baking sheet with a baking mat or parchment paper.
In a large bowl, whisk together flours, Madhava Organic Better Baking Blend, baking powder, baking soda, salt, cinnamon, nutmeg, and cloves.
Cut in butter until mixture resembles coarse crumbs. Add milk and stir together until dough just starts to come together.
Transfer dough to a floured surface. Knead 5-6 times or until dough comes together.
Shape into an 8 inch circle. Cut into 8 wedges or using a cookie cutter or a glass to cut about 8-10 rounds of dough. Brush dough with eggnog. Sprinkle with cinnamon sugar mixture.
Place on prepared baking sheet. Bake for 18-20 minutes or until the edges just start to turn golden.
Remove to a wire rack to cool.
Disclaimer: This post is sponsored by Madhava Sweeteners. As always, all opinions are my own.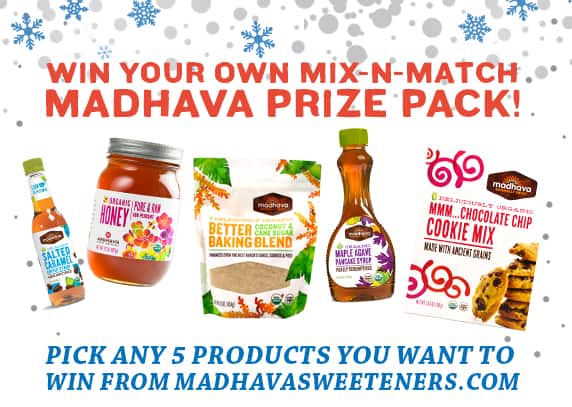 Madhava is giving you the chance to try their products for free! One lucky winner will win a "Madhava Mix and Match Package" that allows you to chose any five (5) Madhava products! Enter the widget below for your chance to win!
Disclaimer: This post is sponsored by Madhava Sweeteners. As always, all opinions are my own.