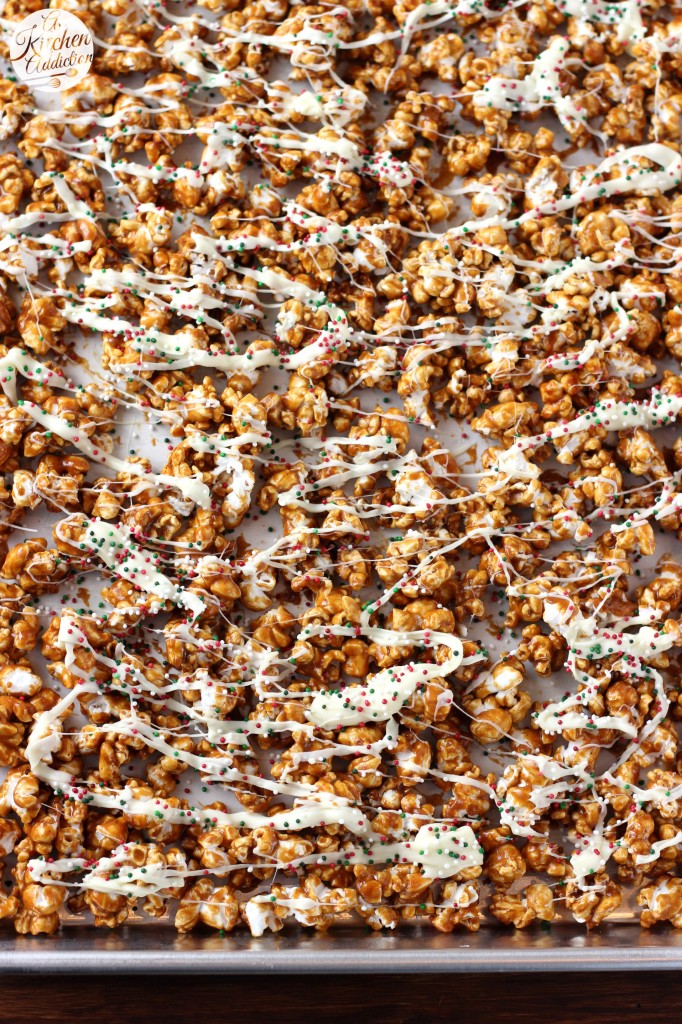 I have been all about gingerbread this holiday season. In the short time that I've had a working oven, the only baked goods that seem to be coming out of it are gingerbread desserts!
So when I was thinking about making caramel corn last week, I couldn't just make caramel corn. I had to make it gingerbread caramel corn!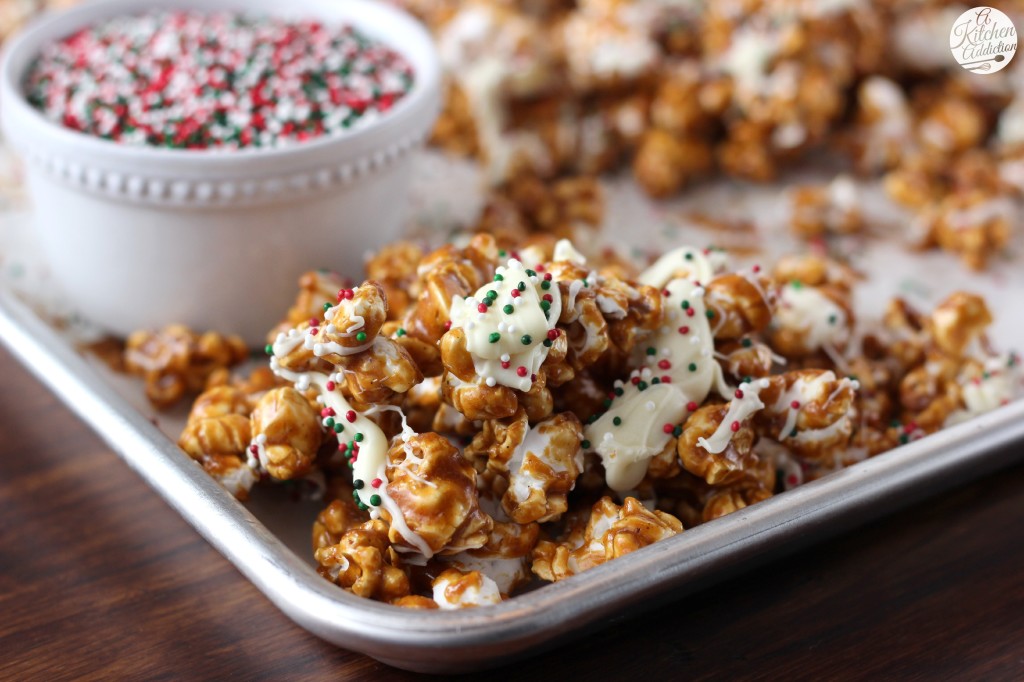 This was my first time making caramel corn and I now know that I'll be making it much more often. We love snacking on popcorn, but we usually stick to kettle corn or plain popcorn with different seasonings.
Not anymore. Caramel corn now has its own place in the popcorn rotation! While it takes a little extra time because of the baking, it isn't anymore difficult than the other popcorn we've been making.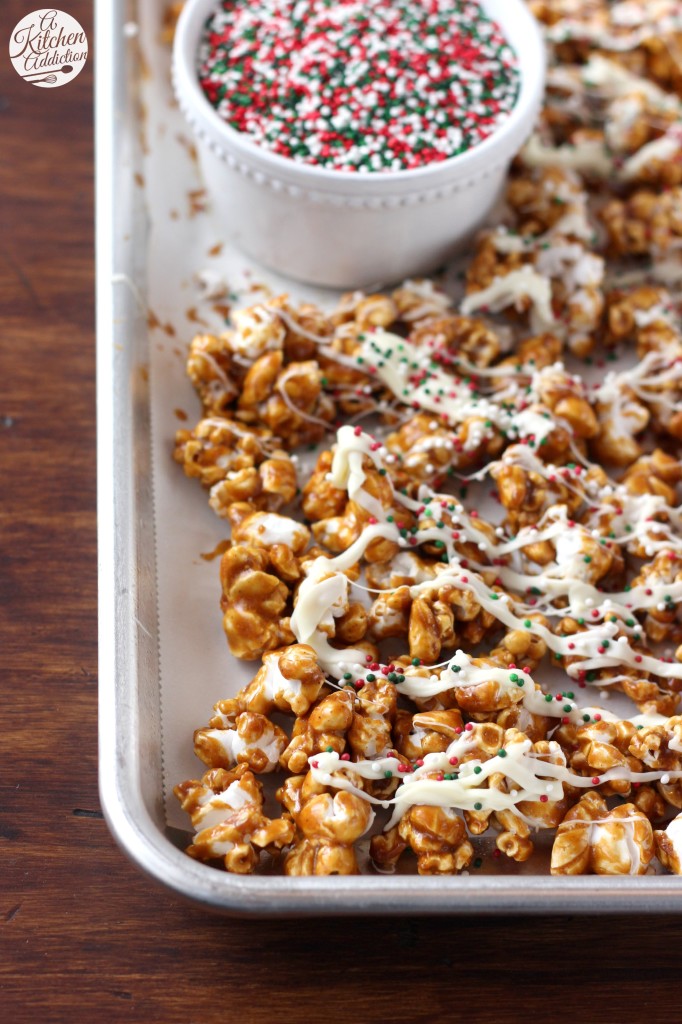 Just mix up the gingerbread caramel mixture on the stove top and pour it over the popped corn. Give it a stir, spread it out on a couple of pans and bake.
Since I couldn't just stop at gingerbread caramel, I also added some creamy white chocolate and festive sprinkles. Just the topping this gingerbread caramel corn needed.
So, if you're in need of a special holiday snack for Christmas, this gingerbread caramel corn is just the recipe you need!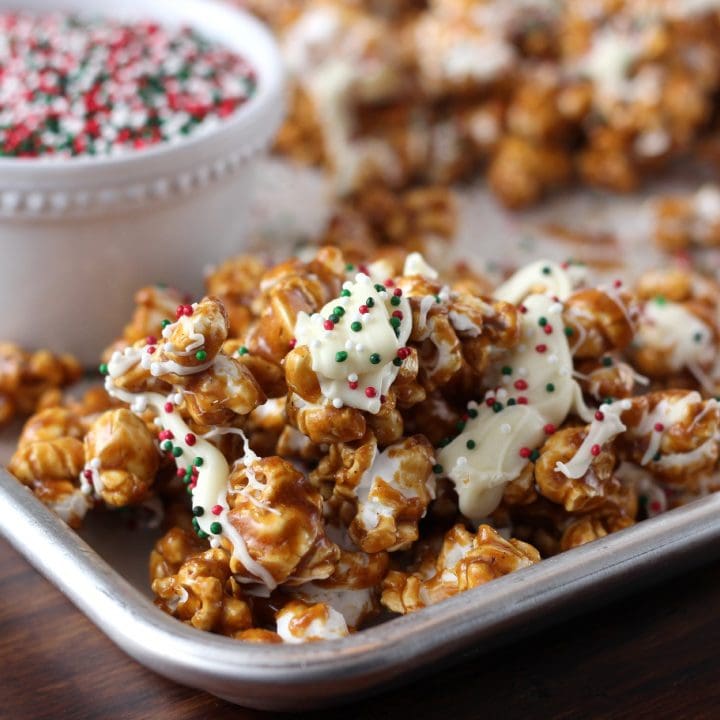 Gingerbread Caramel Corn
Yield: 12 servings

Prep Time: 15 minutes

Bake Time: 45 minutes

Total Time: 1 hour
Ingredients
12 Cup air-popped popcorn
3/4 Cup brown sugar
1/2 Cup butter
1/4 Cup molasses
1/4 Cup honey
1 1/2 teaspoons ginger
3/4 teaspoon cinnamon
1/4 teaspoon nutmeg
1/8 teaspoon cloves
1/4 teaspoon salt
1/2 teaspoon baking soda
1/2 teaspoon vanilla extract
white chocolate chips or white melting wafers, for the drizzle
sprinkles
Instructions
Preheat oven to 250 degrees Fahrenheit. Butter, spray with non-stick cooking spray, or line with parchment paper two 15x10 inch baking pans. (You can use 9x13 inch baking dishes if needed, stirring will just be a little more difficult)
Place popcorn in a large bowl coated with butter or cooking spray and set aside.
In a small bowl, stir together spices and salt.
In a heavy saucepan, combine sugar and butter over medium heat. Stir until butter is melted. Stir in molasses, honey and spice mixture.
Bring to a boil over medium heat. Stir constantly to prevent scorching. Boil for 5 minutes, stirring occasionally.
Remove from heat and stir in baking soda. Careful, mixture will foam. Stir in vanilla. Pour over popcorn and stir to coat.
Divide popcorn between prepared baking pans. Bake for 45 minutes, stirring every 10-15 minutes. Remove popcorn to wax paper or parchment paper to cool.
Melt white chocolate according to package instructions and drizzle over popcorn. Top with sprinkles.
Once cooled, store in an airtight container.
Recommended Products
As an Amazon Associate and member of other affiliate programs, I earn from qualifying purchases.
Nutrition Information:
Yield: 12 Serving Size: 1
Amount Per Serving: Calories: 217Total Fat: 10gSaturated Fat: 6gTrans Fat: 0gUnsaturated Fat: 3gCholesterol: 21mgSodium: 177mgCarbohydrates: 33gFiber: 1gSugar: 25gProtein: 1g

Nutrition information shown is an estimate provided by an online calculator and may not always be accurate. It should not be considered a substitute for a medical professional's advice.


This recipe is adapted from Taste of Home.