Are you one of those people who needs an afternoon snack or do you find yourself grazing while making dinner? I am definitely one of those people, especially if I've exercised right before dinner! I usually solve that problem by setting out fresh fruit or vegetables to snack on while preparing the meal, but lately my husband and I have had the same schedule, and we end up snacking together after work. The snack? This lemon thyme hummus with feta!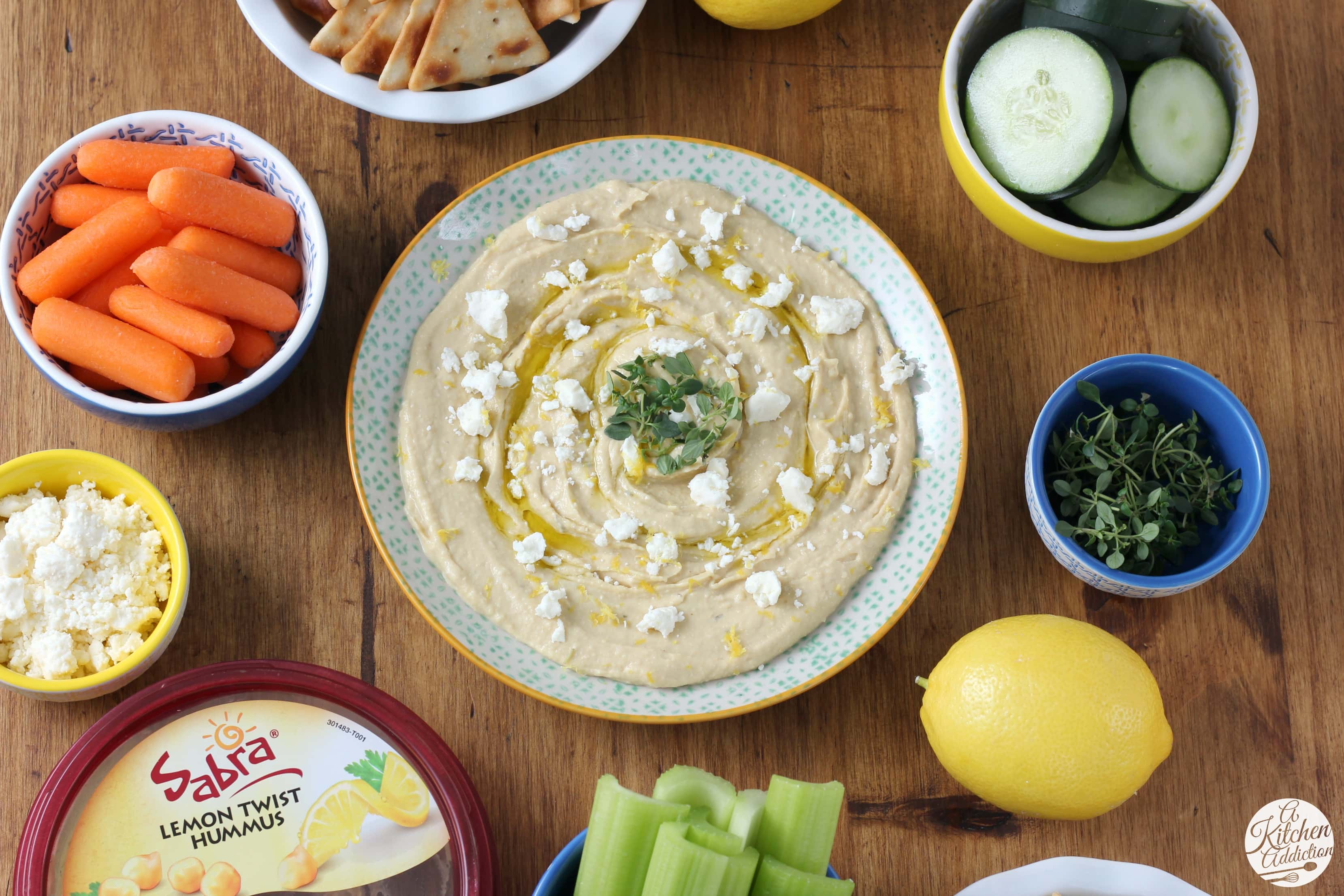 Sabra just started a campaign highlighting this snack as a fresh, new way of eating and connecting with those around you. Basically, it's The Unofficial Meal. We've been enjoying this Unofficial Meal for quite some time now. For us, that means popping open a tub of hummus, placing it on the kitchen island, and grabbing whatever fresh veggies and crackers or pretzels we have on hand. Then we dig in! Nothing fancy, but it's great for unwinding after work.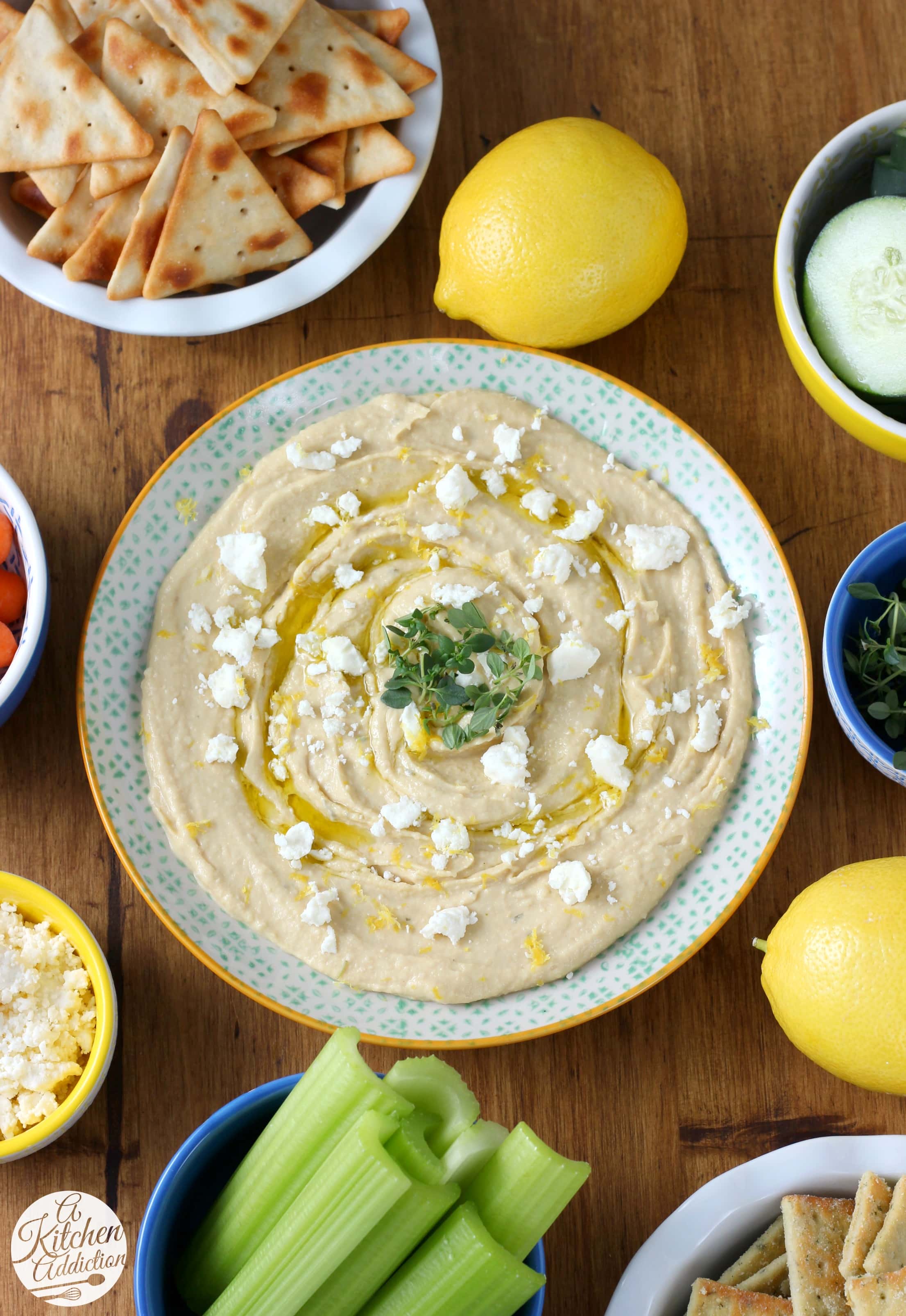 We can catch up on each other's day or talk about our plans for the evening or upcoming weekend. Sometimes we stand, sometimes we sit, and sometimes we snack away while prepping for dinner later, but it's always a good time to kind of recharge for the rest of the afternoon/evening.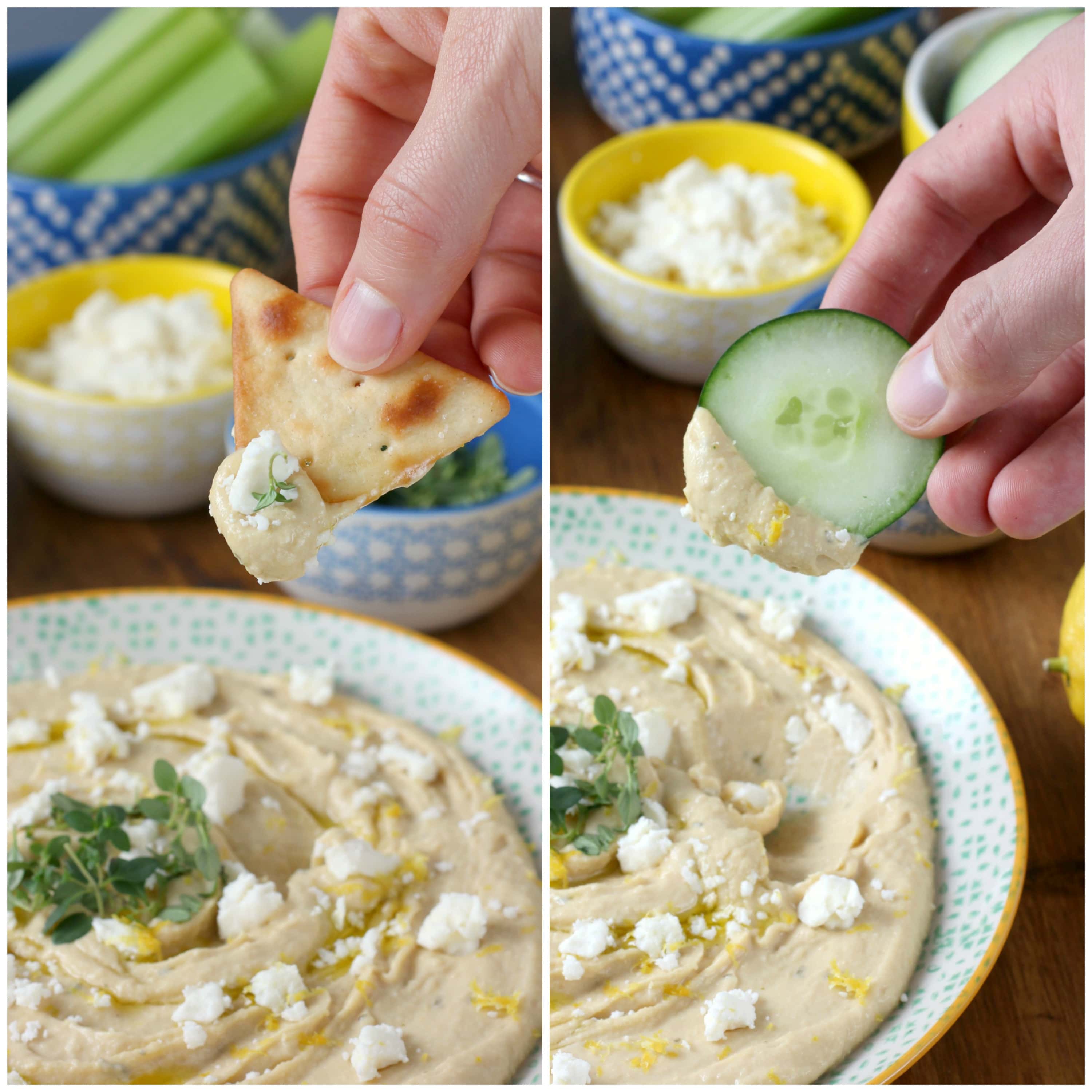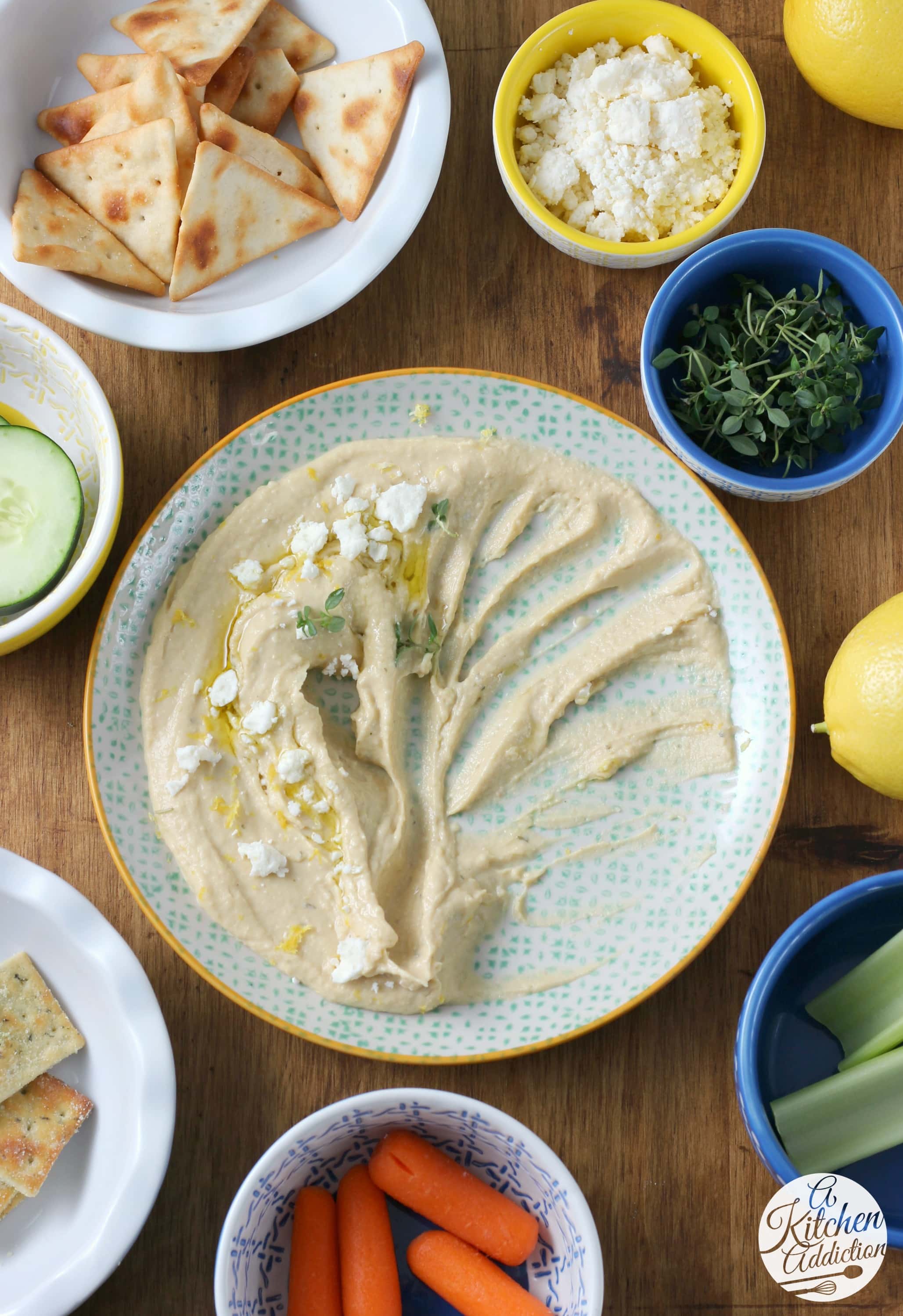 Thanks to Sabra, and their many flavors of hummus and dips, we can keep changing up the flavors that we enjoy. This lemon thyme hummus with feta and cucumbers uses Sabra's Lemon Twist Hummus and is topped with a drizzle of olive oil, some crumbled feta, a sprinkling of chopped thyme and a bit of fresh lemon zest. To make the lemon flavor pop a bit more, a squeeze of lemon juice over the top rounds out the flavor.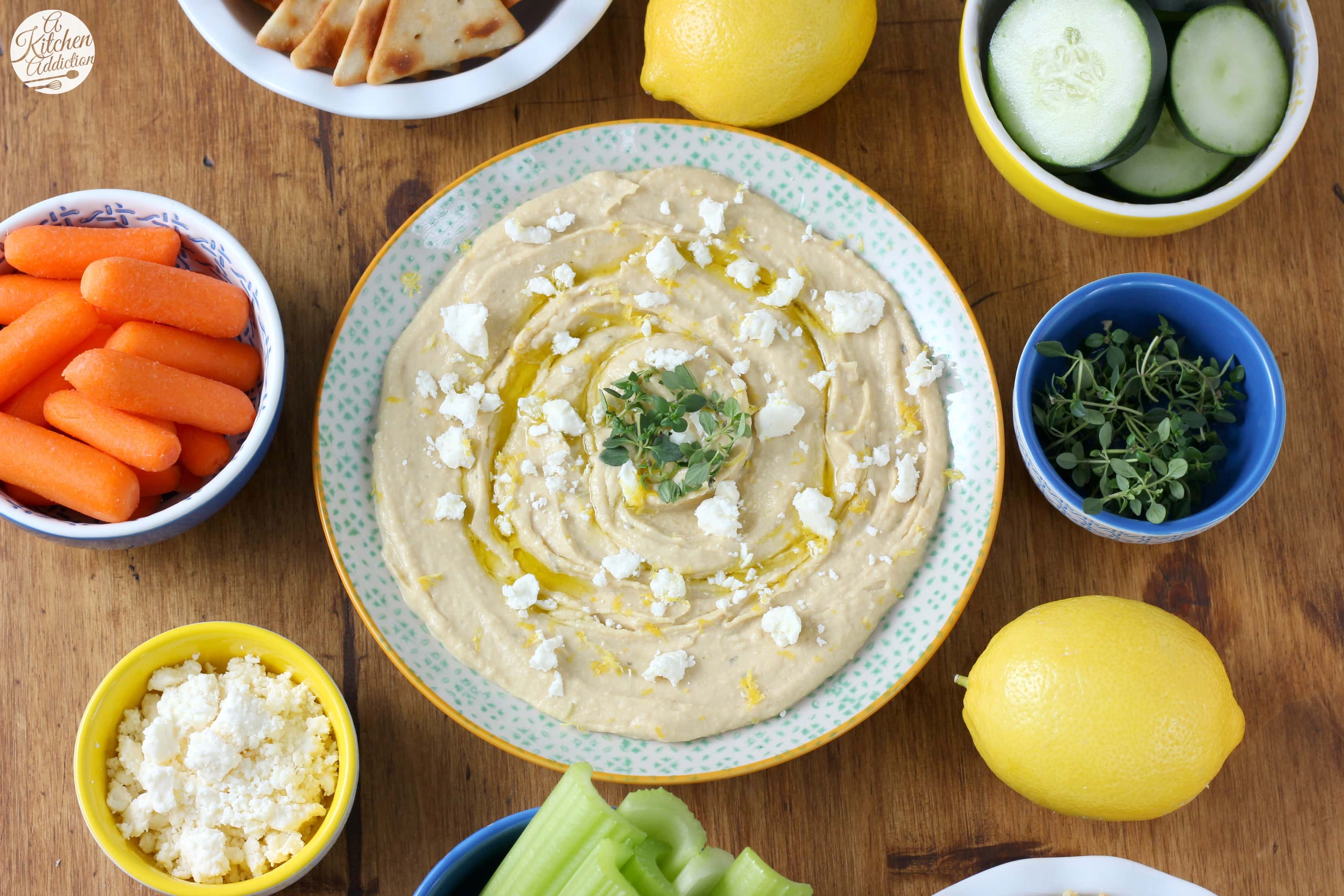 Start a new routine at your house and begin enjoying an unofficial mealtime with your family! You might be surprised at the connections that are made around real, good food!
Lemon Thyme Hummus with Feta
Author:
Ingredients
1 (8 oz) tub Sabra Lemon Twist Hummus
3 tbsp crumbled feta cheese
2 tbsp chopped lemon thyme
1 tbsp extra-virgin olive oil
1 tsp fresh lemon zest
fresh lemon juice, optional
Instructions
Drizzle olive oil over the top of the hummus. Sprinkle with feta, thyme, and lemon zest. For an extra burst of lemon flavor, squeeze a bit of fresh lemon juice over the top.
Enjoy!
Disclosure: This post is sponsored by Sabra as part of their Sabra Tastemakers program. All opinions are my own. Thanks for supporting brands that make A Kitchen Addiction possible!