These soft Chocolate Chip Honey Oatmeal Cookies are super easy to make and have a nutty oat flavor, a hint of honey, and a lot of chocolate in each bite!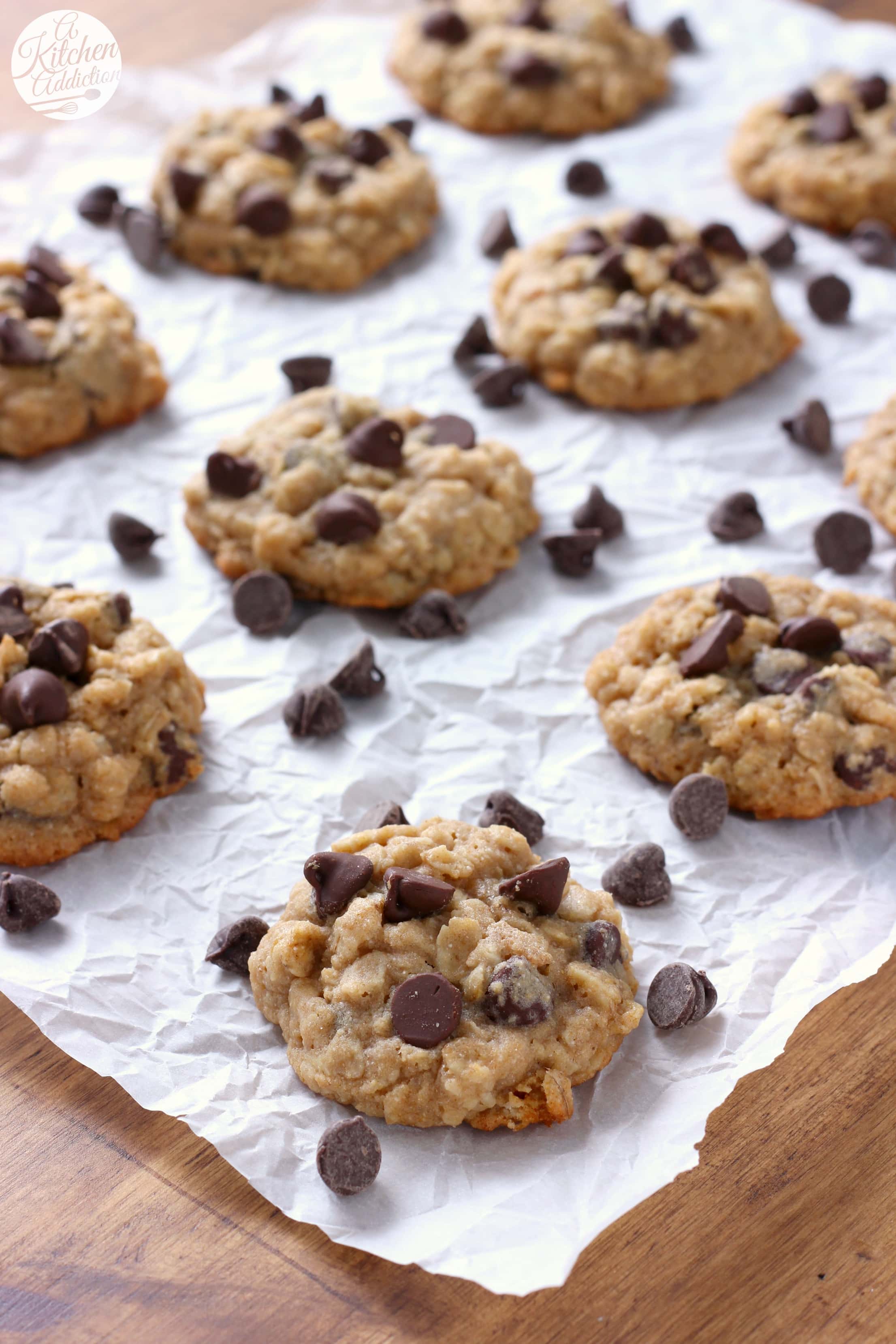 *This recipe was originally posted on 03/30/13
You may have seen on Instagram that we ran a race on Saturday. It was cold, and I had a cold. And, when you run in the cold with a cold, your nose runs as fast as you do!
Pretty sure I was the only runner with a handful of tissues in each hand. . .
It made running interesting for both me and the people watching me! Somehow I managed to beat my goal by over a minute. Not sure how that happened since it felt like I was blowing my nose every half mile!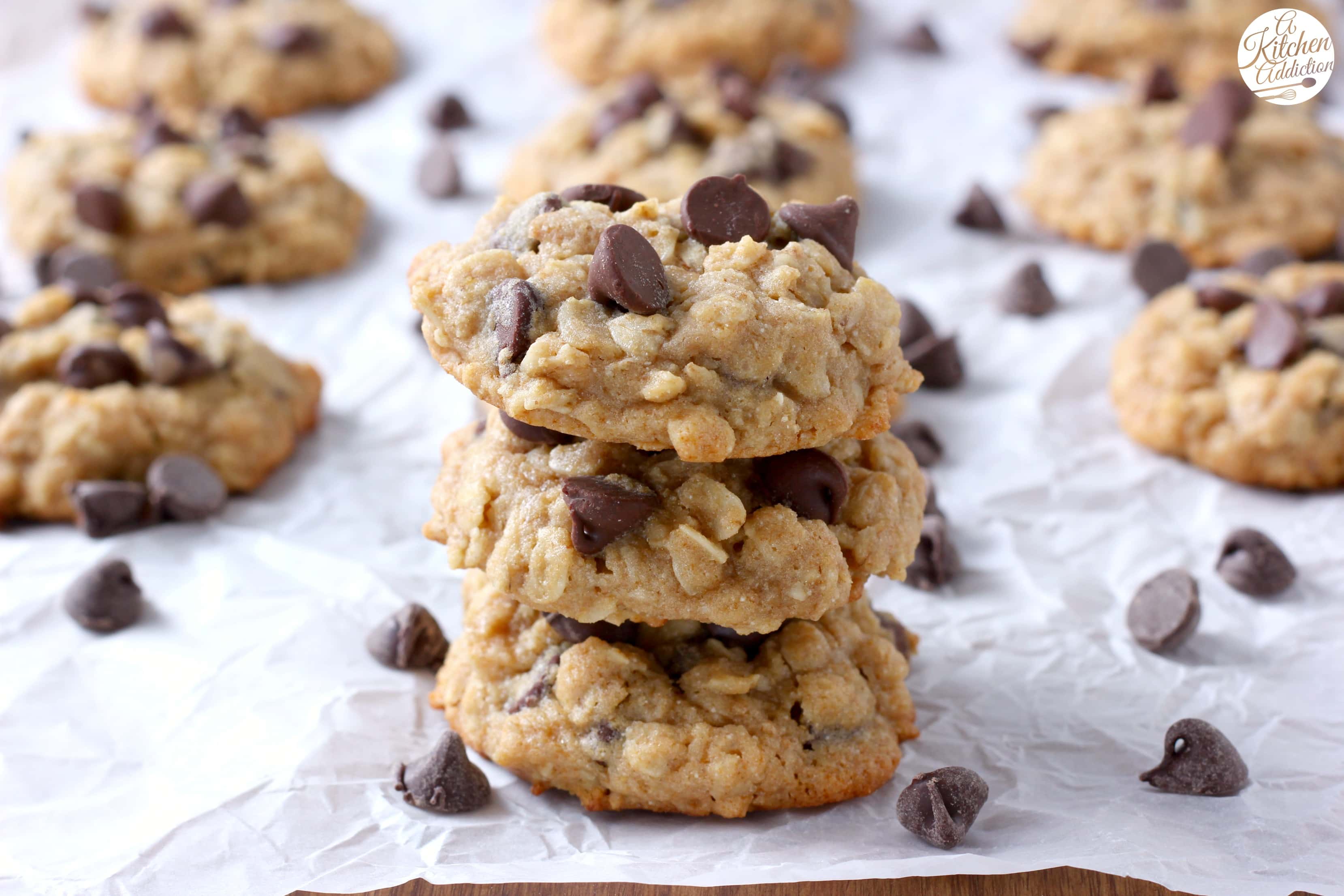 When we got back from the race, I was freezing and all I could think about was comfort food. The first place I thought to turn to was a collection of my grandma's recipes.
I love looking through her recipes because they contain lots of "pinches," "dashes," and missing ingredients and steps. It's a lot like how I used to write down recipes!
As soon as I saw this recipe, I knew I wanted to make it for a few different reasons. First, they were simply labeled "Chocolate chips with honey." I knew there had to be more to the recipe than just two ingredients.
Secondly, it contained oatmeal, and oatmeal cookies are the best. Lastly, I have never made cookies where the main sweetener is honey.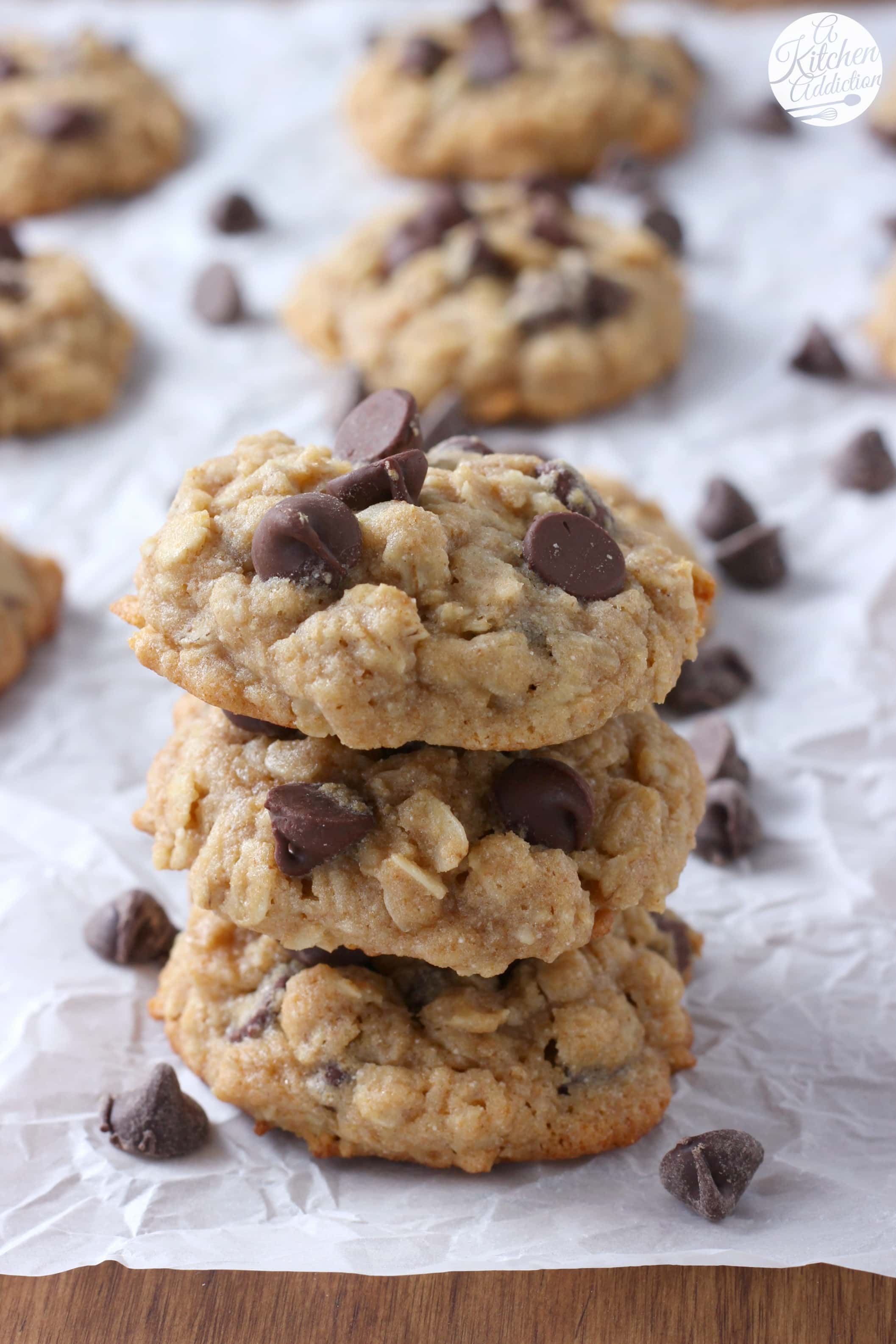 The fact that they were in my grandma's collection of recipes didn't hurt either! I ended up cutting out all of the white sugar that was listed because I don't like super sweet cookies and I added some vanilla.
I also gave a measurement to "dash." 🙂
They ended up being soft, nutty cookies with a hint of honey that made each bite intricately sweet, not overpoweringly sweet. A perfect post-run (or anytime) cookie!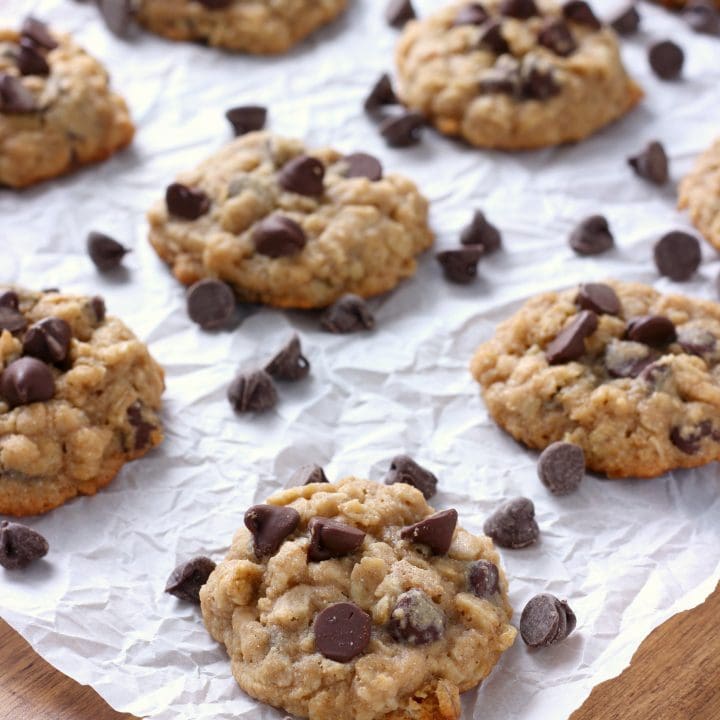 Chocolate Chip Honey Oatmeal Cookies
Yield: 24 cookies

Prep Time: 15 minutes

Cook Time: 10 minutes

Total Time: 25 minutes

These soft Chocolate Chip Honey Oatmeal Cookies are super easy to make and have a nutty oat flavor, a hint of honey, and a lot of chocolate in each bite!
Ingredients
1/2 Cup butter, softened
1/2 Cup honey
1/4 Cup brown sugar
1 egg
1 teaspoon vanilla extract
1 1/2 Cups quick oats
1 Cup white whole wheat flour
1/2 teaspoon baking soda
1/4 teaspoon salt
1/2 Cup semi-sweet chocolate chips
Instructions
Preheat oven to 350 degrees Fahrenheit. Lightly spray cookie sheets with non-stick cooking spray or line with a baking mat/parchment paper.

Cream together butter, honey, and brown sugar in the bowl of a mixer. Add in egg and vanilla extract and beat until creamy.

In a bowl, whisk together oats, flour, baking soda, and salt. Add dry ingredients to wet ingredients and stir to combine. Stir in chocolate chips.

Drop cookie dough by tablespoon full or cookie scoop onto prepared cookie sheets. Bake for 8-10 minutes or until edges start to turn golden brown. Centers will appear slightly under cooked. Allow to cool on cookie sheet for 5 minutes before removing to a wire rack to cool completely.

Store leftovers in an airtight container.
Recommended Products
As an Amazon Associate and member of other affiliate programs, I earn from qualifying purchases.
Nutrition Information:
Yield: 24 Serving Size: 1
Amount Per Serving: Calories: 116Total Fat: 6gSaturated Fat: 3gTrans Fat: 0gUnsaturated Fat: 2gCholesterol: 18mgSodium: 94mgCarbohydrates: 16gFiber: 1gSugar: 10gProtein: 2g

Nutrition information shown is an estimate provided by an online calculator and may not always be accurate. It should not be considered a substitute for a medical professional's advice.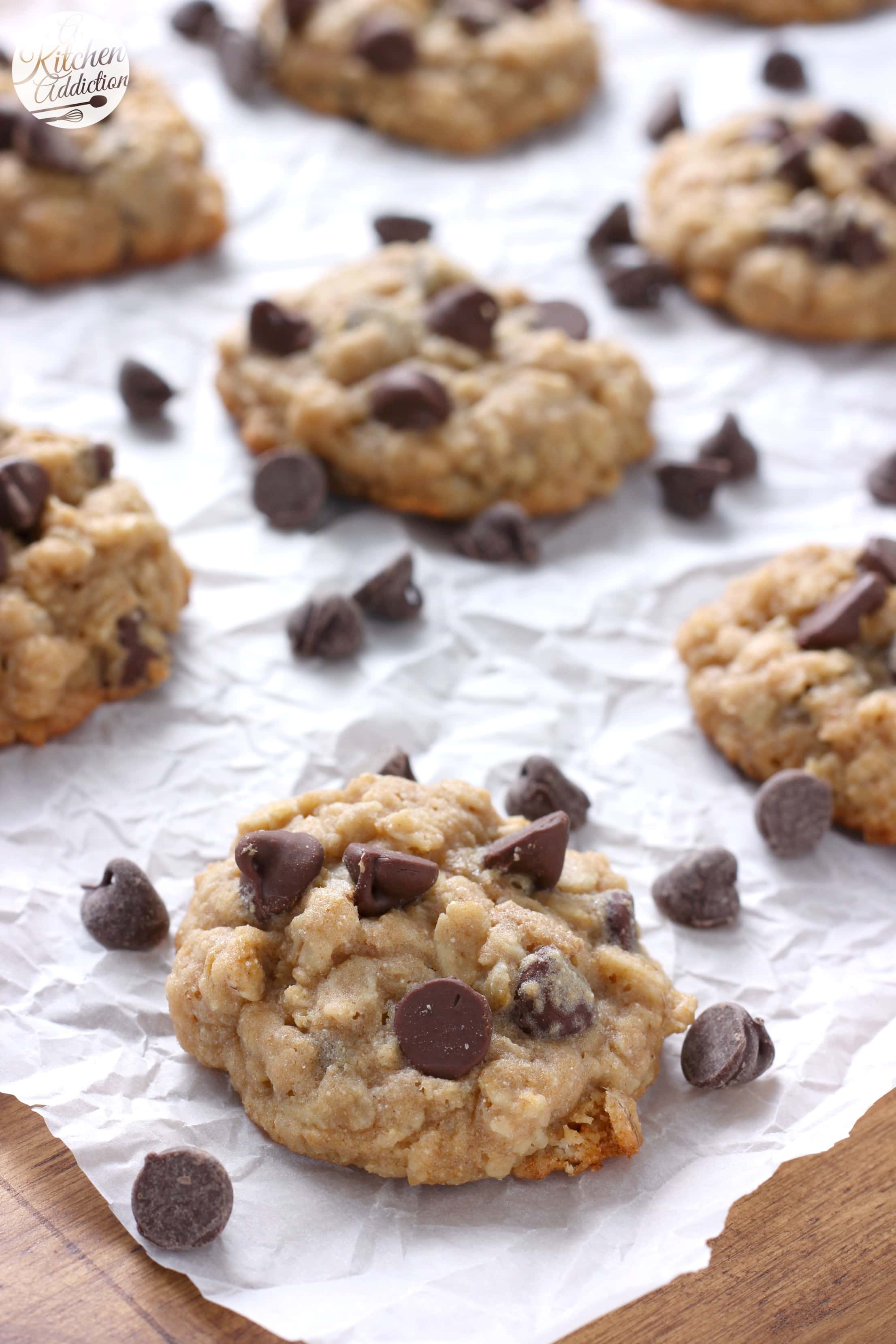 This post contains affiliate links.