This Fresh Strawberry Lemon Yogurt Cake is a lighter cake recipe filled with fresh strawberries, bright, citrusy lemon juice and zest and topped with a sweet, buttery streusel making it perfect for enjoying for breakfast, brunch, or any time of day!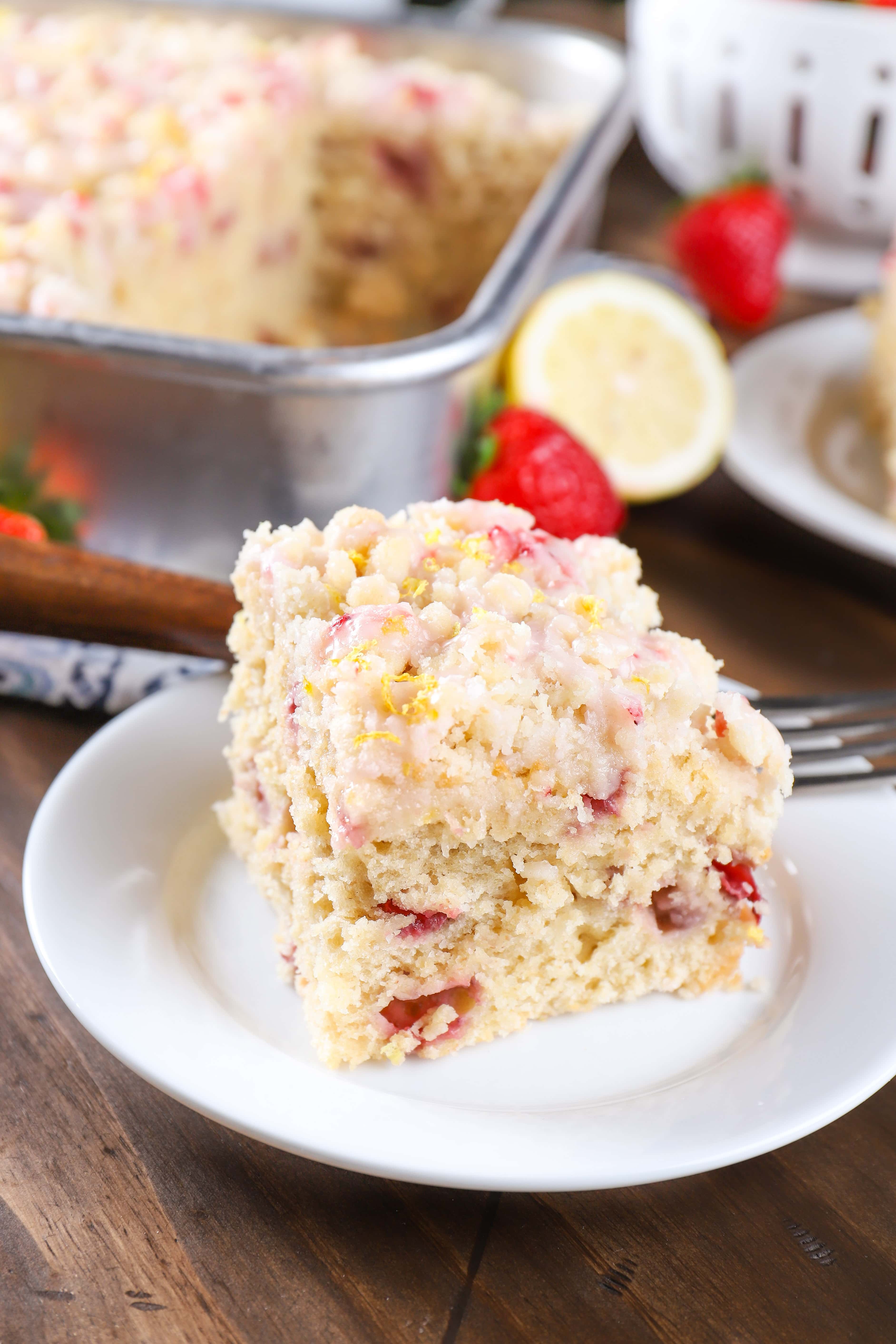 *Recipe and text from 05/10/15. Images updated 03/13/20.
It's Mother's Day this weekend! Do you have your menus planned? Or have you hinted yet to your husbands what you want to eat?
If you're still looking for an idea, here is an easy cake that only takes about an hour to an hour an a half (depending on what side pan you use) from the time you start to the time you are slicing pieces to eat!
If you want, you can even make it up ahead of time and serve it room temperature. It tastes great both ways.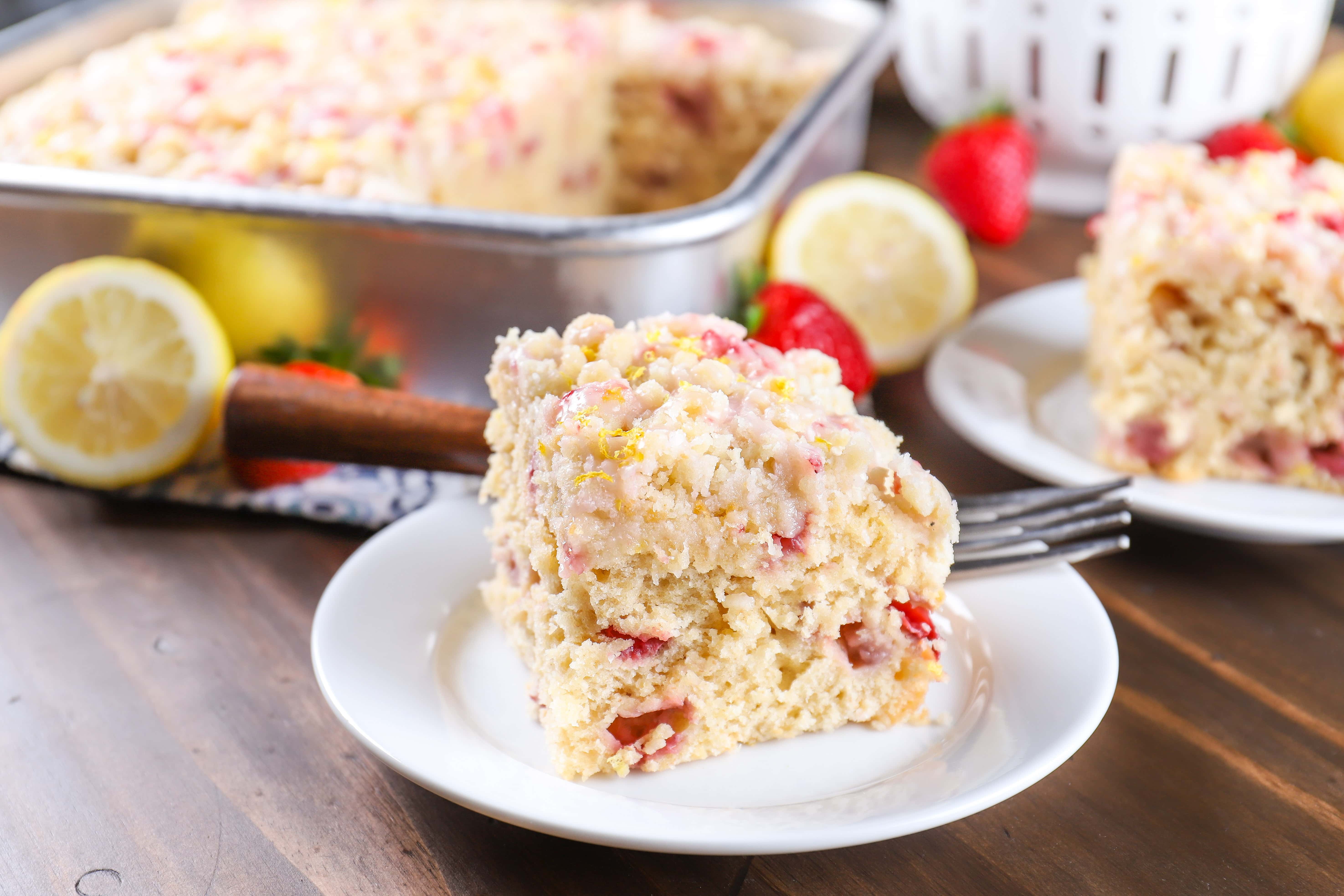 The cake is filled with lots of fresh, sweet strawberries and tangy lemon juice and topped with a light streusel that also has hints of lemon in it.
An easy strawberry glaze tops off the cake and gives it both a burst of sweetness and color!
Yogurt keeps this cake on the lighter side and also prevents it from drying out right away like some cakes.
The light lemon flavor blends with the sweet strawberries to create a slightly tangy, slightly sweet cake that is perfect for enjoying for breakfast, brunch, snack, or any time of day!
Tips for Making Strawberry Lemon Yogurt Cake
This cake is neither a sweet dessert cake nor is it a coffee cake that is so full of sugar that it may as well be a dessert cake. This cake is lightly sweetened and has more strawberry lemon flavor than "sweet" flavor.
This cake batter is like muffins. You do not want to over-stir the batter. You will end up with a tough cake.
I don't recommend trying to make this cake in an 8×8 inch baking dish. It will end up being really thick and will brown before the inside is cooked properly.
If you find that even in a 9×9 inch baking dish that your streusel is turning brown before the cake is ready, top the cake with a piece of aluminum foil for the remainder of the baking time.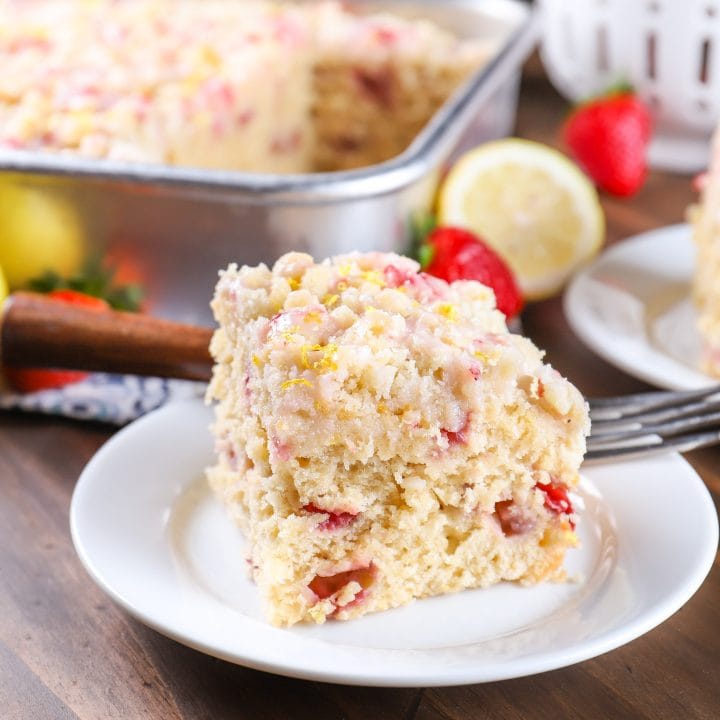 Fresh Strawberry Lemon Yogurt Cake
Ingredients
For the Cake
2 Cups all-purpose flour
1 Cup white whole wheat flour
1 1/2 teaspoon baking powder
1/2 teaspoon baking soda
1/2 teaspoon salt
1/4 Cup butter, softened
2/3 Cup sugar
2 eggs
1 teaspoon vanilla extract
3/4 Cup plain Greek yogurt
1 Cup non-fat milk
3 Tablespoons fresh lemon juice
2 teaspoons lemon zest
1 Cup diced strawberries
For the Streusel
1/4 Cup butter, melted
3/4 Cup all-purpose flour
1/3 Cup sugar
2 teaspoons fresh lemon juice
For the Glaze
1/2 Cup confectioner's sugar
2-4 teaspoons half and half or milk
1 small to medium-sized strawberry cut into small pieces
lemon zest, optional
Instructions
Preheat oven to 350. Lightly spray a 9x9 inch baking dish or a 9x13 inch baking dish with non-stick cooking spray. (Cake shown was made in a 9x9 inch baking dish.)
In a large bowl, whisk together flours, baking powder, baking soda, and salt. Set aside.
In the bowl of a stand mixer, cream together butter and sugar. Add in eggs and vanilla and beat until creamy. Slowly beat in yogurt, milk, and lemon juice until combined.
Add dry ingredients to wet ingredients and beat until just combined. Stir in lemon zest and strawberries.
Pour batter into prepared baking dish.
Stir together all ingredients for streusel. Sprinkle over the top of batter.
Bake for 45-55 minutes for a 9x9 inch baking pan or 30-35 for a 9x13 inch pan minutes or until a toothpick inserted in the center comes out clean.
Remove cake to a wire rack to cool for 10-15 minutes.
While cake is cooling, prepare glaze. Mash cut up strawberry into the confectioner's sugar. Stir in 2 teaspoons of half and half. Add more half and half, a teaspoon at a time, until desired consistency is reached.
Drizzled glaze over slightly cooled cake. Sprinkle with additional lemon zest, if desired. Allow glaze to harden and serve.
Store leftovers in an airtight container.
Recommended Products
As an Amazon Associate and member of other affiliate programs, I earn from qualifying purchases.