With ribbons of cinnamon sugar swirled throughout, this Cinnamon Swirl Yogurt Bread is a warm, cozy quick bread recipe! Grab a couple of slices for an easy breakfast or tasty snack!
(Originally posted 01/10/14. Updated 04/24/20.)
I just realized that the last 3 out of 4 posts have to do with bread. I hope you don't mind. I just have a thing for bread. . .(good thing I like to run!).
And, when it's below freezing for multiple days in a row, it's only natural that I would warm up the house by making a loaf of bread.
This time I opted for an easy quick bread. This cinnamon swirl yogurt quick bread did a great job of both warming the house and satisfying our taste buds!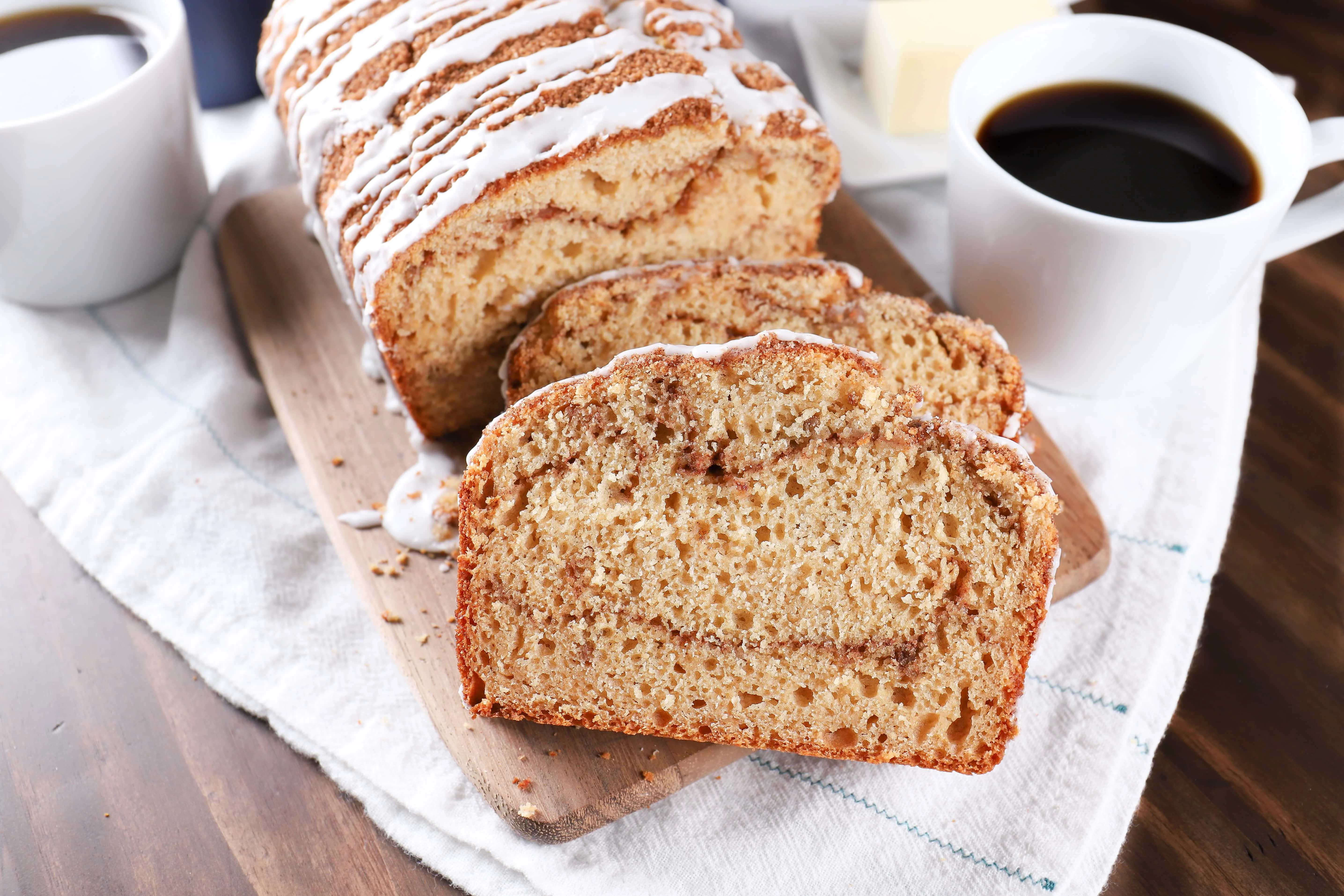 The yogurt replaces all but a small amount of oil and keeps the bread from drying out right away. Honey (or maple syrup!) gives the bread it's hint of sweetness.
Ribbons of cinnamon and brown sugar are swirled throughout the inside to give a hint of cinnamon in each bite. And because I really like cinnamon, a bit more of the cinnamon sugar is sprinkled on top right before baking!
Perfect with a glass of milk or a mug of coffee, this cinnamon swirl yogurt quick bread is best enjoyed while wrapped in your favorite blanket while watching the snow fall (or freezing rain, whatever part of the storm your region gets today!)!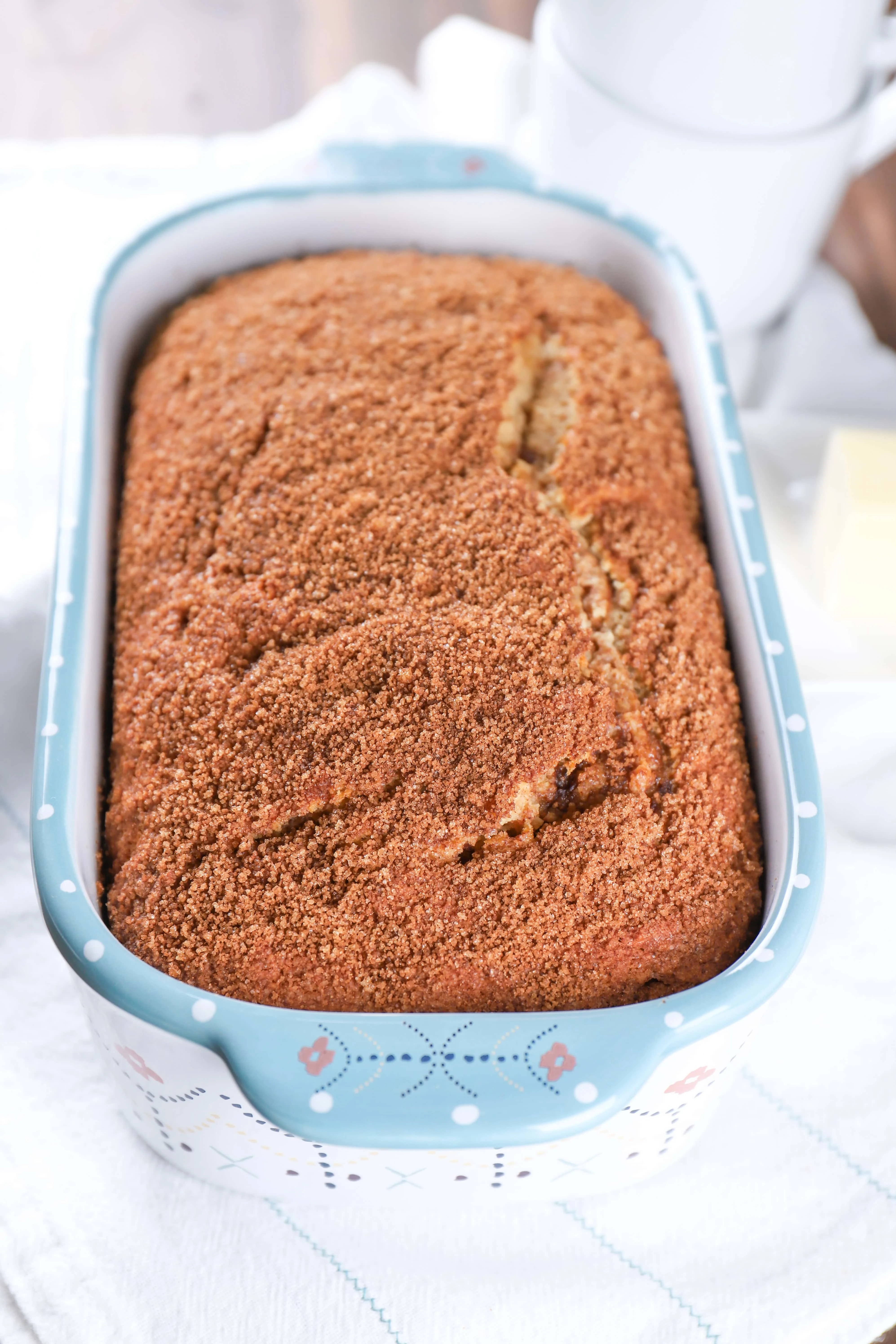 Tips for Making Cinnamon Swirl Yogurt Quick Bread
Treat the batter like a muffin batter. Just stir until combined. Over-stirring will make the bread dense.
I've found this ratio of all-purpose flour to white whole flour to be our favorite as far as getting as much white whole wheat flour in without making it too dense and heavy. You can switch up the ratio if you want, just know that it will affect the flavor and texture.
Bake the bread until a toothpick inserted in the center comes out with just a few crumbs. Baking the bread until the toothpick comes out completely clean will dry out the bread.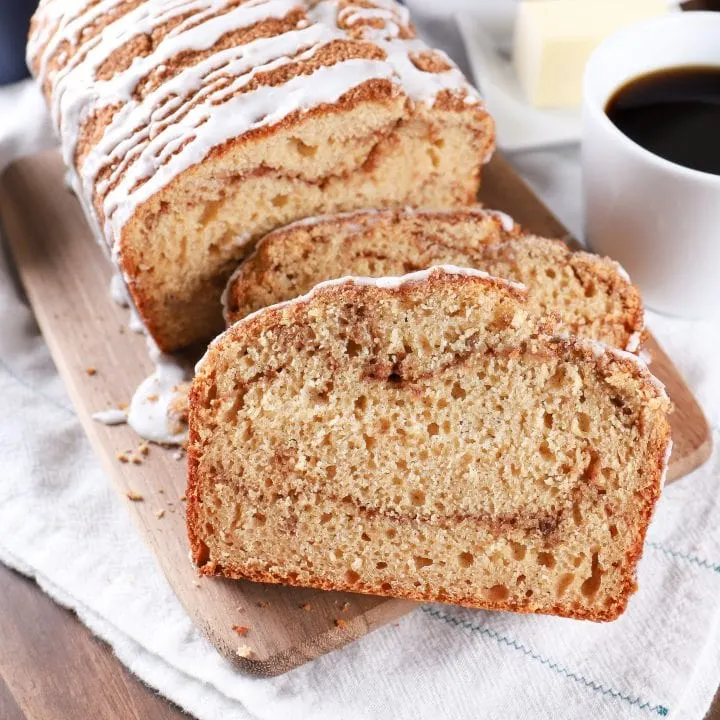 Cinnamon Swirl Yogurt Quick Bread
With ribbons of cinnamon sugar swirled throughout, this Cinnamon Swirl Yogurt Bread is a warm, cozy quick bread recipe!
Ingredients
For the Bread
1 1/2 Cups all-purpose flour
1 Cup white whole wheat flour
2 teaspoons baking powder
1/2 teaspoon baking soda
1/2 teaspoon salt
2 eggs
1 teaspoon vanilla extract
1 Cup plain yogurt
3 Tablespoons melted coconut oil (make sure to measure the coconut oil in its melted state) or canola oil
1/2 Cup honey or pure maple syrup
1/3 Cup milk
For the Swirl
1/3 Cup brown sugar
2 teaspoons ground cinnamon
For the Glaze
1/3 Cup confectioner's sugar
2-4 teaspoons milk
Instructions
Preheat oven to 350 degrees Fahrenheit. Spray a 9 x 5 inch loaf pan with non-stick cooking spray.
In a large bowl, whisk together flours, baking powder, baking soda, and salt.
In a medium bowl, whisk together eggs, vanilla, yogurt, oil, honey, and milk.
Add wet ingredients to dry ingredients and stir until just combined.
In a small dish mix together brown sugar and cinnamon.
Pour 1/3 of the batter into prepared loaf pan. Sprinkle with 1/3/ of the cinnamon sugar mixture. Top with another 1/3 of the batter and sprinkle with another 1/3 of the cinnamon sugar mixture. Top with remaining batter. Carefully swirl knife through batter crosswise.
Top with remaining cinnamon sugar mixture.
Bake for 40-50 minutes, or until toothpick inserted comes out almost clean (has just a few crumbs). You don't want to over bake the bread as it will dry out.
Allow bread to cool for 15 minutes before removing from pan to a wire rack to cool completely.
Stir together confectioner's sugar and 2 teaspoons milk. Add additional milk, 1 teaspoon at a time, until desired consistency is reached. Drizzle over warm bread.
Allow glaze to harden, and serve.
Store leftovers in an airtight container.
Recommended Products
As an Amazon Associate and member of other affiliate programs, I earn from qualifying purchases.
Nutrition Information:
Yield:

12
Serving Size:

1
Amount Per Serving:
Calories:

216
Total Fat:

3g
Saturated Fat:

1g
Trans Fat:

0g
Unsaturated Fat:

2g
Cholesterol:

33mg
Sodium:

258mg
Carbohydrates:

43g
Fiber:

2g
Sugar:

22g
Protein:

5g
Nutrition information shown is an estimate provided by an online calculator and may not always be accurate. It should not be considered a substitute for a medical professional's advice.