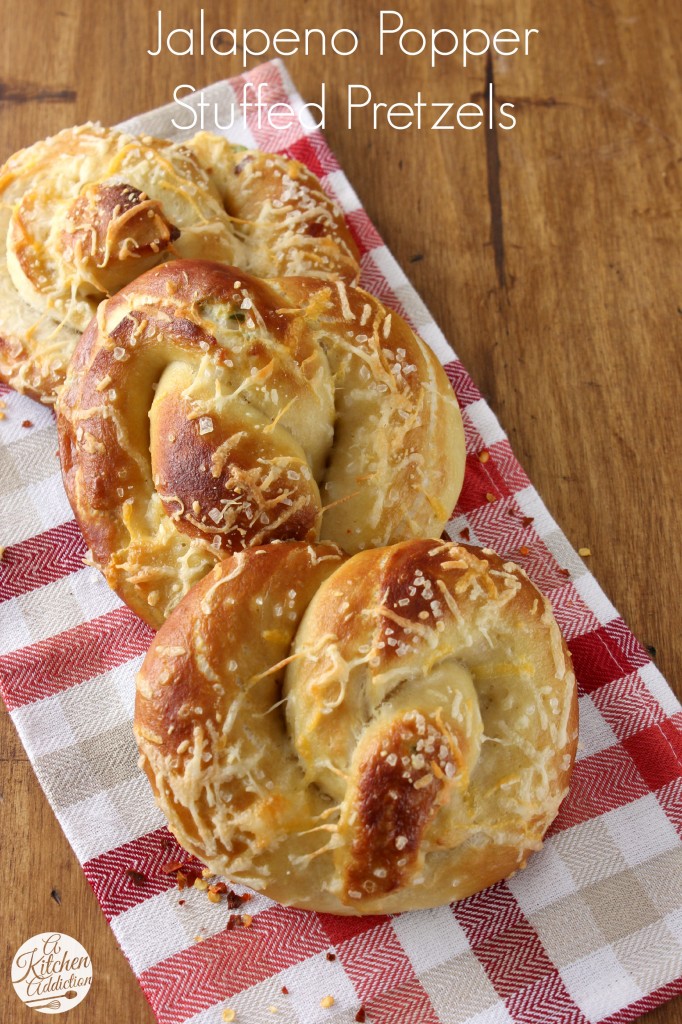 I recently made the discovery that I really like stuffed pretzels. Not that I didn't like them before, I just had never tried them.
Then I made these jalapeno popper stuffed pretzels. Spicy, creamy jalapeno popper dip stuffed inside chewy, soft pretzels.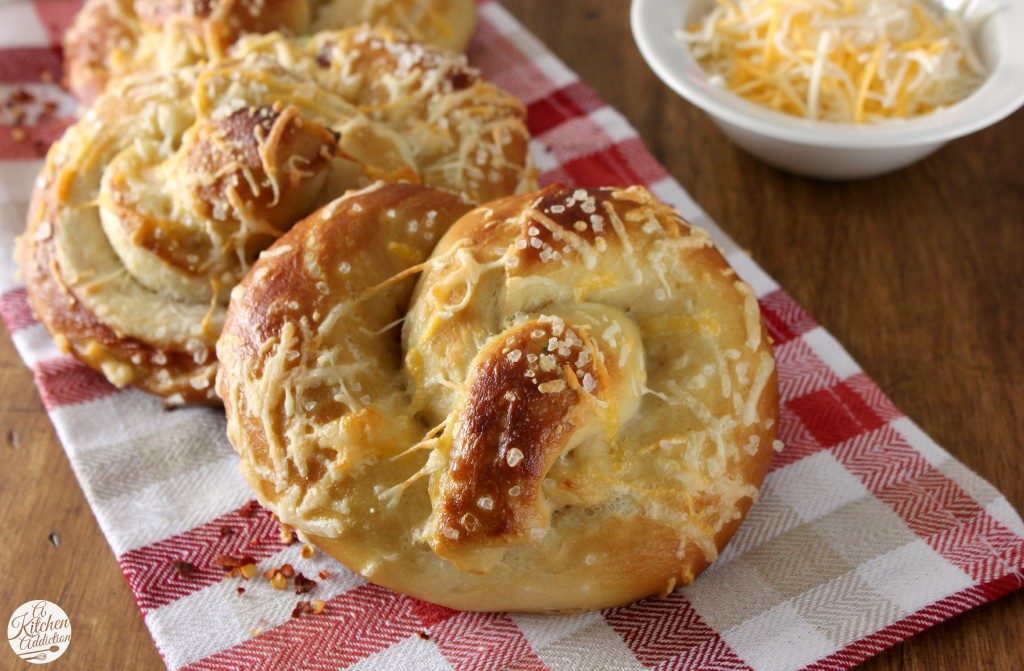 After one bite, I wondered why I had never stuffed a pretzel before. I also began to dream up all the other flavor combinations that would taste good as stuffed pretzels. I'm sure you'll hear about them later on the blog!
But back to these addicting pretzels. All the components that you would expect to find in jalapeno popper dip (especially the cheese and cream cheese!) are mixed together for the creamy filling.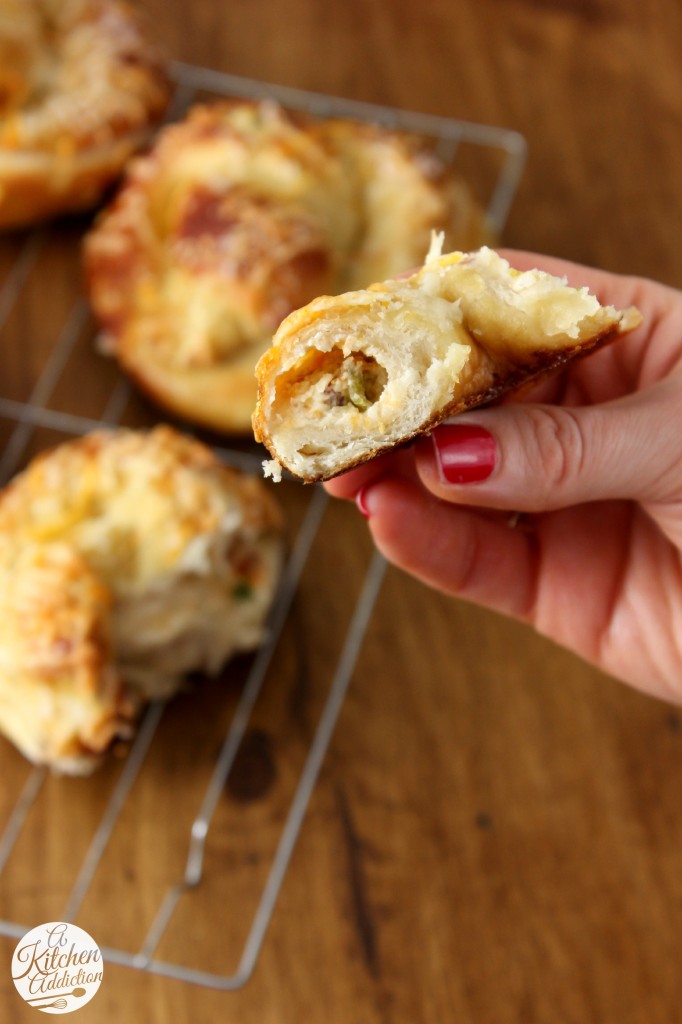 The pretzel dough is rolled out and the filling is spread in the middle so you roll up your logs of dough like you would any other pretzel.
Sprinkle with some coarse salt and shredded cheese and you have transformed an ordinary soft pretzel into an unforgettable one!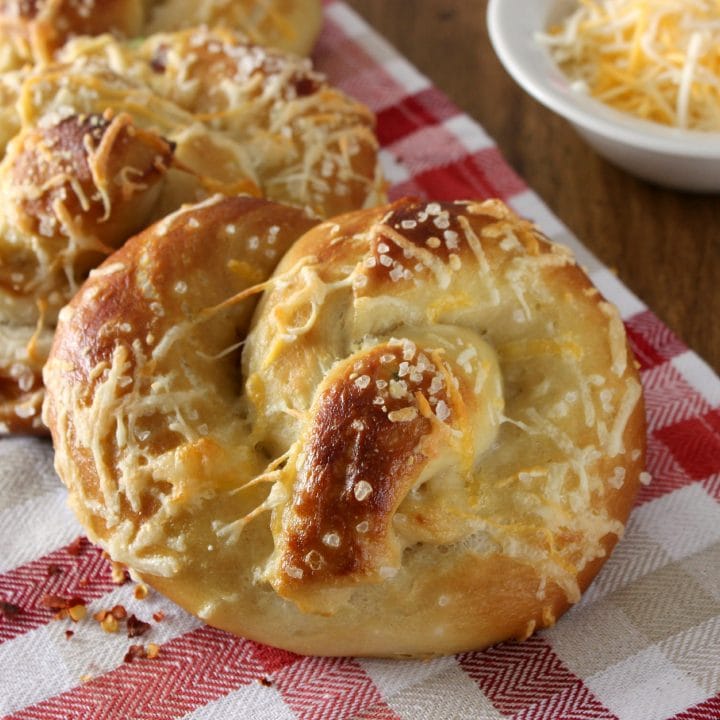 Jalapeno Popper Stuffed Pretzels
Yield:
8 stuffed pretzels
Ingredients
For the Pretzel
4 1/2-5 C all-purpose flour
2 1/4 (or 1 packet) tsp instant dry yeast (I used Red Star)
1 1/2 tbsp sugar
2 tsp salt
1 1/2 C water, warmed to 120-130 degrees F
6 tbsp unsalted butter, melted and cooled
For the Filling
8 oz cream cheese, softened
1 1/2 C shredded cheese (I used a Mexican blend)
1/3 C finely chopped jalapeno
2 tbsp chopped green chilies (If using canned, be sure to drain the chilies as best you can first)
1 tsp crushed red pepper flakes
1 tsp garlic powder
3 strips of bacon, cooked and crumbled
For the Water Bath and Glaze
10 C water
2/3 C baking soda
1 egg
coarse sea salt
shredded cheese
Instructions
In the bowl of a stand mixer, combine 3 cups flour, yeast, sugar and salt. Add in water and butter. With mixer on low, slowly add another 1 1/2 cups flour. If mixture is still too wet, add additional flour up to 1/2 cup. Beat with paddle until dough is just starting to form.
Switch out paddle attachment for a dough hook and knead dough on medium speed for 5-7 minutes or until dough is smooth and pulls away from the edges of the bowl.
Shape dough into a ball and place in a large bowl that has been sprayed with olive oil or non-stick cooking spray. Roll dough in the bottom to coat all sides. Cover and let rise in a warm spot for an hour, or until dough is doubled in size.
While dough is rising, prepare filling. Stir cream cheese, jalapeno, chilies, red pepper flakes, and garlic powder together until well-combined. Stir in shredded cheese and crumbled bacon.
Preheat oven to 425. Line a baking sheet with parchment paper or a silicone baking mat.
Bring water and baking soda to a boil over medium heat. Beat egg in a small bowl.
Turn dough out onto a lightly floured surface. Divide into 8 equal pieces. Roll each piece of dough into an approximate 16 inch x 3 inch rectangle. Spread about 2 tablespoons of filling along the bottom edge of the rectangle. Roll dough up lengthwise into a rope. Gently roll out into a 20 inch rope. Shape into a pretzel and press ends down.
Gently place pretzels one by one into boiling water. Allow to boil for 40 seconds each, flipping them halfway through.
Place on prepared baking sheet. Brush egg over the top of each pretzel. Sprinkle with salt and shredded cheese.
Bake for 12-15 minutes or until pretzels turn light golden brown.
Allow pretzels to cool for at least 5 minutes before eating.
Recommended Products
As an Amazon Associate and member of other affiliate programs, I earn from qualifying purchases.
This recipe may contain affiliate links.