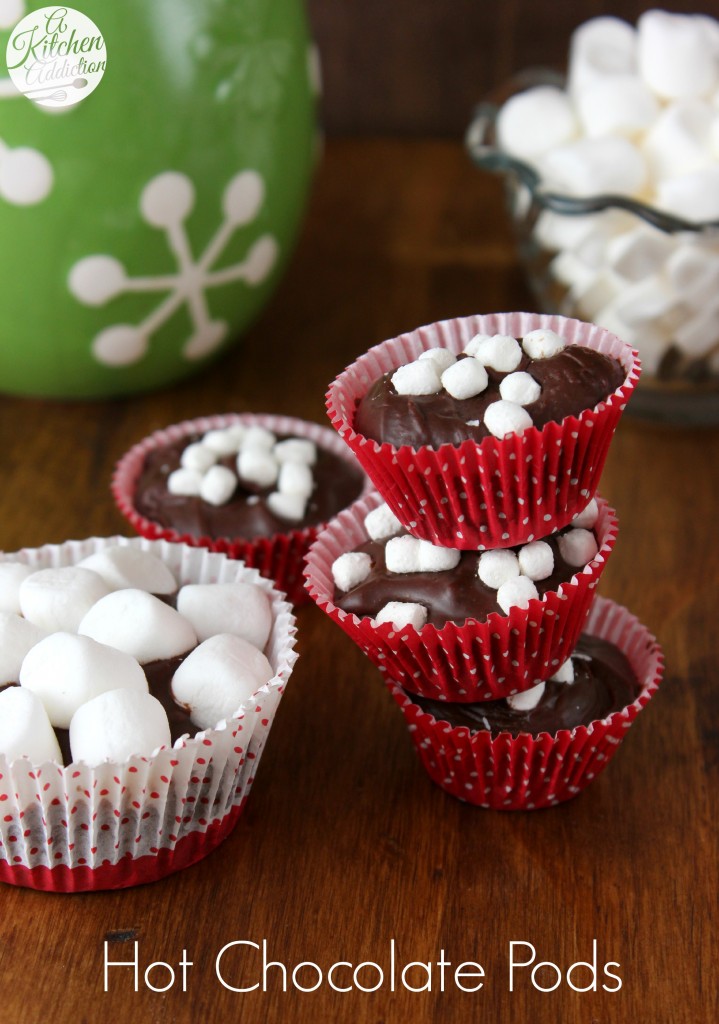 There's just something cozy about a chilly evening, a fleece blanket, and a big mug of hot chocolate (and, if I had a fireplace, a crackling fire!). While I like the packets of hot chocolate for the convenience, I really like homemade hot chocolate made with milk and real melted chocolate.
Because I don't always want to go through the extra steps of making it homemade, these hot chocolate pods are perfect for a last minute urge for a mug of hot chocolate!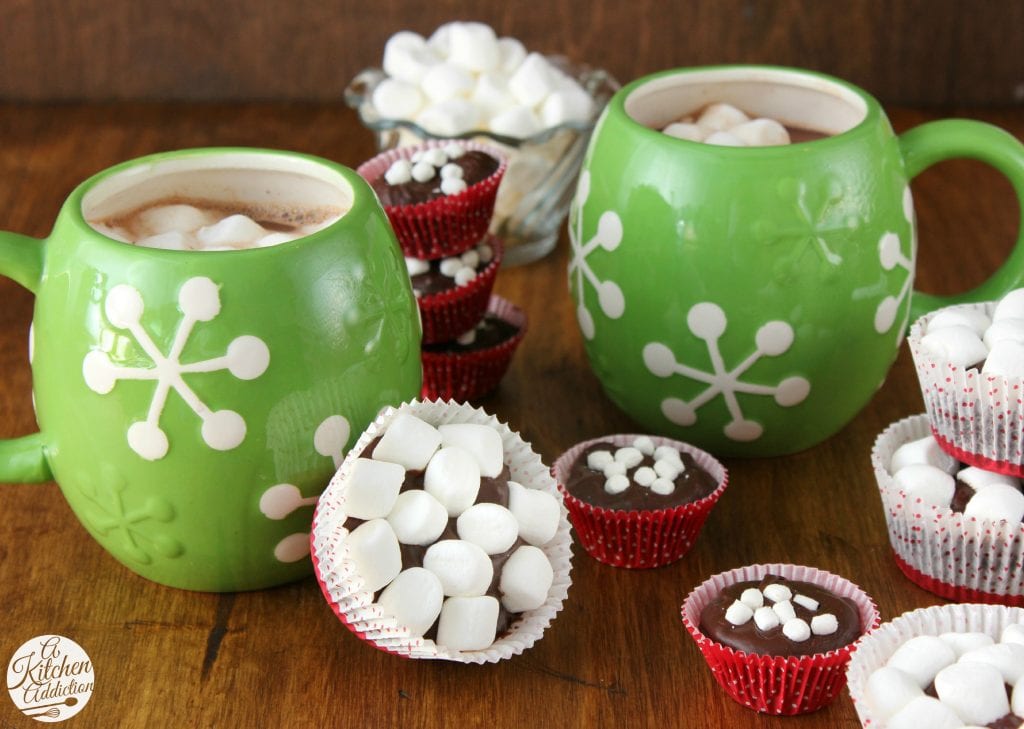 With only 3 ingredients, they take hardly any time to make. Plus, when you do take the time to make them, you get a big batch.
I made a couple of different sizes of pods. One size is perfect for an individual cup of hot chocolate and the other size is great for sharing a cup of hot chocolate with a friend.
And when you do want a cup of hot chocolate, all you have to do is stir a pod into a cup of hot milk. It's that easy.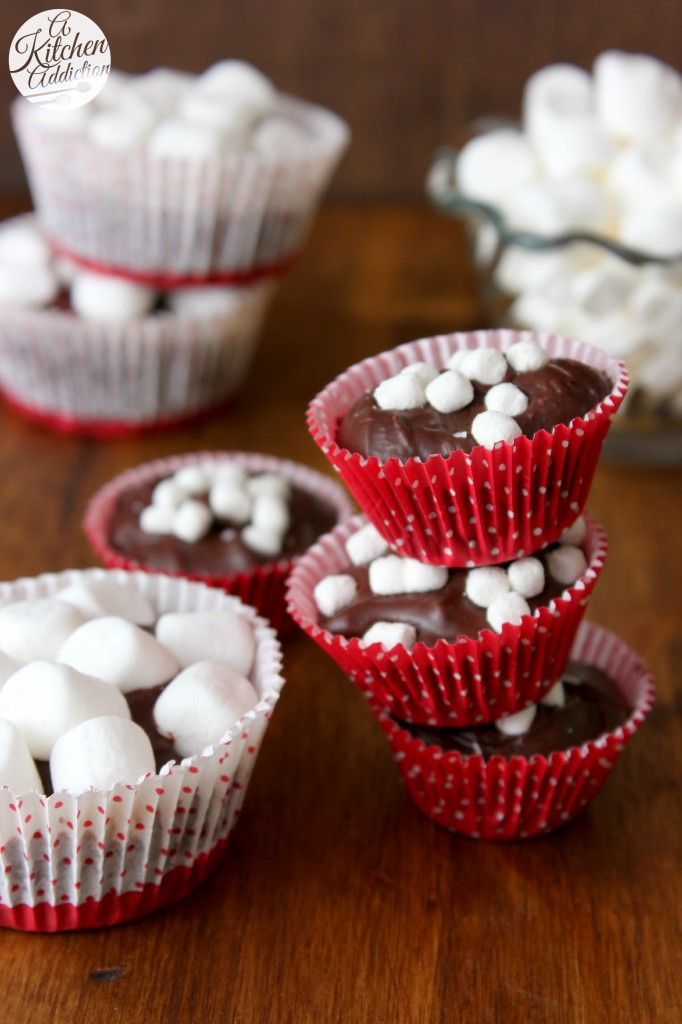 These hot chocolate pods also make great hostess gifts, teacher gifts, or just a little something extra for a friend.
Top them with marshmallows, sprinkles, peppermint candy, or whatever else you have on hand and you have a festive treat to match the season!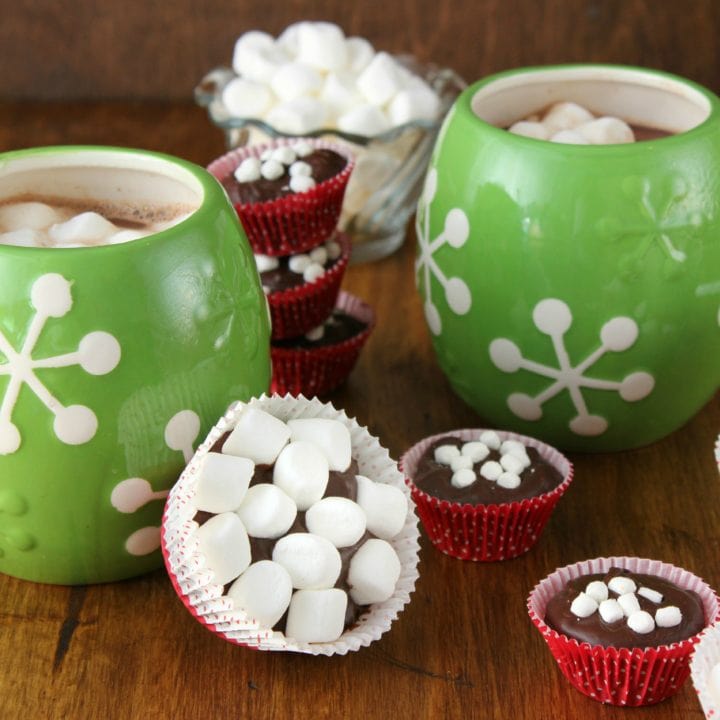 Hot Chocolate Pods
Yield:
36 individual pods or 18 double pods
Refrigeration Time:
4 hours
Total Time:
4 hours
15 minutes
Ingredients
21 ounces or about 3 1/2 Cups chopped chocolate (I used a combination of semi-sweet and dark chocolate. I wouldn't recommend all milk chocolate as it may get too sweet) - **Generic chocolate chips will not work for this recipe. Make sure to use a high quality baking chocolate or chocolate chip.**
14 ounces sweetened condensed milk
1/2 Cup half & half or heavy whipping cream
1 1/2 teaspoons vanilla extract, optional
marshmallow bits or mini marshmallows
Instructions
Place chopped chocolate in a large heat-safe bowl. Line mini muffin tin or regular muffin tin with cupcake liners.
In a small saucepan, whisk together sweetened condensed milk and half & half over medium heat. Stir constantly to avoid scalding. When mixture just starts to boil, remove from heat. Stir in vanilla extract. Pour mixture over chocolate. Stir until smooth.
Spoon chocolate mixture into cupcake liners filling mini liners to the top and regular liners about 3/4 full. Top with marshmallows. Press down gently.
Refrigerate for at least 4 hours before transporting. Can be stored in an airtight container in the refrigerator for up to 3 weeks.
To prepare hot chocolate: For an individual pod, bring 8 ounces of milk just to a boil. Stir in pod until dissolved. Serve. For a double pod, bring 16 ounces of milk just to a boil. Stir in pod until dissolved and serve.
This recipe is adapted from
Taste of Home
.