This post brought to you by Bolthouse Farms. All opinions are 100% mine.
This time of year we find ourselves looking for easy ways to up our fuits and veggies intake in order to offset all of the goodies we consume during the holidays! Have you ever thought of turning to juices to get your fruits and veggies in? When I was asked if I wanted to give Bolthouse Farms juices a try, I was interested in trying them because when I've juiced fruits and vegetables before, I've really liked the flavor. But with these drinks, I wouldn't have to go through the work of juicing.
Bolthouse Farms is a company of carrot farmers who want to inspire a fresh revolution. They have over 95 years of farming experience in their history and are currently the largest Agri-Solar Farm in North America. They not only plant carrots, but they also create delicious fruit and vegetable juices made from those same carrots that they grow and harvest. There are 30+ flavors to choose from, including breakfast smoothies and protein shakes. They even have holiday flavors such as eggnog.
I tried a few different carrot juices: Green Goodness; Multi-V Goodness; 100%  Carrot Juice; Orange + Carrot; and Vanilla Chai Protein. (Not all of the juices are 100% juice from the fruits and vegetable juices shown on the bottle, so you will want to make sure and read the ingredient list so you know everything in the juice.) My favorite was the Multi-V Goodness and my husband liked the Orange + Carrot the best. The 100% Carrot Juice was actually my second favorite. I love the sweetness that comes from juiced carrots.
And guess what? You can do more than just drink the juices. You can also bake with them! I took the 100% Carrot Juice and added it to this Carrot Cake Breakfast Loaf. It was a great way to get an added boost of vitamins and minerals while also giving the loaf a boost in carrot flavor.
Want to try Bolthouse Farms Juices for yourself? Well, the Bolthouse Instagram Promotion is going on right now for $1.50 off a bottle of juice of your choice! All you have to do is snap a picture of any Bolthouse Farms juice or ad and upload it to your public Instagram account with the hashtags #carrotfarmers and #gotcoupon. Then, check your comments and you will find a link to your coupon. It's that easy!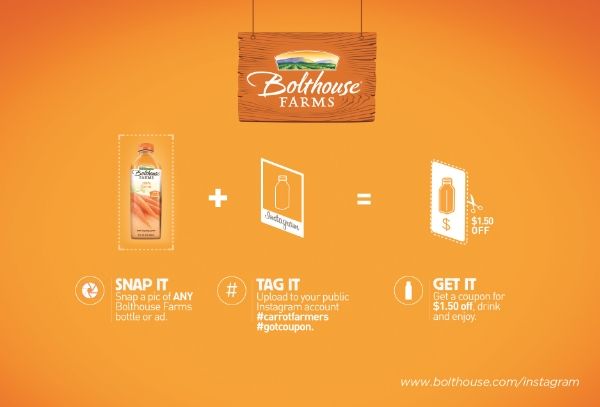 Carrot Cake Breakfast Loaf
Yield: 12 slices
Ingredients:
3/4 C whole wheat flour
3/4 C white whole wheat or all-purpose flour
1 tsp baking powder
1/2 tsp baking soda
1/2 tsp salt
1 tsp cinnamon
1/4 tsp nutmeg
1/2 C brown sugar
1 egg
1/2 tsp vanilla extract
1/2 C low-fat plain yogurt
1/4 C butter, melted and cooled
1/2 C Bolthouse Farms 100% Carrot Juice
1 C shredded carrot
For the Glaze
1/4 C confectioner's sugar
2 1/2 tsp milk
Directions
Preheat oven to 350. Spray a 9×5 inch loaf pan with non-stick cooking spray.
In a small bowl, whisk together flours, baking powder, baking soda, salt, cinnamon, nutmeg, and brown sugar.
In a large bowl, whisk together egg, vanilla extract, yogurt, and butter until creamy. Carefully whisk in carrot juice.
Add dry ingredients to wet ingredients and stir until combined. Stir in shredded carrot.
Pour batter into prepared pan and bake for 35-40 minutes or until a toothpick inserted in the center comes out clean. Check bread at 30 minutes and if the top is starting to get too brown, cover with aluminum foil for the remainder of the baking time.
Remove to a wire rack to cool. Stir together ingredients for the glaze and drizzle over cooled bread. Slice into pieces and serve.