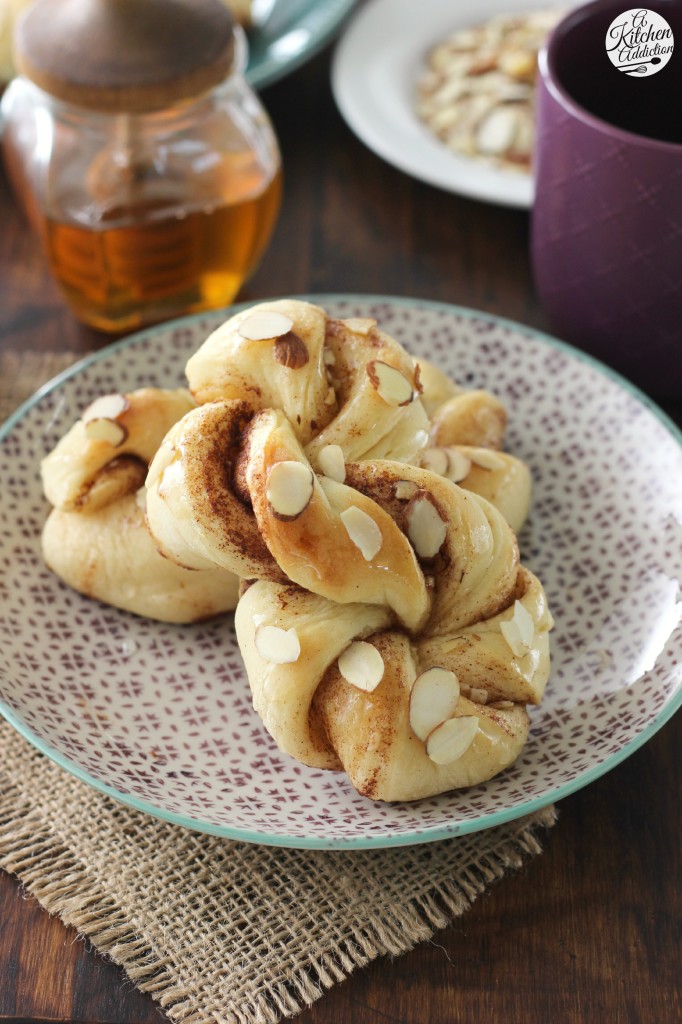 After making that strawberries and cream cheese coffee cake for last week, I went on kind of a breakfast baking binge. I just kept coming up with more ideas that had to be made right away! Don't be surprised if you see another breakfast related recipe soon!
But first, these honey almond cinnamon twists. Mother's Day is coming up soon, and I'm pretty sure the moms in your life would love to be treated to a couple of these cinnamon twists on their special day!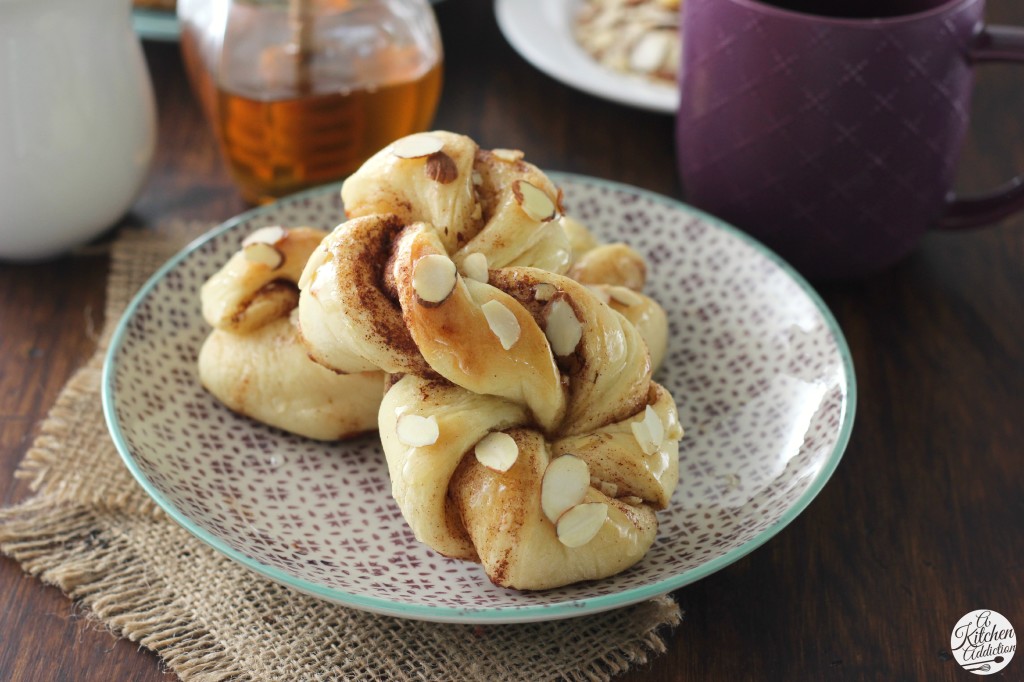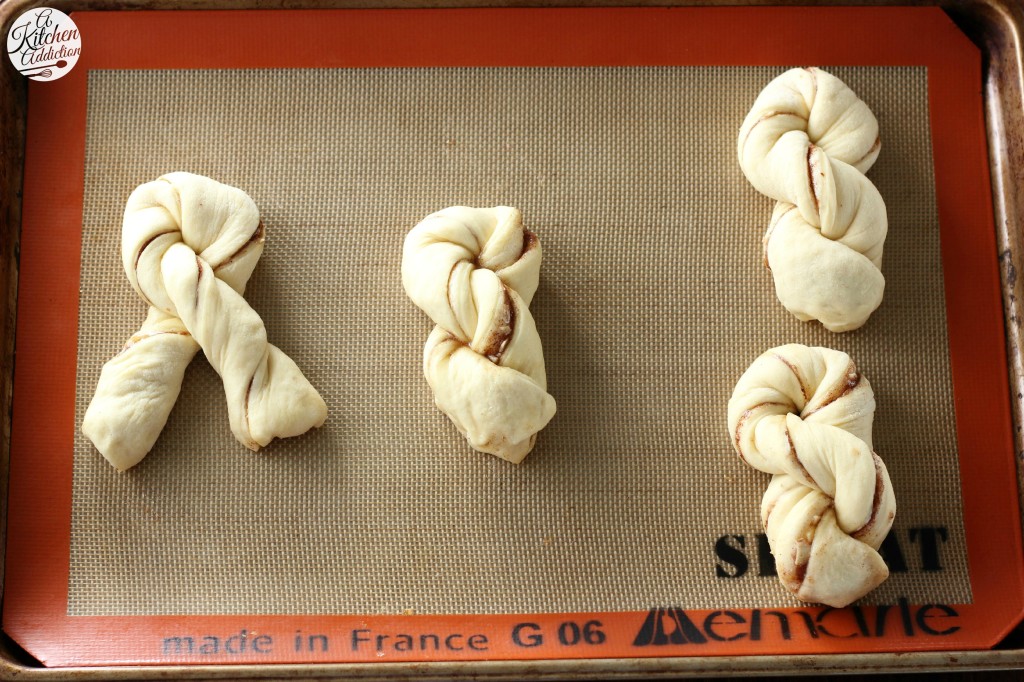 The base of this recipe is one of my favorites. It always turns out. The dough is soft and pliable. You can let it rise a little too long or not quite long enough and the sweet rolls always turn out.
Just the kind of recipe we all need to have on hand when we don't want to worry about whether or not a recipe will turn out! Less stress is always good in my book.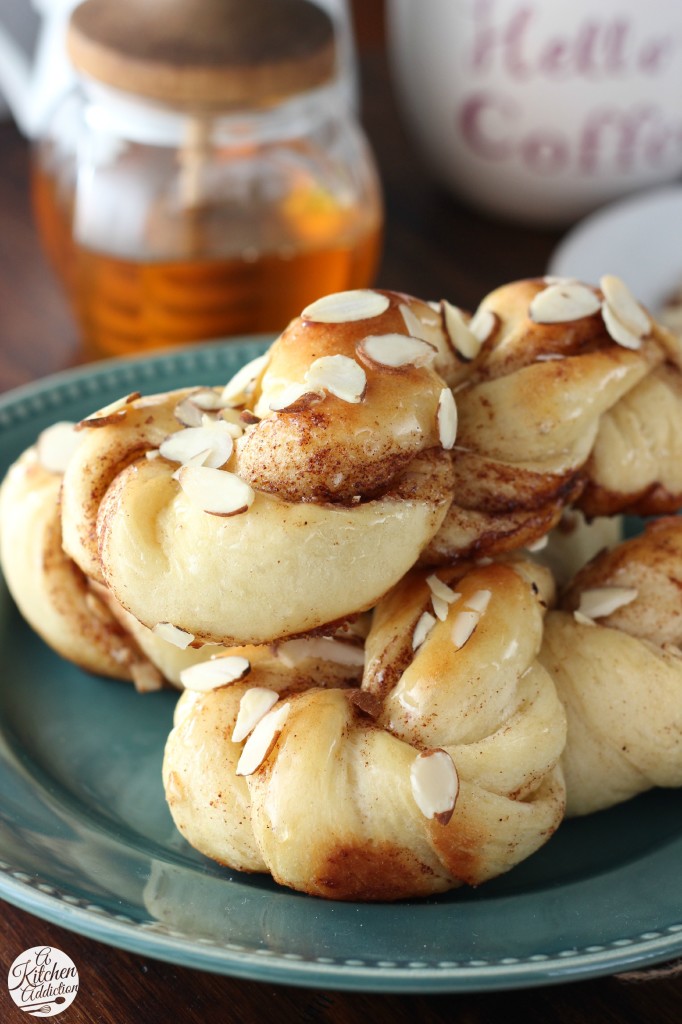 While these honey almond cinnamon twists have lots of flavor, the flavor is delicate and isn't overpowered with cinnamon. Honey and crushed almonds combine with a bit of brown sugar and butter to make up the filling and a light honey glaze with more sliced almonds finish off these cinnamon twists.
Tender, flaky pastries along with a hot cup of coffee. Yes, I think mom would love it! Of course, so will you!
Honey Almond Cinnamon Twists
Author:
Ingredients
For the Rolls
3 C bread flour
1 1/2 tbsp sugar
3/4 tsp salt
2 1/4 tsp instant dry yeast
1 egg, room temperature
2 tbsp butter, melted and cooled
1 C milk, warmed to 120-130 degrees F
For the Filling
3 tbsp butter, softened
3 tbsp sliced almonds, crushed
3 tbsp honey
1 1/2 tbsp brown sugar
2 tsp cinnamon
For the Glaze
2 tbsp sugar
1 tbsp water
1 tsp honey
sliced almonds, for topping
Instructions
In the bowl of a stand mixer, beat together two cups flour, sugar, salt, and yeast. Add in egg, butter, and milk. Beat until just starting to combine. Add remaining cup flour.
Replace paddle attachment with dough hook and knead for 5 minutes or until dough is smooth and starts to pull away from edges of bowl. Dough will be soft and somewhat sticky.
Transfer to a large bowl that has been greased. Roll dough around bowl to coat. Cover with a clean towel and allow to rise until doubled in size, about 45 minutes.
Turn dough out onto floured surface and punch down. Roll out into an approximate 16×10 inch rectangle. Spread with softened butter. Drizzle honey and sprinkle crushed almonds, sugar and cinnamon over the top.
Gently fold dough in half length-wise. Cut dough into 10 strips. Take each strip and twist into a rope. Fold each rope in half and twist both ends once. Pinch ends together to seal and fold under. (See picture above.)
Place on a baking sheet lined with parchment paper or a silicone baking mat. Allow to rise for 20 minutes or until puffed.
While twists are rising, preheat oven to 375.
Bake for 10-12 minutes or until just starting to turn light golden brown.
Remove to a wire rack.
In a small saucepan, combine sugar, water, and honey. Bring to a boil over medium heat. Stir to prevent scorching and boil for 3 minutes or until mixture starts to thicken. Remove from heat.
Brush glaze over the top of warm twists. Sprinkle with sliced almonds. Allow glaze to harden and serve.