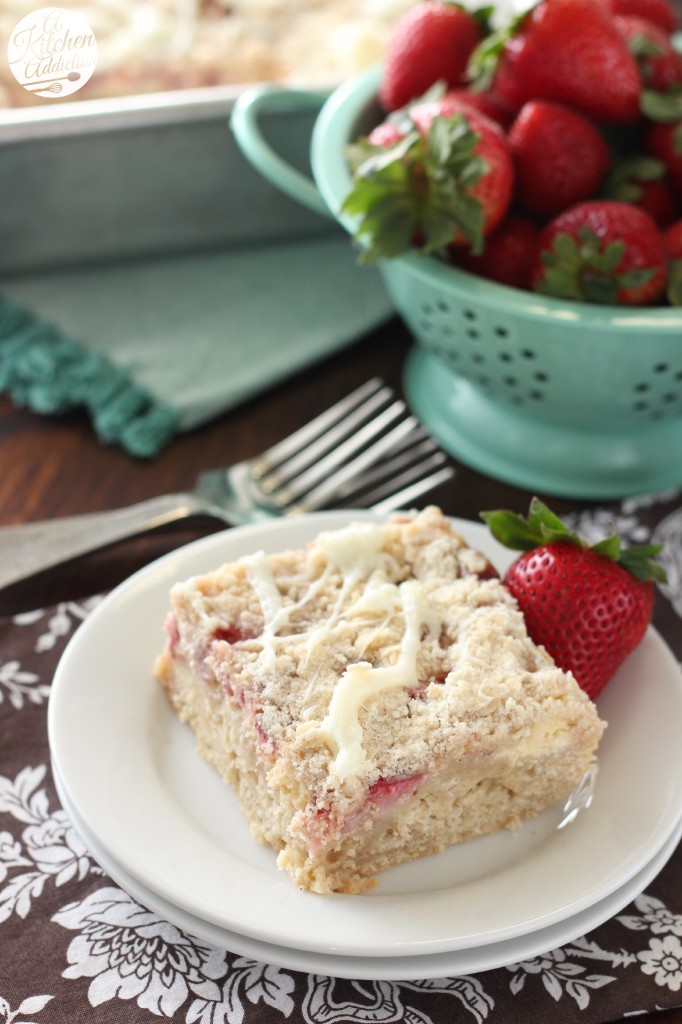 Remember all of those berries I bought? (By the way, thanks to all of you who made me feel better about my berry hoarding ways by saying you do the same thing! I no longer feel weird when I look in my fridge and see cartons of berries sitting there on a regular basis! 😉 )
Well, this strawberries and cream cheese coffee cake was the next recipe on the list to put all those berries to good use, and I can't wait to leisurely enjoy a slice with a cup of coffee tomorrow morning!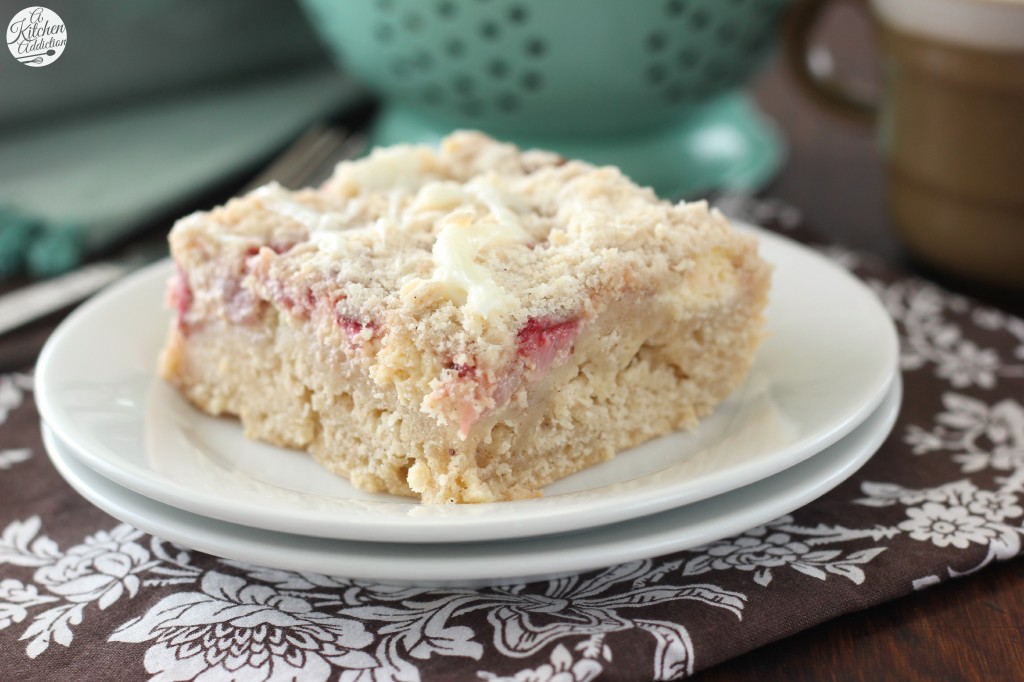 Coffee cake is one of my favorite breakfast foods to make when I want to break from my usual routine of toast or oatmeal. And since it's been awhile since I've had something other than toast or oatmeal, it was about time that I made another coffee cake!
Tender, moist cinnamon coffee cake is topped with a layer of cream cheese and chopped strawberries. And though that would be good enough as is, a light crumb topping and a cream cheese drizzle finishes off the cake making it irresistible.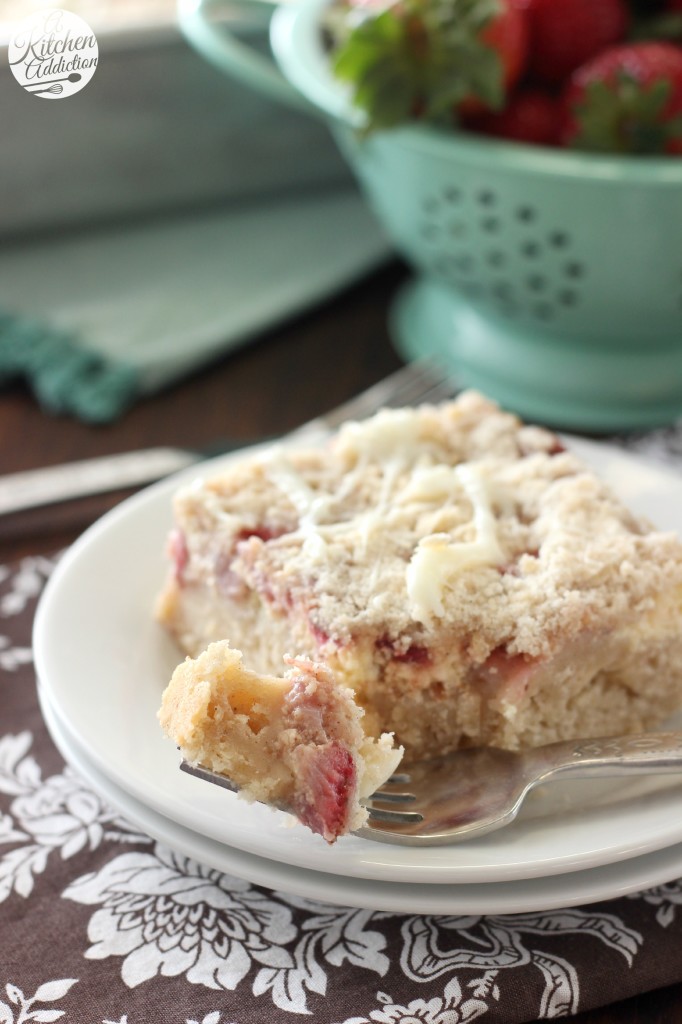 While it tastes great warm, it tastes even better after it has cooled and the flavors have had a chance to blend. This makes it perfect for making the coffee cake ahead of time and serving it later in the morning or next day!
Whether you need a break from your usual breakfast routine or a special weekend breakfast, this coffee cake will both make your taste buds happy and give you a little taste of spring!

Strawberries and Cream Cheese Coffee Cake
Author:
A Kitchen Addiction
Ingredients
For the Cake
2 C white whole wheat flour
⅔ C sugar
½ tsp cinnamon
¼ tsp nutmeg
½ C butter, cold and cut into pieces
1 tsp baking powder
¼ tsp salt
¾ C plain yogurt
1 egg
1 tsp vanilla extract
For the Cream Cheese Layer
6 oz cream cheese, softened
3 tbsp sugar
1 egg
1 tsp vanilla extract
For the Fruit Filling
1½ C strawberries, chopped
2 tbsp sugar
½ tsp cinnamon
¼ tsp nutmeg
1 tsp cornstarch
For the Cream Cheese Drizzle
2 oz cream cheese, softened
5 tbsp confectioner's sugar
½ tbsp milk
Instructions
Preheat oven to 350. Spray a 9x9 or 8x8 inch baking dish with non-stick cooking spray.
For the Cream Cheese Layer: In a small bowl, beat together cream cheese, sugar, egg, and vanilla extract until creamy. Set aside.
For the Fruit Filling: In a small bowl, stir together strawberries, sugar, cinnamon, nutmeg, and cornstarch. Set aside.
In a large bowl, whisk together flour, sugar, cinnamon, and nutmeg. Add butter and cut in using a pastry fork or two knives until mixture resembles coarse crumbs.
Reserve ¾ cup of mixture in a small bowl.
Stir in baking powder and salt into remaining mixture.
In a separate bowl, whisk together yogurt, egg, and vanilla extract. Add wet ingredients to dry ingredients and stir until just combined.
Spread batter into the bottom of prepared baking dish. Pour cream cheese mixture over the top. Spread strawberries over the top. Gently swirl knife throughout. Sprinkle reserved crumb mixture over the top.
Bake for 35 minutes or until a toothpick inserted in the center comes out clean.
Remove to a wire rack to cool.
Prepare glaze by stirring together cream cheese, confectioner's sugar, and milk until smooth.
Drizzle glaze over the top of the cake and serve.
Store leftovers in the refrigerator.