In less than 25 minutes, you can be biting into these warm, gooey Healthier Peanut Butter Granola Cookie Wedges that are filled with oats, peanut butter, and a sprinkling of chocolate!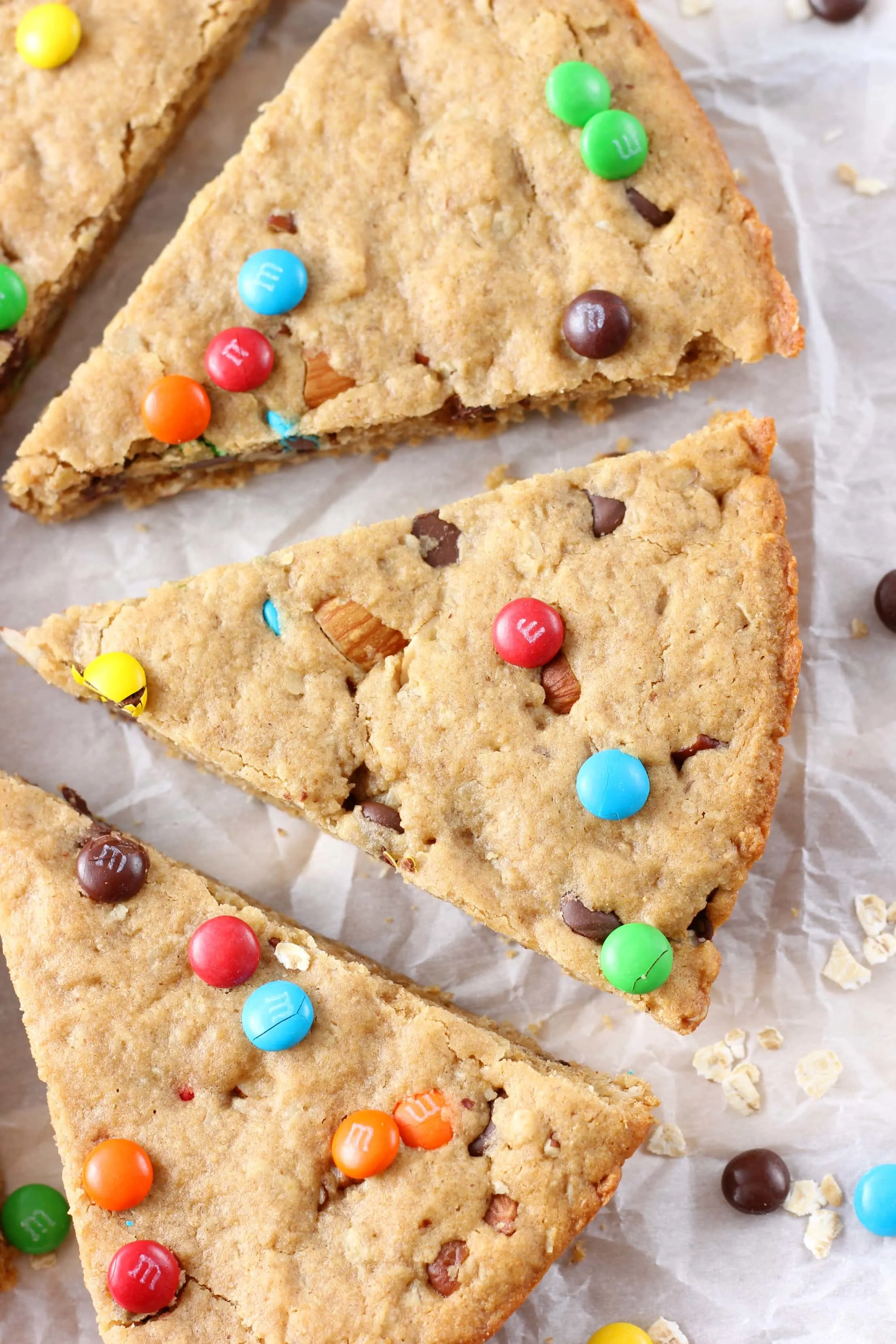 Last week I shared with you one of our favorite healthier peanut butter bars. More like a snack bar or breakfast bar and less like a dessert cake, those bars are great when you aren't looking for anything with chocolate in it. But sometimes you want chocolate. Even better if peanut butter is involved.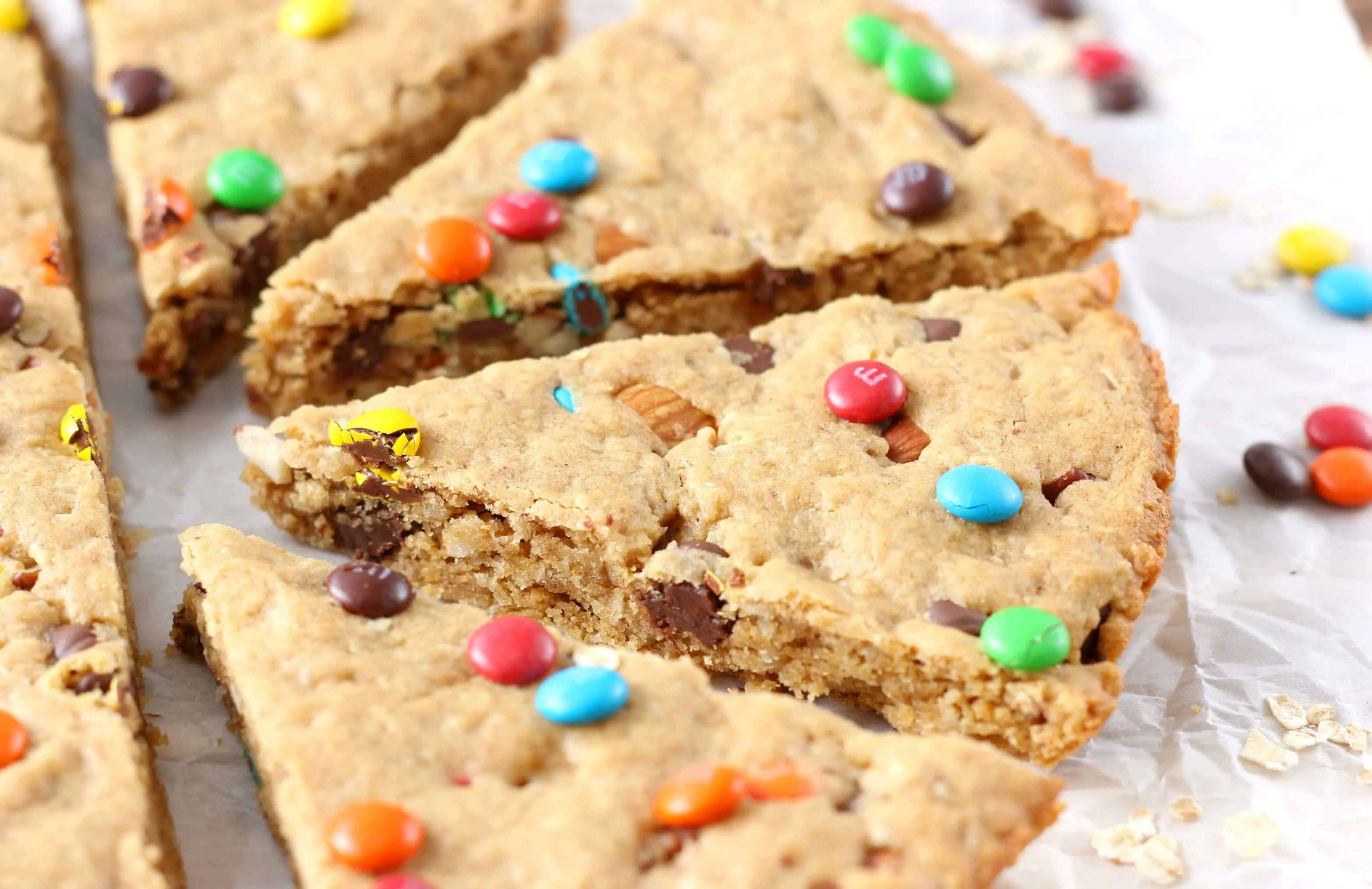 So, I made a giant cookie that can satisfy your chocolate cookie craving without taking up your precious time or without eating lots of refined sugars and fats! White whole wheat flour, oats, honey, and an egg white make this delicious cookie lighter than your average cookies.
And it really is super easy. You don't even need a mixer. Just whisk together the wet ingredients, whisk together the dry ingredients and stir the two together. Mix in the nuts and chocolate, press the dough into a pie plate, and bake!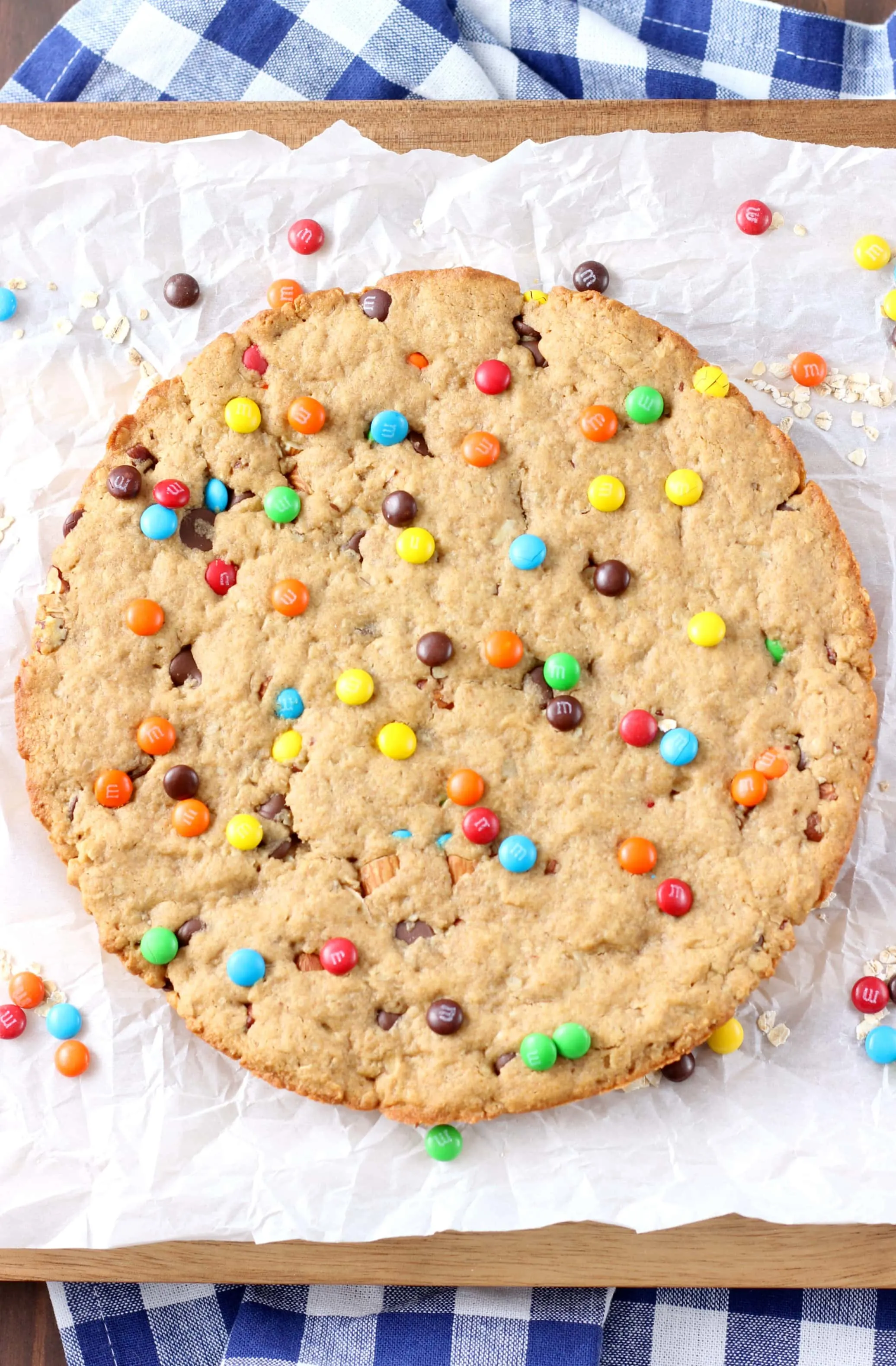 Then try hard to wait until the cookie has cooled enough so you don't burn your mouth! Pressing cookie dough into a pie plate and baking it is one of the best things I have done. The result is a thick, soft and chewy cookie that you can cut into big pieces! Or you can just grab a fork and dig in. No judging here!
Healthier Peanut Butter Granola Cookie Wedges
Author:
Ingredients
1/4 C honey
1/4 C no-stir natural creamy peanut butter
2 tbsp olive or canola oil
1 large egg white
1/2 tsp vanilla extract
3/4 C white whole wheat (or all-purpose) flour
1/2 C quick oats
2 tbsp brown sugar
1/4 tsp baking soda
1/4 tsp salt
2 tbsp chopped pecans
2 tbsp chopped almonds
2 tbsp semi-sweet chocolate chips
2 tbsp mini M&M's
Instructions
Preheat oven to 350. Lightly spray a 9 inch pie plate with non-stick cooking spray.
In a small bowl, whisk together honey, peanut butter, oil, egg white, and vanilla extract.
In a large bowl, whisk together flour, oats, brown sugar, baking soda, and salt. Add wet ingredients to dry ingredients and stir until combined. Stir in pecans, almonds, chocolate chips, and M&Ms.
Spread batter into the bottom of prepared pie plate.
Bake for 12-15 minutes or until cookie turns golden brown.