This Grapefruit Yogurt Coffee Cake is a lighter cake filled with bright, citrusy grapefruit juice and zest and topped with a sweet, buttery streusel making it perfect for enjoying for breakfast, brunch, or any time of day!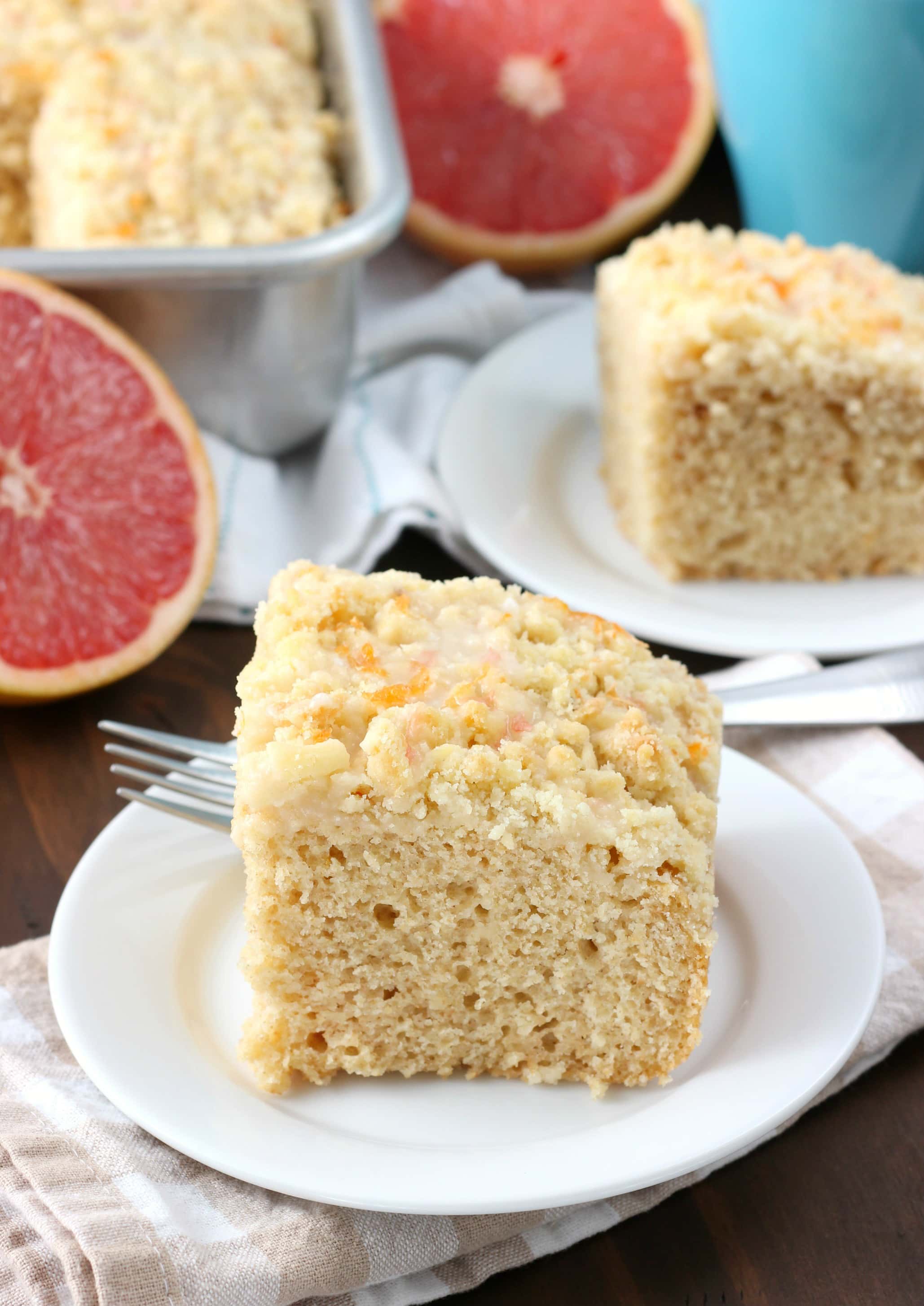 Every time I make something with grapefruit I always think that I don't bake with grapefruit enough. The scent of the fresh grapefruit juice and zest is so inviting.
We usually end up eating them all before I get around to baking, but this time I remembered to set a couple aside!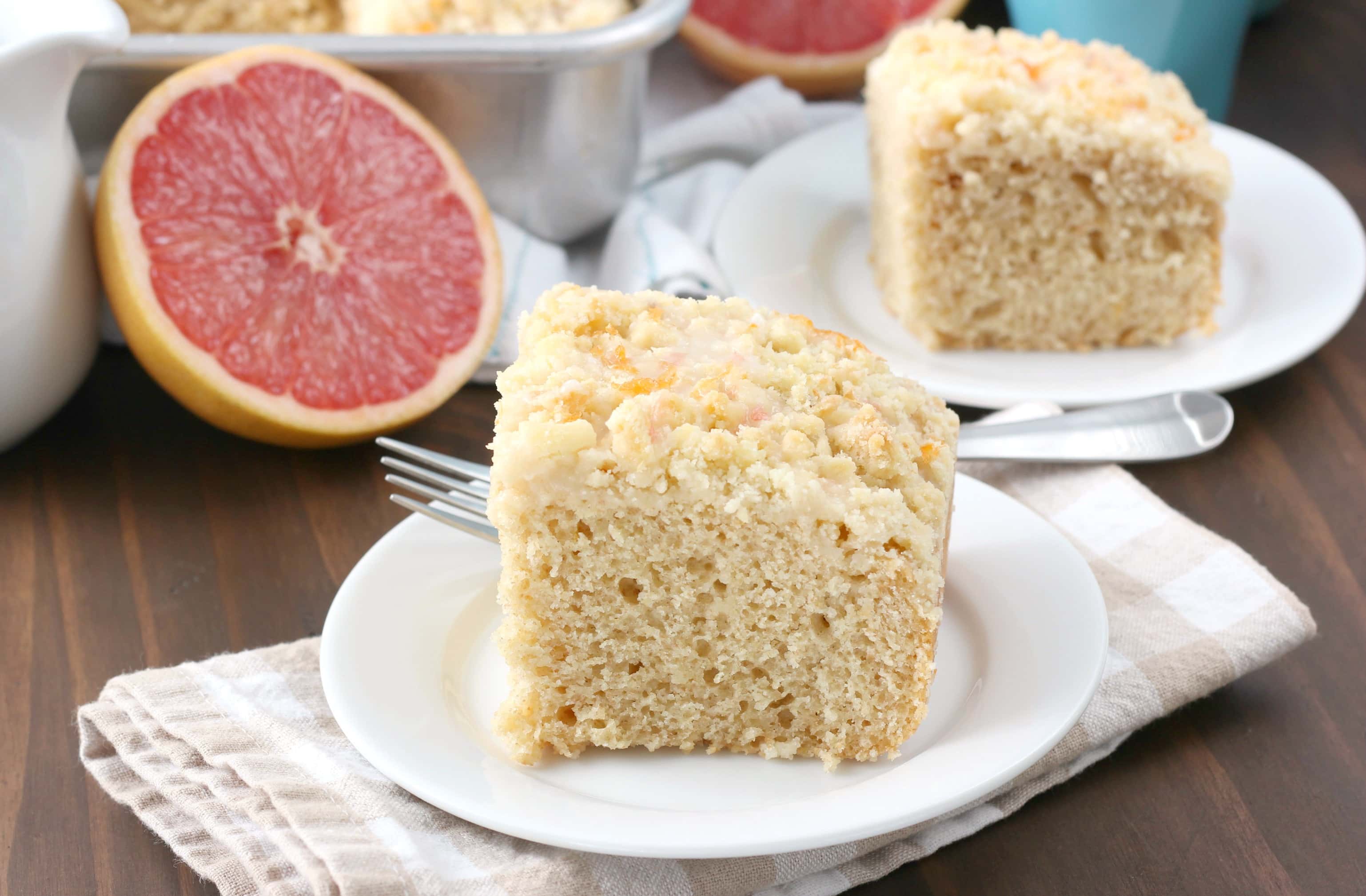 This grapefruit yogurt coffee cake has been on my list to try for awhile now. It's a simple cake recipe that's easy to make, and I'm glad I finally got around to making it.
As the coffee cake was baking, I could hardly wait to pull it out of the oven and enjoy a slice with cup of coffee! (Side note: It's just as good at room temperature as it is warm!)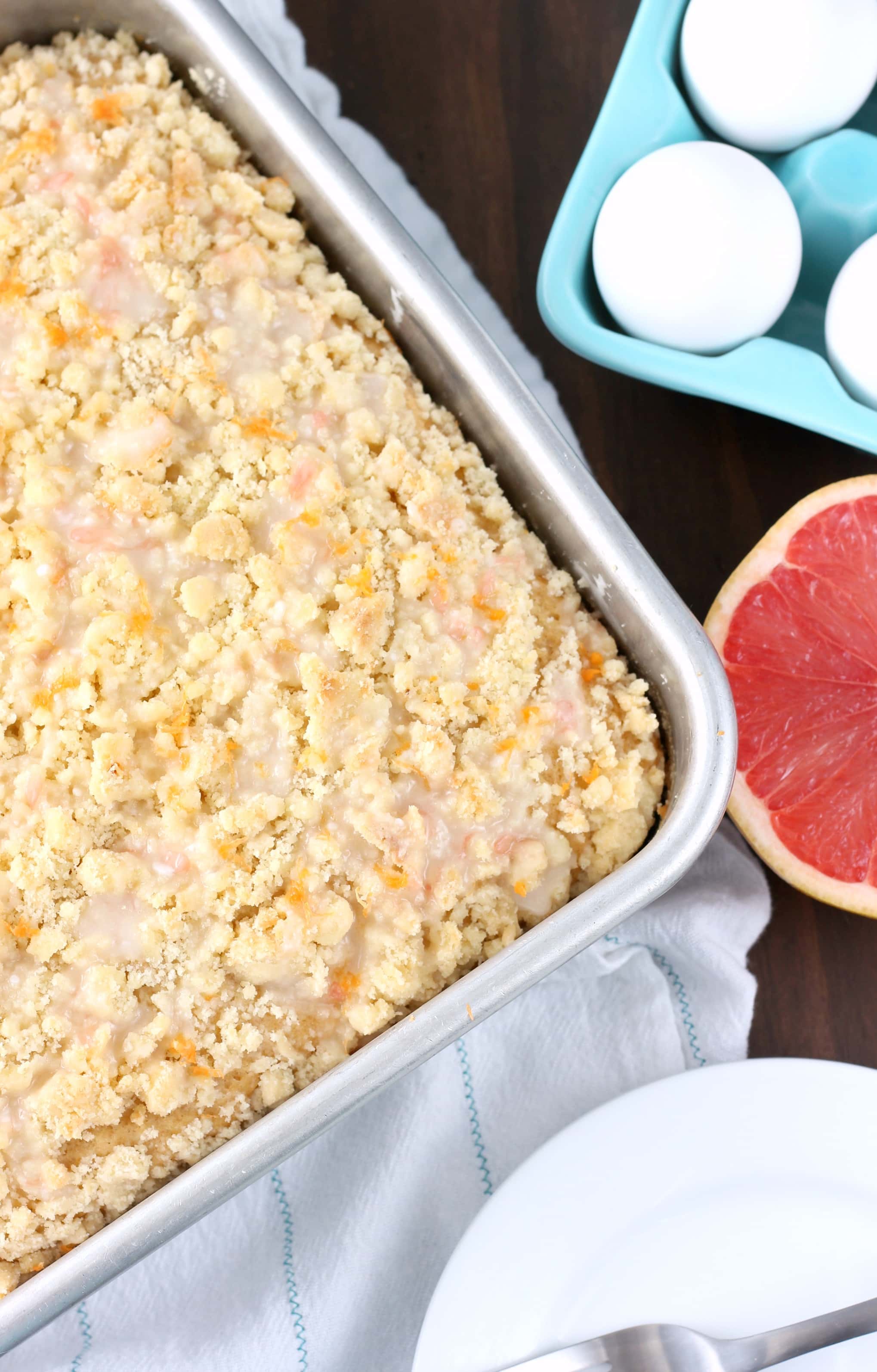 This grapefruit yogurt coffee cake is filled with both fresh grapefruit juice and grapefruit zest from the cake batter, to the light, buttery streusel, and finally to the sweet glaze.
The bright citrus is the perfect pick-me-up for these crazy weather days where you go from sunny and 60 to gray and 20!
Slightly tangy, slightly sweet, this coffee cake is perfect for enjoying for breakfast, brunch, snack, or any time of day!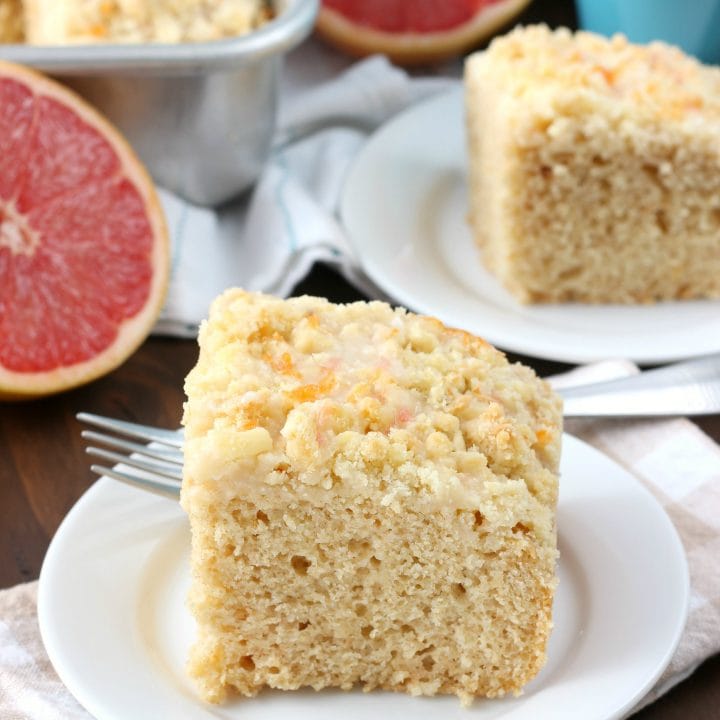 Grapefruit Yogurt Coffee Cake
Ingredients
For the Cake
2 C all-purpose flour
1 C white whole wheat flour**
1 1/2 tsp baking powder
1/2 tsp baking soda
1/2 tsp salt
1/4 C butter, softened
2/3 C sugar
2 eggs
1 tsp vanilla extract
3/4 C plain yogurt
1 C milk (dairy, soy or almond)
1/4 C fresh grapefruit juice
1 tbsp fresh grapefruit zest
For the Streusel
3/4 C all-purpose flour
1/3 C sugar
1/4 C butter, melted
2 tsp fresh grapefruit juice
For the Glaze
1/2 C confectioner's sugar
1-2 tbsp fresh grapefruit juice
1-2 tbsp half and half or milk
grapefruit zest, optional
Instructions
Preheat oven to 350. Lightly spray a 9x9 inch baking dish or a 9x13 inch baking dish with non-stick cooking spray. (The cake pictured was made in a 9x9)
In a large bowl, whisk together flours, baking powder, baking soda, and salt. Set aside.
In the bowl of a stand mixer, cream together butter and sugar. Add in eggs and vanilla and beat until creamy. Slowly beat in yogurt, milk, and grapefruit juice until combined.
Add dry ingredients to wet ingredients and beat until just combined. Gently stir in grapefruit zest.
Pour batter into prepared baking dish.
Stir together all ingredients for streusel. Sprinkle over the top of batter.
Bake for 30-35 minutes for a 9x13 inch cake or 40-45 minutes for a 9x9 inch cake or until a toothpick inserted in the center comes out clean. (Try not overbake as it will dry out)
Remove to a wire rack and allow cake to cool for 10-15 minutes.
Stir together all of the glaze ingredients except the zest until smooth. Drizzle over the cake. Sprinkle with zest. Allow glaze to harden and serve.
Store leftovers in an airtight container.
Notes
**You can use all-purpose flour in place of the white whole wheat flour. Regular whole wheat flour will cause the cake to be too dense and dry.
Recommended Products
As an Amazon Associate and member of other affiliate programs, I earn from qualifying purchases.