These lightly sweetened whole wheat Cinnamon Glazed Banana Peanut Butter Bars are soft, flavorful, and perfect for snacking on any time of day!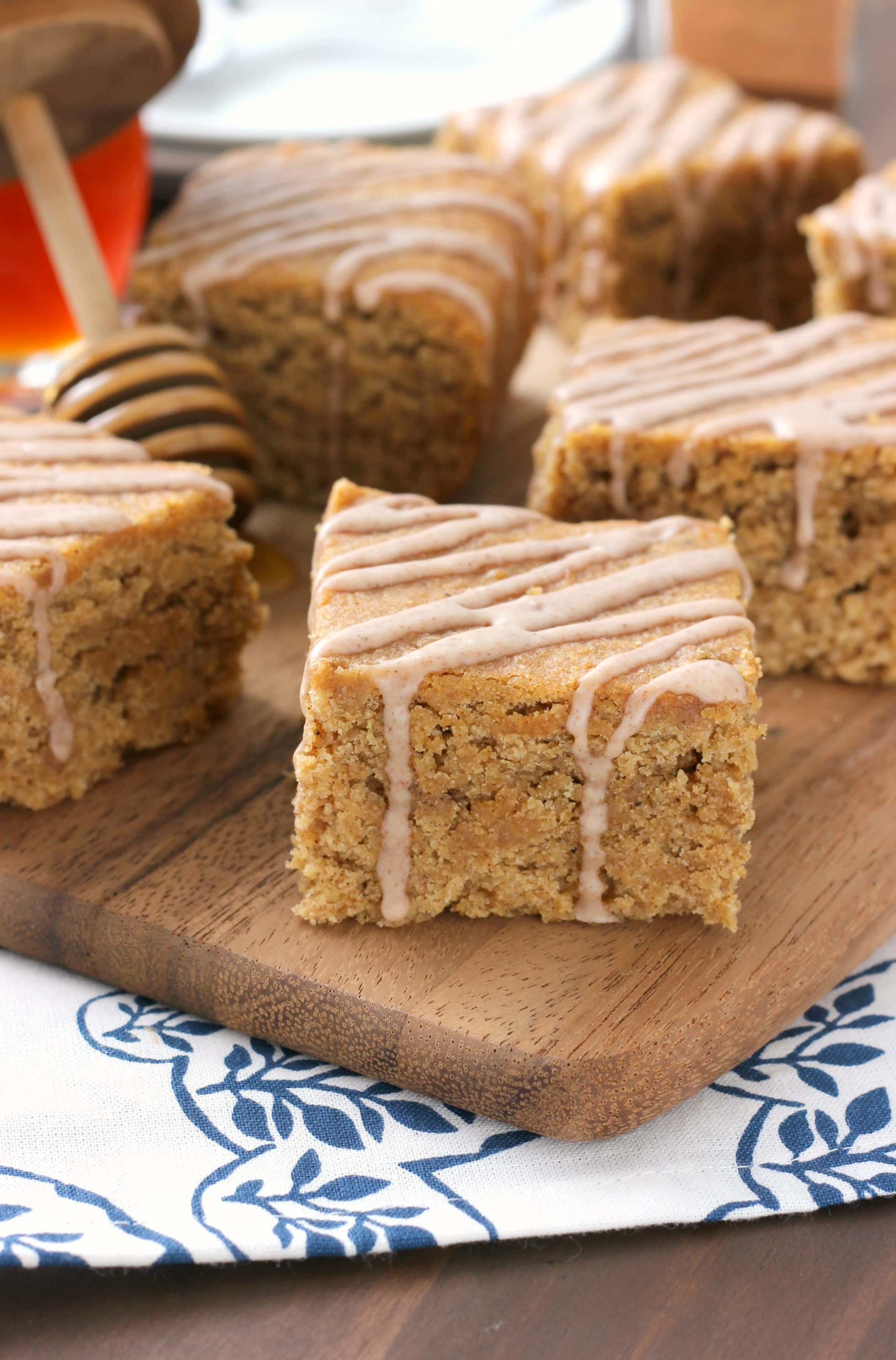 Do you ever find yourself wanting something sweet without it being over the top? Not quite a dessert level sweetness but something more than a granola bar (although some granola bars are super sweet!). That's what I was looking for the other day. It also had to be easy.
My husband and I have been fighting a draining virus for the past couple of weeks, and our energy level has been next to nothing. So, it had to require very little effort!
Enter these cinnamon glazed banana peanut butter bars! Just the right amount of sweetness and easy!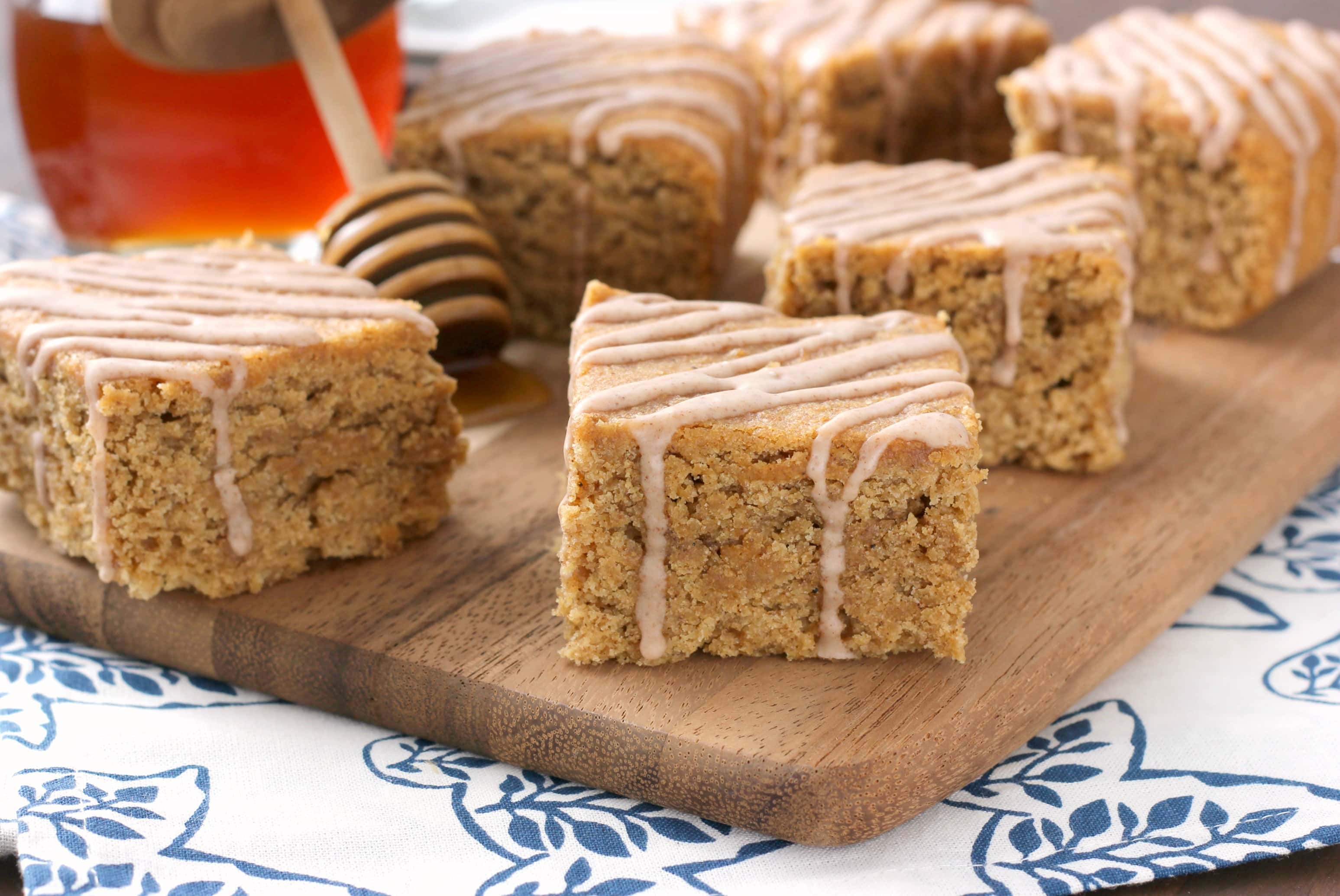 Bananas and peanut butter go so well together both for just snacking and in baking. These bars a perfect blend of that combo. Just enough peanut butter pairs with the banana so you know it's there, but it doesn't overpower the banana flavor.
A sweet cinnamon glaze brings out the hint of cinnamon in the bars, while honey combines with brown sugar to lightly sweeten these bars.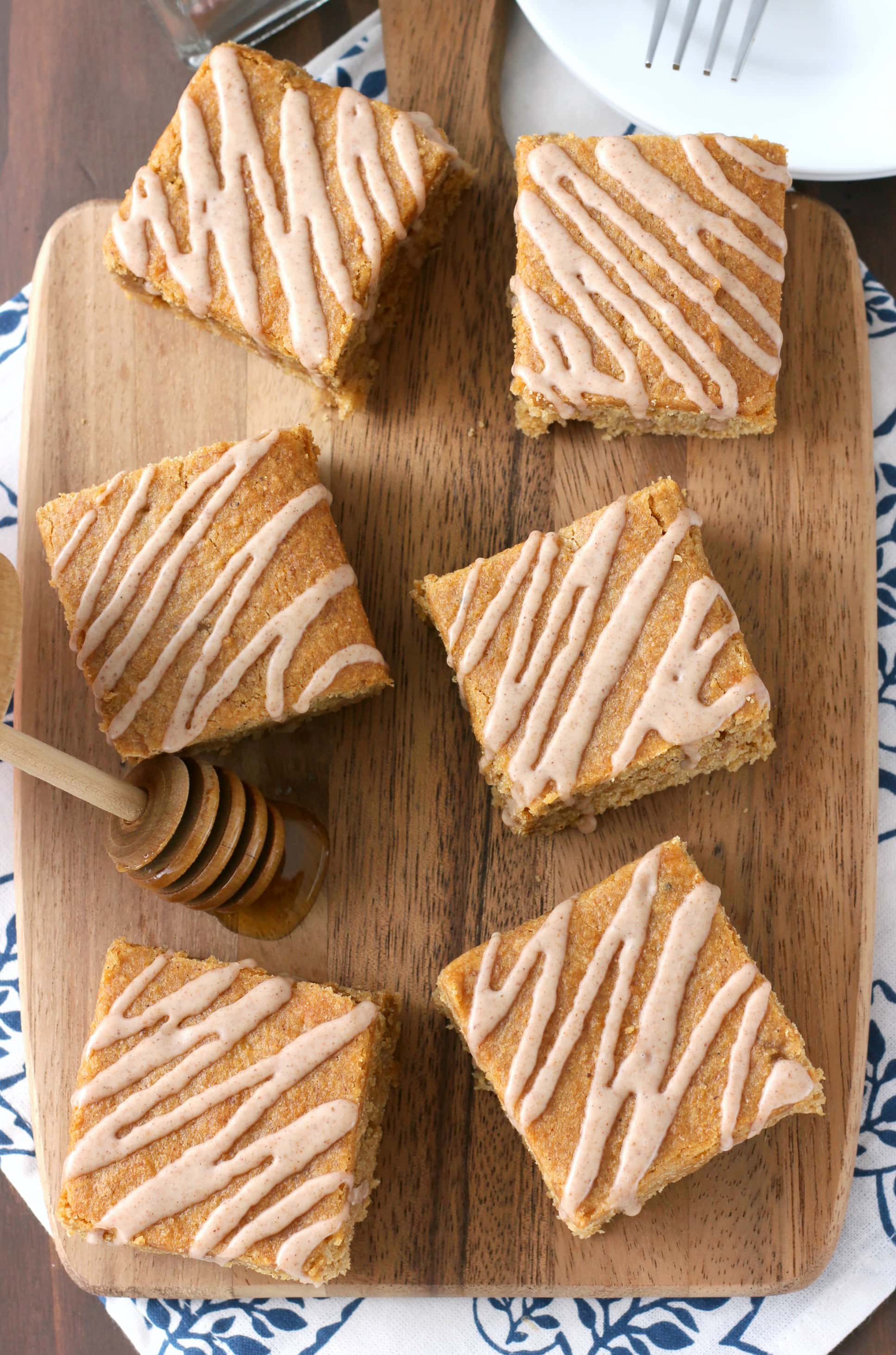 I really wanted these bars to be more chewy and less cake-like than a lot of banana bars I've had. Mission accomplished! These bars are soft, slightly chewy and far from being dry and crumbly.
They're soon to become your new go-to recipe for a quick breakfast option, late night snacking, and after school munching!
Cinnamon Glazed Banana Peanut Butter Bars
Author:
Ingredients
For the Bars
2 C white whole wheat flour
1 1/2 tsp baking powder
1/2 tsp baking soda
1/2 tsp salt
1 tsp cinnamon
1/2 tsp nutmeg
1/2 C butter, softened
1/2 C brown sugar
1/2 C honey
2 eggs
1 tsp vanilla extract
1/2 C no-stir natural creamy peanut butter
2 very ripe medium bananas, mashed (about 1 cup mashed banana)
For the Glaze
1/2 C confectioner's sugar
1 – 1 1/2 tbsp milk
1 tsp cinnamon
Instructions
Preheat oven to 350. Spray a 9×9 or 9×13 inch baking dish with non-stick cooking spray. (The bars pictured were made in a 9×9 inch dish.)
In a large bowl, whisk together flour, baking powder, baking soda, salt, cinnamon, and nutmeg. Set aside.
In the bowl of a stand mixer, or with an electric mixer, beat together butter and brown sugar until creamy. Beat in honey, eggs and vanilla extract. Beat in peanut butter until combined.
Add dry ingredients to wet ingredients and stir until combined. Stir in mashed bananas.
Spread batter in prepared baking dish.
Bake for 20-25 minutes for a 9×13 inch baking dish and 25-30 minutes for a 9×9 inch baking dish, or until a toothpick inserted in the center comes out mostly clean. For more cake-like bars, bake until toothpick inserted in the center comes out completely clean.
Remove to a wire rack to cool.
Stir together all ingredients for the glaze until smooth. Drizzle over cooled bars. Allow glaze to harden and serve. Or, cut into bars. Drizzle glaze over bars. Allow glaze to harden and serve.