Loaded with pumpkin pie spices, this Gooey Salted Caramel Pumpkin Cake has a layer of salted caramel running throughout and a salty sweet crunchy layer of salted caramel to top it off!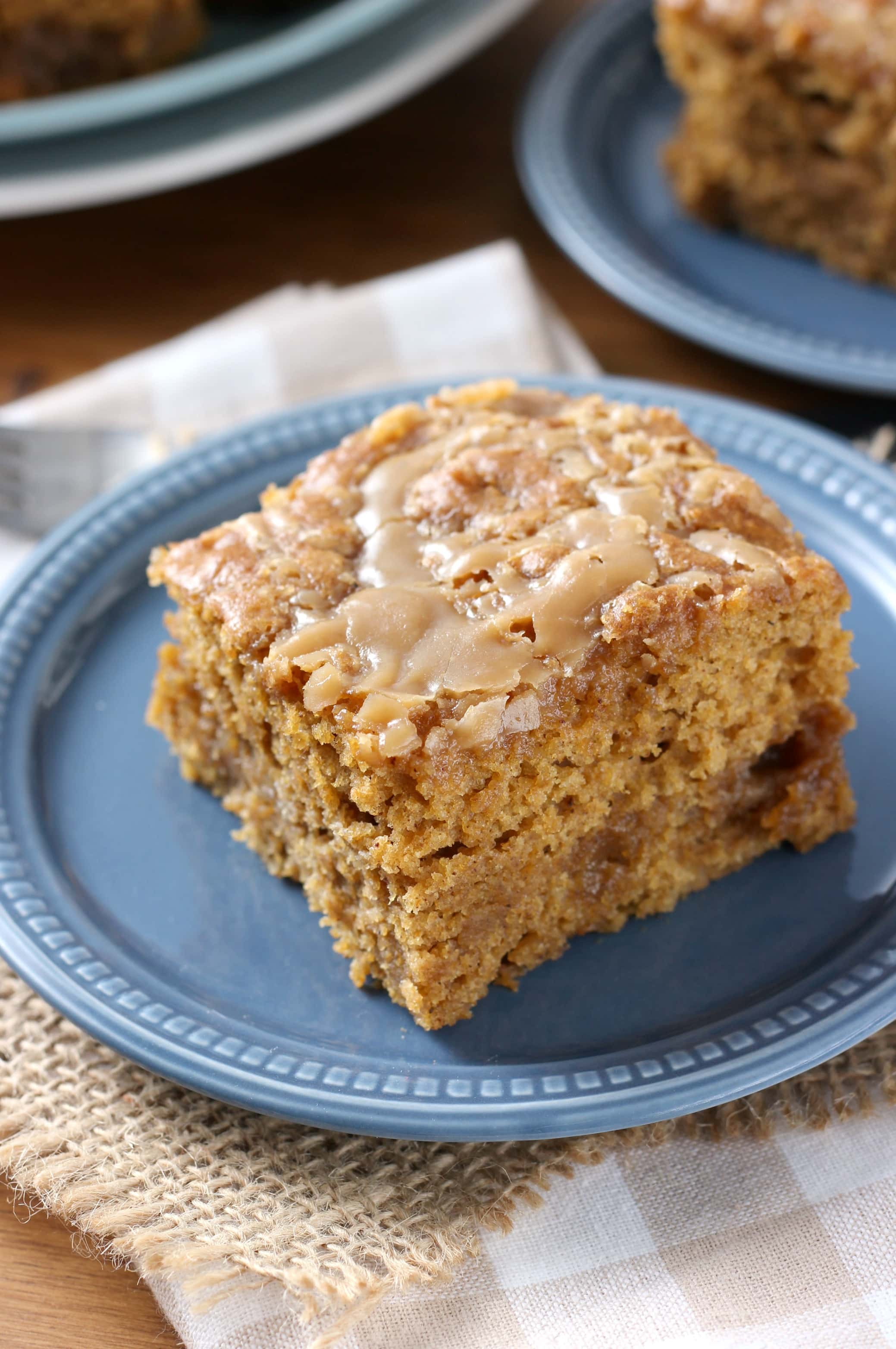 Somehow it's Monday again. This weekend flew by! We spent most of it outside hiking through a couple of state parks to take in fall's beautiful colors. It was great to be out enjoying the perfect Minnesota fall weather!
Definitely one of the best parts about living here. It also involved a couple pieces of this gooey salted caramel pumpkin cake. And since there are still a couple of pieces left, this Monday won't be so bad!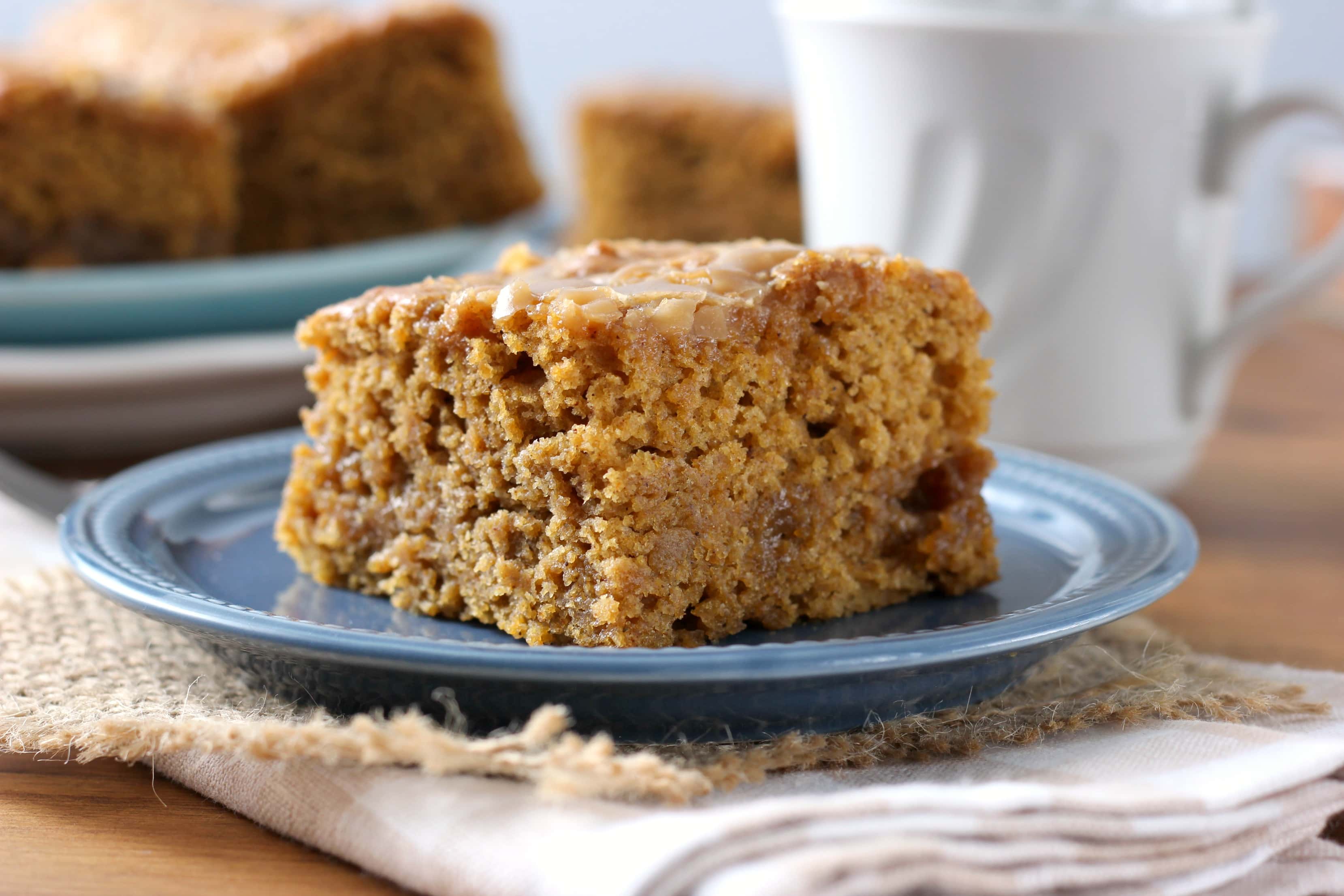 This pumpkin cake is one of those foods that's kind of boring at first glance. All the same color. Not that exciting to look at. But as soon as you take a bite, you realize that looks can definitely be deceiving!
Loaded with pumpkin pie spices, this pumpkin cake is anything but boring.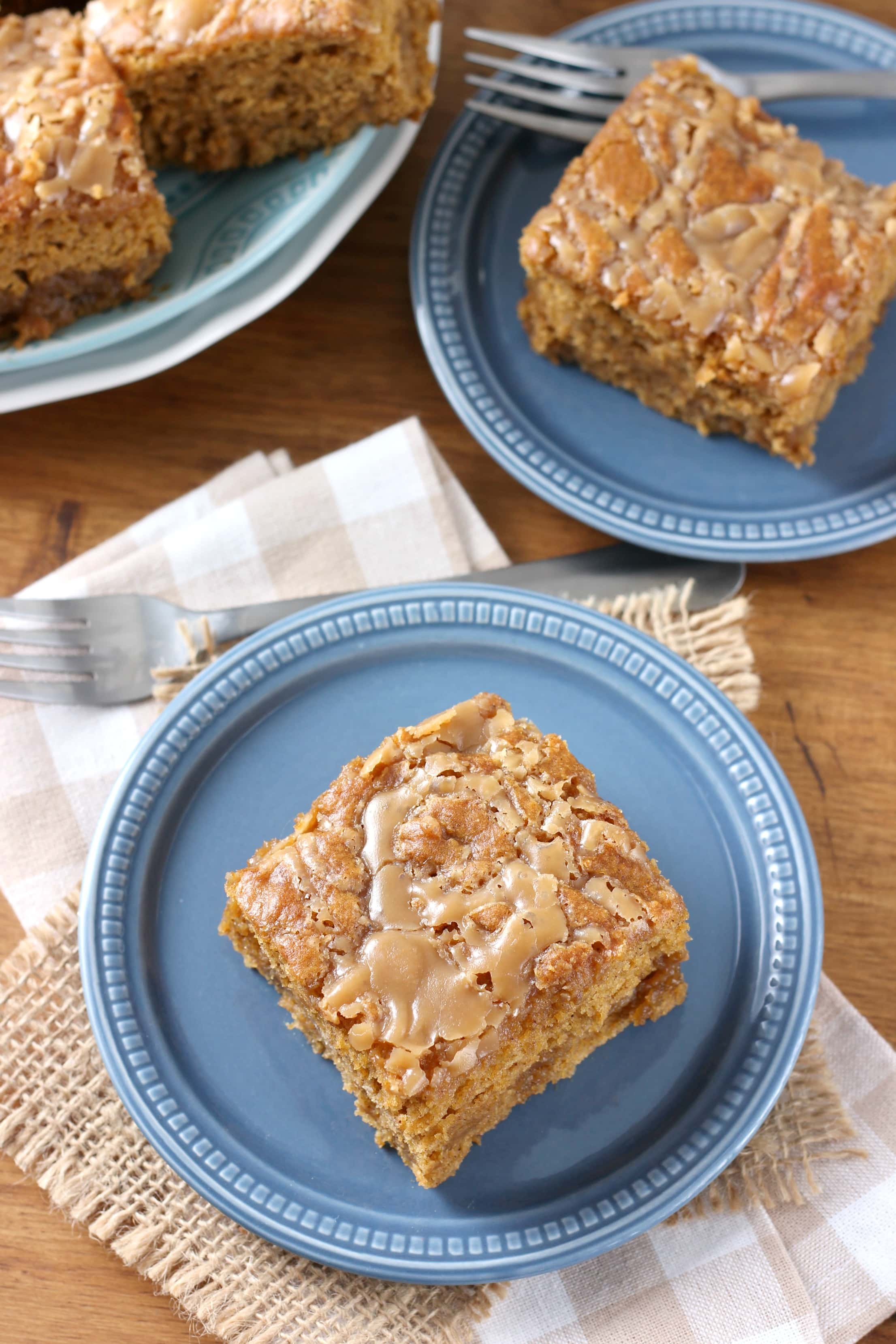 A layer of salted caramel runs throughout the cake leaving little pockets of gooey caramel in its wake. And on top? More salted caramel, of course!
A drizzle of salted caramel is added right before baking and turns into a crunchy salty sweet topping that makes this unassuming pumpkin cake completely irresistible!
Gooey Salted Caramel Pumpkin Cake
Author:
Ingredients
For the Cake
1 1/2 C white whole wheat flour
1 1/2 C all-purpose flour
1 1/2 tsp baking powder
1 1/2 tsp baking soda
1 tsp salt
1 1/2 tsp cinnamon
1 tsp nutmeg
1/2 tsp ginger
1/4 tsp cloves
1 C brown sugar
3/4 C sugar
2 eggs
1 C plain or vanilla yogurt
2 tbsp olive or canola oil
1 tsp vanilla extract
1 1/2 C pumpkin puree (not pumpkin pie filling)
For the Salted Caramel
3/4 C brown sugar
1/4 C half & half
1/4 C butter
1 tsp coarse sea salt
Instructions
Preheat oven to 350. Spray a 9×13 inch baking dish with non-stick cooking spray.
In a large bowl, whisk together flours, baking powder, baking soda, salt, cinnamon, nutmeg, ginger, and cloves.
In the bowl of a stand mixer, or with an electric mixer, beat together sugars and eggs until creamy. Beat in yogurt, oil, and vanilla extract until combined. Stir in pumpkin puree until just combined. Slowly add in dry ingredients and beat until combined.
Spread half of the batter into the bottom of prepared baking dish. Bake for 20-25 minutes, or until center is just set.
While cake is baking, prepared salted caramel. In a medium saucepan, stir together brown sugar and half & half. Over medium heat, bring mixture to a boil. Stirring constantly, allow sugar mixture to boil until sugar has dissolved and mixture has darkened. This will take about 3-5 minutes. Stir in butter and salt. Remove from heat and continue stirring for another two minutes to cool the mixture.
Drizzle about 1/2 cup of the salted caramel mixture over the top of the pumpkin bars and spread with a spoon. Spread remaining pumpkin batter over the top. Drizzle remaining salted caramel mixture over top.
Bake for another 35-40 minutes or until toothpick inserted in the center comes out clean.
Allow to cool for 10 minutes before cutting into slices and serving.
Store leftovers in an airtight container.