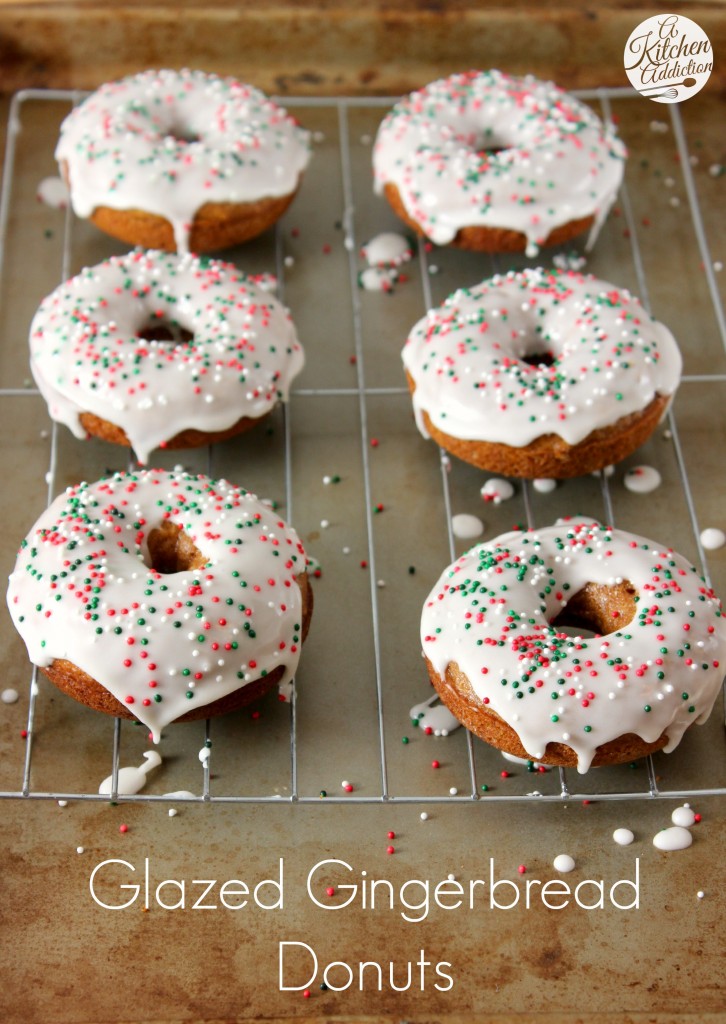 Since my theme this holiday season seems to be recipes that are quick and easy, I thought I may as well share an easy breakfast idea.
When I want to have something different for breakfast, but don't want to have to get up super early to prepare it, I often turn to baked donuts.
You can whip them up in no time and they often take less than 10 minutes to bake. My kind of breakfast!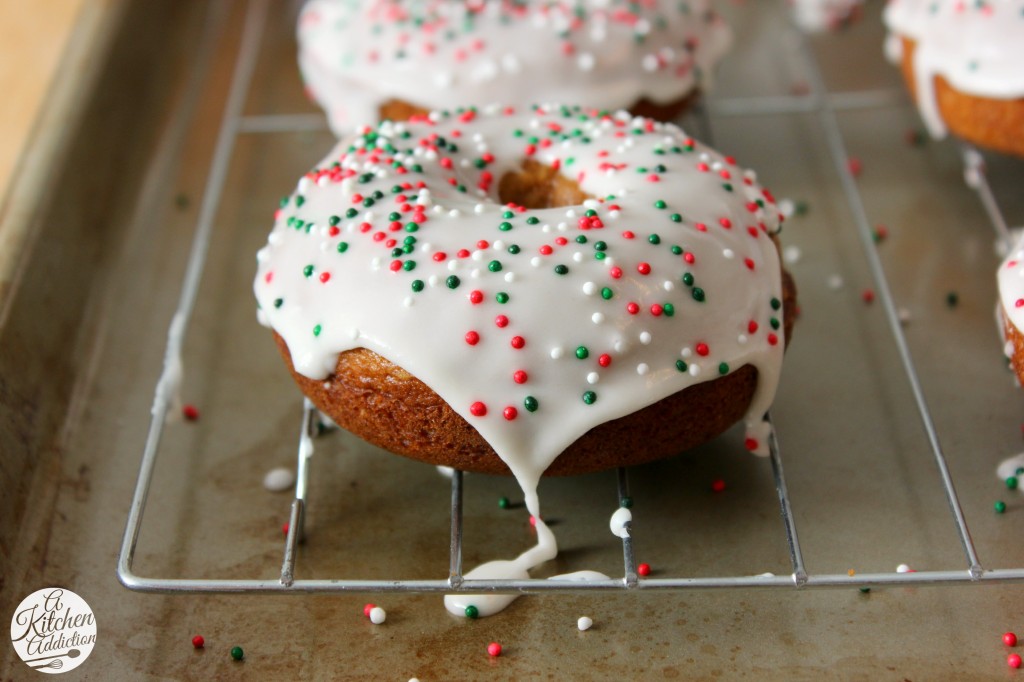 These glazed gingerbread donuts have the flavor of my favorite soft ginger cookies and are topped with a simple glaze to add just a bit of extra sweetness.
And, of course, there are sprinkles. Donuts are much more festive with sprinkles!
We're already on our second batch of these donuts and they have made their way to the "good enough to make next year" list. Considering how many recipes we go through in a year, that's saying a lot!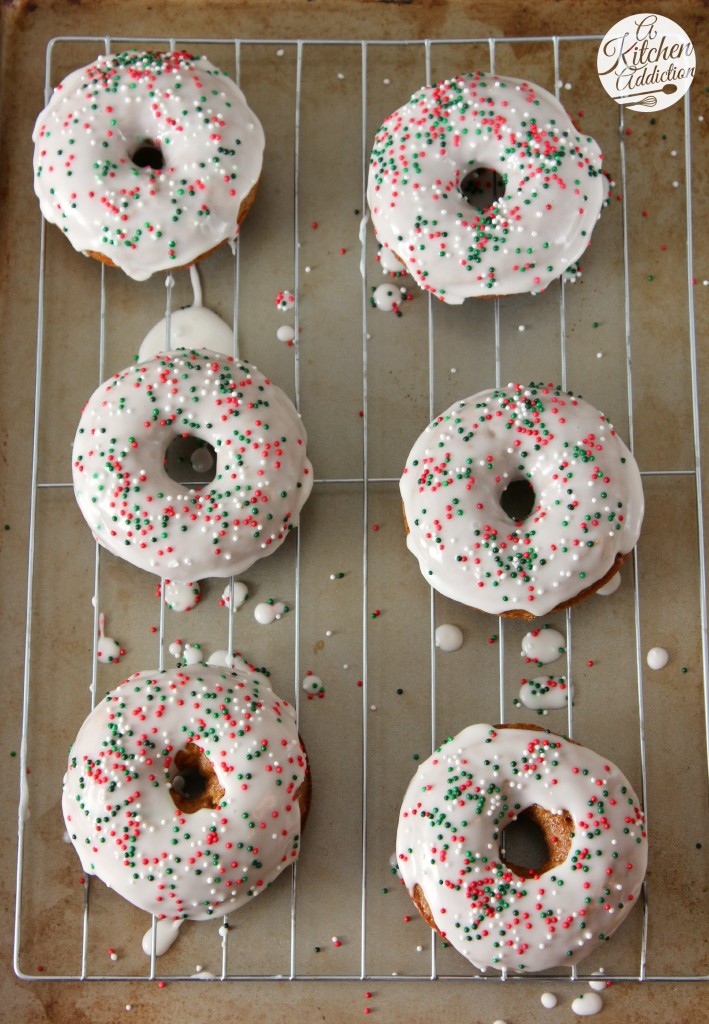 If you don't want to mess with a glaze, feel free to sprinkle with sugar or eat them plain. However, I recommend the glaze (and the sprinkles!) to get that flavor of a traditional iced ginger cookie.
Can't go wrong with a Christmas cookie in donut form!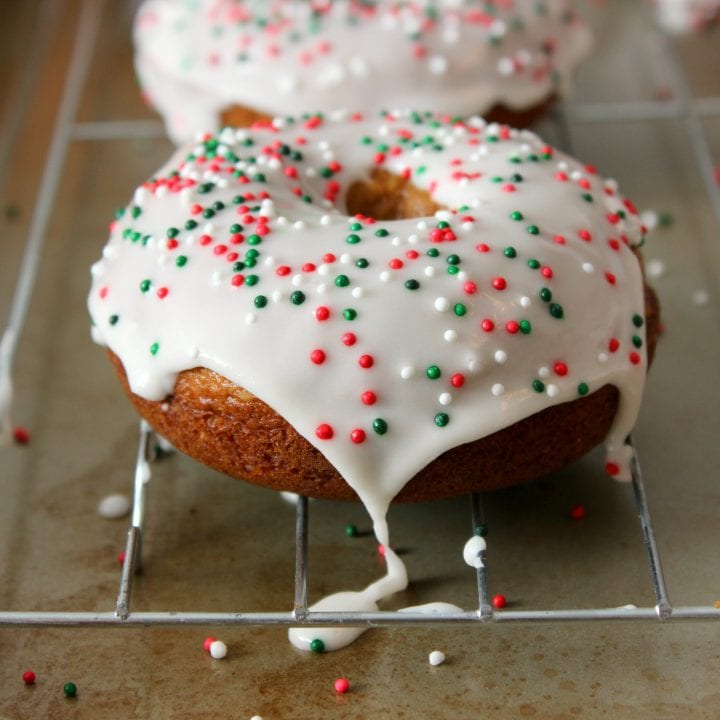 Glazed Gingerbread Donuts
Ingredients
For the Donuts
1 C white whole wheat flour
1 tsp baking powder
1/4 tsp baking soda
1 tsp cinnamon
1/2 tsp ginger
1/4 tsp allspice
1/8 tsp cloves
1/4 tsp salt
1/4 C brown sugar
1 egg
3 tbsp molasses
1/3 C milk
1 1/2 tsp vanilla extract
3 tbsp butter, melted
For the Frosting
1 C confectioner's sugar
1 tbsp hot water
1/2 tbsp + 1/2 tsp milk
1/4 tsp vanilla extract
Instructions
Preheat oven to 350. Lightly spray donut pan with non-stick cooking spray.
In a large bowl, whisk together flour, baking powder, baking soda, cinnamon, ginger, allspice, cloves, salt, and brown sugar.
In a small bowl, whisk together egg, molasses, vanilla extract, milk, and butter. Add wet ingredients to dry ingredients and stir until just combined.
Transfer batter to a pastry bag or a plastic bag with a corner cut off. Pipe batter into donut pan filling each cavity about 2/3 full.
Bake for 8 minutes or until edges just start to turn golden brown. Transfer to a wire rack to cool.
While donuts are cooling, stir together all ingredients for the frosting. You may need to add up to another 1/2 teaspoon of milk to reach desired consistency. Dip tops of donuts into glaze and return to wire rack. Top with sprinkles and allow glaze to harden before serving.
Best served same day but leftovers can be stored in an airtight container.
Recommended Products
As an Amazon Associate and member of other affiliate programs, I earn from qualifying purchases.