These rich, fudgy Mini Peppermint Hot Chocolate Bundt Cakes are a festive addition to your holiday dessert table! Filled with hot chocolate, peppermint candies, and marshmallows, these little cakes are an easy recipe that will sure to become a favorite!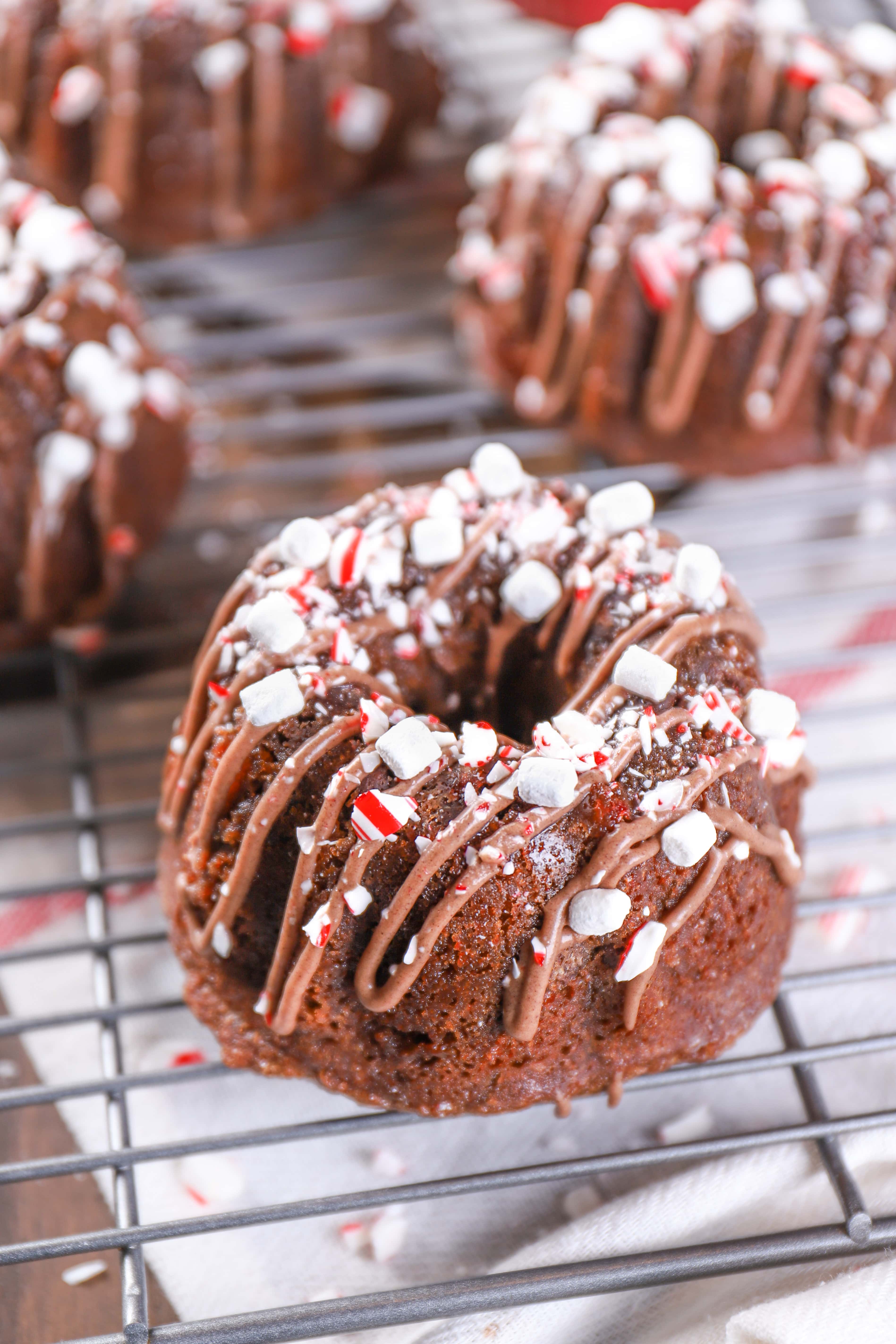 *This recipe is made in partnership with the Chicken & Egg Association of Minnesota. As always, all opinions are still my own.
It's all chocolate and peppermint in my kitchen right now. Whether it's the ever growing list of baking ideas or the food that I'm making for the blog and family, I can't get enough of the classic chocolate peppermint combo.
I can do without eggnog, caramel brulee, red velvet, fruitcake, etc. But gingerbread and chocolate peppermint? They have to make an appearance in our house. And if I can only have one? Chocolate and peppermint it is.
These mini peppermint hot chocolate bundt cakes are the latest way for us to enjoy a favorite! And, I'm getting some help with this recipe from another great Minnesota organization.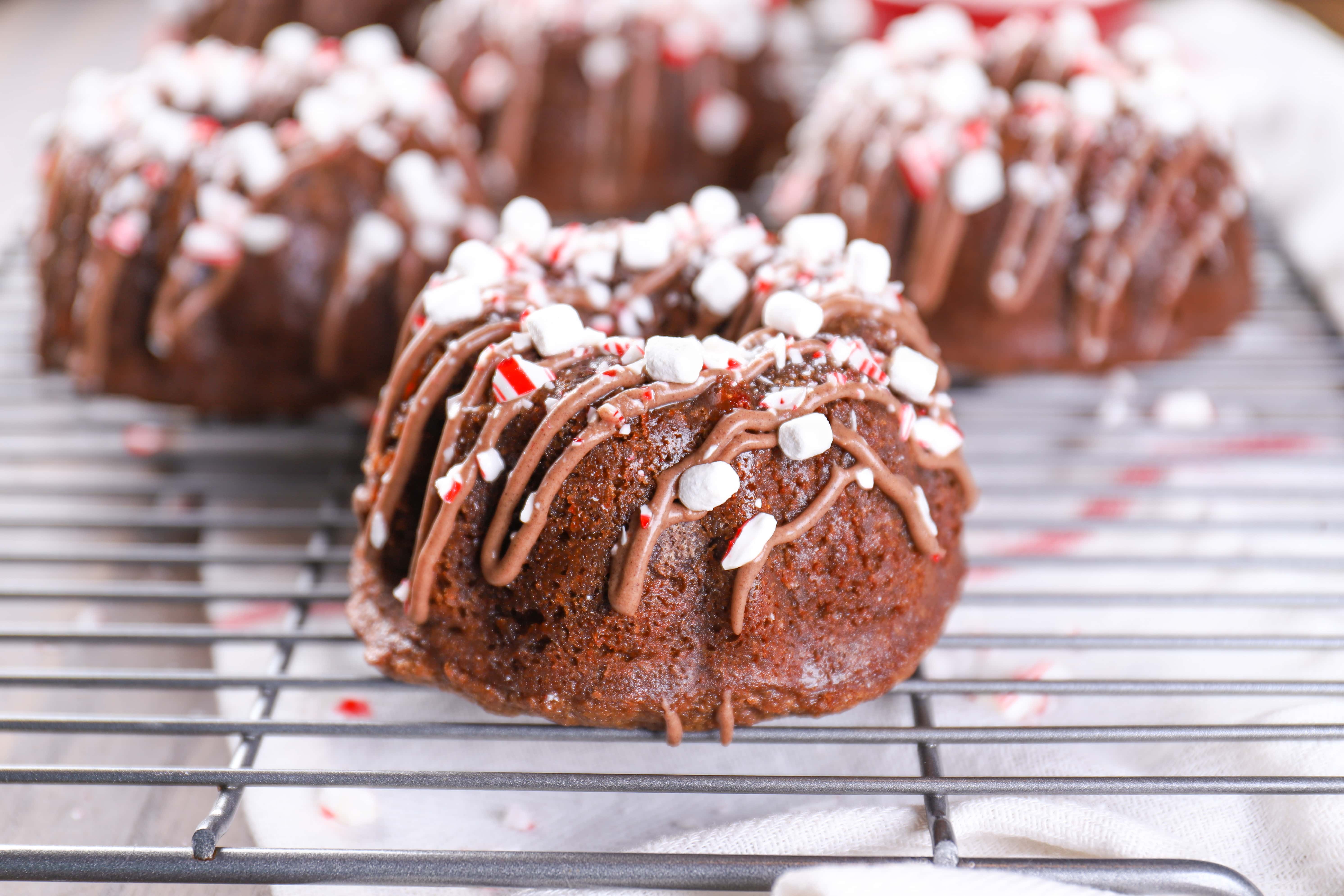 I'm excited to be partnering with the Chicken & Egg Association of Minnesota. One of the great things about this job is that it allows me to learn more about where my food comes from and how the farmers in my state contribute to our sources of food.
Did you know Minnesota consistently ranks in the top ten for egg production? These farmers are committed to taking excellent care of their hens while protecting the land, air, and water on their lands.
American egg farmers work hard to provide consumers with a high quality variety of eggs from which to choose. They care about the animals, the land, and the consumers.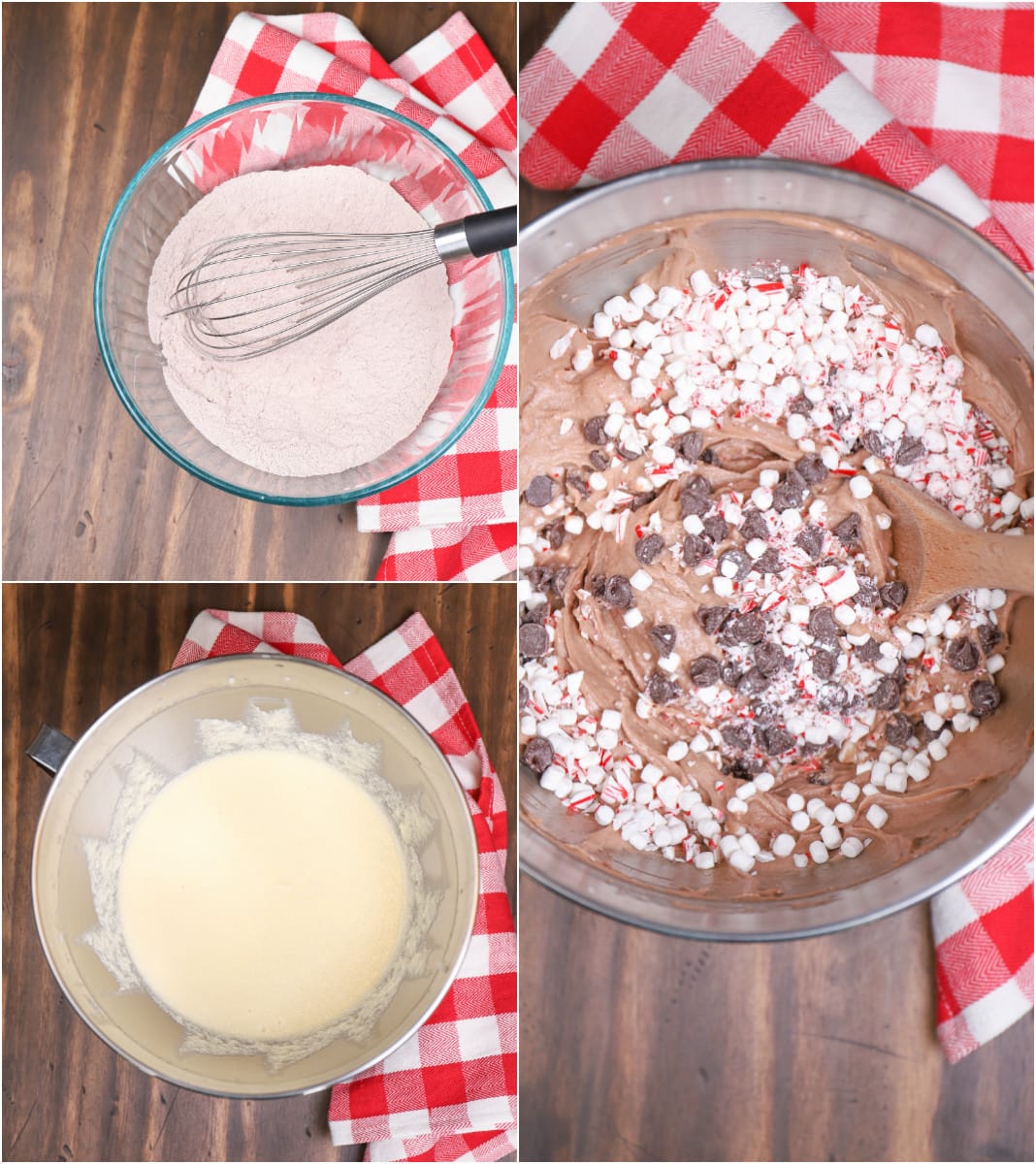 As I'm sure you can imagine, more eggs are consumed during the winter holiday season than any other time of year (I currently have 3 dozen eggs in my fridge for holiday baking!). They add flavor, moisture, and nutritional value to recipes (Did you know that one egg has 13 essential vitamins and minerals in varying amounts, high-quality protein, unsaturated fats and antioxidants, all for 70 calories?!).
This recipe uses three eggs to add flavor, moisture, and richness to these decadent cakes!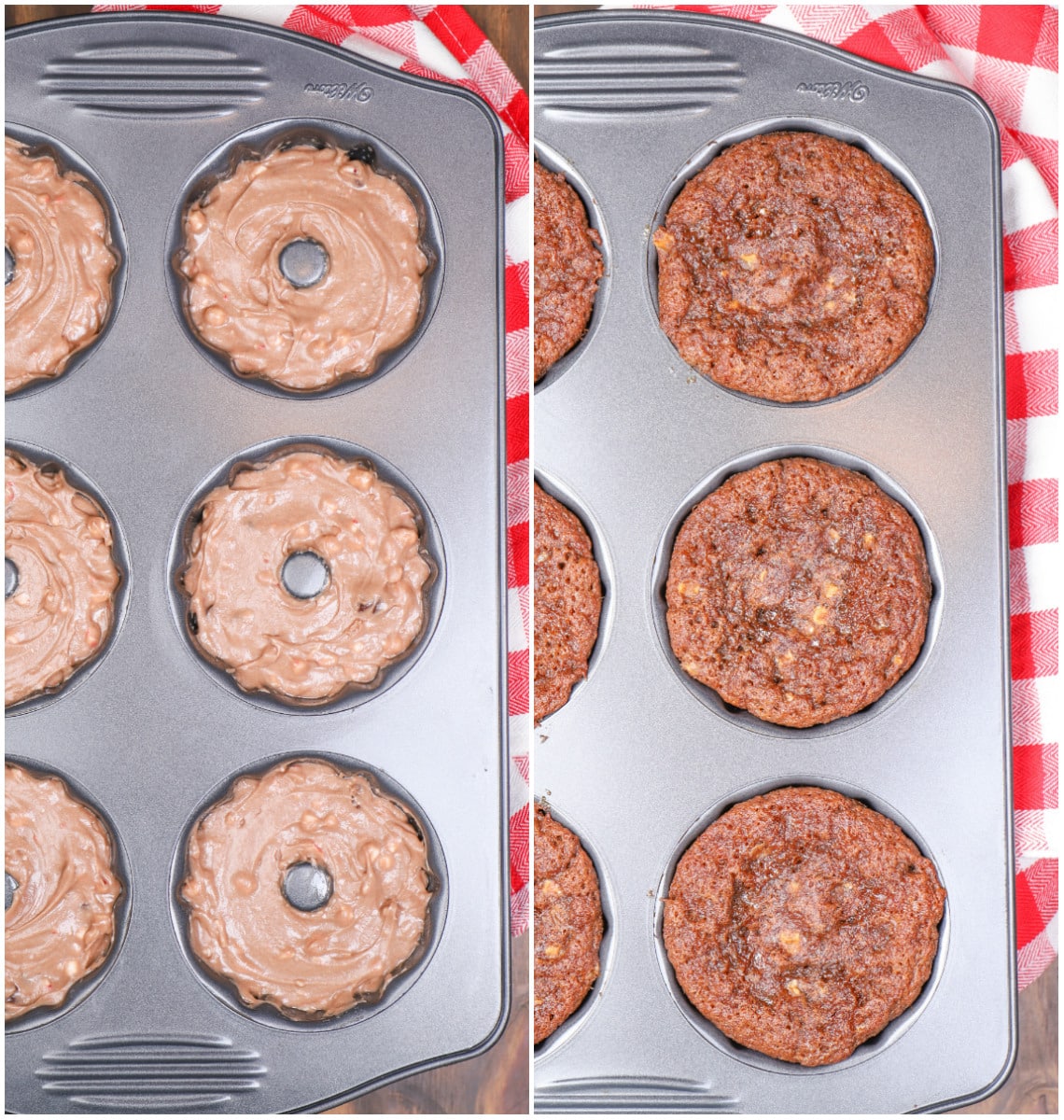 Don't be scared by all of the ingredients. They are all common ingredients, and the process is really quite simple. You combine the dry ingredients in one bowl. You cream the butter and sugar in a second bowl, and add in the wet ingredients.
Then combine the dry and wet ingredients. Stir in the add-ins and scoop into prepared bundt pan. Bake. See? Simple.
The result is a moist hot chocolate flavored cake that has pockets of peppermint and rich chocolate. A drizzle of a simple chocolate glaze and a sprinkle of marshmallow bits and crushed peppermint candies tops off these festive cakes and makes them ready for an appearance at your next holiday party!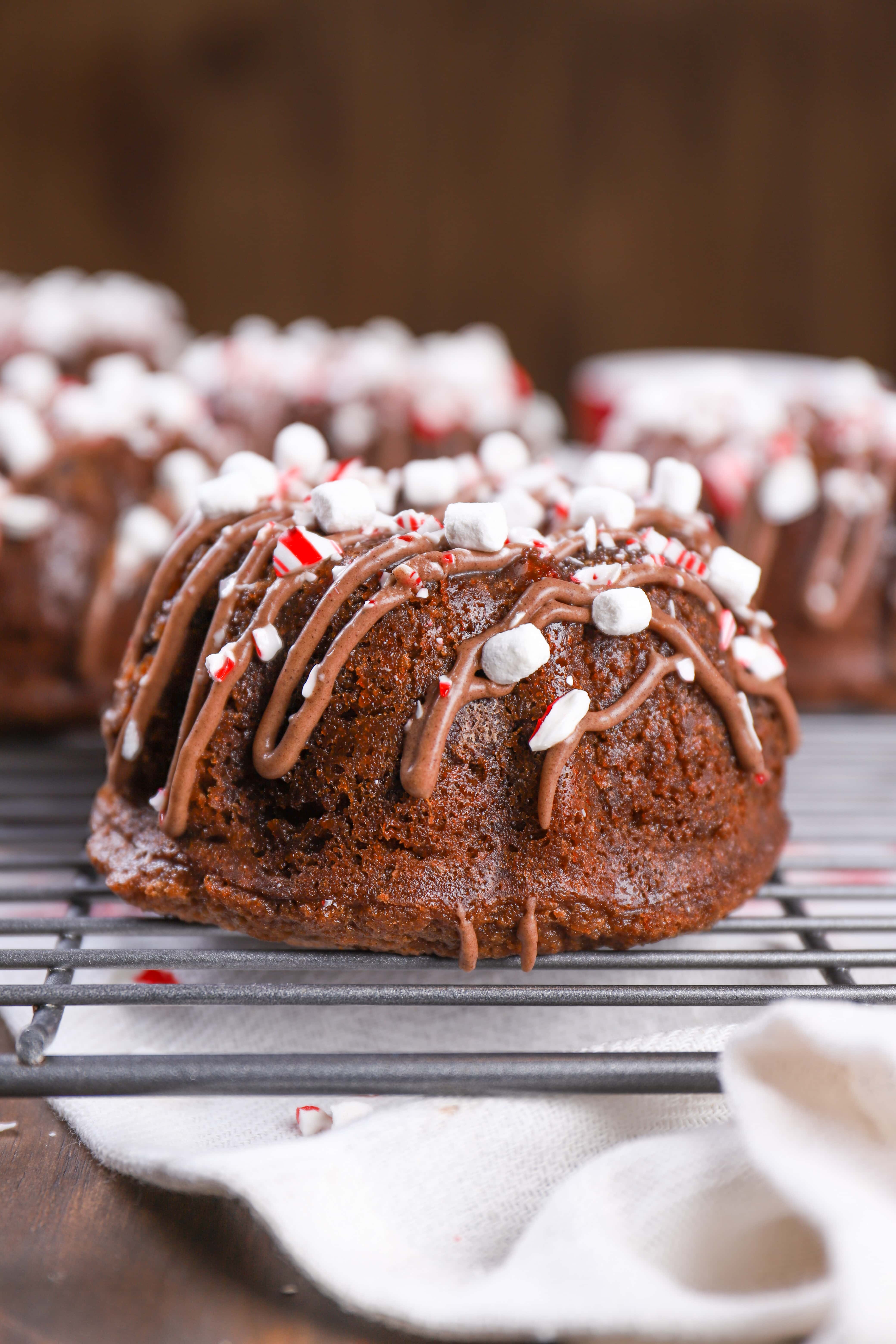 Tips for Making Mini Peppermint Hot Chocolate Bundt Cakes
Don't skip spraying your bundt pan with non-stick cooking spray. The cakes will stick!
You can use whatever flavor of hot chocolate you like. Just use a mix that doesn't contain marshmallows. I like to use a dark chocolate mix for a richer flavor, but feel free to use milk chocolate if you want a sweeter flavor.
If you don't have a mini bundt cake pan, you can use a 6 cup or 8 cup bundt cake pan. Adjust the baking time to 35-45 minutes, or until a toothpick inserted in the middle comes out clean.
Do not use a mini bundt pan where each cavity is smaller than 4 inches across. It will overflow. If you do have a smaller pan, just make sure that you don't fill each cavity more than 3/4 full, and you may end up with 2-3 more cakes than what is listed.
Feel free to make the cakes a day ahead of time and store in an airtight container. Then top them off with glaze and candy the day you want to serve them.
Make these mini bundt cakes as soon as possible! 🙂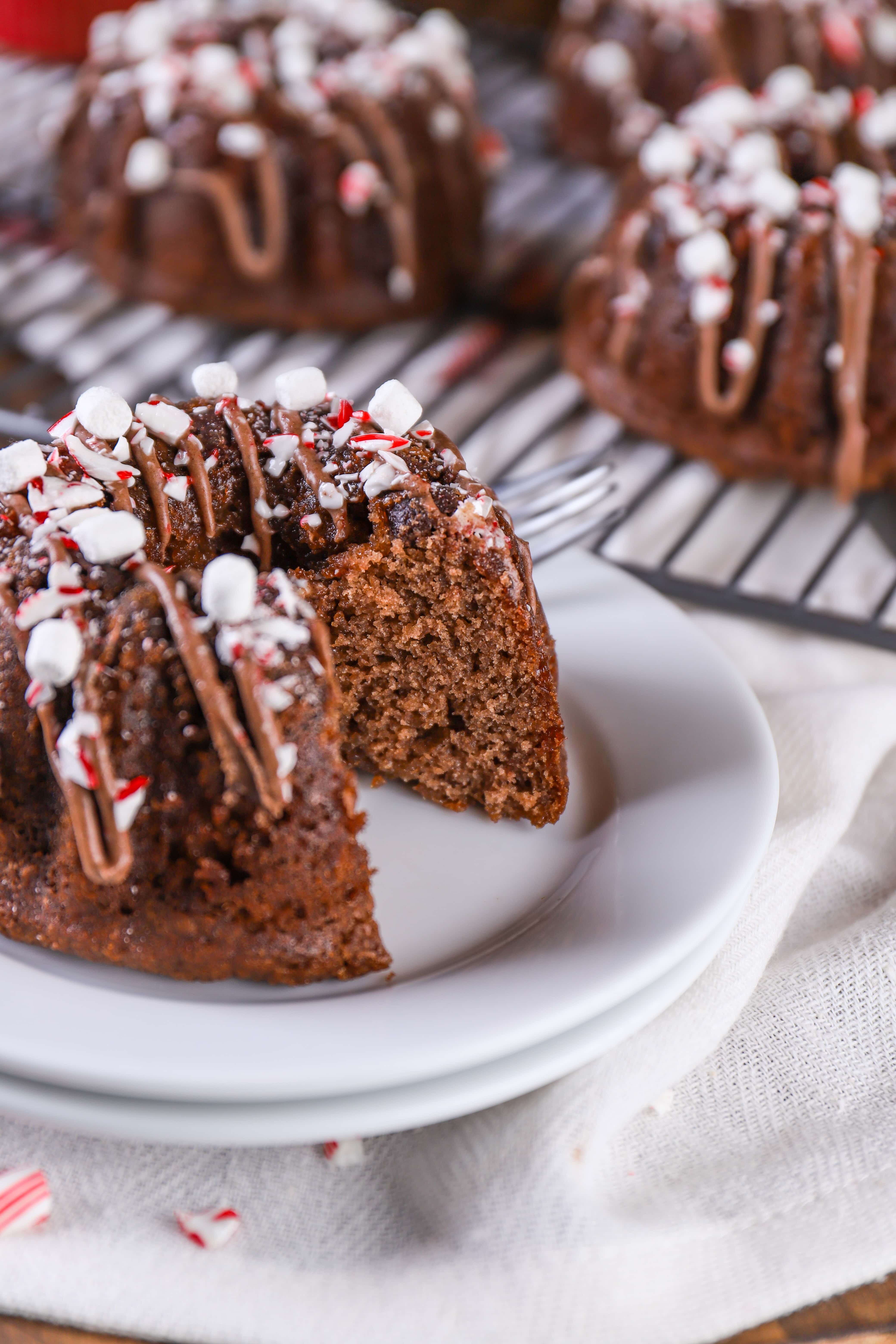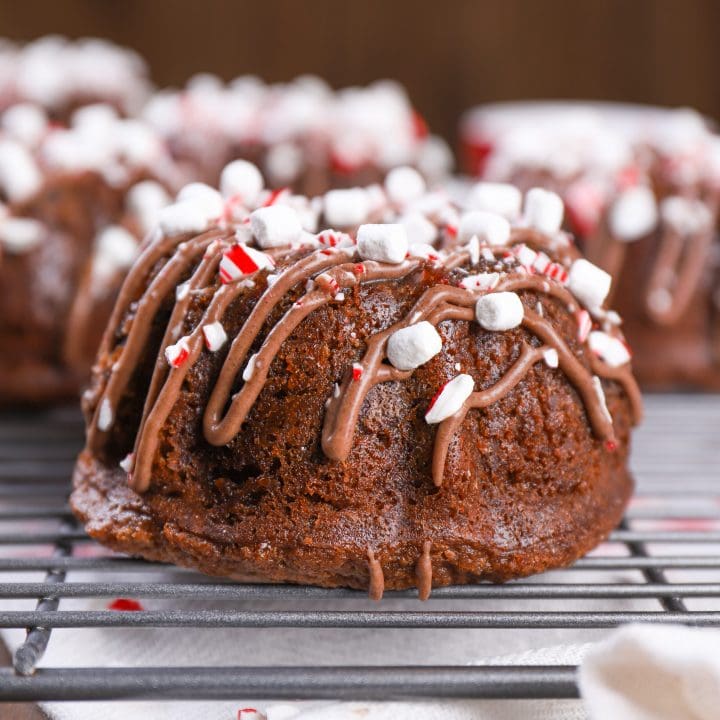 Mini Peppermint Hot Chocolate Bundt Cakes
Yield: 6 mini bundt cakes or 1 10-inch bundt cake
Ingredients
For the Cake
1 Cup all-purpose flour
1/2 Cup dry hot chocolate mix
1/2 teaspoon baking soda
1/2 teaspoon baking powder
1/4 teaspoon salt
1 Cup sugar
1/2 Cup butter, room temperature
3 eggs, room temperature
1/2 Cup whole milk or heavy cream
1 teaspoon vanilla extract
1 teaspoon peppermint extract
1/2 Cup semi-sweet chocolate chips
1/2 Cup marshmallow bits
1/4 Cup crushed peppermint candies
For the Glaze
1 Cup confectioner's sugar
3 tablespoons unsweetened cocoa powder
3-4 tablespoons heavy cream
½ teaspoon peppermint extract
crushed peppermint candies
marshmallow bits
Instructions
Preheat oven to 350 degrees F. Liberally spray a mini bundt cake pan with non-stick cooking spray.
In a small bowl, whisk together flour, dry hot chocolate mix, baking soda, baking powder, and salt. Set aside.
In the bowl of a stand mixer, or with an electric mixer, cream together sugar and butter until light and fluffy, about 2-3 minutes on medium speed. Add in eggs one at a time, beating well after each addition.
Slowly beat in whole milk/heavy cream, vanilla extract, and peppermint extract until completely combined.
Beat in flour mixture until just combined. Stir in semi-sweet chocolate chips, marshmallow bits, and crushed peppermint candies until combined.
Fill each bundt cake cavity about 3/4 full with batter.
Bake for 20-25 minutes, or until a toothpick inserted in the center comes out clean.
Remove pan to a wire rack to cool completely before removing cakes from pan.
Prepare glaze by whisking together confectioner's sugar and unsweetened cocoa powder. Stir in heavy cream and peppermint extract until smooth and runny enough to be able to drizzle off of your spoon.
Drizzle glaze over bundt cakes. Sprinkle with crushed peppermint candies and marshmallow bits. Allow glaze to harden and serve.
Notes
You can use a 6 cup or 8 cup bundt pan if you don't have a mini bundt pan. Just adjust the baking time to 40-45 minutes.
If you have a large bundt pan (12 cup), double all of the ingredients except for the eggs. Just use 5 eggs.
You can can use whatever flavor of dry hot chocolate mix you like. Just don't use the mixes that have marshmallows in them.
Recommended Products
As an Amazon Associate and member of other affiliate programs, I earn from qualifying purchases.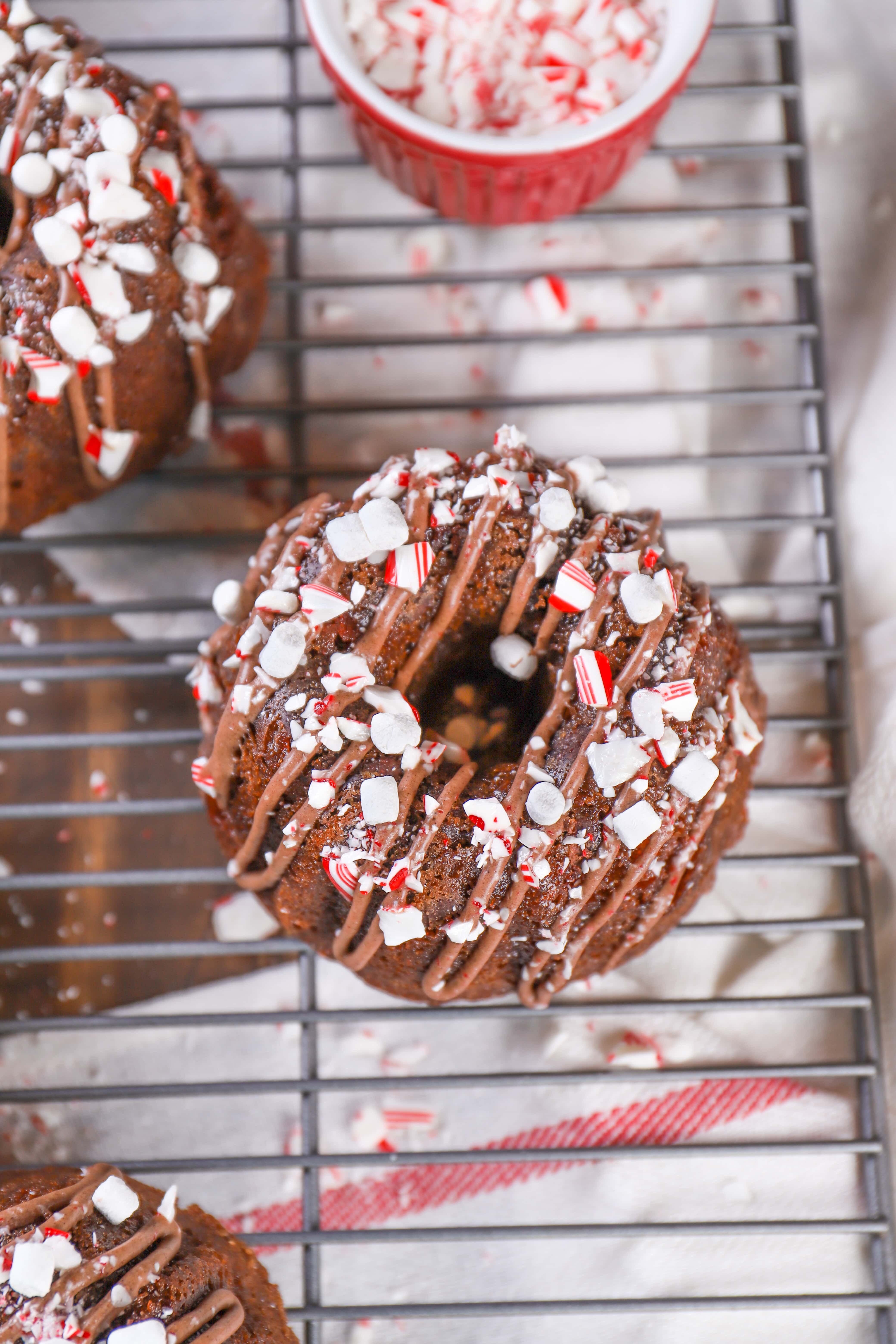 Tips for Egg Handling and Safety this Holiday Season
Always wash your hands before handling eggs and make sure that the eggs are clean and uncracked before using.
Do not allow eggs to be out of the refrigerator or at room temperature for more than 2 hours.
Remember to keep hot foods hot and cold foods cold. Bacteria can multiple in temperatures from 40 degrees F to 140 degrees F.
Be sure to check out Minnesota Chicken and Egg, The Incredible Egg, and Dish on Eggs for more facts, tips, and recipes!