Cookies that taste like brownies with toasted almonds and Nutella! Yep, these cookies taste amazing, especially if you need a chocolate fix! 🙂 Mom is sure to love these!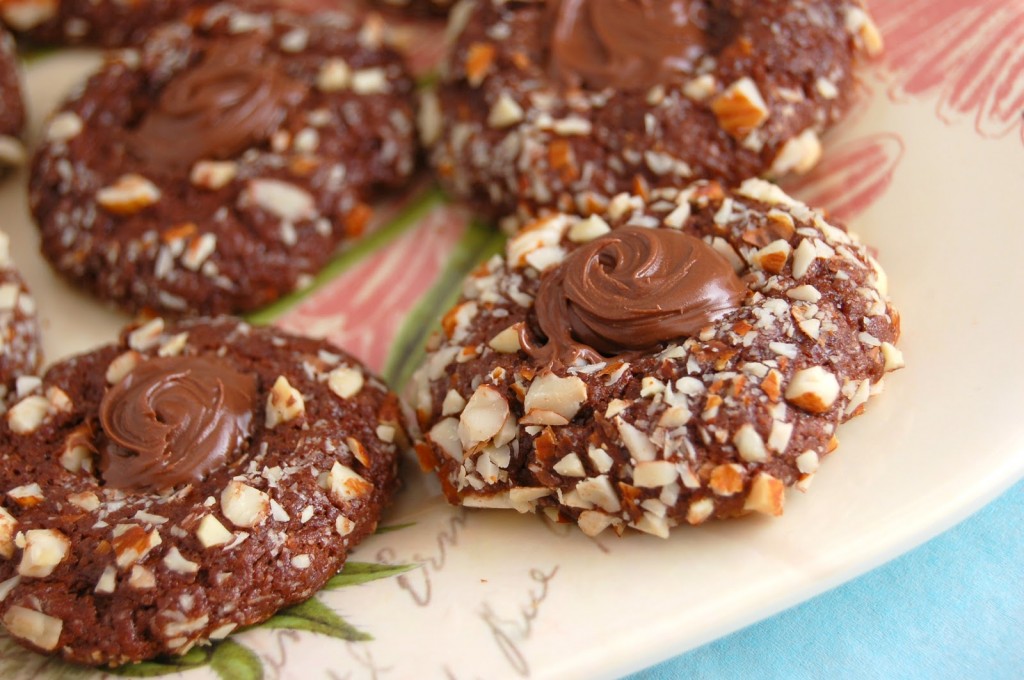 Using half whole wheat pastry flour, half sugar substitute, and half non-fat plain yogurt allows for you to indulge without going overboard on the calories and fat. And don't worry, I do know that Nutella is not a health food, and I will not be slathering it on white bread as part of a nutritious breakfast! But, it does taste good and adds a touch of richness to these tasty cookies. 🙂
Fudgy Chocolate-Almond Nutella Thumbprint Cookies

Inspired by: Cooking Light
Yield: 20 cookies
Ingredients
1 C all-purpose flour or half whole wheat pastry flour, half all-purpose
1/2 C granulated sugar substitute
1/2 C confectioner's sugar
1/3 C unsweetened cocoa
1/4 tsp salt
1/4 C non-fat plain yogurt
1/4 C butter, softened
1 egg
1/2 tsp vanilla extract
2/3 C chopped almonds, lightly toasted
Nutella
Directions
Preheat oven to 350. Spray cooking sheet with non-stick spray or line with parchment paper.
In a small bowl, combine flour, sugar substitute, sugar, cocoa powder, and salt. Whisk together until well combined.
In a bowl attached to a stand mixer, add butter. Beat until creamy. Add in the yogurt, egg, and vanilla extract. Beat until smooth. Add flour mixture to the butter mixture and beat on low until just combined.
Roll dough into 1 1/2 inch balls. Roll balls in chopped almonds to cover all sides. Arrange about 1 inch apart on cookie sheet. Press thumb into the middle of each ball, leaving an indentation.
Bake for 8-10 minutes or until cookie is set. If the cookies have "puffed" at all, you may need to use a small spoon to remake the indentation.
Remove from cookie sheet and allow to cool completely on wire rack.
Spoon about a 1/4 teaspoon of Nutella into the center of each cookie.
ENJOY!