Since it's Mother's Day on Sunday, I thought it would be a good time to test out some new Spring recipes that would make for good breakfast in bed or brunch ideas for mom! These donuts made the cut. They are addictive. Really, they are. The light texture, the sweet chunks of fresh strawberry, the tartness of lime in the glaze, and the fact that they are low-fat and contain complex carbs all add up to one amazing treat! Check out the chunks of strawberry peeking through. . .
Yummy strawberry-lime glaze top off these already delicious donuts! These are on the make again list (perhaps tomorrow!)! Since they're small, feel free to eat multiple in one sitting. 🙂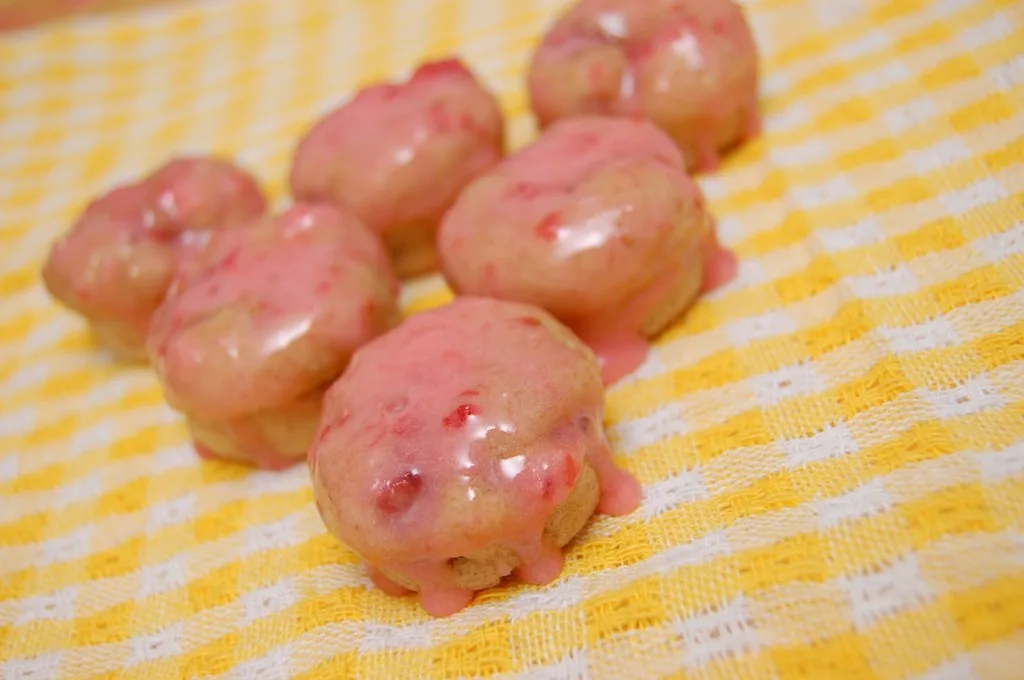 Hope your week is getting off to a great start! 🙂


Fresh Strawberry Baked Mini Donuts with Strawberry-Lime Glaze

Yield: approx. 3 dozen
Ingredients
For the Donuts
1 C whole wheat flour
1 C unbleached all-purpose flour
1/3 C granulated sugar substitute or sugar
1 1/2 tsp baking powder
3/4 C non-fat buttermilk
2 eggs
1/4 C honey
2 tbsp butter, melted
1 tsp vanilla extract
2/3 C strawberries, mashed with fork
For the Glaze
2 large strawberries
about 1 C confectioner's sugar
1/4 tsp fresh lime juice
Directions
Preheat oven to 375. Spray donut pan with non-stick cooking spray.
In a medium bowl, combine flours, sugar substitute, and baking powder. In a small bowl, mix together the buttermilk, eggs, honey, butter, and vanilla. Add the wet ingredients to the dry ingredients and stir until well-combined. Stir in mashed strawberries.
Spoon batter into a pastry bag or a ziplock bag with the corner snipped. Pipe batter into pan. Fill about 2/3 full (though it's hard to tell using a mini donut pan!).
Bake for 5-7 minutes or until donuts start to turn light golden brown.
Allow to cool for a couple of minutes in the pan before removing to a wire rack to cool completely.
While the donuts are cooling, prepare the glaze.
In a small bowl, beat the strawberries with a hand mixer until well mashed. Add the confectioner's sugar and lime juice. Beat until smooth.
Dip cooled donuts in glaze and allow to harden. Or snitch some and allow the rest to harden. 🙂
Store left-over glazed donuts in the refrigerator, if there are any left!