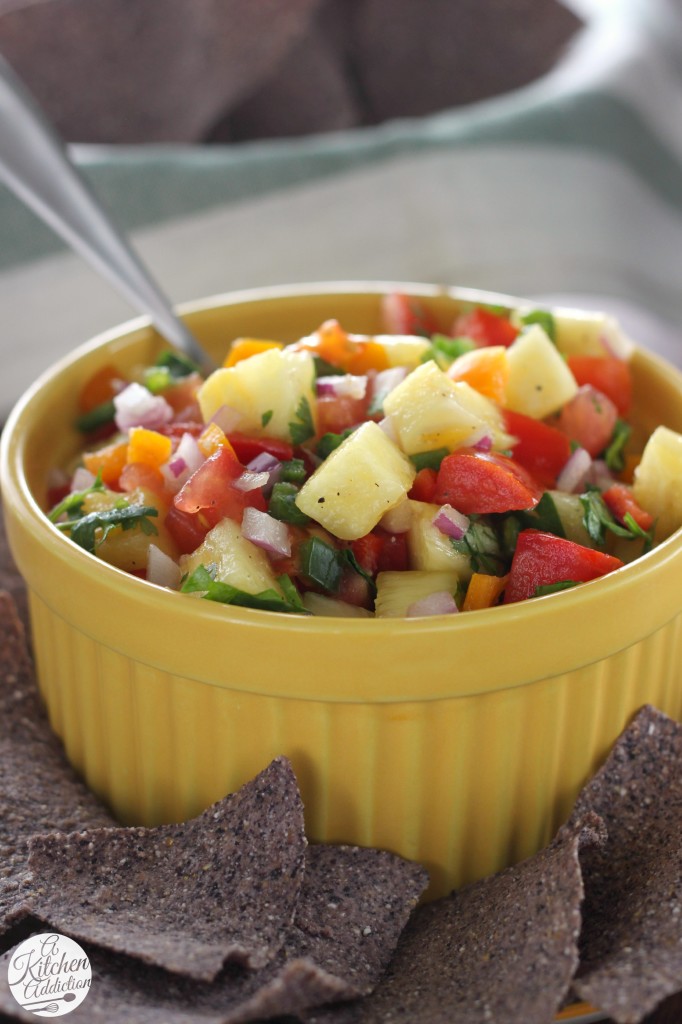 Summer food around here is all about being fresh, flavorful, and light. Homemade salsas definitely fit that category, and we've been eating lots of it!
Have you tried making your own salsa yet? It is so easy. As you can tell by the instructions below, there are only two steps. One of those steps being refrigerate the salsa.
A great aspect of making your own salsa is that it allows for control on how much heat you want to meet everyone's tastes. I'm not a huge fan of a lot of spice, so I really like fruit salsas. The most recent being this fresh pineapple salsa.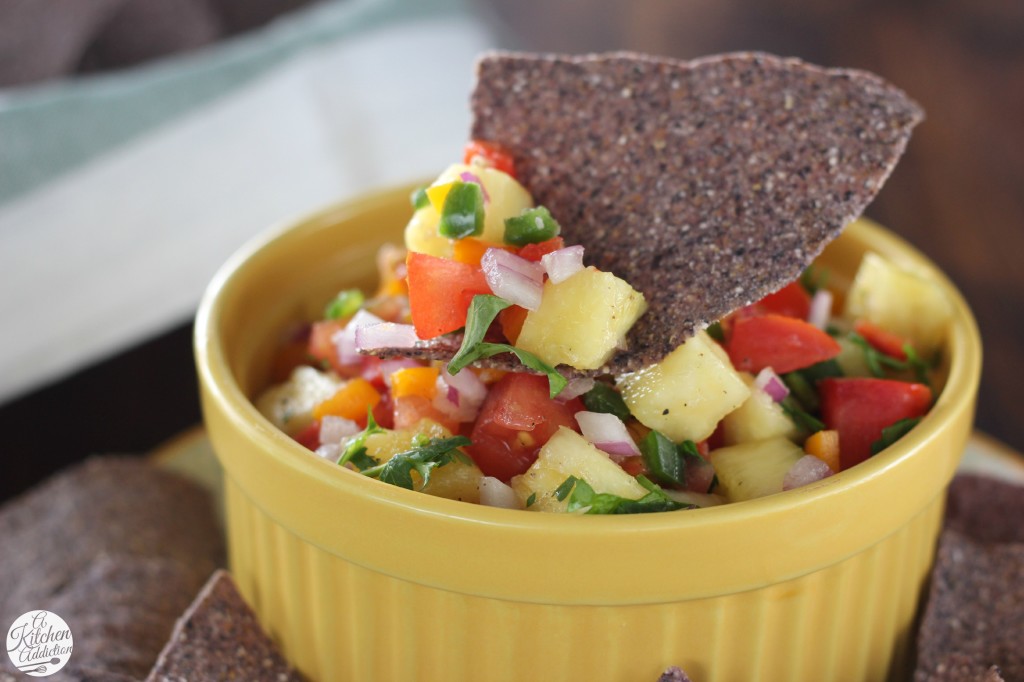 A fresh, flavorful salsa that is the perfect balance of sweet and spicy. The heat from the jalapeños evens out the sweetness of the pineapple. Red onions and fresh lime juice also pack a lot of flavor into the dish.
We like the flavor of cilantro, so I made sure to add some to this salsa. If you aren't a fan, you can easily leave it out. Just mix and match the flavors and quantities to your liking!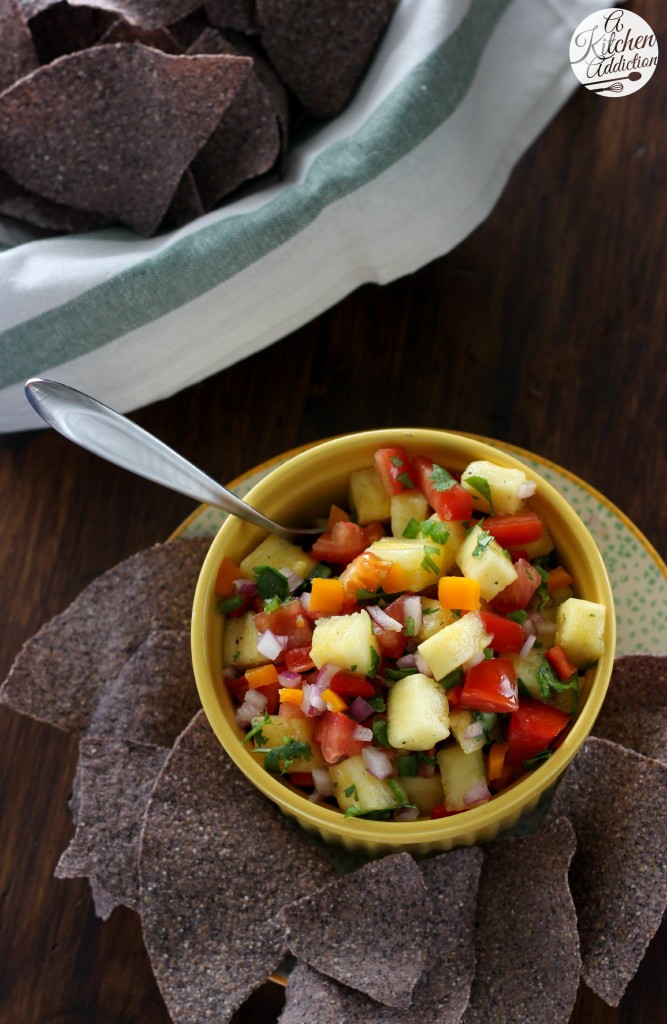 Make up a big batch this weekend to serve with your favorite tortilla chips or grilled meat for a fresh summer side!
While you can eat it right away, I strongly recommend that you let it refrigerate for the stated 2 hours. The flavors really start to blend and make the salsa that much better!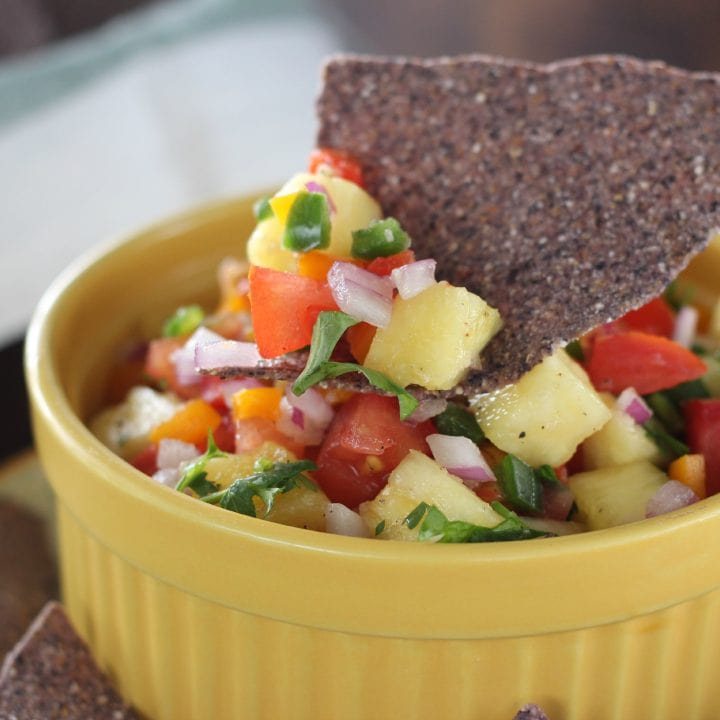 Fresh Pineapple Salsa
Refrigeration Time:
2 hours
Total Time:
2 hours
5 minutes
Ingredients
2 C chopped pineapple
1 C chopped tomato
1/2 C chopped sweet peppers
1/2 C diced red onion
1/2 C chopped cilantro
1 chopped medium jalapeño
2 minced garlic cloves
1 tbsp fresh lime juice
2 tsp fresh lime zest
salt and pepper, to taste
Instructions
Gently mix together all ingredients until combined.
Refrigerate for at least 2 hours to allow flavors to blend. Serve.
Recommended Products
As an Amazon Associate and member of other affiliate programs, I earn from qualifying purchases.