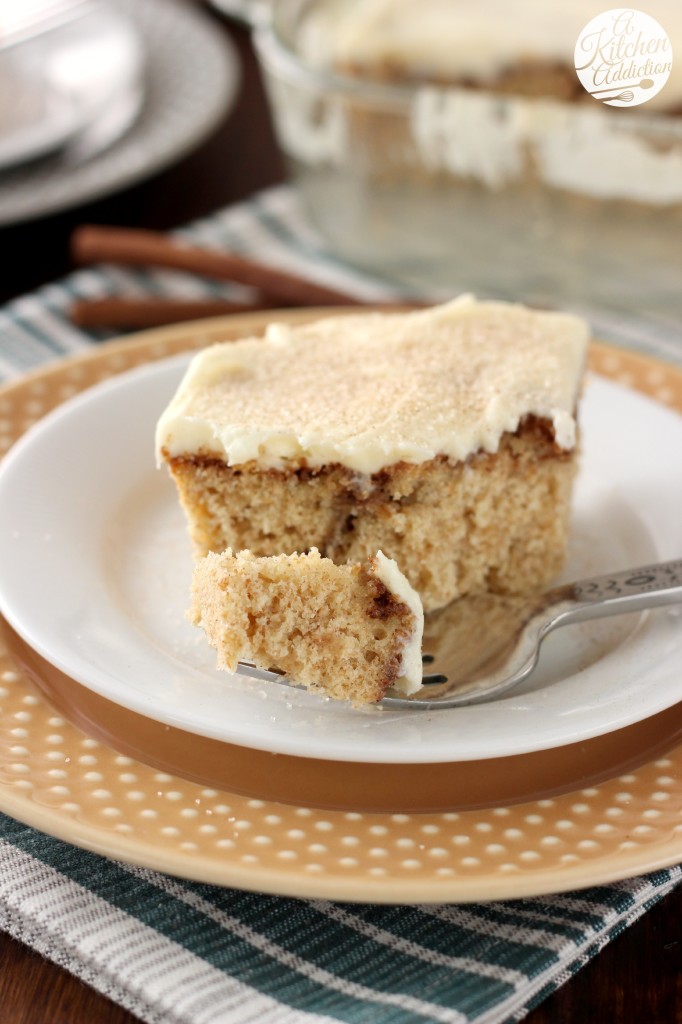 I broke out the eggnog for the first time of the season this weekend! When it comes to eggnog, I always wait until the first snowfall. That snowfall finally happened this weekend!
I'm that way with both eggnog and peppermint. It just doesn't feel like it's time for those flavors until snow makes an appearance. (Good thing I live where it snows!)
I also made an eggnog cinnamon roll cake this weekend, and it was too good to not share with you right away!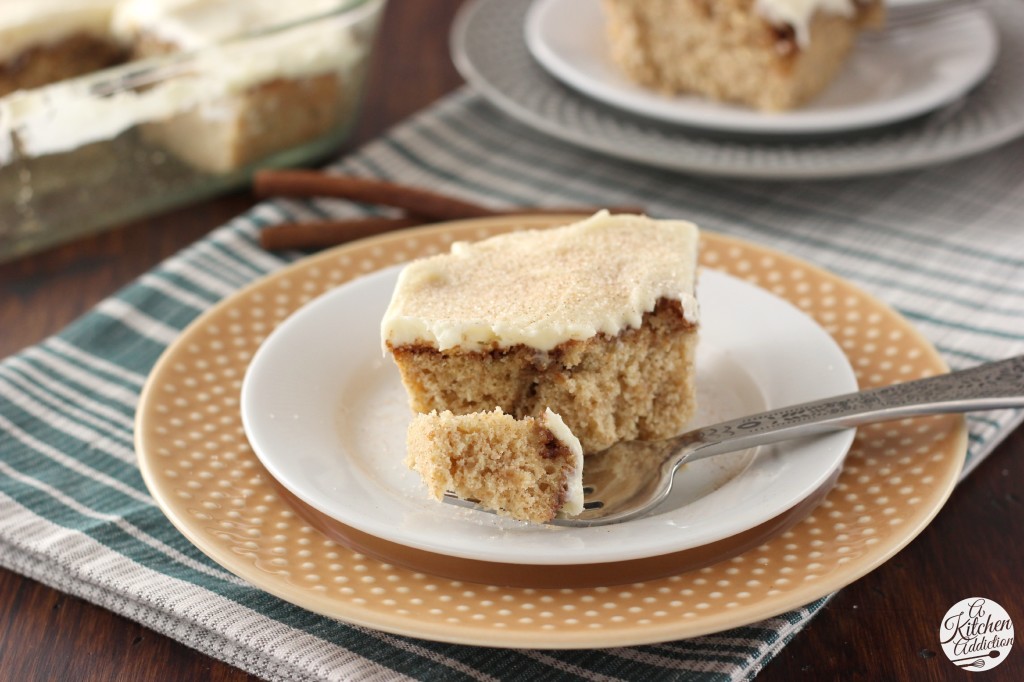 So, we're taking a break from fall and Thanksgiving recipes for a winter breakfast/dessert recipe! Don't worry, I'll be back later this week with some easy Thanksgiving recipes. But for now? It's all about the eggnog!
Eggnog both in the cinnamon roll cake and in the cream cheese frosting makes this cake burst with that warm, winter flavor. Since I don't always have time to make cinnamon rolls, but could always eat them, I like to mix things up and make a cinnamon roll cake.
All of the flavors of a cinnamon roll, but without all of the work!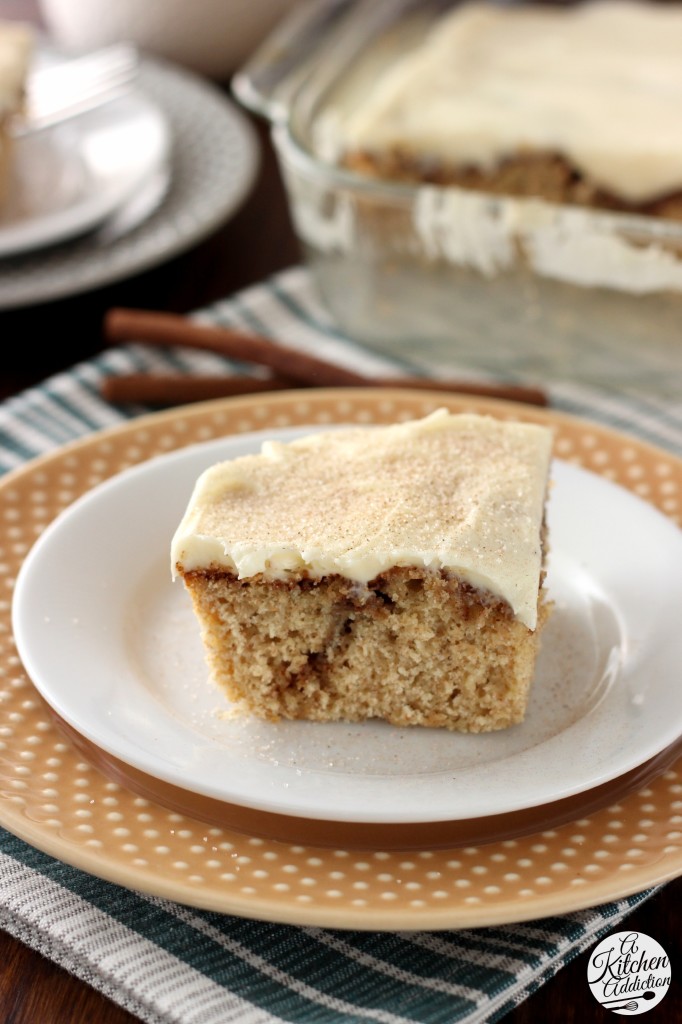 No yeast required! No cake mix either! This cake is made completely from scratch. Half whole wheat and half all-purpose, this cake is heartier than a typical cake but is still tender and moist. Swirls of cinnamon, nutmeg, and cloves are dispersed throughout just like the filling of a cinnamon roll.
At our house all cinnamon rolls need a cream cheese frosting and so do all cinnamon roll cakes! So this cake has a thin layer of eggnog cream cheese frosting to give it the sweet, tangy flavor that makes this cake irresistible.
Since it's so easy to make, you can make it the morning of and enjoy it warm or make it the night before and have it ready and waiting for you when you wake up! Enjoy!

Eggnog Cinnamon Roll Cake
Author:
A Kitchen Addiction
Ingredients
For the Cake
¾ C whole wheat flour
¾ C all-purpose flour
⅓ C sugar
2 tsp baking powder
⅛ tsp salt
¾ C + 2 tbsp eggnog
¼ C butter, melted and cooled
1 egg
1 tsp vanilla extract
For the Filling
2 tbsp butter, room temperature
¼ C brown sugar
1 tsp ground cinnamon
¼ tsp nutmeg
⅛ tsp cloves
For the Frosting
2 oz cream cheese, softened
2 tbsp butter, softened
2 tbsp eggnog
1½ C confectioner's sugar
Instructions
Preheat oven to 350. Lightly spray an 8x8 inch baking dish with non-stick cooking spray.
In a bowl, whisk together flours, sugar, baking powder, and salt.
In a small bowl, whisk together eggnog, butter, egg, and vanilla extract. Add wet ingredients to dry ingredients. Stir until just combined.
Spread batter into prepared baking dish. Set aside.
In a small bowl, whisk together brown sugar, cinnamon, nutmeg, and cloves. Stir in butter until completely combined. Drop filling over the top of the batter. Swirl into batter using a knife.
Bake for 18-22 minutes or until toothpick inserted in center comes out clean.
Remove to a wire rack to cool slightly.
While cake is cooling, cream together cream cheese and butter. Beat in eggnog until creamy. Carefully beat in confectioner's sugar until smooth.
Spread frosting over warm cake if you are eating the cake right away. If you are waiting to eat the cake, spread frosting over completely cooled cake.
Optional, sprinkle with additional cinnamon and nutmeg before serving.