Soft and buttery, these Easy Garlic Knots are a great first yeast dough to try! The dough is easy to work with and the flavor of the parsley garlic butter soaking into the fresh baked knots makes the small amount of work worth it!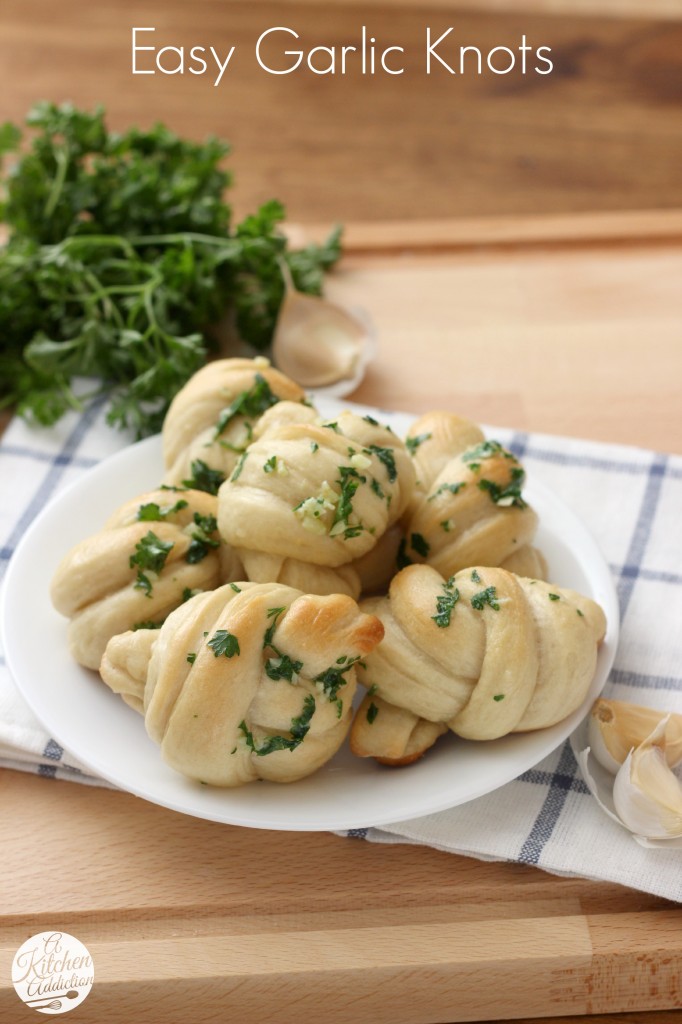 You already know how much I love fresh, homemade bread. Give me a choice between a piece of cake and fresh from the oven bread. I'll choose the bread. Just about every time.
Hot, buttery rolls straight from the oven. . .is there anything much better?! Yes, throw on some minced garlic and a bit of chopped parsley and you will find yourself eating more than you care to admit!
That may or may not be what happened when these easy garlic knots came out of the oven. . .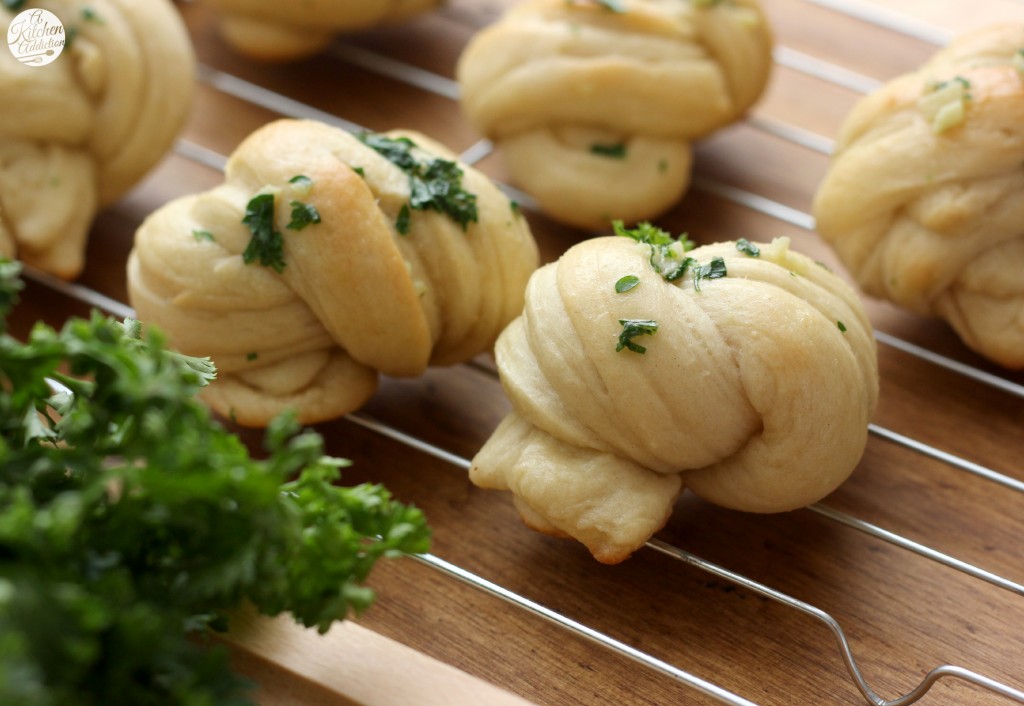 If you are someone who isn't real comfortable baking with yeast or have never wanted to attempt making rolls, please give these a try! You can make the dough with a mixer or by hand, and it's a great first dough to work with.
It is soft and doesn't make a large batch. Two rises are required, but you only have to knead the dough once and only for a little while. The work is worth it!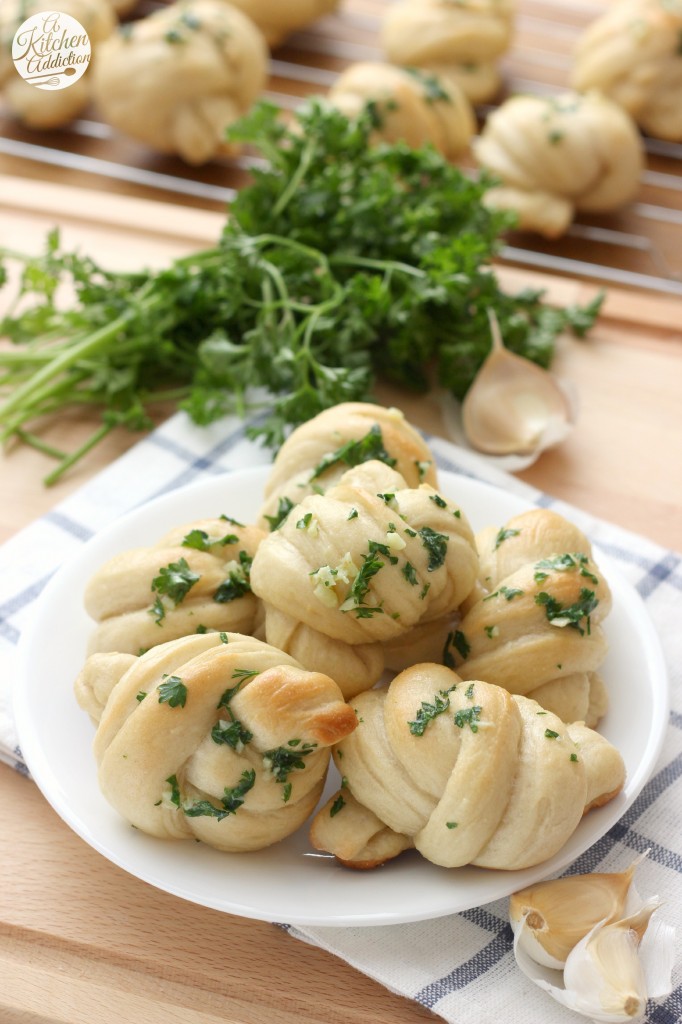 As if the smell of fresh bread isn't tantalizing enough, the smell of the melted butter and garlic cooking on the stovetop while the knots are baking makes it nearly impossible to patiently wait for the bread to be finished.
Though you may be tempted to to snatch a knot to eat as soon as it comes out of the oven, spend an extra minute and brush the garlic butter over the top. Wait a few seconds for it to soak in and bite in!

Easy Garlic Knots
Author:
A Kitchen Addiction
Ingredients
For the Rolls
2¼ C all-purpose flour
1 pkg (2¼ tsp) Platinum Red Star Yeast or instant dry yeast
1 tsp salt
2 tsp sugar
1 tbsp olive oil
¾ C water, warmed to 120-130 degrees F
For the Garlic Butter
¼ C unsalted butter
2 cloves of garlic, minced
¼ C parsley, chopped
1 tsp salt
Instructions
In the bowl of a stand mixer (or you can do these steps by hand), combine flour, yeast, salt, and sugar. Add in olive oil and water. Beat until dough just starts to come together. Switch out the paddle attachment for the dough hook and knead for 5-8 minutes (depending on whether you make it by hand or with a mixer) until soft dough forms.
Shape dough into a ball and place in a large bowl that has been oiled. Roll dough in the bottom to coat. Cover and allow to rise until doubled in size in a warm location, about 1 hour.
Turn dough out onto a floured or oiled (because the air in my house is dry, I used olive oil to keep my dough from sticking and from preventing it from drying out with too much flour) surface. Gently press into a 4 x 12 inch rectangle, about ½ inch thick. Cut into 16 strips. Take each strip and roll into a rope. Tie each rope into a knot. If dough is sticky or too dry, oil your hands when working with the dough.
Place on a baking sheet lined with a baking mat or parchment paper. Cover with a clean cloth and allow to rise until puffed and almost doubled in size in a warm place.
Preheat oven to 375.
Bake for 12-15 minutes or until lightly browned. Remove from oven.
While knots are baking, prepare glaze by adding butter and garlic into small saucepan. Melt butter over medium heat until butter is melted and garlic becomes translucent. If you prefer a stronger garlic flavor, do not cook garlic for as long. Remove from heat and stir in parsley and salt.
Brush butter mixture over the top of warm knots. Allow butter to sink into knots and serve.
This recipe is adapted from
Simply Recipes
.