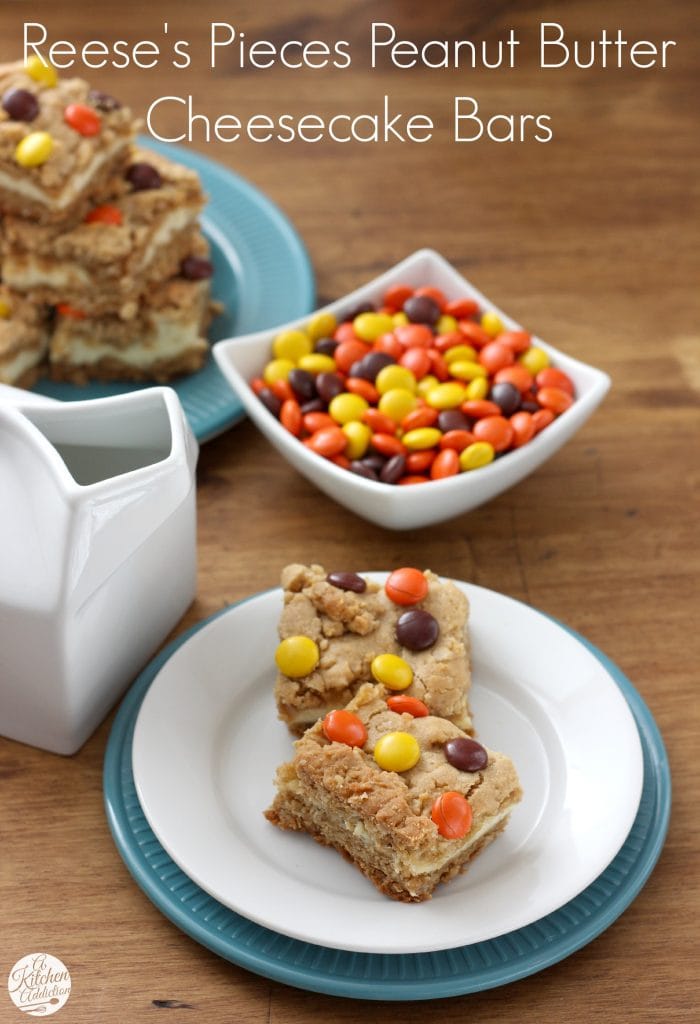 I've only posted two peanut butter recipes in almost two months! Since that definitely doesn't reflect the amount of peanut butter consumed in our house, I thought I should share these Reese's Pieces peanut butter cookie cheesecake bars with you soon!
Just like cookie bars are easier than cookies, cheesecake bars are much easier to assemble and bake than a regular cheesecake. My way to bake!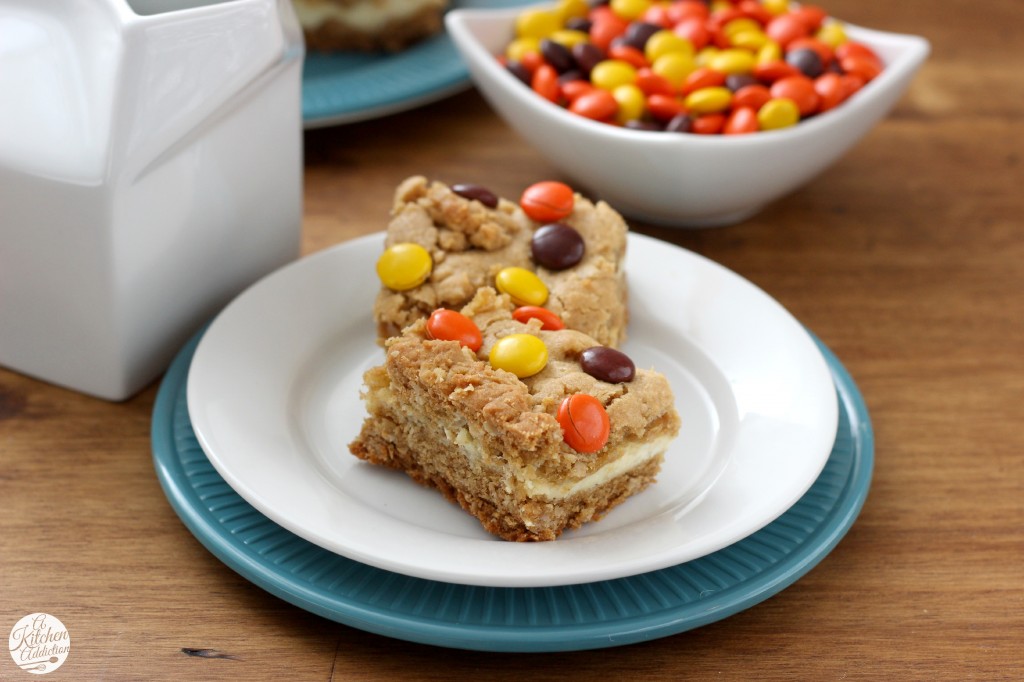 A sweet layer of creamy cheesecake is sandwiched between two layers of peanut butter oatmeal cookies.
(Yes, I have a thing about adding oats to my cookies. I just like the chewiness and nuttiness that oats add.)
To top off these peanut buttery bars, a generous amount of Reese's Pieces are sprinkled over the top.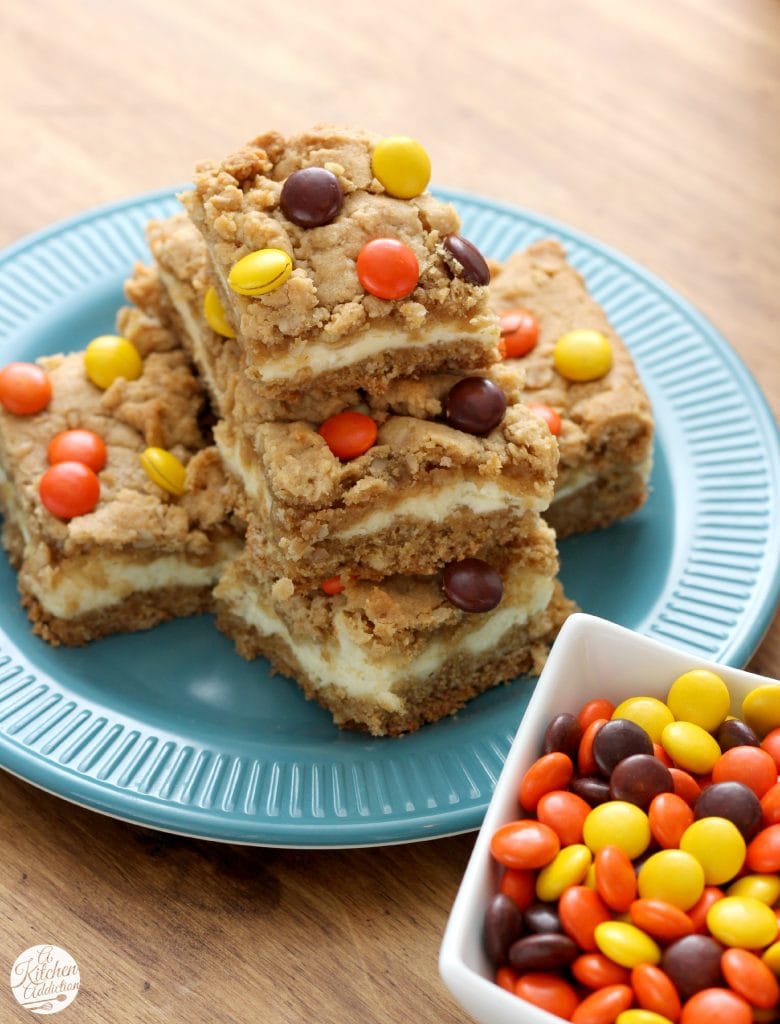 I'm usually a fan of using peanut butter cups instead of the pieces, but I didn't want the bars to become too rich and heavy.
The sweetness from the pieces balances out the rich peanut butter cookies and pairs perfectly with the cheesecake layer.
The finishing touch to your new favorite way to enjoy cheesecake!
Reese's Pieces Peanut Butter Cookie Cheesecake Bars
Ingredients
For the Cookie Layers
1/3 Cup butter, softened
1/3 Cup no-stir natural peanut butter
1/4 Cup sugar
1/3 Cup brown sugar
1 egg
1 teaspoon vanilla extract
1/2 Cup white whole wheat flour
1/2 Cup all-purpose flour
1 teaspoon baking soda
1/4 teaspoon baking powder
1/2 teaspoon salt
1/2 Cup + 2 Tablespoons quick oats
1/2 Cup Reese's pieces
For the Cheesecake Layer
8 ounces regular or 1/3 of the fat cream cheese, softened
1 egg
1/4 Cup sugar
1/2 teaspoon vanilla extract
1/8 teaspoon salt
Instructions
Preheat oven to 325 degrees Fahrenheit. Lightly spray an 8×8 inch or 9×9 inch baking dish with non-stick cooking spray.
In the bowl of a stand mixer or with an electric hand mixer, cream together butter, peanut butter, sugar, and brown sugar. Add in egg and vanilla extract. Beat until creamy.
In a separate bowl, whisk together flours, baking soda, baking powder, and salt. Add to creamed butter mixture and beat until combined. Stir in oats.
Prepare cheesecake layer by beating cream cheese, egg, sugar, vanilla extract, and salt until creamy.
Press half of cookie dough into the bottom of the prepared baking dish. Spread cream cheese mixture over the top. Drop remaining cookie dough evenly over the top. Sprinkle with Reese's pieces.
Bake for 20 minutes or until edges are golden brown and center is set.
Serve warm or cooled. Store leftovers in the refrigerator.