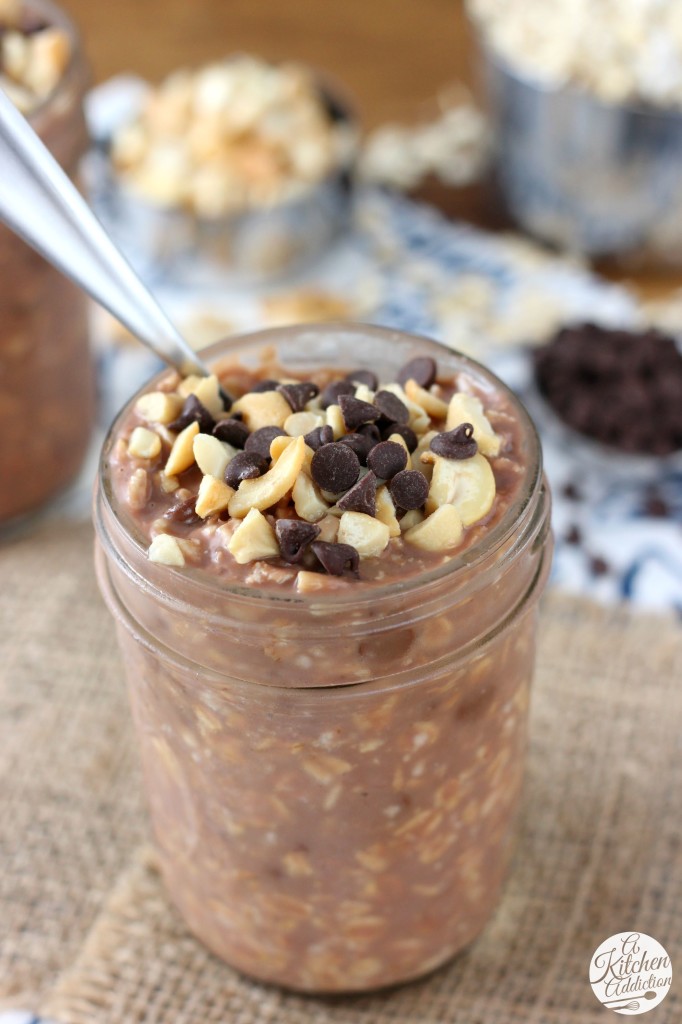 There's no doubt that summer is in full swing around here. Hot, humid weather. Lots of thunderstorms. Grilling almost every day. Lots of time at the lake. It's definitely summer.
And just like the weather and activities change with summer, I find that my appetite changes as well.
I'm all about light, filling meals. Even breakfast changes from wanting a hot breakfast to wanting something cool and satisfying. Cool, filling breakfasts that aren't a bowl of cereal.
Enter double chocolate cashew overnight oats. Lots of protein, fiber, and calcium all in one cool, creamy breakfast!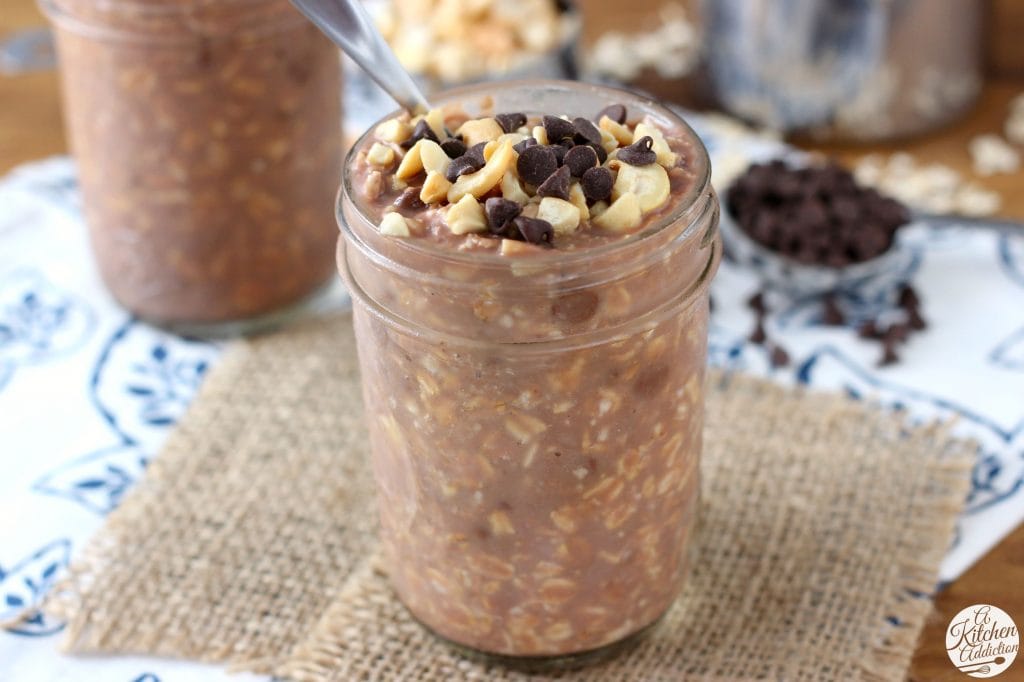 These overnight oats are super simple and make the next morning a breeze. Just stir together your ingredients the night before and grab a jar of oats on your way out the door the next morning!
No cooking, toasting, or baking required. And they contain one of my favorite things. . .chocolate.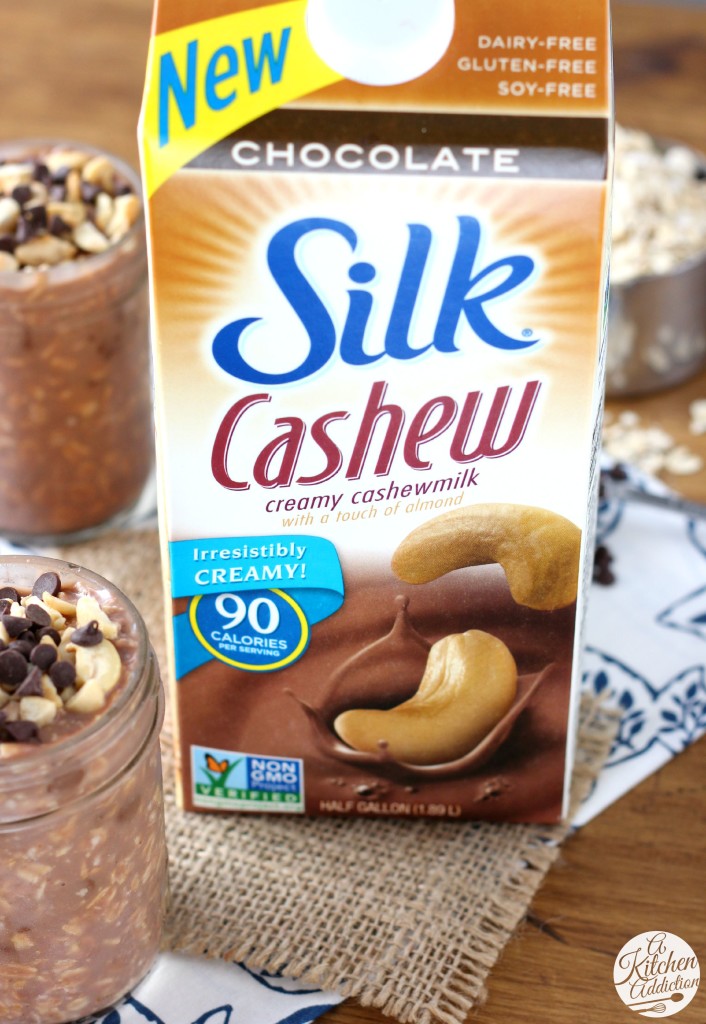 One of my favorite drinks to have after working out is a glass of non-dairy chocolate milk. So, you know I was excited when I found out that Silk Cashewmilk just came out with vanilla and chocolate versions!
With just 90 calories per serving, Chocolate Silk Cashewmilk is perfect for enjoying anytime! Of course, you can do more with it than just drink it plain. You can use it in place of milk in your smoothies or cereal or add it to your overnight oats.
Cashewmilk provides a creamy dairy substitute to these overnight oats. The rich, chocolate flavor gives these oats an indulgent flavor, especially when it's paired with a sprinkle of mini chocolate chips and chopped cashews.
As the oats sit in the chocolate cashewmilk overnight, they get soft and soak up the chocolate flavor. Make a batch for yourself or your whole family so you can get your summer mornings started off right!
Be sure to visit www.Silk.com/cashew where you can register to receive coupons and get more great cashewmilk recipes!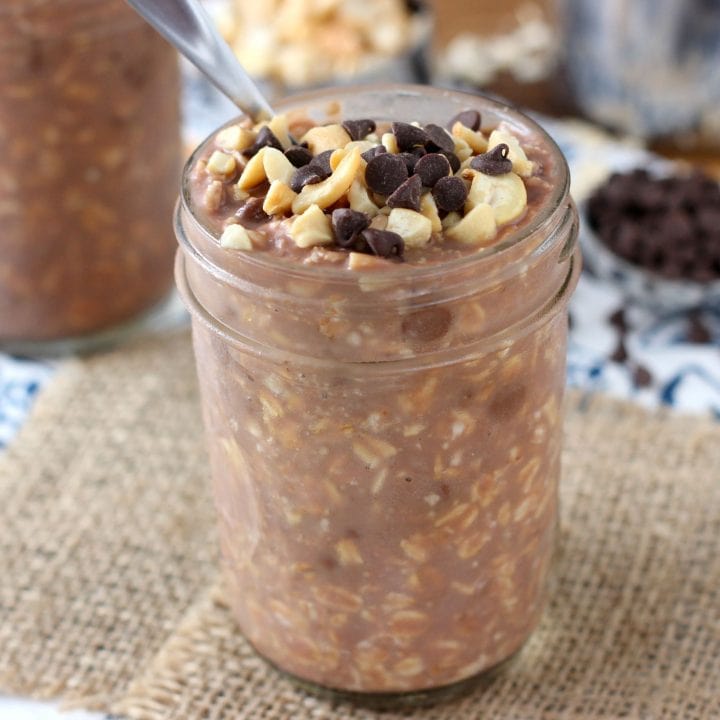 Double Chocolate Cashew Overnight Oats
Ingredients
1 C regular oats
1 C Silk Chocolate Cashew Milk
1/2 C regular or low-fat vanilla yogurt
2 tbsp mini chocolate chips
2 tbsp chopped cashews
2 tbsp ground flaxseed or chia seeds, optional
Instructions
In a medium size container with lid, stir together all ingredients until combined.
Store in refrigerator overnight.
Serve the next morning with additional mini chocolate chips and chopped cashews, if desired.
Notes
Dividing out the mixture into small mason jars or other portable containers makes it easy to just grab your breakfast and go the next morning!
Recommended Products
As an Amazon Associate and member of other affiliate programs, I earn from qualifying purchases.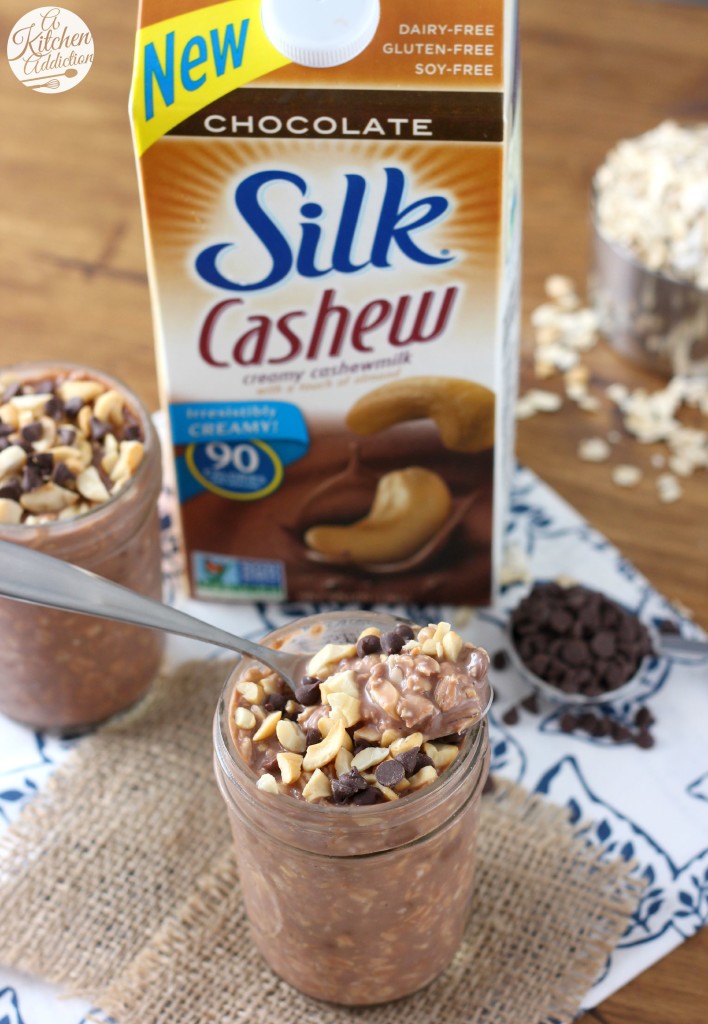 This conversation is sponsored by Silk. The opinions and text are all mine.