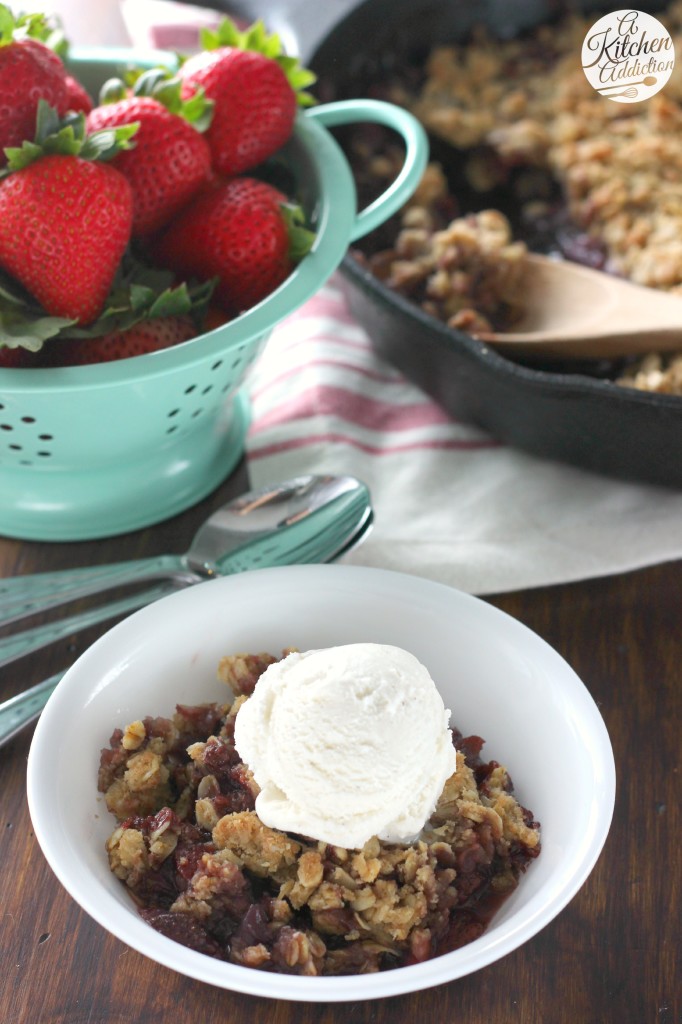 Since I've been working my way through iconic summer foods lately, I figured it was about time that I shared this roasted strawberry skillet crumble. Crumbles, crisps, cobblers.
Whatever you call them or however you make them, this category of desserts is a must in the summer. There is an abundance of berries, and we all seem to have our fridges filled with them.
If you're like me and realize that you can't always eat all of them fresh before they go bad, then having this simple skillet recipe on hand will allow you to use whatever berries are about to go bad without having to throw them away!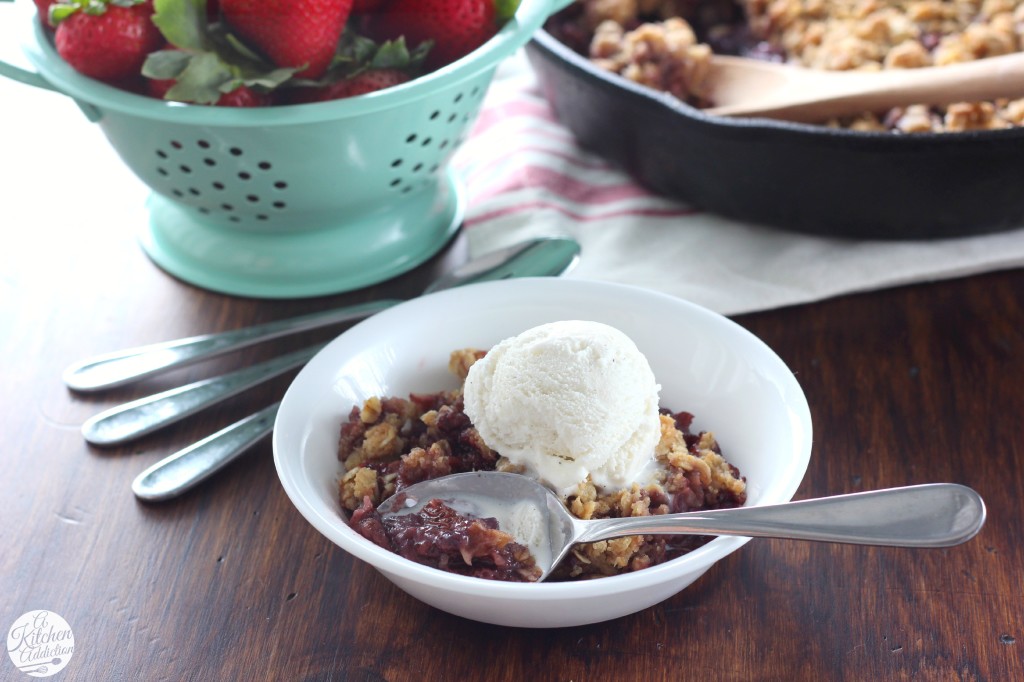 Since crumbles are so simple and require very few ingredients, they allow the flavor of the berries to shine through with no other overpowering flavors.
I happened to have a few too many strawberries in my fridge before our move and knew that the best way to use them would be in this quick and easy dessert.
Usually I don't take the time to roast my berries before baking with them, but after taking the time for this crumble, I don't know if I'll ever not roast them before baking!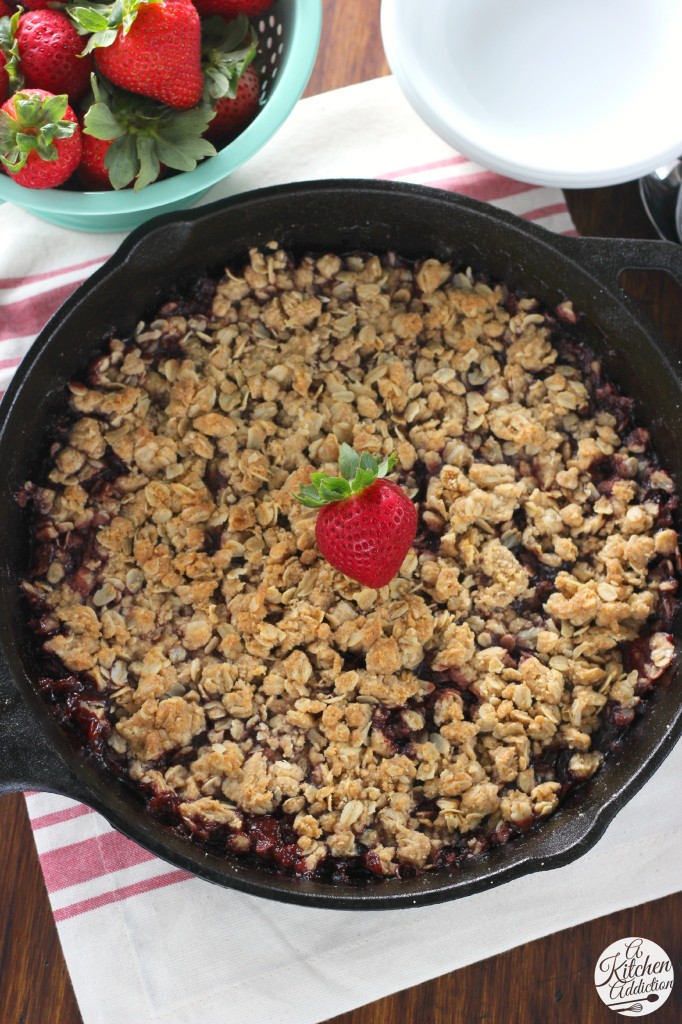 The roasting process makes the strawberries so much sweeter and more flavorful that you will really be missing out if you skip roasting them!
A bonus is that you can use the same skillet to roast the strawberries in and you use for the rest of the crumble.
I'm all for dirtying as few dishes as possible! Go look in your fridge or on your counter and see what berries need rescuing. Dig out a skillet, and get to work! 🙂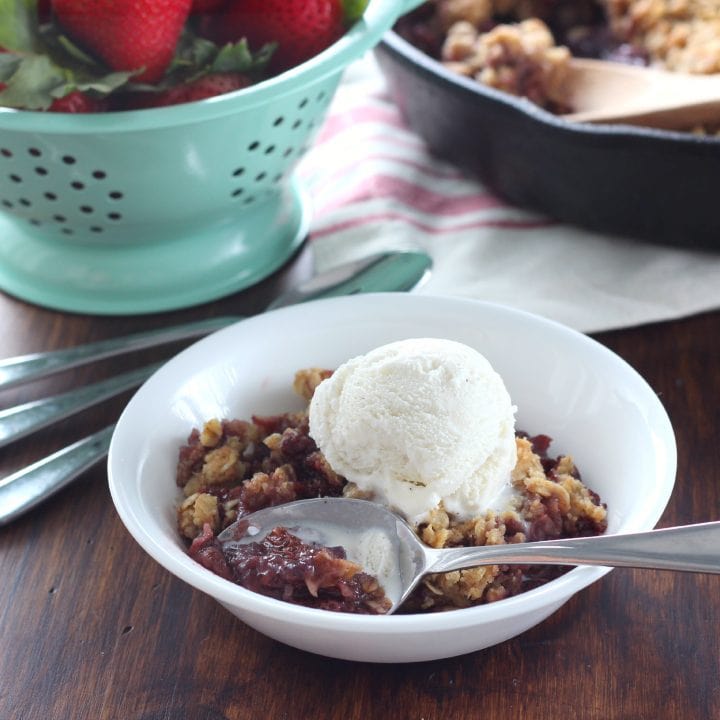 Roasted Strawberry Skillet Crumble
Ingredients
For the Filling
5 C strawberries, hulled and halved
1/4 C sugar
1 tsp cinnamon
1/4 tsp nutmeg
1 tsp vanilla
For the Crumble Topping
1 C regular oats
1/2 C white whole wheat flour
1/4 C brown sugar
1/2 tsp cinnamon
1/8 tsp salt
6 tbsp butter, melted and cooled
Instructions
Preheat oven to 425.
Spread strawberries in the bottom of a 10 inch cast iron skillet. Sprinkle with sugar, cinnamon, nutmeg, and vanilla.
Roast for 15 minutes or until strawberries are tender.
While strawberries are roasting, prepare crumble topping. In a large bowl, whisk together oats, flour, brown sugar, cinnamon, and salt. Stir in butter until combined.
Carefully remove skillet from oven. Top strawberries with crumble topping.
Return to oven and cook for 10-15 minutes or until filling is bubbly and topping is golden brown.
Serve warm.
Recommended Products
As an Amazon Associate and member of other affiliate programs, I earn from qualifying purchases.