It's Friday!! Time for chocolate, strawberries, and cheesecake! 🙂 Or, time for dark chocolate drizzled strawberry cheesecake brownies!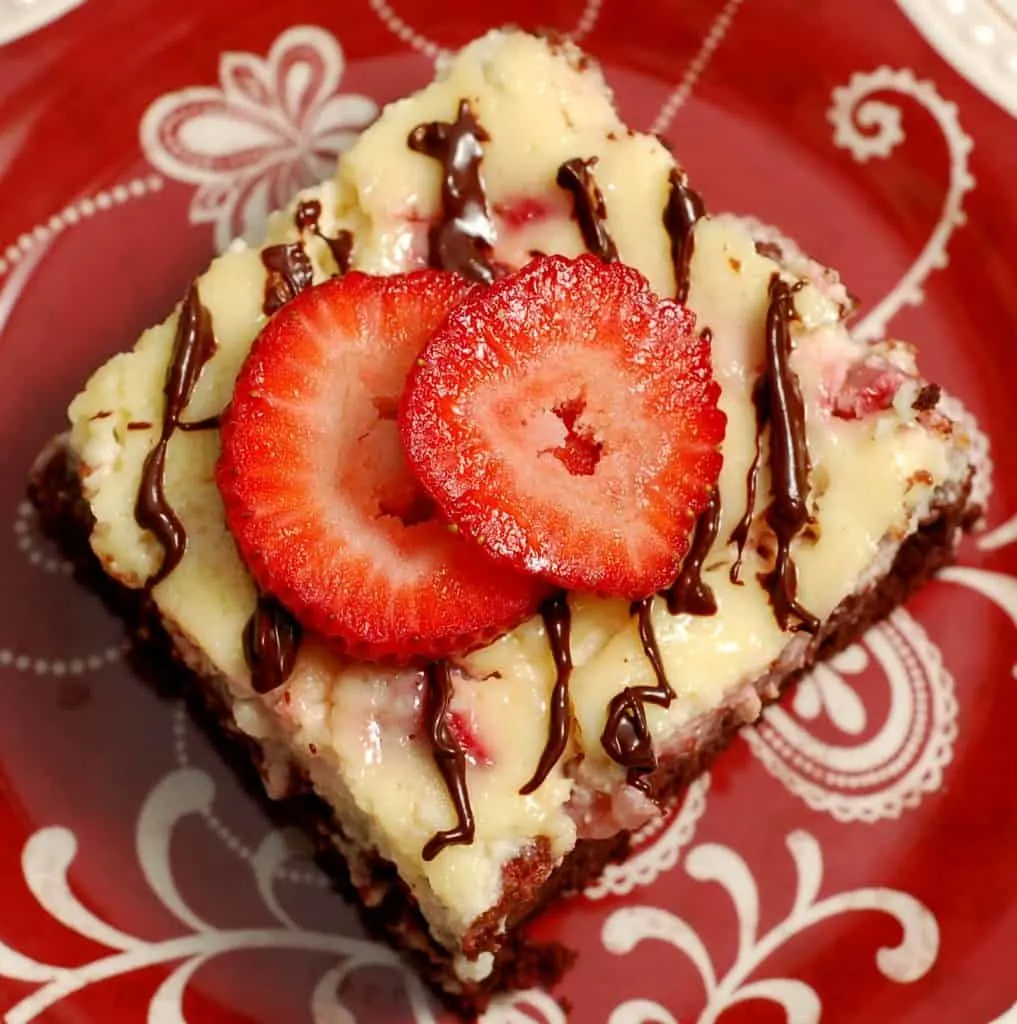 These brownies are fudgy, dense and loaded with chocolate-y goodness. Yeah, you'll probably want to lick the spoon and the spatula.
The cheesecake is rich and sweet with fresh strawberries. Forget jam, fresh chunks of strawberries are the way to go!
Though it's hard to wait the four hours of refrigeration, I strongly recommend that you do. The flavors blend perfectly and you have some amazing brownies on your hands. But, since they're healthy, go ahead and have a few! Besides, it's the weekend! 🙂


Dark Chocolate Drizzled Strawberry Cheesecake Brownies

Yield: 16 bars
Ingredients
For the Brownies
1/2 C whole wheat pastry flour or all-purpose flour
1/2 C granulated sugar substitute
1/2 C sugar
1/4 tsp salt
1/4 tsp baking soda
1/4 tsp baking powder
1/2 C unsweetened baking cocoa
1/2 C plain Greek yogurt
1 egg
1 tsp vanilla extract
2 tbsp non-fat milk
For the Cheesecake
8 oz 1/3 of the fat neufchatel cheese
2 eggs
1/2 C sugar
1/2 tbsp vanilla extract
1 C non-fat sour cream or plain Greek yogurt
3/4 C chopped strawberries
1/3 C dark chocolate chips
Directions
Preheat oven to 350. Spray an 8×8 baking pan with non-stick cooking spray.
In a medium-sized bowl, combine the flour, sugar substitute, sugar, salt, baking soda, baking powder, and cocoa. In a small bowl, stir together the yogurt, egg, vanilla extract, and milk until well blended. Add wet ingredients to dry ingredients. Stir until combined.
Pour brownie batter into pan. Bake for 10 minutes or until edges are done and center is not yet set.
While brownies are baking, beat together the neufchatel cheese, eggs, and sugar until creamy. Slowly beat in the vanilla and sour cream/yogurt until smooth. Gently fold in strawberries with a spatula.
Reduce heat to 325. Pour cheesecake batter over brownie base. Bake for 40-50 minutes or until center is almost set. Cool on wire rack. Refrigerate for 4 hours or overnight.
Before serving, melt dark chocolate according to package. Drizzle over top of cheesecake. Devour. 😉