It's the first day of summer today!! Even though the past two months have felt like summer, today is the official start! Why not celebrate with an easy, summery treat?!
These banana sundaes are quick, easy, and highly adaptable. First take your bananas and slice them horizontally and then vertically. Then sprinkle the cinnamon sugar with a spoon over the cut side and press it in with the spoon.
Place the bananas cut side down on the grill over medium heat. Flip after 4 minutes so that they get the nice caramel-ly taste on both sides.
Add your favorite frozen yogurt or ice cream, caramel, and chocolate chips (and any of your favorite toppings!) and eat up. How easy is that?!
The grilled bananas are sweet and almost have the taste of banana bread with the caramel-ly sugar coating. Perfect for a large get together or a last minute family dessert. You can throw them on after you are done with your main course and have dessert ready in no time!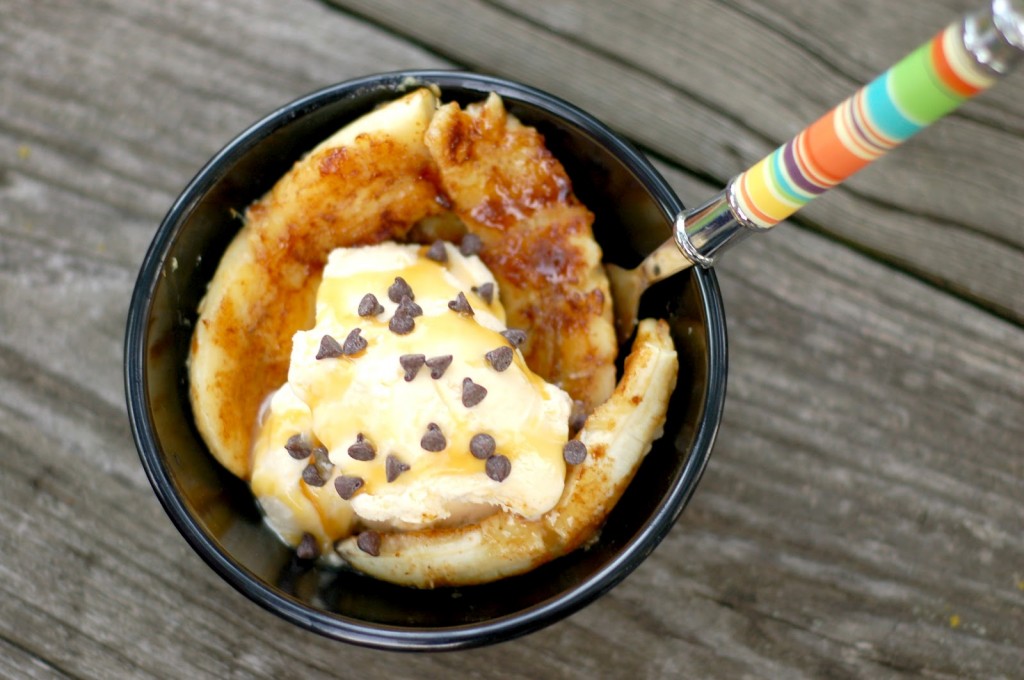 Happy Summer!!
Grilled Banana Sundaes

Yield: 4 sundaes
Ingredients
2 bananas, peeled (Make sure to use bananas that are not too ripe so that they don't fall apart during grilling.)
1 tbsp brown sugar
1 tsp cinnamon
frozen yogurt or ice cream
sugar-free caramel
mini chocolate chips
other options: chopped nuts, mini marshmallows, crushed graham crackers
Directions
Cover top of grill with aluminum foil.
Cut bananas in half horizontally and then lengthwise so that you end up with 8 slices.
In a small bowl stir together the brown sugar and cinnamon. Sprinkle mixture over the cut side of the banana slices with a spoon and press down the sugar as you go.
Place the banana slices cut side down on the grill. Cook over medium heat for 4 minutes or until sugar starts to caramelize. Flip and cook for another 4 minutes.
Put two banana slices in a bowl. Add frozen yogurt, caramel, and mini chocolate chips. Repeat with remaining banana slices. Lick the bowl clean. 😉