This easy recipe for Chocolate Chip Almond Butter Protein Muffins creates light, fluffy and flavorful muffins that are whole wheat and refined sugar-free! They are great to grab for a snack or an easy breakfast on-the-go!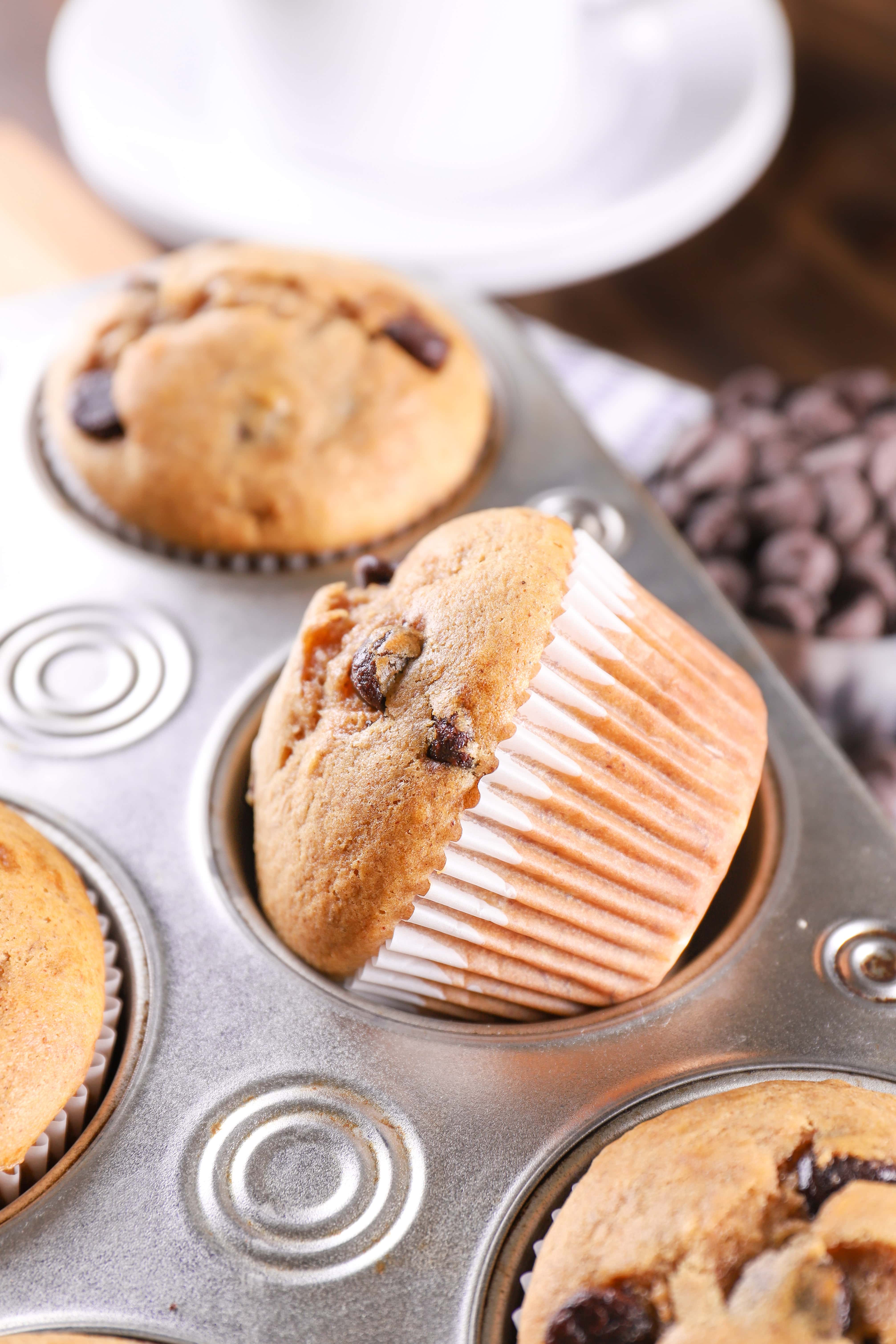 Muffins are one of those foods that are super easy to make and can be eaten anytime of day! My new favorite are these chocolate chip almond butter protein muffins. Almond butter and chocolate chips. What's not to like?!
These muffins are a variation of a muffin that we've been making for years. Originally made with peanut butter and oats, we've swapped out the peanut butter for almond butter and traded the amount of oats for an equal amount of vanilla protein powder.
I first made our favorite muffins into these peanut butter banana protein muffins, but I had so many of you ask for an almond butter variation that I figured it was about time that I got around to experimenting with almond butter!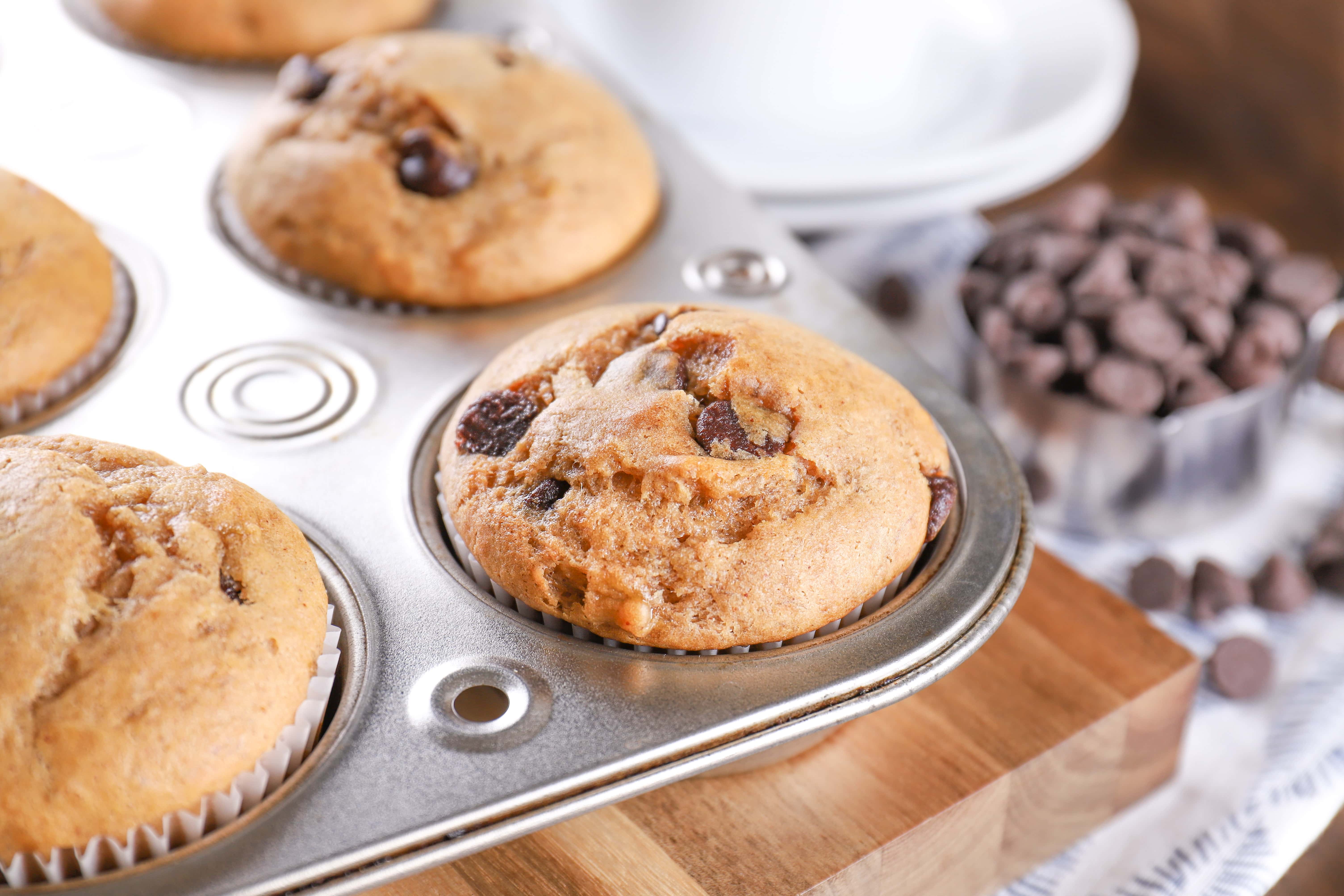 Free of refined sugar and butter, these muffins have a light, fluffy texture that isn't oily or heavy. Bananas and honey give these muffins their sweetness and almond butter replaces the butter.
While my husband isn't a huge fan of chocolate and prefers these without chocolate chips, I like throwing in a small handful of either semi-sweet or dark chocolate chips.
Feel free to leave them out though, if you're like my husband and don't like chocolate. They'll still taste great!
We love grabbing these muffins for a quick breakfast on a busy morning or for a satisfying snack when hunger strikes in the afternoon! They also work well as a post-workout snack to tide you over until your next meal!

Tips for Making Chocolate Chip Almond Butter Protein Muffins
Make sure almond butter is thoroughly stirred before measuring. You will end up with dry bits of almond butter in your muffins if the almond butter isn't thoroughly stirred.
The riper the bananas the better. You may find that if you use under-ripe or just-ripened bananas, that the muffins don't taste sweet enough. If you know that your bananas aren't very ripe, consider using 1-2 tablespoons more honey.
Another factor that can play into the sweetness of your muffins is the type of protein powder that you use. If your protein powder isn't sweet or is overly sweet, that is going to reflect in the muffins. You may need to adjust the amount of honey you use in your next batch.
The easiest way to tell if the muffins are done is to insert a toothpick into the center of the muffin. If it comes out with just a few crumbs, the muffins are done.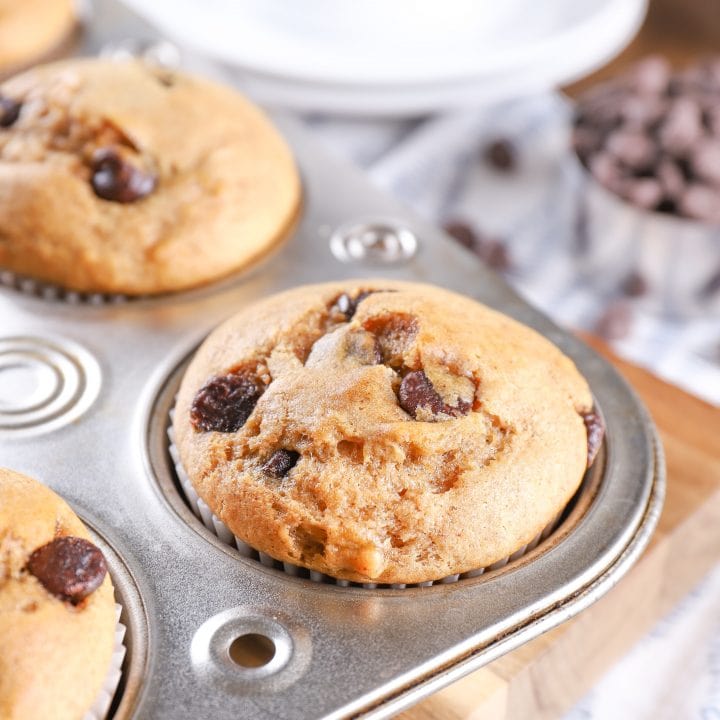 Chocolate Chip Almond Butter Protein Muffins
Yield: 18 muffins

Prep Time: 10 minutes

Bake Time: 20 minutes

Total Time: 30 minutes
Ingredients
1 3/4 Cups white whole wheat flour or all-purpose flour
1/2 Cup vanilla protein powder
2 teaspoons baking soda
1/2 teaspoon baking powder
1/4 teaspoon salt
1 Cup mashed, ripe bananas
1/2 Cup creamy almond butter, (make sure that almond butter is thoroughly stirred before measuring)
1/2 Cup honey
1/4 Cup melted coconut oil (make sure that coconut oil is melted before measuring)
2 eggs
1 Cup milk of your choice
1/3 Cup semi-sweet or dark chocolate chips
Instructions
Preheat oven to 375 degrees Fahrenheit. Line muffin tin with cupcake liners or spray tin with non-stick cooking spray.
In a large bowl, whisk together flour, protein powder, baking soda, baking powder, and salt. Set aside.
In a separate large bowl, whisk together mashed banana, almond butter, honey, coconut oil, and eggs until well-combined. Carefully stir in milk and chocolate chips. Add wet ingredients to dry ingredients and stir until just combined.
Pour batter into muffin tin, filling each cup about 3/4 full. Bake for 15-20 minutes, or until toothpick inserted in the center comes out clean.
Remove to a wire rack to cool. Store leftovers in an airtight container.
Recommended Products
As an Amazon Associate and member of other affiliate programs, I earn from qualifying purchases.