Two bread recipes in one week. My taste buds are happy!! I don't think that it's good for me to have tried these two bread recipes. They are both so easy and so good (that's the part that's the problem!)! Guess I'll need to log in some extra miles. 🙂 Anyways, back to the brown bread. Like the soda bread, there were so many variables between the different recipes, that I didn't know which one to try. My solution was to mix a few of the recipes together and see what happens. 🙂 This was the result: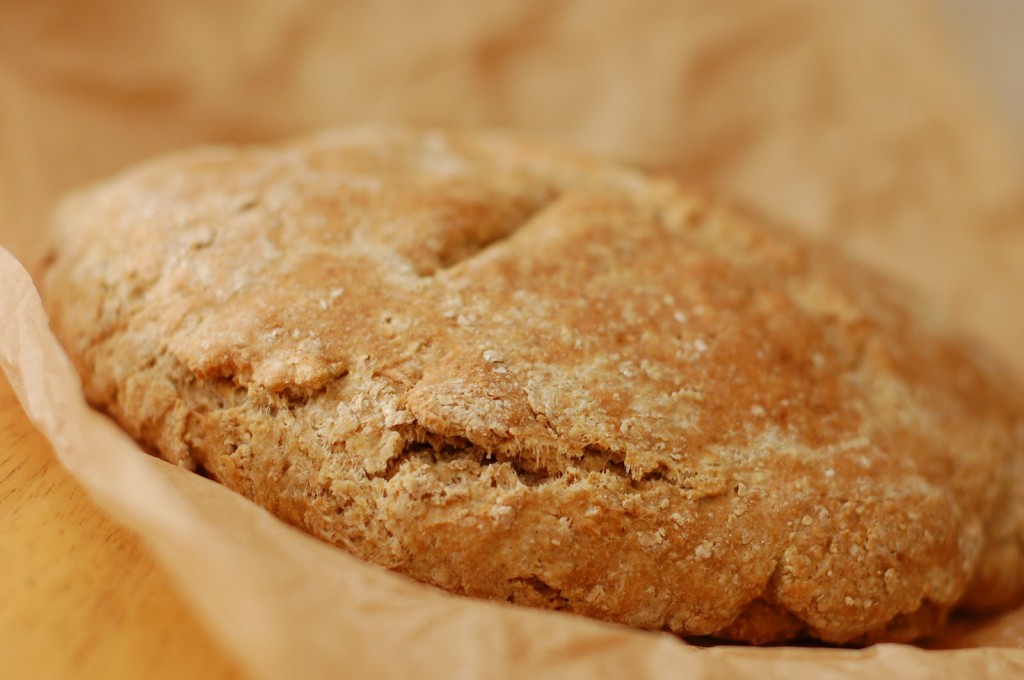 A bread that smelled wonderful and I couldn't wait to eat!
And, after taking a bite, a bread that was full of flavor and texture without being too heavy. Slather on some of your favorite preserves and enjoy! 🙂 (It would also be perfect with soup, but it was too warm out to be thinking about soup!)
Irish Brown BreadPin It
Yield: 1 loaf
Ingredients
1 C whole wheat flour
1 C oat bran
1/2 tbsp wheat germ
1 1/2 C unbleached all-purpose flour
3/4 tsp baking soda
1/2 tsp salt
2 tbsp unsalted butter, cold and cut into small pieces
1 1/4 C non-fat buttermilk
1 tsp molasses
Directions
Preheat oven to 350.
Line a baking sheet with parchment paper or a silicone baking mat.
In a large mixing bowl, whisk together wheat flour, oat bran, wheat germ, all-purpose flour, soda, and salt.
Using a pastry fork or blender, cut in butter until pieces are as small as possible. If you don't mind getting dirty, you may just want to use your fingers to rub the butter into the flour.
Stir in the buttermilk and molasses until flour mixture is moist and a rough ball begins to form.
Turn out dough onto floured surface and gently knead dough into a ball.
Place on baking sheet and cut an X onto the top, about 1-inch deep.
Bake for 30-35 minutes or until crust turns golden brown and when tapped on bottom, it sounds hollow.
Transfer to wire rack and cool.