I'm not sure why, but this is the first time I've made a crostata. Maybe because I don't mind making pie or maybe because I'm stuck in a rut making the same pies (that's probably more like it!). Whatever the reason, I've been missing out!
They look great. In fact, with a crostata, you don't have to have a perfect looking crust! They take hardly anytime to make or bake, about half the time as a double crust apple pie (which happens to be my favorite!). And the most importantly, they taste just as good as a labor intensive pie! Yes, I will be making it again. 🙂
Especially this one. The thin layer of sweetened cream cheese blends beautifully with the spices of an apple pie and the tartness of the apples. Plus, the crust contains whole wheat flour and olive oil. No shortening or butter but still a great flaky crust! You really need to try it. 😉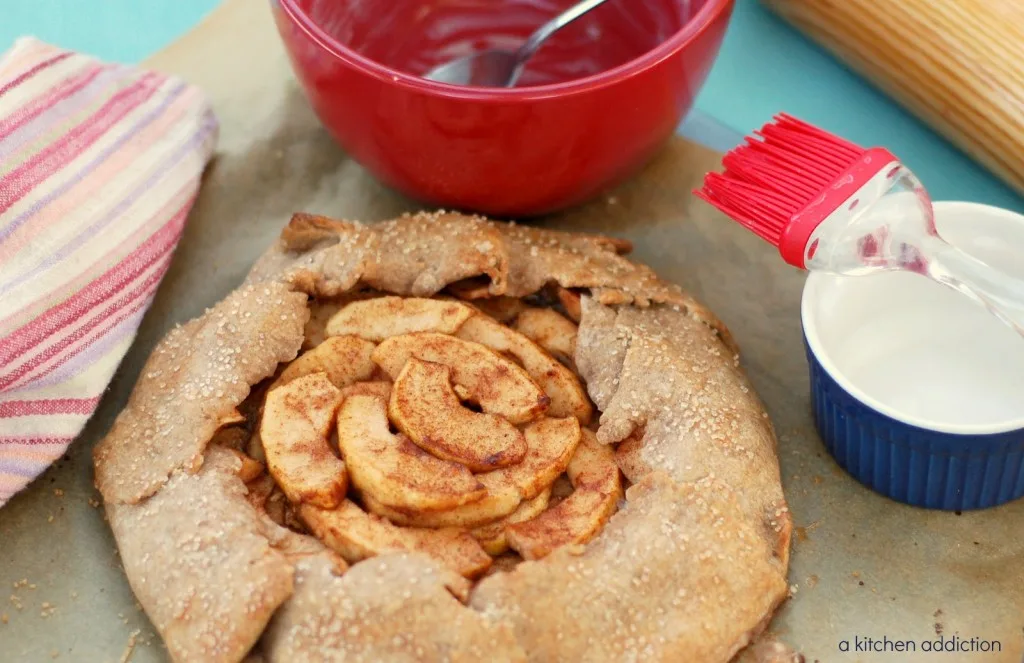 Oh, and next time I make this, I will be doubling the recipe. Or maybe tripling it. . . Let's just say this crostata for two didn't last long!
Cream Cheese Apple Crostata for Two

Yield: 4 servings
Ingredients
For the Filling
3 apples, peeled and finely sliced
2 tbsp sugar
1/2 tsp cinnamon
1/4 tsp nutmeg
1/4 tsp allspice
1/8 tsp cloves
1/8 tsp ginger
For the Crust
1/2 C all-purpose flour
1/2 C whole wheat flour
1/4 tsp salt
1/2 tbsp sugar
1/4 tsp cinnamon
1/4 C olive oil
1/4 C non-fat milk + 1 tbsp for brushing dough
1 tbsp sugar in the raw or coarse sugar for sprinkling on top of dough
For the Cream Cheese Layer
4 oz 1/3 of the fat cream cheese, room temperature
2 tbsp sugar
1 tsp vanilla extract
Directions
In a medium bowl, sprinkle sugar and spices over apples. Toss to coat apples evenly. Set aside to allow juices to form.
Sift flours into a medium bowl. Add in salt, sugar, and cinnamon. Stir until well-combined. Add olive oil and milk. Stir until a soft dough forms.
Turn dough out into a floured surface. Roll dough out into a 12 inch circle. Transfer dough to a parchment covered cookie sheet.
Preheat oven to 400.
To prepare cream cheese filling, stir together cream cheese, sugar, and vanilla extract. Spread cream cheese on dough leaving at least a 1 inch margin from the edge. Arrange apple slices over the top. Pour any remaining liquid over apples.
Fold dough up over the top of the edge of the apples and pat down. Brush with milk and sprinkle with sugar.
Bake for 25 minutes or until edges turn golden brown.
Best served warm.
This post is linked with Crazy Sweet Tuesday, Fit and Fabulous Fridays, Heavenly Treats, Mix It Up Monday, Mop It Up Mondays, Recipe Round Up, Strut Your Stuff Saturday, Sweet Treats and Swanky Stuff, Tastetastic Thursday, Thriving on Thursday, Thursday's Treasures, Trick or Treat Tuesday, Weekend Potluck.