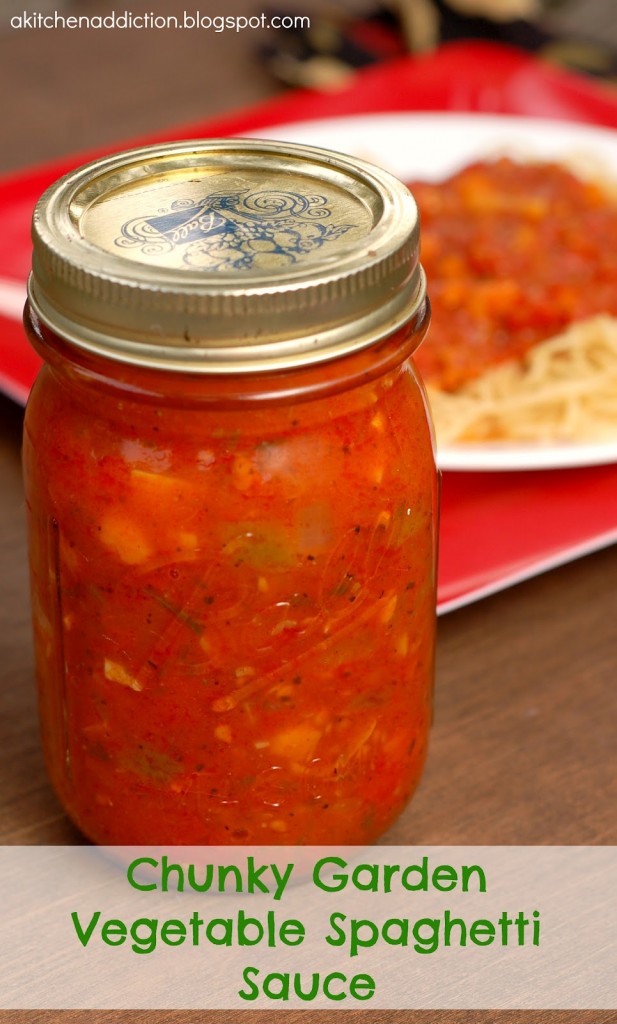 Have a lot of tomatoes sitting on your counter that need to be used up before they go bad? That's the situation I found myself in a few days ago. When we were up at my parents' house for Labor Day, we were given lots of tomatoes!
Yeah, we kind of hit the jackpot of fresh produce while we were there! Having all of that fresh produce was great, but we couldn't eat it fast enough!
I had found a way to use all of the beans, corn, and radishes, but I still needed a way to use the tomatoes and summer squash. I had never tried making my own spaghetti sauce, so I figured now was as good of time as any! 🙂
I love hearty spaghetti sauce that is loaded with veggies, so I set out to make a nice hearty sauce using the vegetables I had on hand. Those vegetables happened to be green peppers, carrots, and summer squash.
I guess I could say it was a success, because the first thing my husband said after taking a bite was, "This is going on the make again list, right?" 🙂
This sauce is plenty filling by itself and makes for a great meatless meal when paired with whole grain noodles. My husband didn't even mind not having meat present!
Have a great weekend everyone, and if you have tomatoes that need to be used up, give this spaghetti sauce a try! 🙂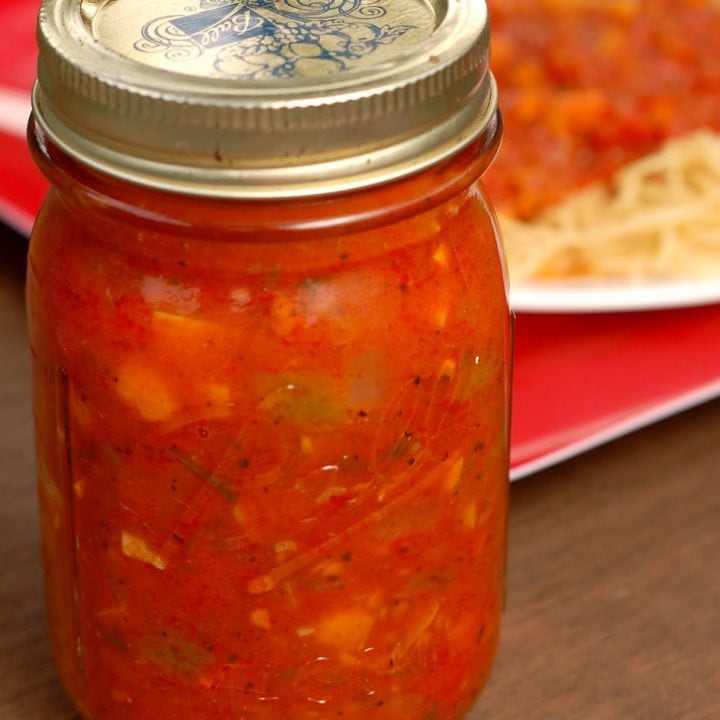 Chunky Garden Vegetable Spaghetti Sauce
Ingredients
1/4 Cup olive oil
1 Cup onion, coarsely chopped
6 garlic cloves, minced
1 Cup carrots, coarsely chopped
1 Cup green pepper, coarsely chopped
1 Cup yellow summer squash, finely sliced and quartered
10 Cups tomatoes, washed and cut into chunks
1 Tablespoon salt
1 1/2 teaspoons black pepper
2 teaspoons dried parsley flakes
1 teaspoon dried oregano
1 teaspoon dried basil
1 teaspoon dried thyme
Instructions
In a large saucepan or medium stock pot, heat olive oil over medium heat for two minutes. Add in the onion, garlic, carrots, green pepper, and summer squash. Cook until onions turn translucent and vegetables start to soften, about 5-8 minutes, stirring occasionally.
Increase temperature to medium-high. Add tomatoes and spices. Stir to combine. Bring mixture to a boil stirring occasionally. When sauce reaches a boil, reduce heat to medium-low and allow to simmer for 2 to 2 1/2 hours. The longer you let it simmer the fewer chunks there will be. Stir occasionally to prevent any sticking to the bottom of the pan.
Remove from heat.
Use sauce immediately or allow to cool completely before transferring sauce to freezer safe containers. Keep a container in the refrigerator for up to two weeks if you want to use the sauce shortly. Store the rest in the freezer.
Recommended Products
As an Amazon Associate and member of other affiliate programs, I earn from qualifying purchases.
Nutrition Information:
Yield:

18
Serving Size:

1
Amount Per Serving:
Calories:

58
Total Fat:

3g
Saturated Fat:

0g
Trans Fat:

0g
Unsaturated Fat:

3g
Cholesterol:

0mg
Sodium:

363mg
Carbohydrates:

7g
Fiber:

2g
Sugar:

4g
Protein:

1g
Nutrition information shown is an estimate provided by an online calculator and may not always be accurate. It should not be considered a substitute for a medical professional's advice.