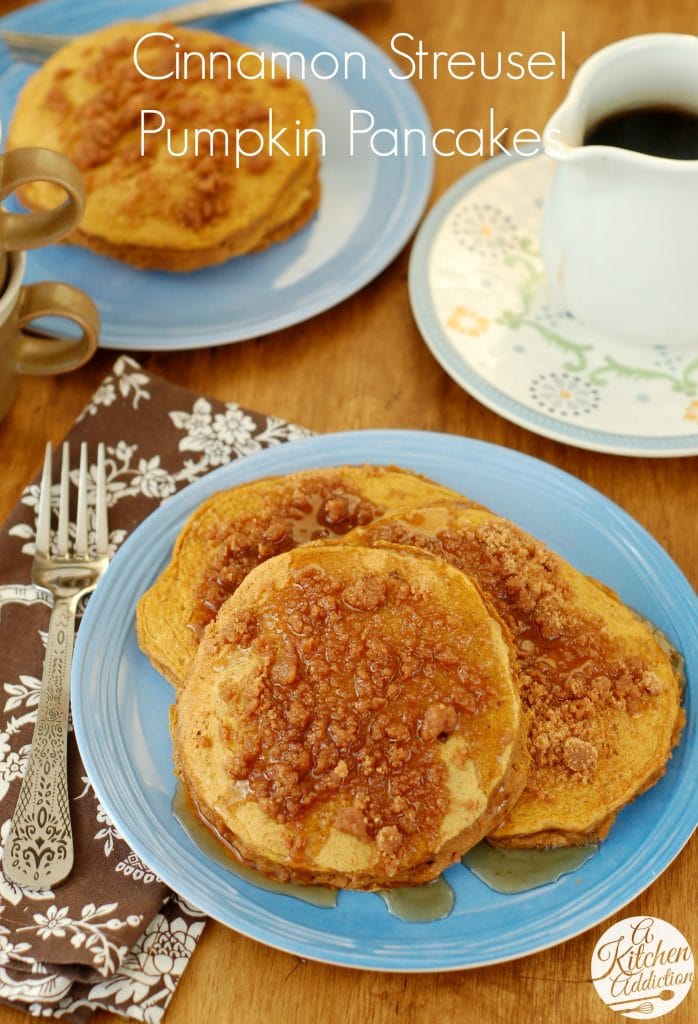 I hope that those who got Labor Day off enjoyed your long weekend. We sure liked having no plans and just relaxing for the long weekend. Apparently my body doesn't know what to do with having nothing to do, because I came down with a cold the last day of vacation. I now have that weird, scratchy voice and am going through loads of Kleenex and cough drops. I think I need more of these pumpkin pancakes!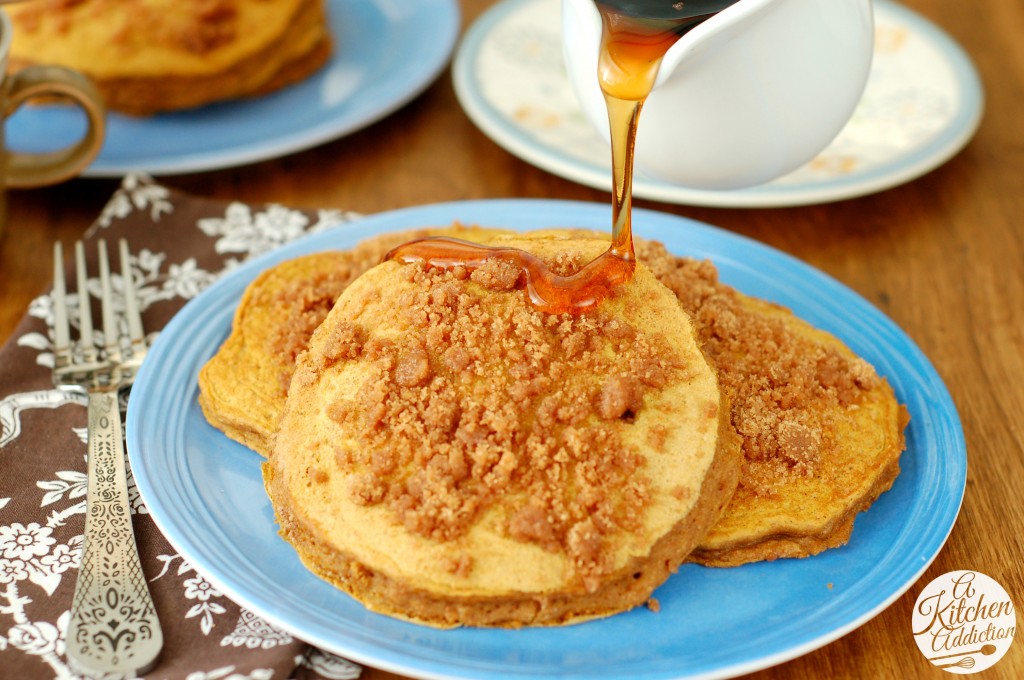 I don't know about you, but when I get a cold, all I seem to want to eat is comfort food. These cinnamon streusel pumpkin pancakes definitely fall into the comfort food category. From warm cinnamon and cloves smells that permeate the kitchen to the the soft, airy bite of pancake, these have comfort written all over them.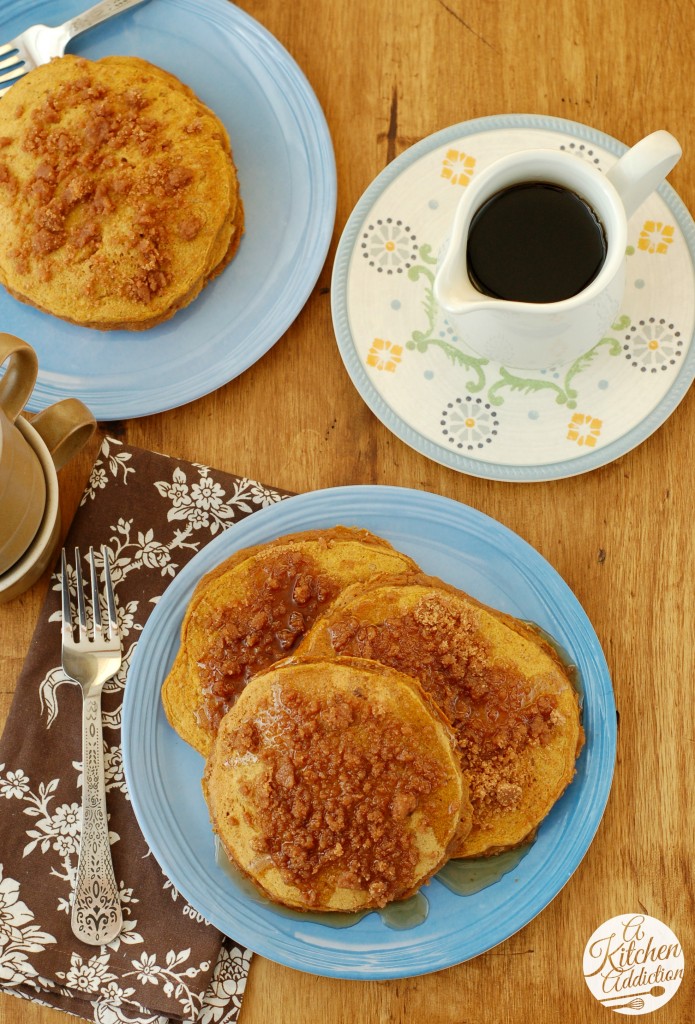 The cinnamon streusel that tops these pancakes gives regular pumpkin pancakes a boost of flavor and texture. Because they are filled with so much flavor, you can eat these pancakes with or without syrup. Perfect for a cool fall morning or, in our case, a cozy late summer dinner!
Cinnamon Streusel Pumpkin Pancakes
Author:
Ingredients
For the Pancakes
1 C whole wheat flour
1 C all-purpose flour
2 tsp baking powder
1/2 tsp baking soda
1 1/2 tsp cinnamon
1/2 tsp nutmeg
1/4 tsp ground ginger
1/4 tsp cloves
1/4 tsp salt
1 C pumpkin puree (not pumpkin pie filling)
1 1/2 C low-fat buttermilk
2 tbsp butter, melted and cooled
2 tsp vanilla extract
1 egg
For the Cinnamon Streusel
3 tbsp butter, cold and cut into pieces
1/3 C brown sugar
1/3 C all-purpose flour
1 tsp cinnamon
Instructions
In a large bowl, whisk together flours, baking powder, baking soda, cinnamon, nutmeg, ginger, cloves, and salt.
In a small bowl, whisk together pumpkin puree, buttermilk, butter, vanilla, and egg. Add wet ingredients to dry ingredients and stir until just combined.
In another small bowl, stir together brown sugar, flour, and cinnamon. Cut butter into sugar mixture using a fork until mixture resembles coarse crumbs.
Bring a skillet or griddle to medium heat. Spray with non-stick cooking spray.
Pour 1/4 cup of batter onto a hot skillet. Using measuring cup, lightly spread out batter in a circular motion. Cook until bubbles appear on the surface, about 2-3 minutes and flip.
Sprinkle a generous tablespoon of streusel over the top. Cook for another 1-2 minutes. (If you are making them 1-2 at a time, you may need to add another 1-2 tablespoons of milk to thin out the batter)
Serve warm.