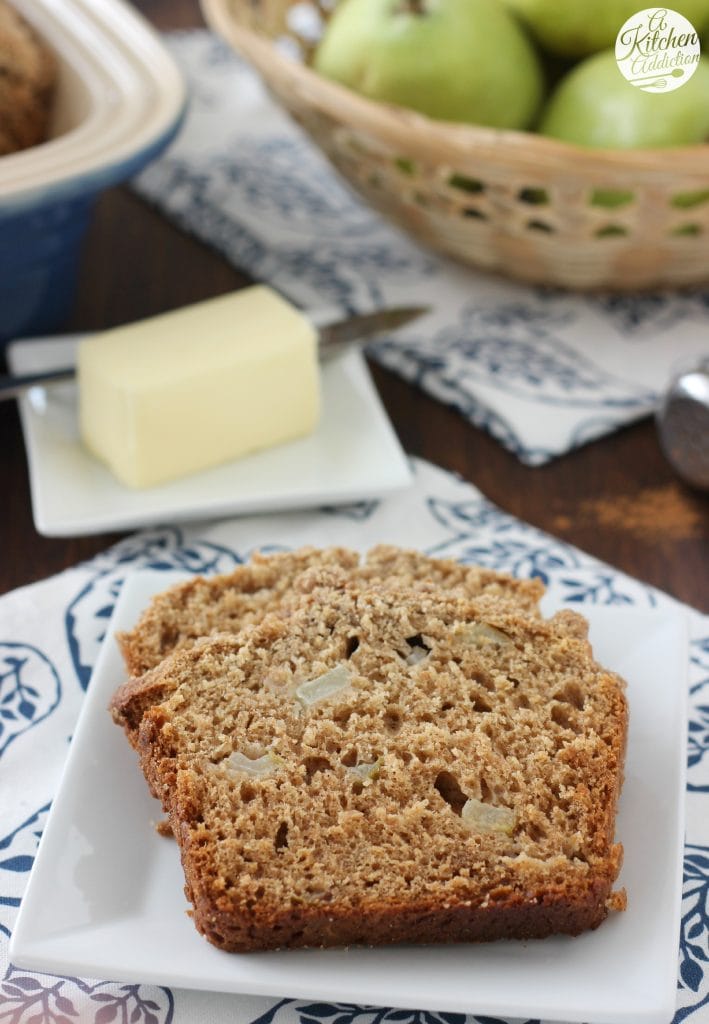 I've been on a bit of a pear kick lately. It may have something to do with the fact that the last time we were at Costco I picked up a giant bag of them. . .but they have been so good!
Since we can't eat all of them plain before they would go bad, I've been baking them into all kinds of baked goods. I was in the process of making cinnamon yogurt quick bread the other day when I looked over and saw the basket of pears (the very full basket of pears!) sitting on the counter.
Suddenly cinnamon yogurt quick bread became cinnamon pear yogurt quick bread.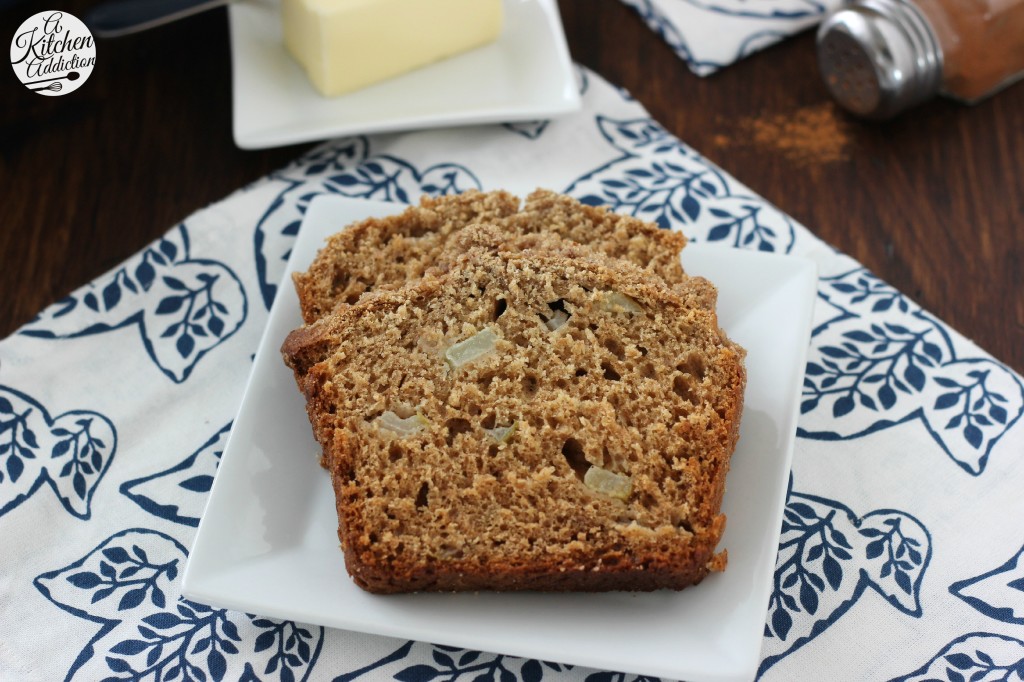 It was a good decision. The chopped pears added a burst of sweet, fresh fruit in each bite. Combined with the warmth of cinnamon and ginger, this bread is loaded with flavor.
But if that wasn't enough, I topped the bread with a buttery, brown sugar crumble. I just couldn't resist. Crumble toppings are always a good idea! Trust me.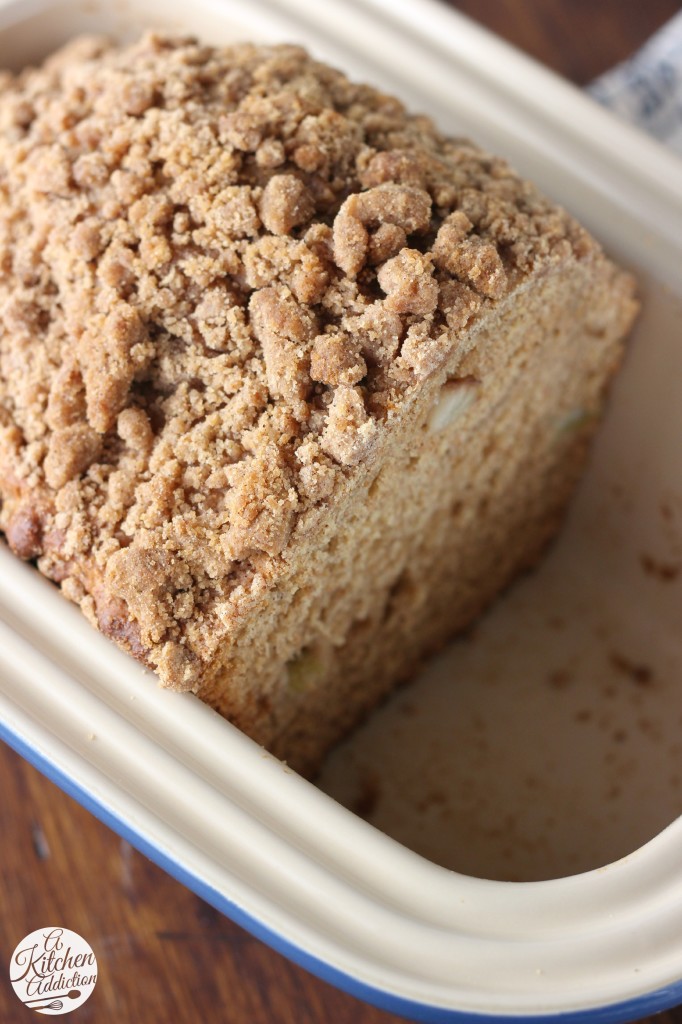 Cut yourself a thick slice for breakfast, a mid-morning snack, or to hold you over until dinner!
Whatever your plans are for the weekend, make sure to set aside a few minutes to quick whip up this cinnamon pear yogurt bread. Happy Friday!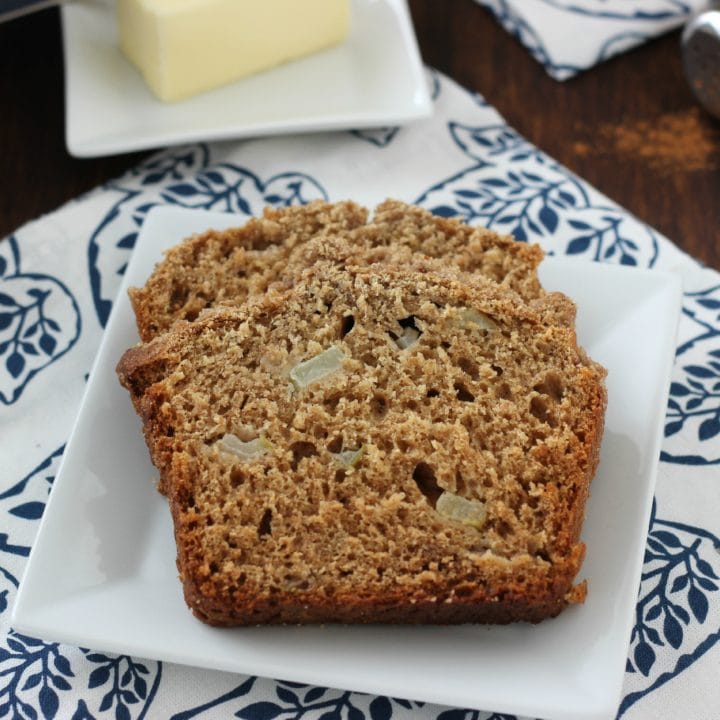 Cinnamon Pear Yogurt Quick Bread
Ingredients
For the Bread
1 1/4 Cups whole wheat flour
1 1/4 Cups all-purpose flour
2 teaspoons baking powder
1/2 teaspoon baking soda
2 teaspoons cinnamon
1/4 teaspoon ginger
1/2 teaspoon salt
2 eggs
1 Cup plain yogurt
2 Tablespoons olive oil or canola oil
1/3 Cup honey
1/4 Cup milk
3/4 Cup chopped fresh pears
For the Crumb Topping
1/3 Cup all-purpose flour
3 Tablespoons brown sugar
1 teaspoon cinnamon
2 Tablespoons butter, melted
Instructions
Preheat oven to 350 degrees Fahrenheit. Spray a 9x5 inch loaf pan with non-stick cooking spray.
In a large bowl, whisk together flours, baking powder, baking soda, cinnamon, ginger, and salt.
In a medium bowl, whisk together eggs, yogurt, oil, honey, and milk. Add wet ingredients to dry ingredients and stir until just combined. Stir in chopped pears.
Pour batter into prepared loaf pan.
In a small bowl, stir together flour, brown sugar, and cinnamon. Stir in melted butter until clumps form. Sprinkle over top of batter.
Bake for 40-50 minutes or until a toothpick inserted in the center comes out clean.
Nutrition Information:
Yield:

12
Serving Size:

1
Amount Per Serving:
Calories:

222
Total Fat:

7g
Saturated Fat:

2g
Trans Fat:

0g
Unsaturated Fat:

4g
Cholesterol:

38mg
Sodium:

267mg
Carbohydrates:

36g
Fiber:

2g
Sugar:

13g
Protein:

6g
Nutrition information shown is an estimate provided by an online calculator and may not always be accurate. It should not be considered a substitute for a medical professional's advice.