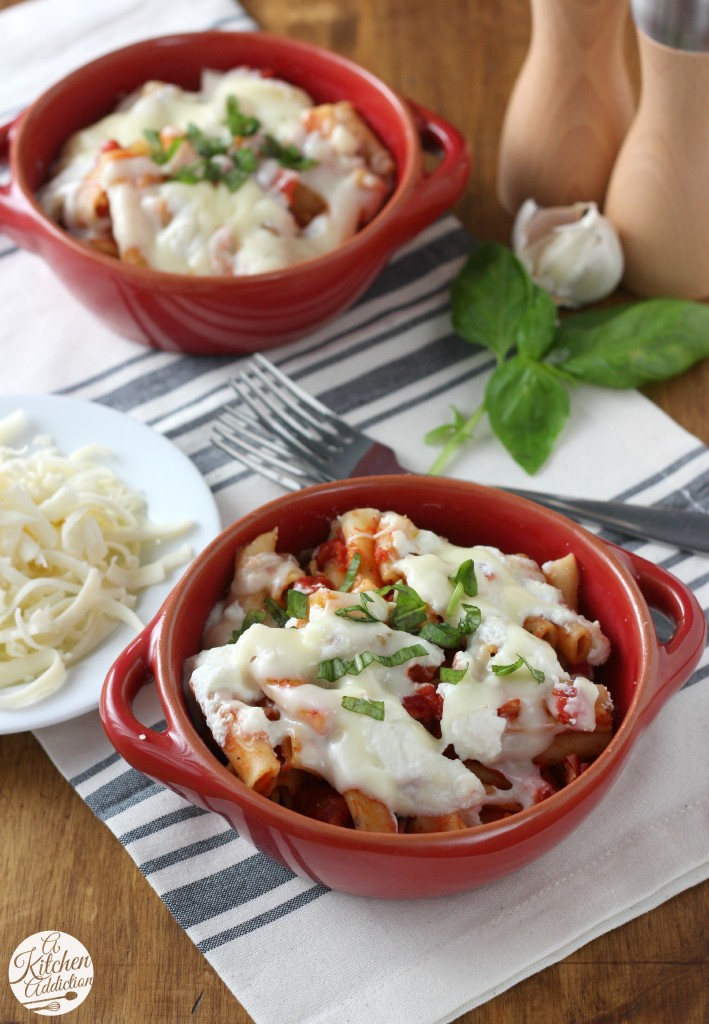 It seems like most of us could use a little help with making the process of getting dinner on the table a little easier. Even those of us who enjoy being in the kitchen don't always have the time that's needed to get a good meal on the table as often as we would like to.
Well I got a little help recently. It came in the form of America's Test Kitchen's new cookbook, Healthy Slow Cooker Revolution. 200 fresh (and healthy!) recipes. (You can get this same help. Enter the giveaway at the bottom of the post for your chance to win this cookbook!) They have everything from soups to meats to sides to desserts with nutrition information for each recipe.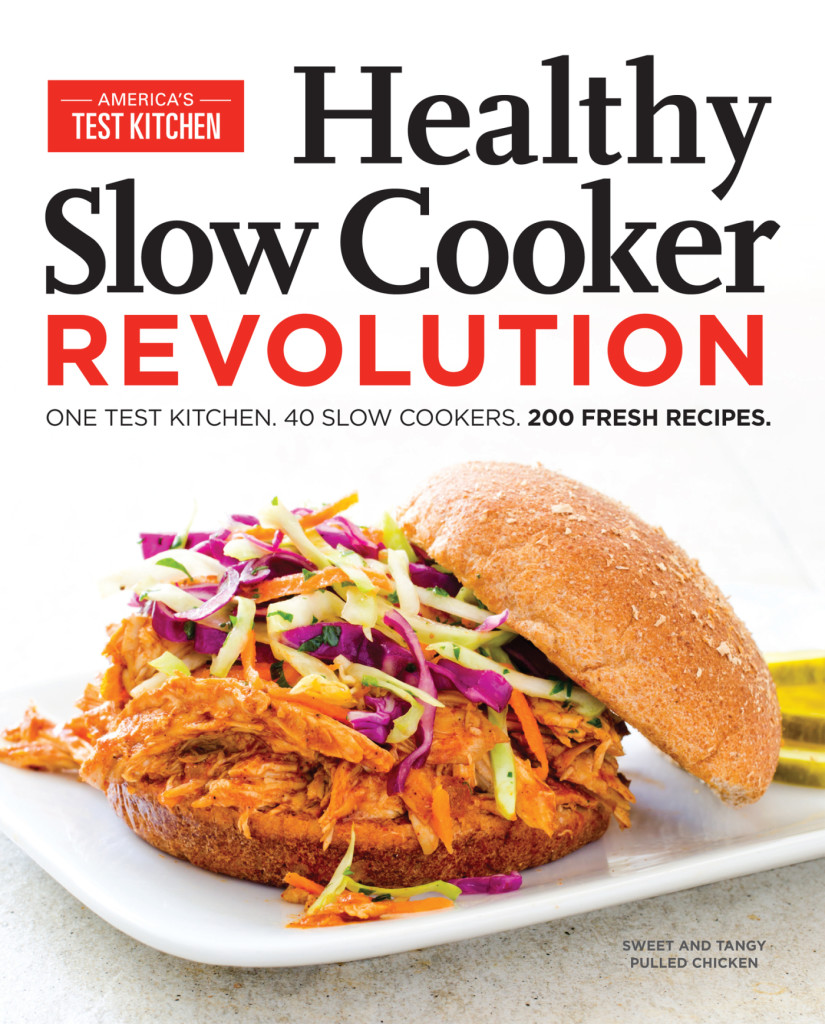 As soon as I glanced through the recipe index, I knew it was going to be hard to settle on one recipe to share. I was right. So, I asked my husband to look through it and give me 2 or 3 recipes that he wanted me to try. I stopped him at 10.
Even though I'm only sharing one with you, you can be certain that this cookbook will be getting lots of use in the future!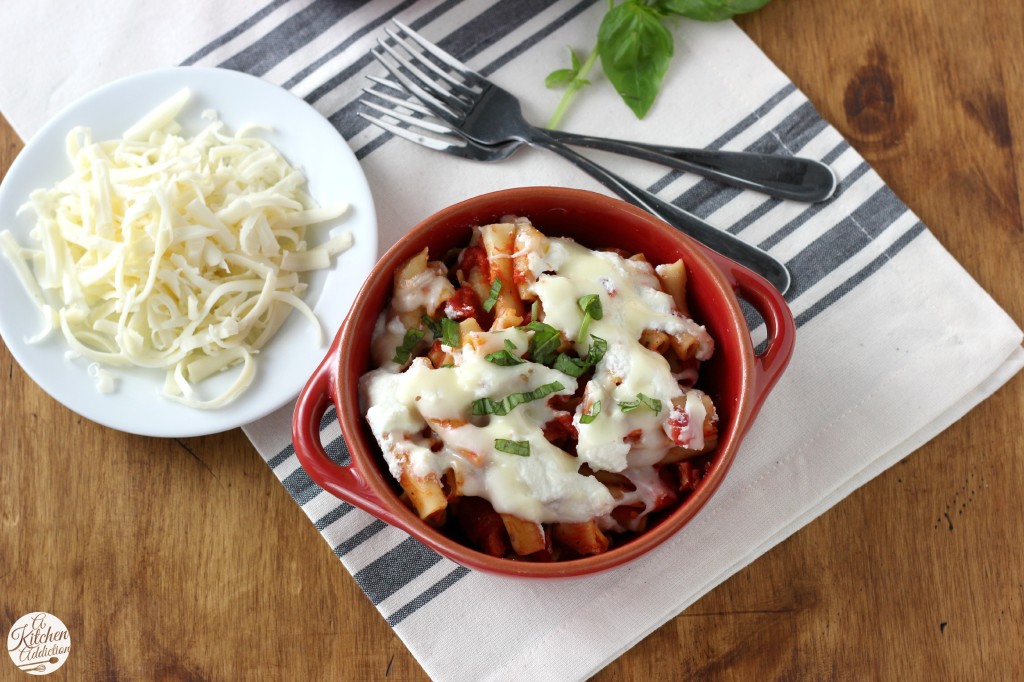 So how did I settle on this slow cooker easy baked ziti? Well, I have always shied away from pasta slow cooker recipes. The pasta either turns out too dry or too soggy. Neither of which are good results! I figured a good way to test and see if this cookbook was any good would be to try a pasta recipe!
One of my favorite parts about this cookbook is that at the top of each recipe they have a section called "Why This Recipe Works." The editors briefly explain the technique(s) used in the recipe along with why they used certain ingredients.
The information is very helpful and gives you a better understanding on how to get the most out of your slow cooker experience.
This particular recipe explains how to toast your pasta to get an end result of the perfect texture of pasta. And guess what? It works!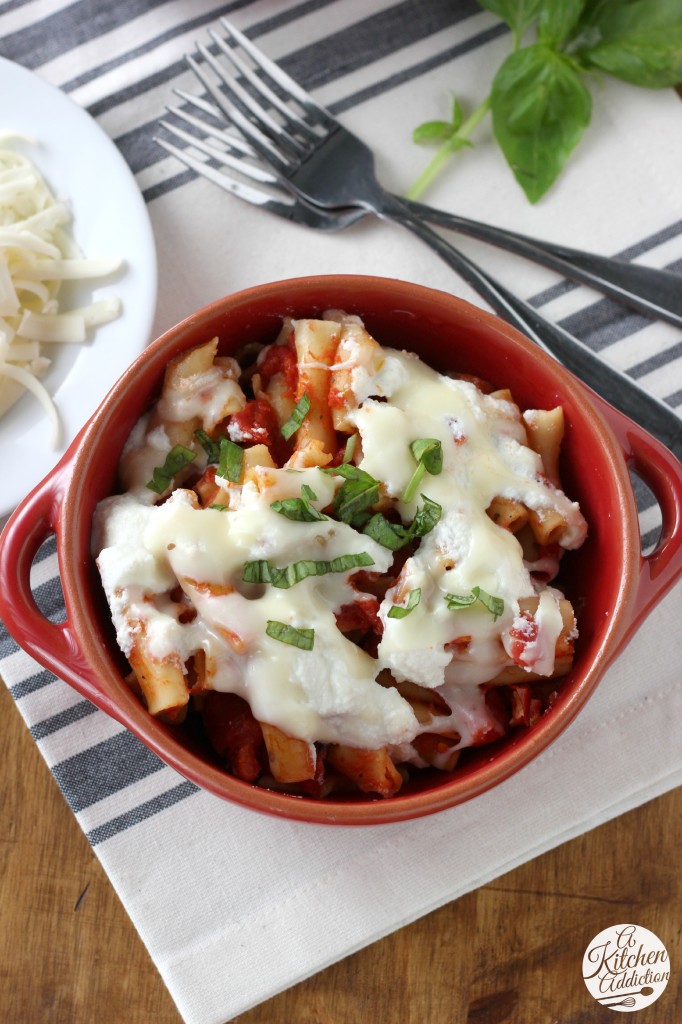 Other than the quick prepping of the pasta (and chopping of herbs), this baked ziti takes no other prep work than just adding the ingredients to the slow cooker. Super easy.
Even though it doesn't take much work, the flavors make you think a lot of work went into it. Hearty comfort food that requires little effort from me is always a bonus on a busy weeknight!
So go ahead, make your evenings little less hectic!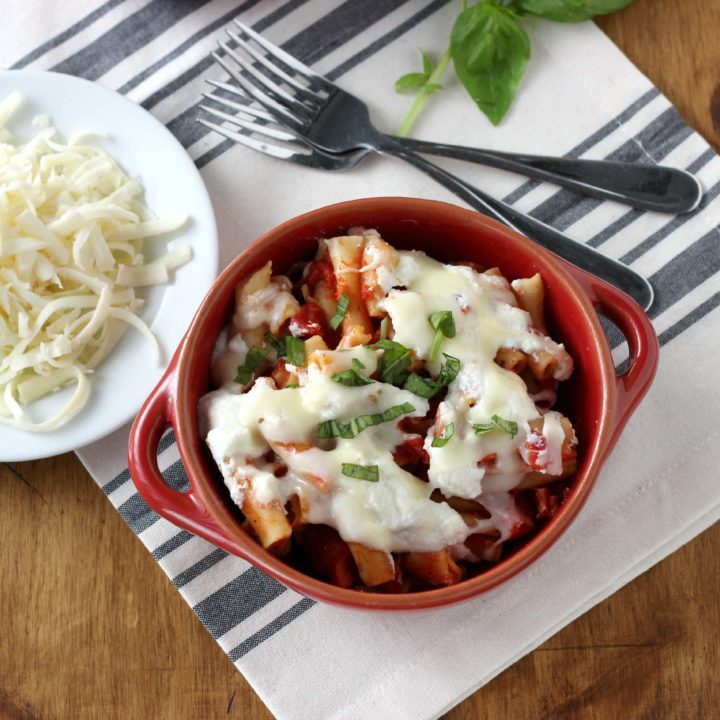 Slow Cooker Easy Baked Ziti
Cook Time:
3 hours
2 seconds
Total Time:
3 hours
15 minutes
2 seconds
Ingredients
8 ounces (2 1/2 cups) ziti
1 teaspoon extra-virgin oil
1 1/2 Cups boiling water
1 (28 ounce) can crushed tomatoes
1 1/2 Tablespoons tomato paste
4 garlic cloves, minced
2 teaspoons minced fresh oregano or 1/2 teaspoon dried
salt and pepper, to taste
1/4 teaspoon red pepper flakes
4 ounces (1/2 cup) whole-milk ricotta cheese
3 ounces (3/4 cup) part-skim mozzarella, shredded
1/2 Cup chopped fresh basil
Instructions
Line a 6 quart slow cooker with an aluminum foil collar and lightly spray with vegetable oil spray.
Microwave ziti and oil in a bowl at 50% power, stirring occasionally, until some pasta pieces look toasted and blistered, about 3-5 minutes.
Transfer hot pasta to prepared slow cooker and immediately stir in boiling water (pasta will sizzle). Stir in crushed tomatoes, tomato paste, garlic, oregano, 1/2 tsp salt, and pepper flakes until evenly combined.
Cover and cook until pasta is tender, 2-3 hours on high.
Remove foil collar. Gently stir pasta, adding hot water as needed to loosen sauce consistency, and season with salt and pepper to taste.
Drop spoonfuls of ricotta on top of casserole and sprinkle with mozzarella. Cover and cook on high until cheese is melted, about 5 minutes.
Sprinkle with basil and serve.
Store leftovers in the refrigerator.
Recommended Products
As an Amazon Associate and member of other affiliate programs, I earn from qualifying purchases.
Nutrition Information:
Yield:

4
Serving Size:

1
Amount Per Serving:
Calories:

329
Total Fat:

13g
Saturated Fat:

7g
Trans Fat:

0g
Unsaturated Fat:

5g
Cholesterol:

47mg
Sodium:

520mg
Carbohydrates:

30g
Fiber:

1g
Sugar:

12g
Protein:

25g
Nutrition information shown is an estimate provided by an online calculator and may not always be accurate. It should not be considered a substitute for a medical professional's advice.
Recipe courtesy of America's Test Kitchen Healthy Slow Cooker Revolution.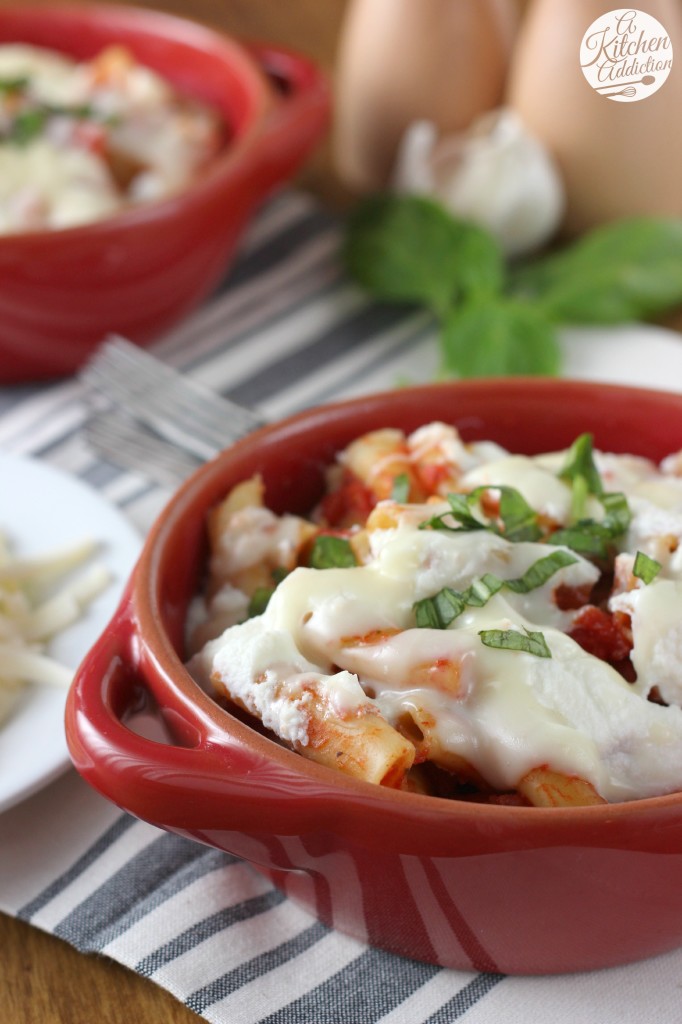 Enter the Rafflecopter widget below for your chance to win a copy of Healthy Slow Cooker Revolution!
*This giveaway is open to Continental US residents 18 years of age and older.
a Rafflecopter giveaway

Disclaimer: I received a copy of Healthy Slow Cooker Revolution for review purposes. Giveaway is sponsored by America's Test Kitchen.