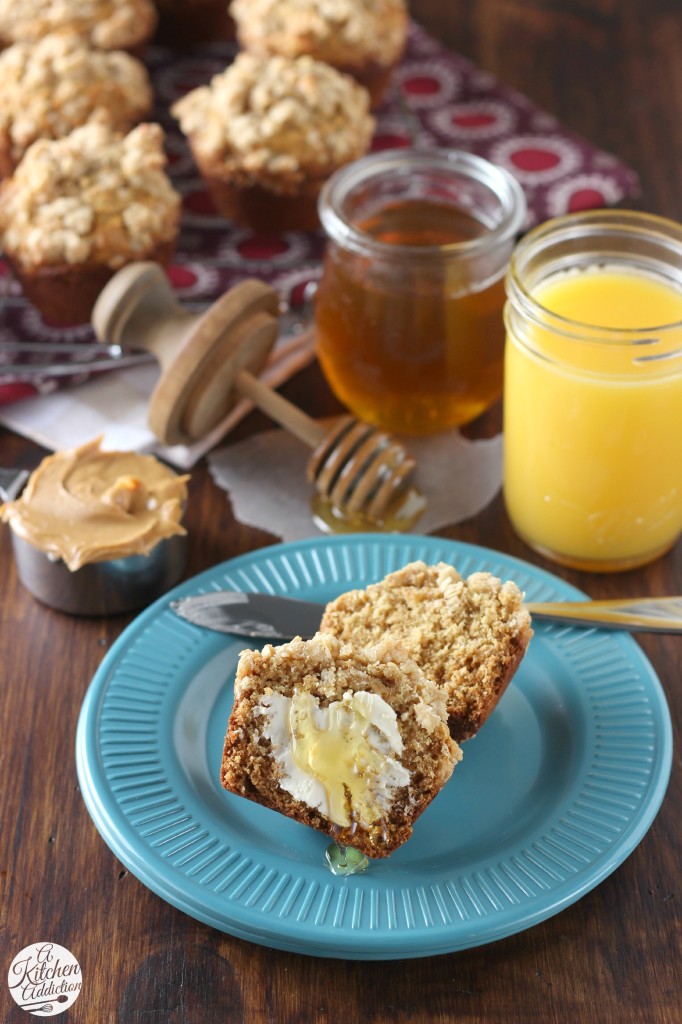 Since our move, my husband has started a new work shift. He now works 7-4. This means he has to leave by 6:30am, which of course means we have to be up before that! Let's just say that our mornings the last couple of weeks have been a bit rushed getting used to the new schedule.
With the rushing has come the problem of what to do for breakfast. The answer has come in the form of muffins. And for the past week, it's been peanut butter honey oat muffins.
Hearty peanut butter muffins topped with a buttery oat crumble! They are filling enough to carry him over until lunch, but portable so he can grab and go.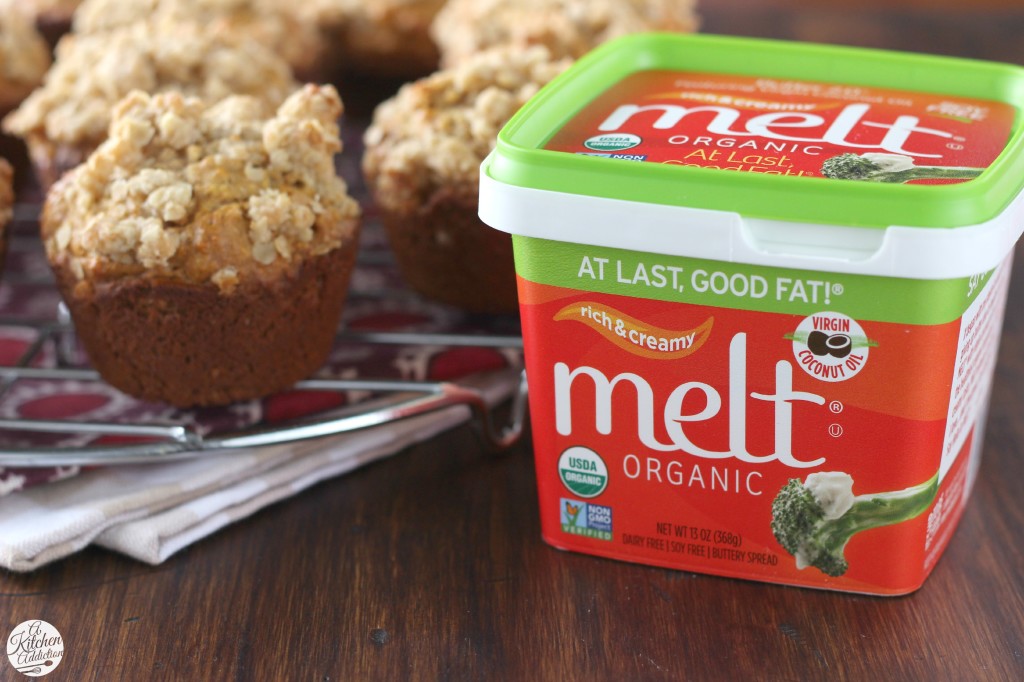 The base of these muffins is from my favorite healthier muffins. Whole wheat flour, peanut butter, and oats are the main ingredients. Usually these muffins use butter or yogurt, so I thought these muffins would a great recipe to give MELT® Organic spread a try. What is MELT Organic?
MELT Organic is a butter improvement that really is good for you. It is made from the perfect blend of good fats such as virgin coconut and flaxseed oils. None of their products contain hydrogenated oils or artificial ingredients, and they never will.
MELT Organic spreads are also dairy free, soy free, trans-fat free, and gluten free, and each variety is certified organic, kosher, and Non GMO. Along with the health components of this spread, the best part about it is that it bakes, sautés and melts just like butter (but with half the saturated fat and calories!).
I was curious to see if it would really bake like butter, so instead of butter, yogurt or a combination of the two in my muffins, I replaced the amount with an equal amount of MELT Organic.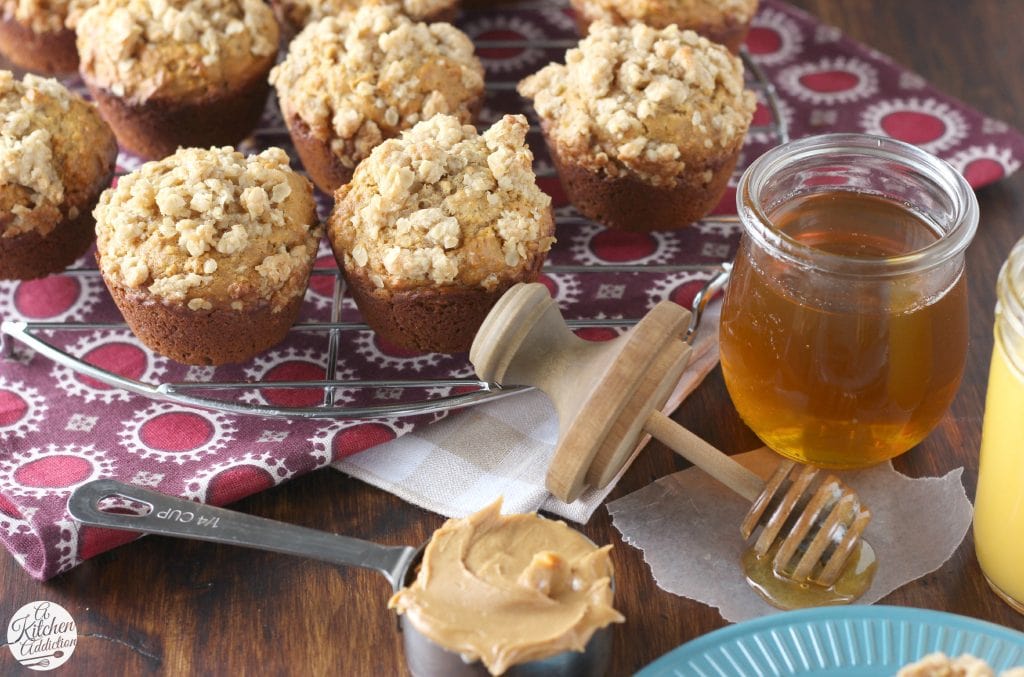 The muffins turned out perfectly. The spread baked up just like butter making the muffins tender and moist. I was a little nervous that the coconut oil in the spread would give the muffins a light coconut flavor since I've had spreads where the coconut is overpowering.
No coconut flavor, just a light buttery taste. This buttery taste especially came through in the oat clusters on the tops of the muffins. You would never guess that it wasn't butter.
Since it has such a buttery rich, creamy flavor we ate a lot of the muffins with smear of MELT Organic on them as well!
Now our rushed morning breakfasts can be both satisfying and nutritious! Have a couple for breakfast and grab one on the way out the door for an afternoon snack!
Be sure to check out where you can find MELT Organic near you!
Peanut Butter Honey Oat Muffins
Author:
Ingredients
3/4 C whole wheat flour
1/4 C white whole wheat or all-purpose flour
1 C quick or old-fashioned oats
1 1/2 tsp baking soda
1 tsp baking powder
1/2 tsp salt
1/2 C honey
1/2 C no-stir natural creamy peanut butter
4 tbsp Rich & Creamy Melt Organic, melted and cooled
1 egg
1 tsp vanilla extract
For the Crumb Topping
6 tbsp quick oats
1/4 C white whole wheat or all-purpose flour
2 tbsp brown sugar
3 tbsp Rich & Creamy Melt Organic, melted
Instructions
Preheat oven to 375. Lightly spray a muffin tin with non-stick cooking spray.
In a large bowl, whisk together flours, oats, baking soda, baking powder, and salt.
In a small bowl, whisk together honey, peanut butter, Rich & Creamy Melt Organic, egg, and vanilla extract.
Add wet ingredients to dry ingredients and stir until just combined.
In a separate small bowl, whisk together oats, flour, and brown sugar. Stir in Rich & Creamy Melt Organic until clumps form.
Divide batter into 12 muffin cups, filling each cup about 1/2 full. Sprinkle crumb topping over the top of batter.
Bake for 15-20 minutes or until toothpick inserted in the center comes out clean.
Remove to a wire rack to cool. Store in an airtight container.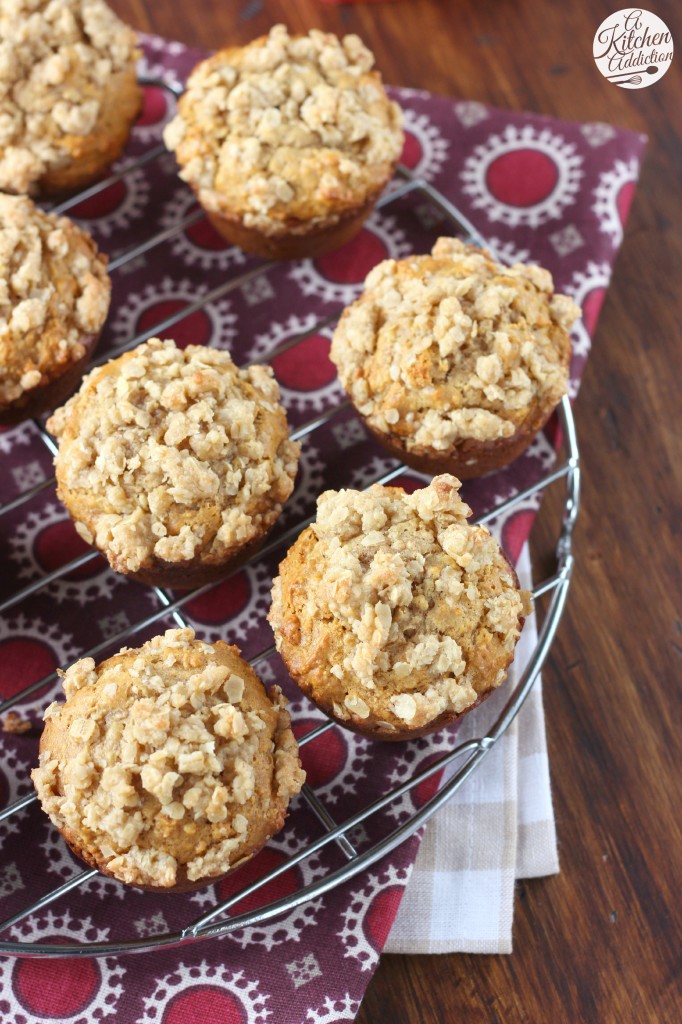 MELT® Organic is a line of luscious, organic spreads made from healthy oils for butter lovers seeking a much healthier alternative, available in Rich & Creamy (original), Honey, and NEW Chocolate.
This is a sponsored conversation written by me on behalf of MELT Organic. The opinions and text are all mine.