These Chocolate Peppermint Spritz Cookies are a chocolaty twist to traditional spritz cookies! Not too sweet or buttery, these cookies are a great addition to any cookie platter!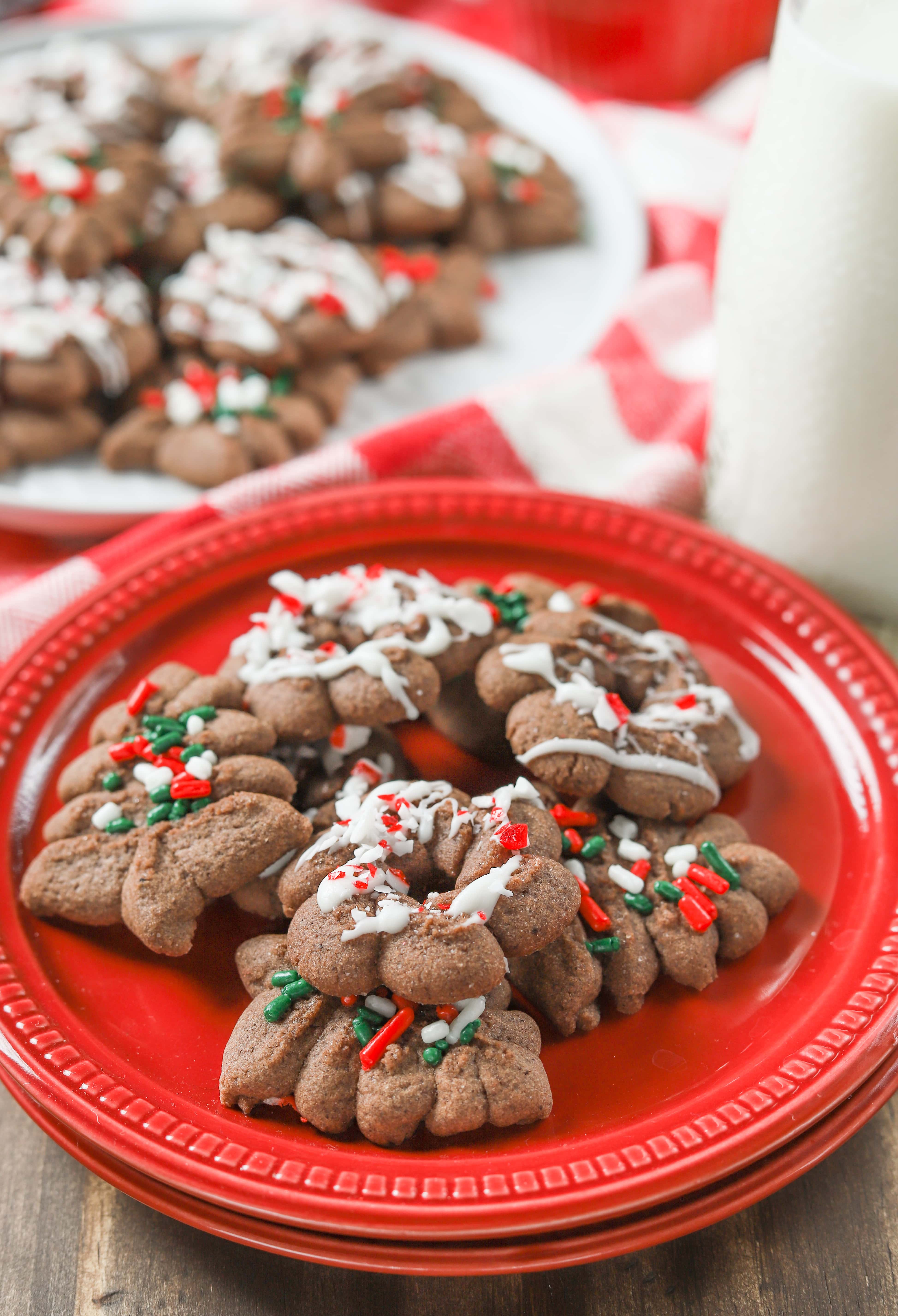 I finally made my first cookies of the holiday season. You already know that I much prefer to make a pan of bars over batches and batches of cookies.
However, when Christmas comes around, I have to make a few different kinds of cookies!
These chocolate peppermint spritz cookies are a twist to the classic spritz cookies from last year. I had people ask if I'd ever made them into a chocolate version.
I hadn't then, but I have now. So, here it is. . .a chocolate version! Though I couldn't leave it at chocolate. I had to add in a bit of peppermint.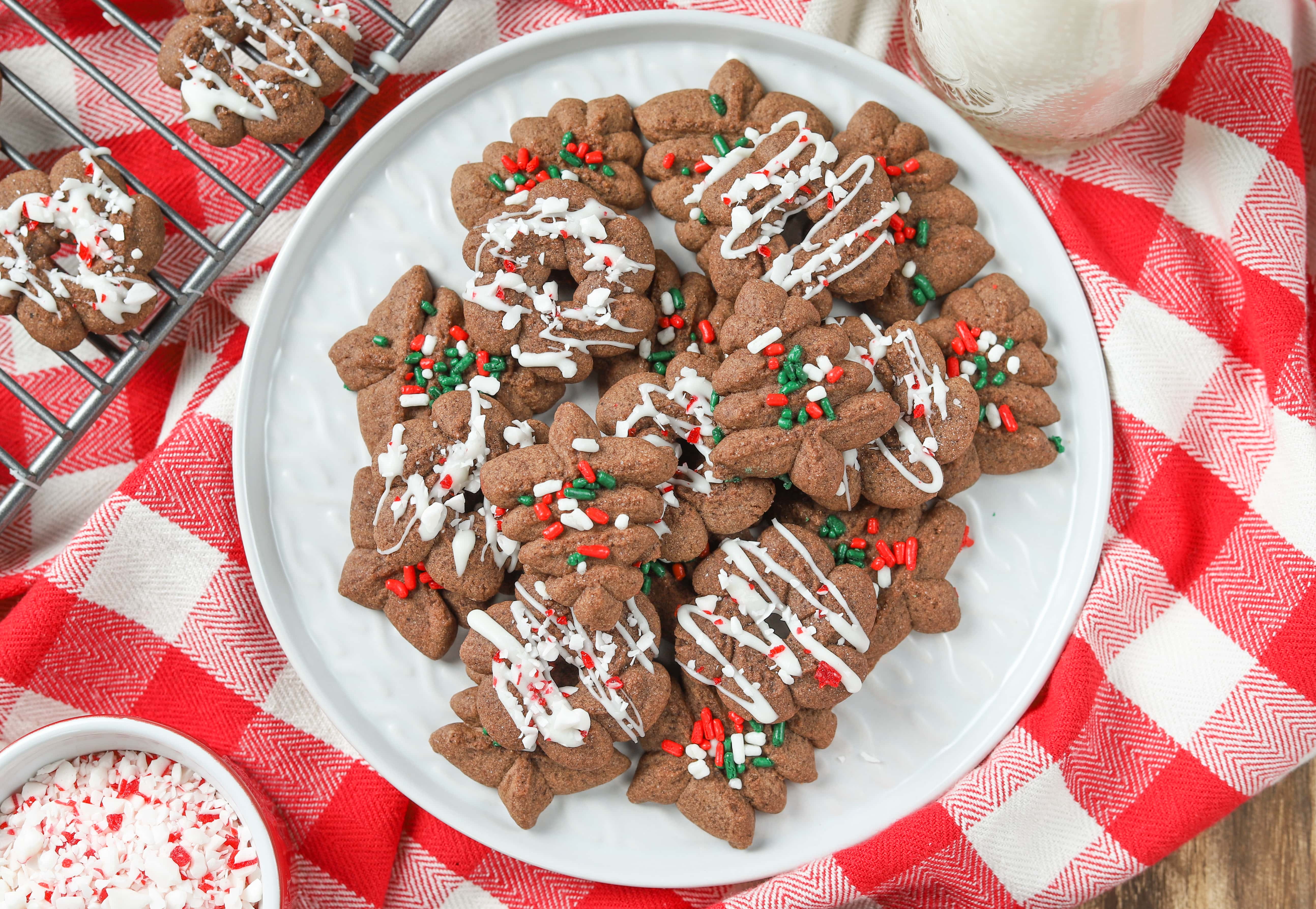 The chocolate peppermint combo is one of my favorites this time of year. And what better way to enjoy then in a cookie?! A bit of peppermint extract is used to give them a light peppermint flavor.
For some of the cookies, I drizzled a bit of white chocolate over them and sprinkled crushed peppermint candies on top for even more peppermint flavor.
But if you want just a chocolate cookie, feel free to leave out the peppermint extract and just use vanilla extract!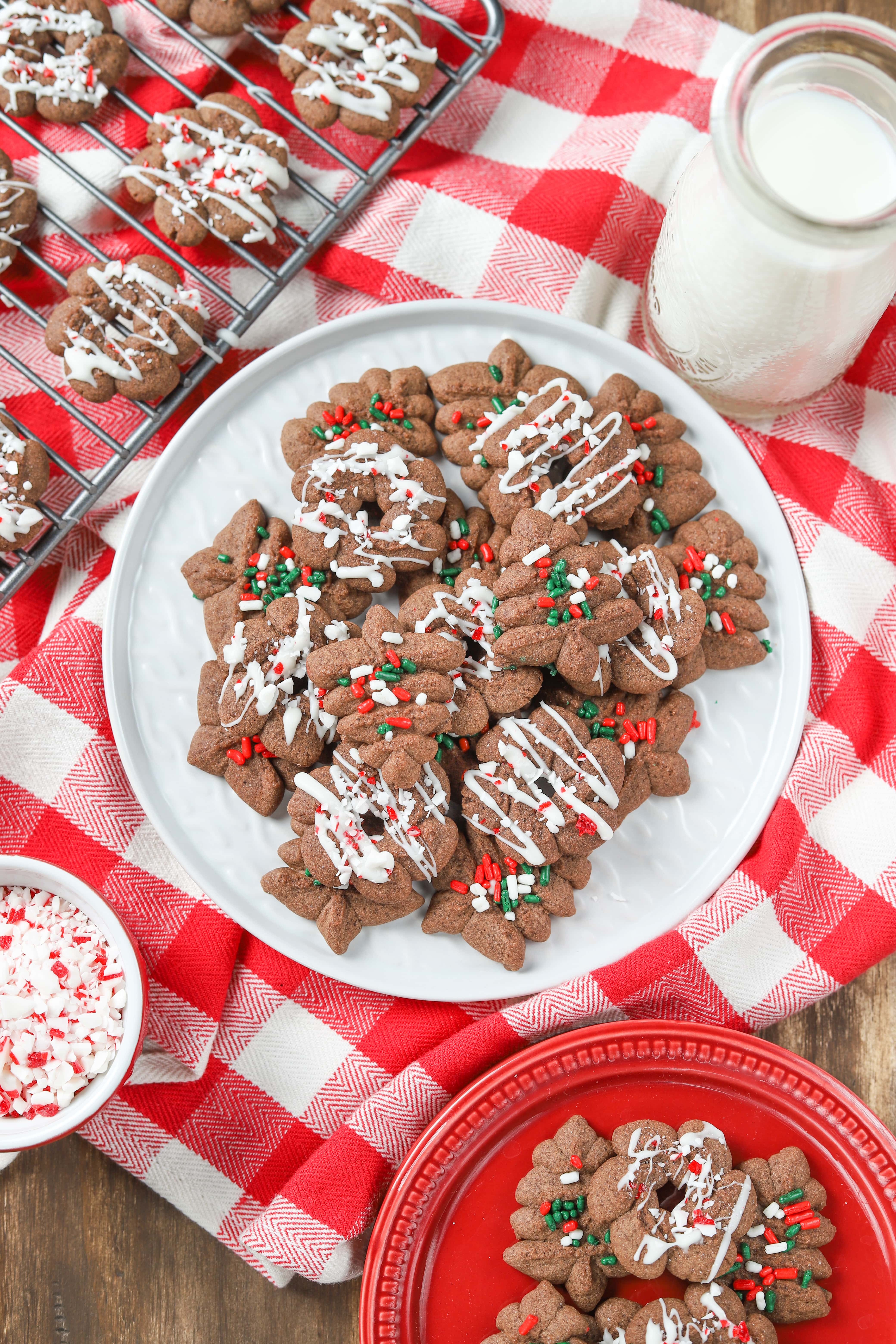 The nice thing about spritz cookies is that one batch makes a lot of cookies!
That and a lot of cookies fit on one cookie sheet with a short bake time.
So you get lots of cookies without having batches and batches of cookies go in and out of the oven!
Great for making at the last minute for your next Christmas party!
More Spritz Cookie Flavors!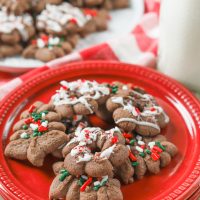 Chocolate Peppermint Spritz Cookies
Yield: 5-6 dozen

Cook Time: 8 minutes

Total Time: 8 minutes
Ingredients
For the Cookies
1 C butter, room temperature
2/3 C sugar
1 egg
1 1/2 tsp peppermint extract
1/2 tsp vanilla extract
1/4 tsp salt
2 C all-purpose flour
1/3 C unsweetened baking cocoa
Instructions
Preheat oven to 375.

In the bowl of a stand mixer, or with an electric mixer, cream together butter and sugar. Add in egg, peppermint extract, vanilla extract, and salt. Beat until creamy.

Stir together flour and baking cocoa in a small bowl. With mixer on low, or with a wooden spoon, slowly add flour mixture to wet ingredients just until combined.

Place dough in cookie press fitted with desired template. Pipe dough onto an ungreased cookie sheet. If desired, top with sprinkles.

Bake for 6-8 minutes, or until cookies are just set. If you prefer a crispy cookie, bake for the entire time. Remove to a wire rack to cool for 5 minutes before removing from cookie sheet.

If desired, drizzle with white chocolate and sprinkle with crushed peppermint candies.
Recommended Products
As an Amazon Associate and member of other affiliate programs, I earn from qualifying purchases.

This post contains affiliate links.