This easy Eggnog Glazed Gingerbread Coffee Cake has a light texture with the warm spices of gingerbread, a hearty crumb topping, and a sweet eggnog drizzle! You'll want to add this coffee cake to your next holiday brunch menu!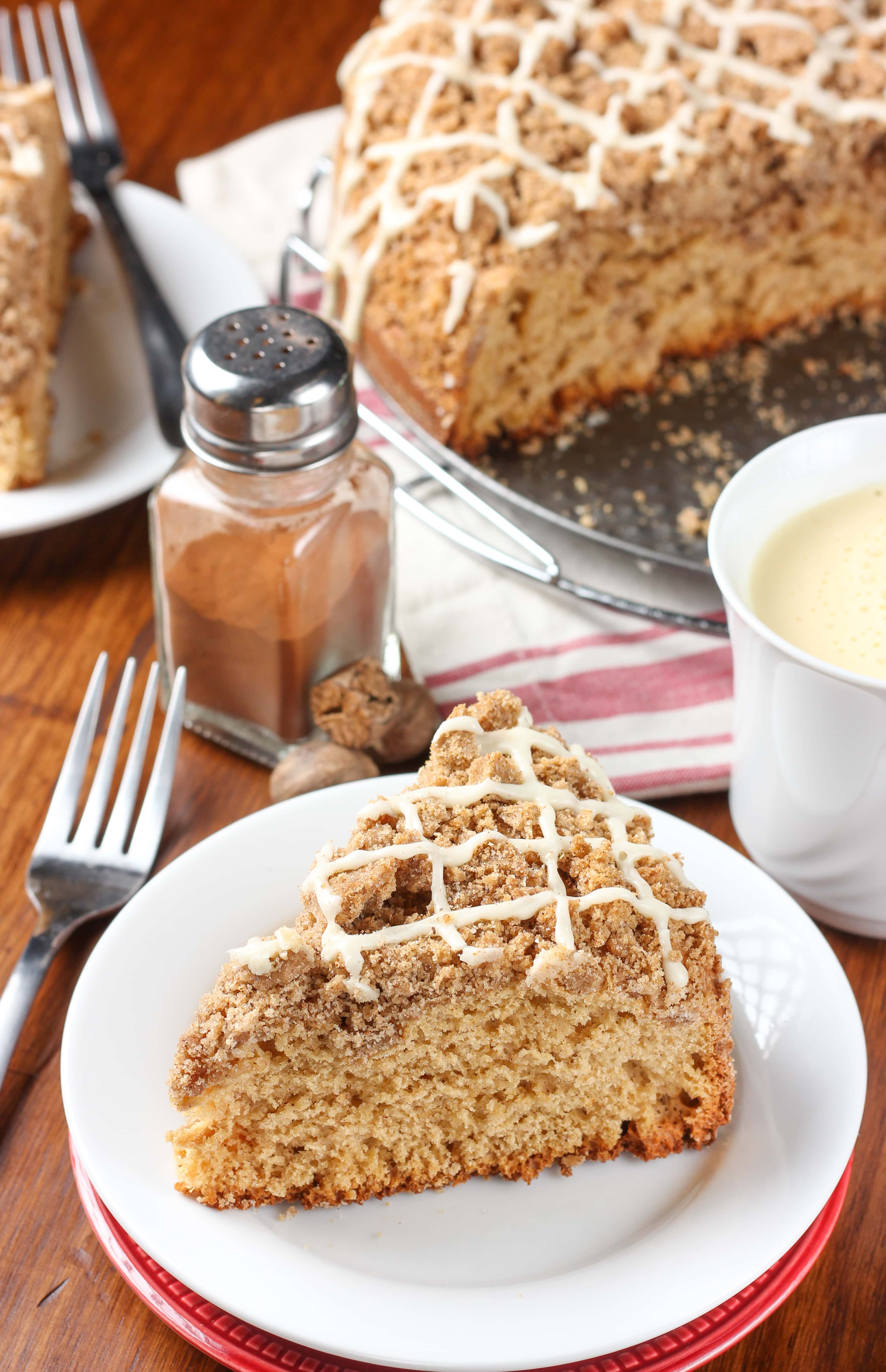 This recipe is made in partnership with Red Star Yeast. As always, all opinions are my own.
The holiday season is in full swing! The oven is on almost every day, Christmas music is playing, and decorations are up! With the arrival of the holidays comes some of my favorite flavors. Peppermint, eggnog, and, of course, gingerbread.
While I'm not a big fan of gingersnaps and plain gingerbread, I love baking with the gingerbread flavor. Like this gingerbread coffee cake!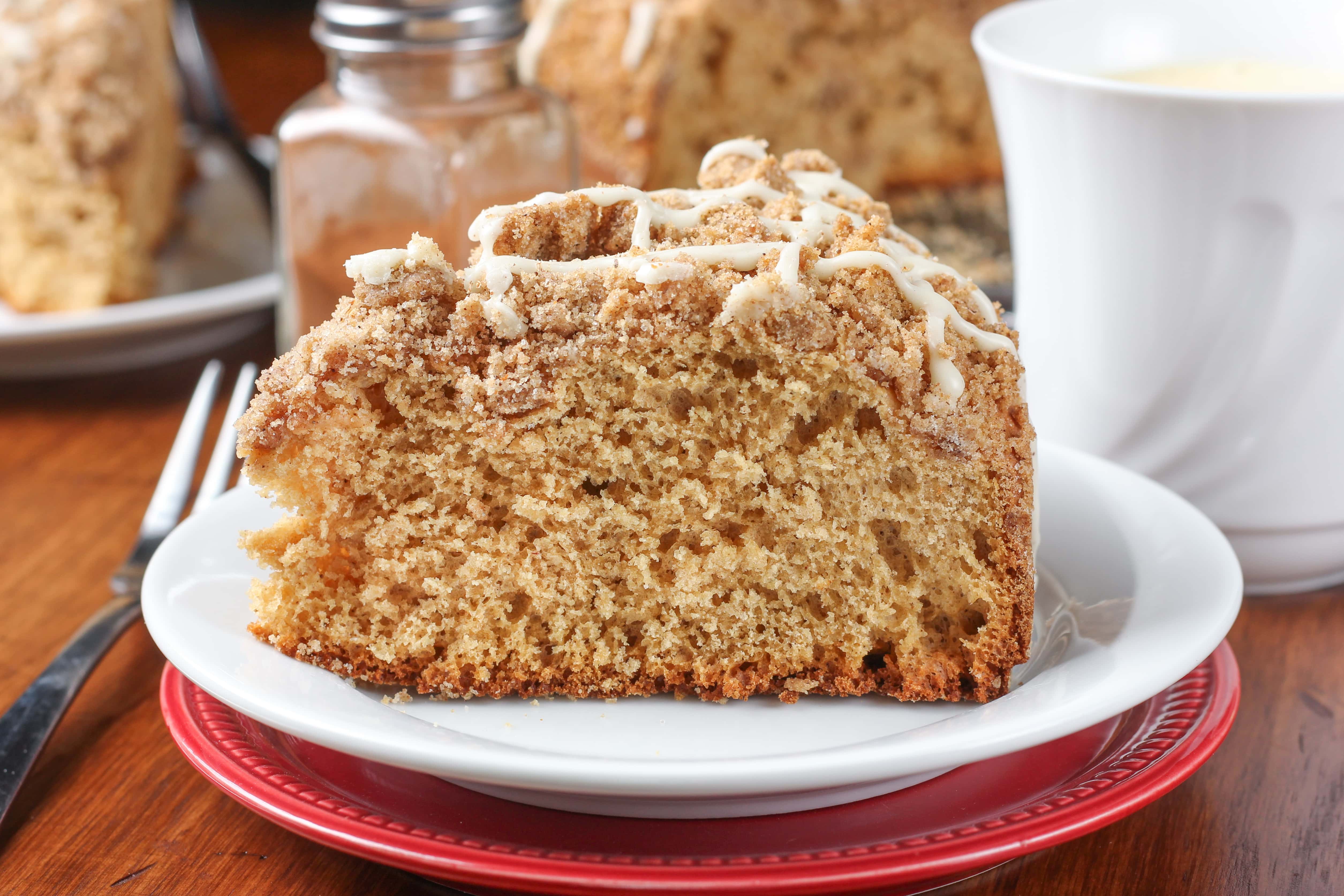 Have you ever made a yeasted coffee cake before? While I bake with yeast on a regular basis, yeasted coffee cakes are something that I don't make very often. I don't know why that is.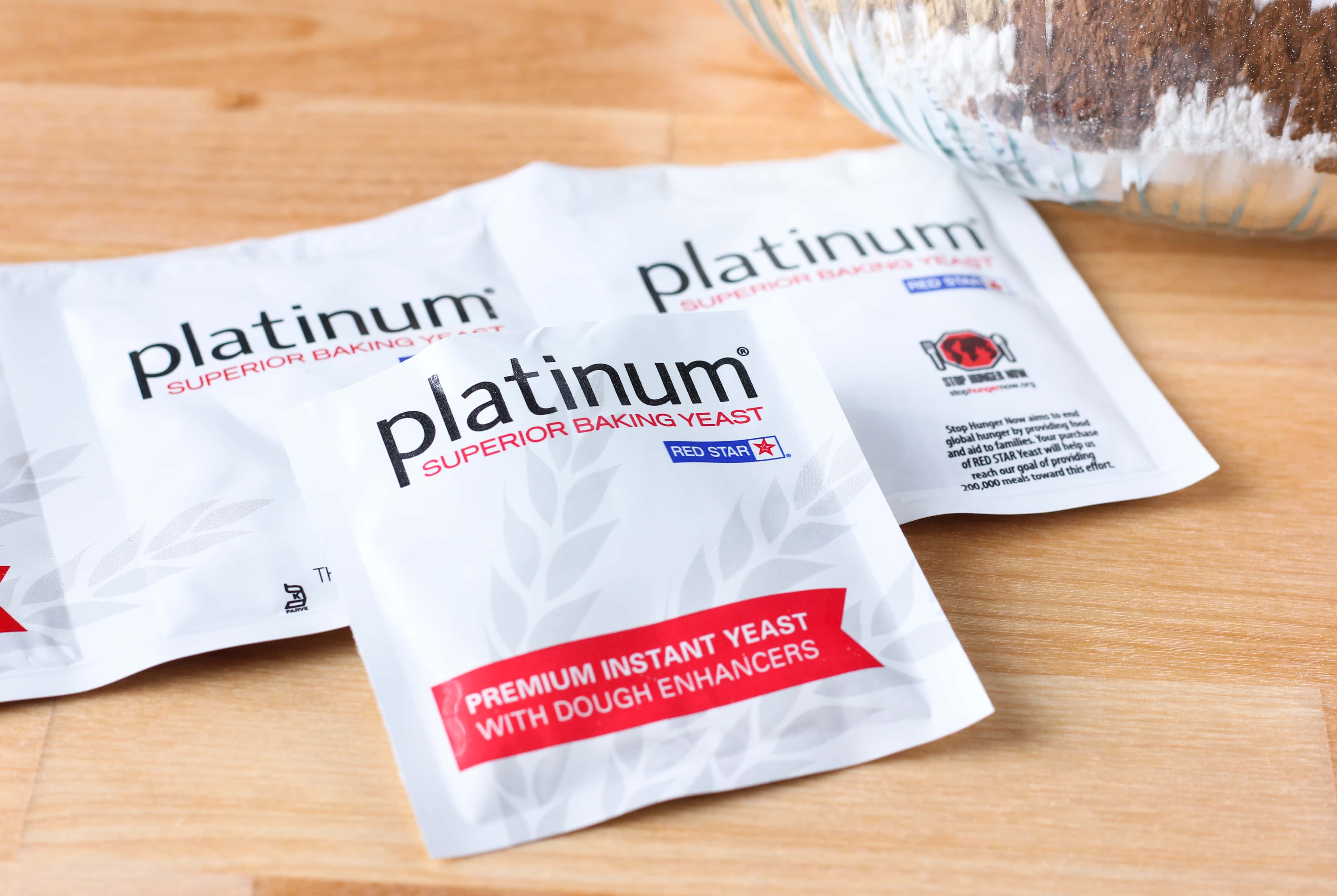 Thanks to my favorite Red Star Platinum Superior Baking Yeast, the yeast gives the cake a light, fluffy texture and keeps the cake from getting too dense. And all you have to do is add the yeast to the dry ingredients. Every time I make one, I wonder why I don't do it more often!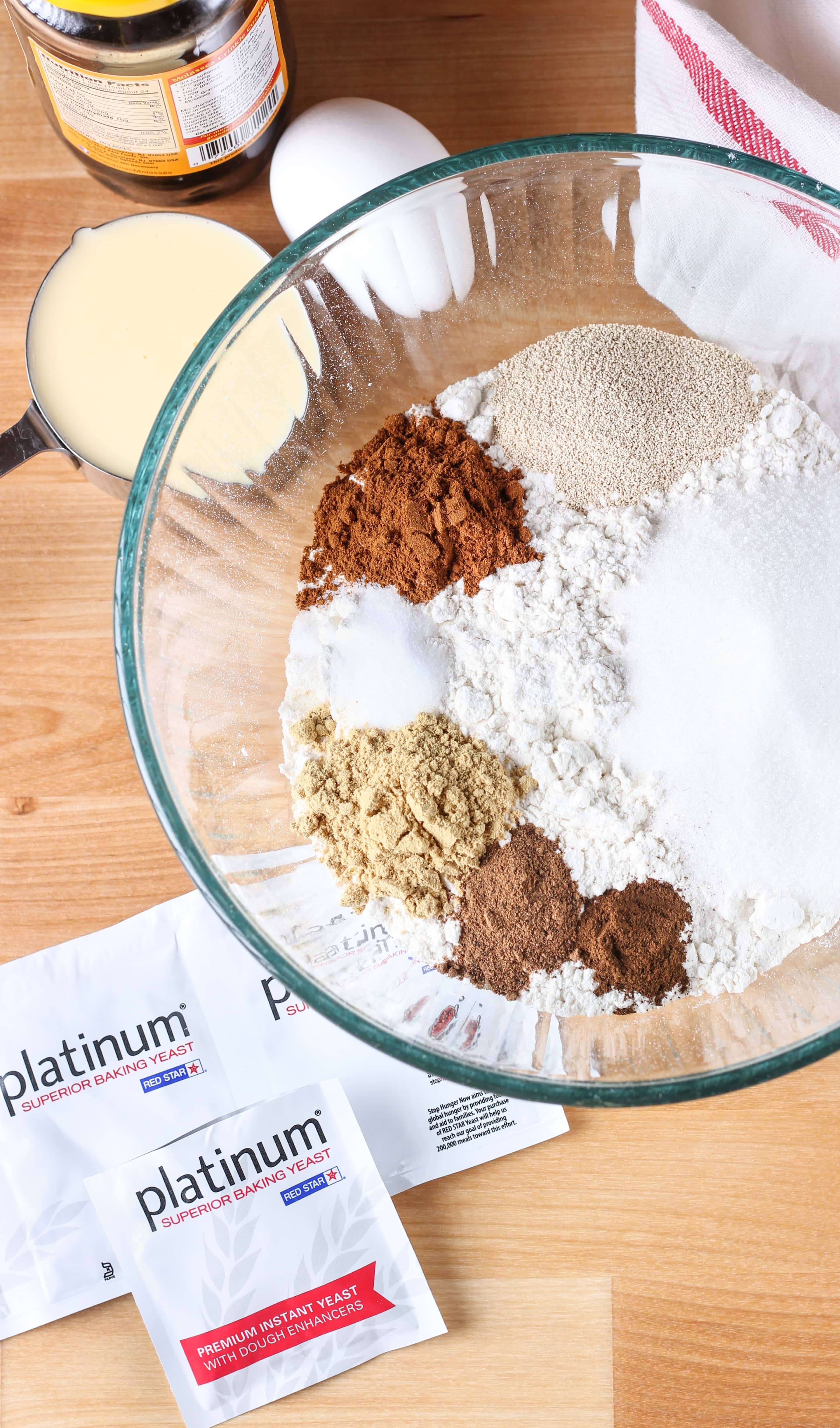 Don't let the long list of ingredients scare you! A lot of those ingredients are spices that are used more than once, and the rest of the ingredients are common ingredients that are easy to find!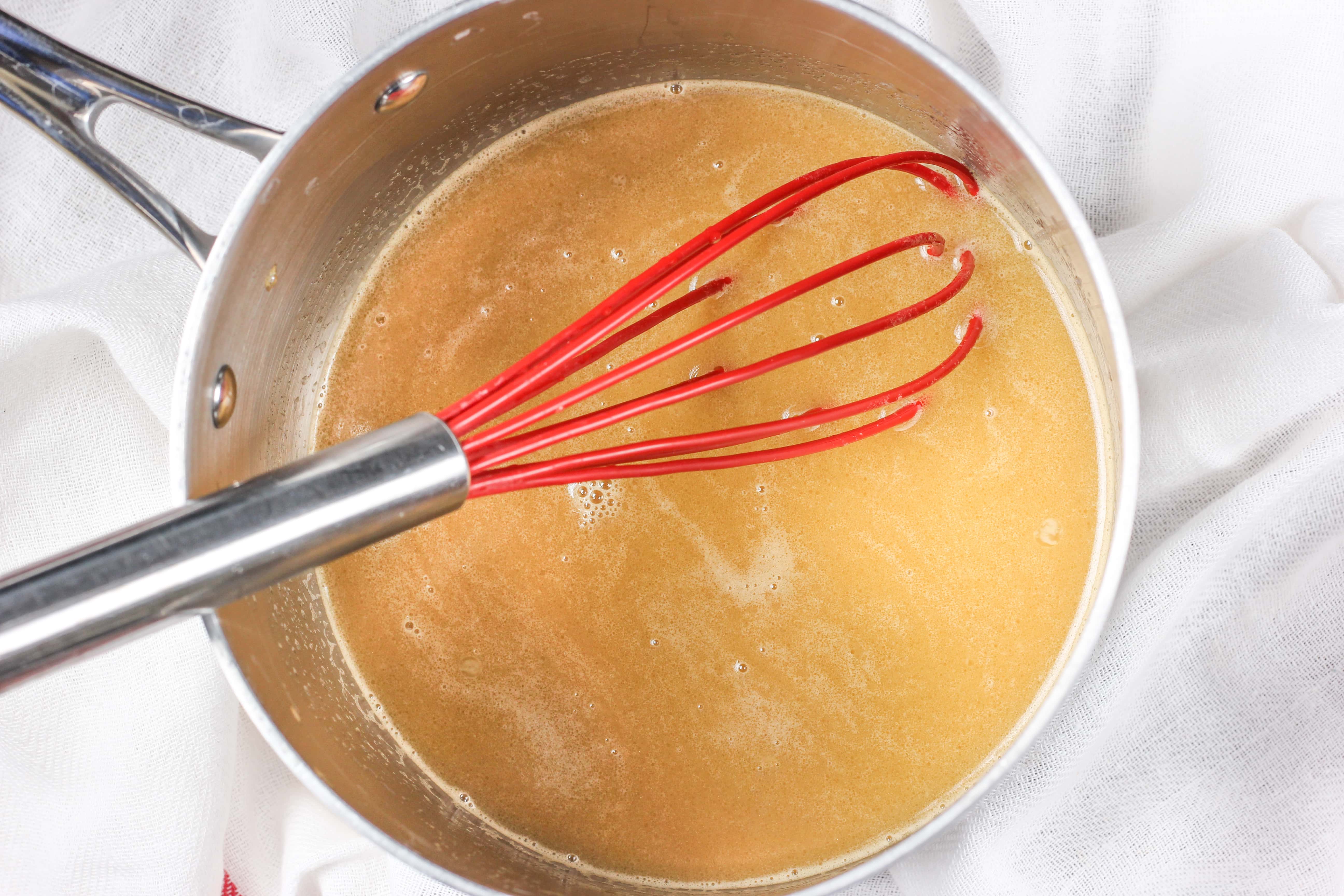 After a few different variations on amounts of molasses and eggnog to use, I settled on leaving eggnog out of the actual cake and just using it in the drizzle to keep the cake from getting too rich.
I also decided to keep the molasses to just a couple of tablespoons. But to that you add in lots of warm gingerbread spices, top it with a rich, buttery crumble, and drizzle it all with a sweet eggnog glaze!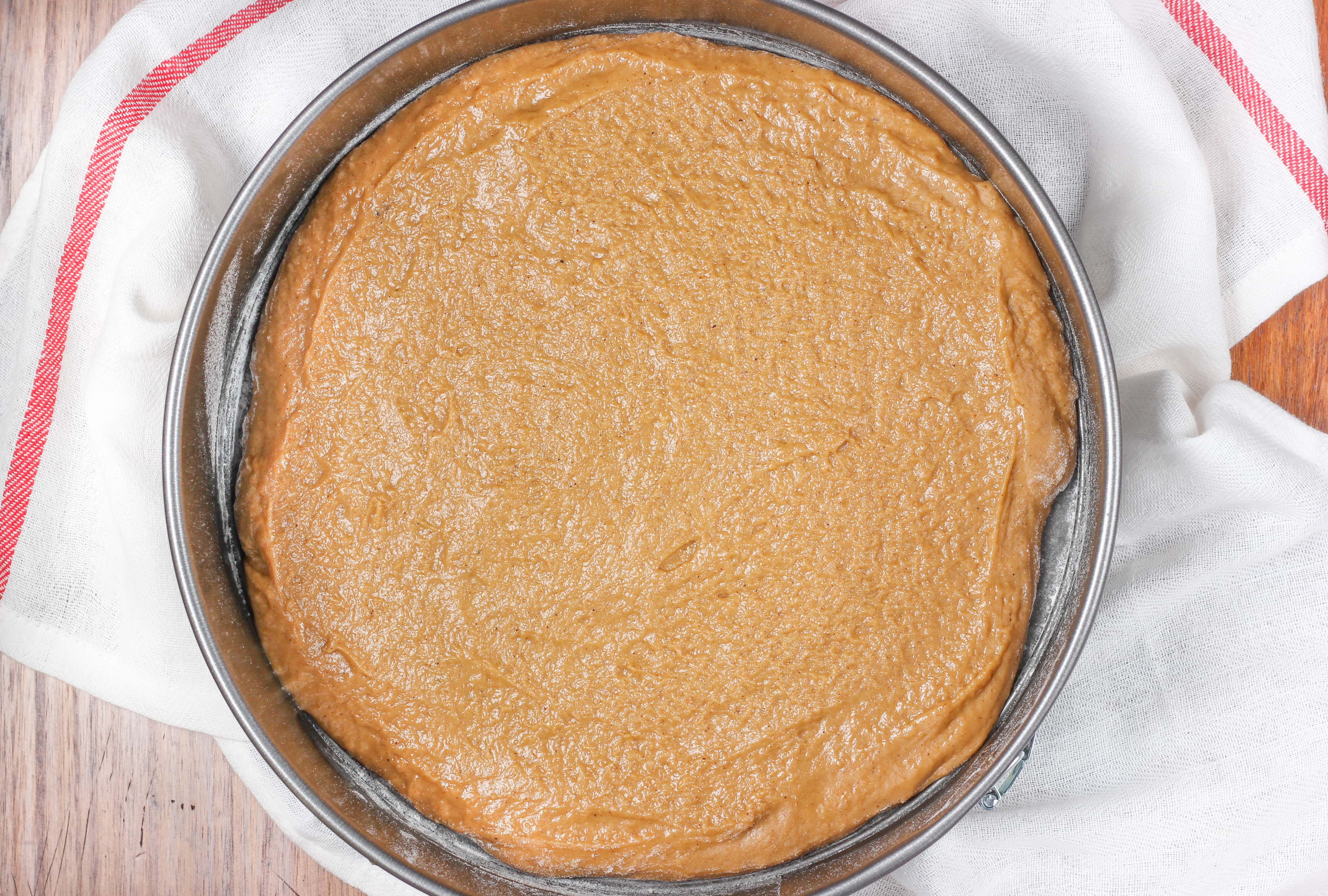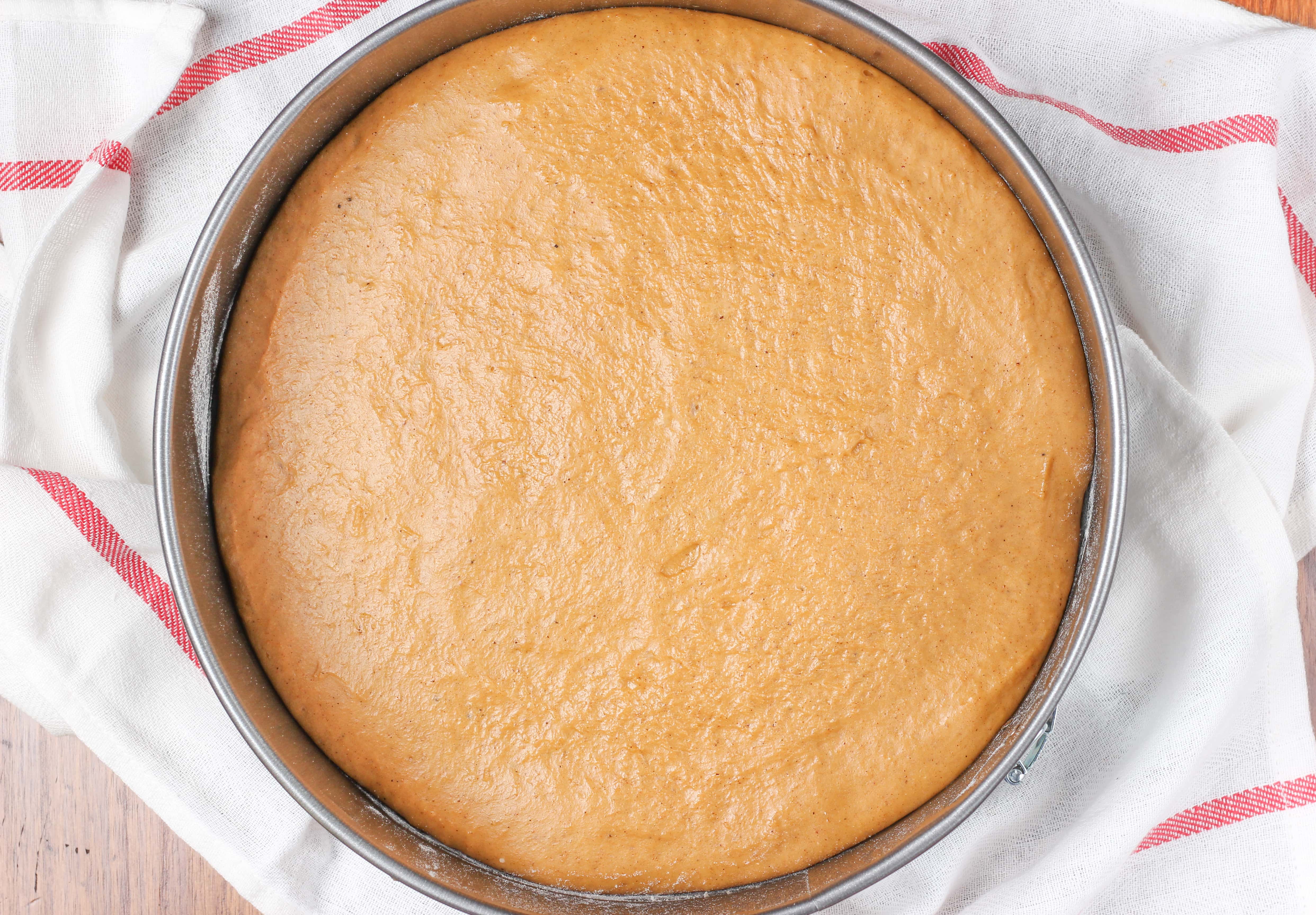 All you have to do is whisk most of dry ingredients together, warm up the wet ingredients and combine. Then stir in the remainder of the flour, the egg, and vanilla. You'll end up with a soft, sticky batter. Spread it into the pan getting the batter close to the edges, and let it rise.
Once it has puffed and is almost doubled in size, top it was the crumb topping and bake! It's that simple.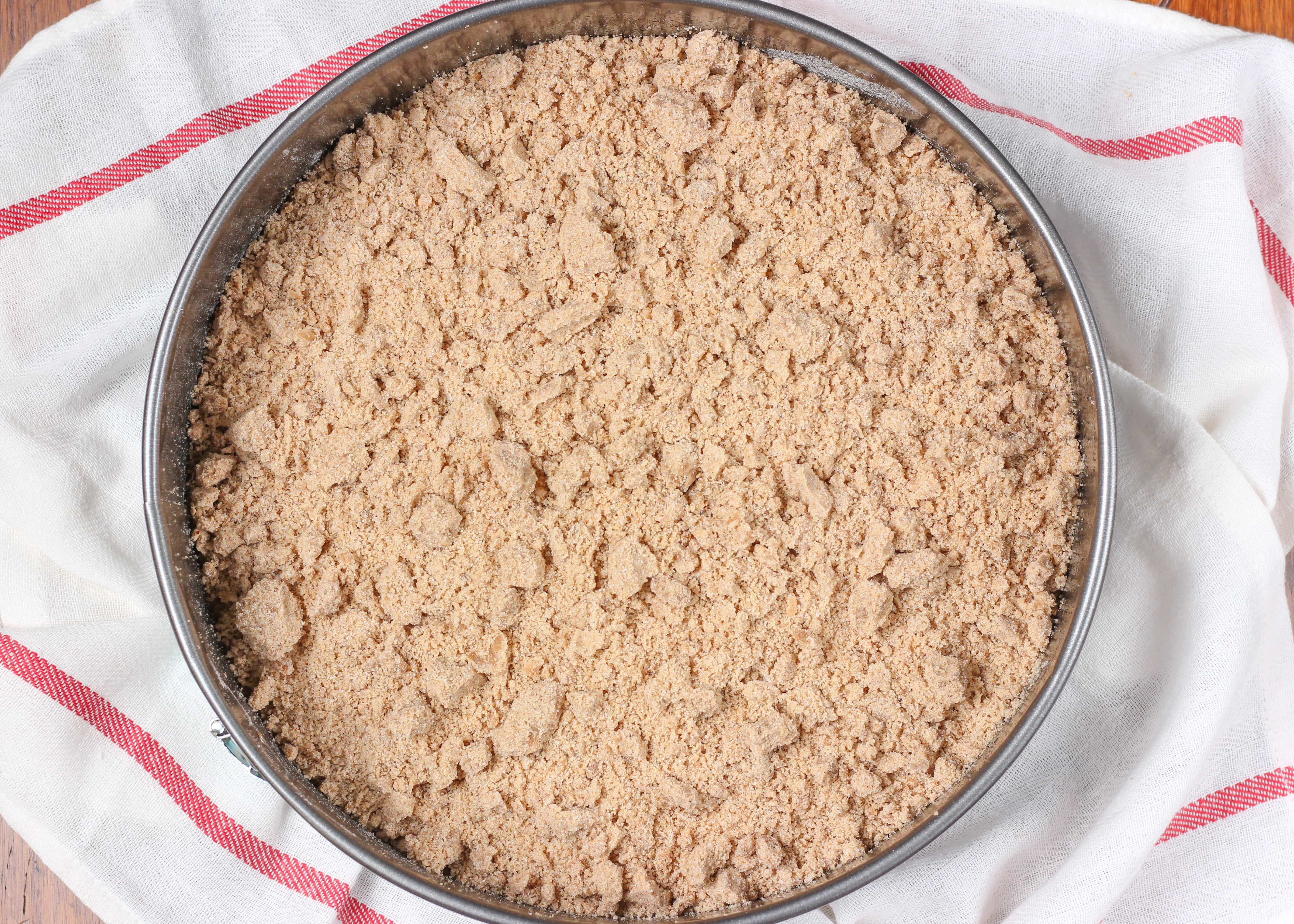 Right before serving I like to grate nutmeg over the top for a boost of that eggnog flavor, but feel free to leave it off if you don't have whole nutmeg on hand. Festive and full of Christmas flavor!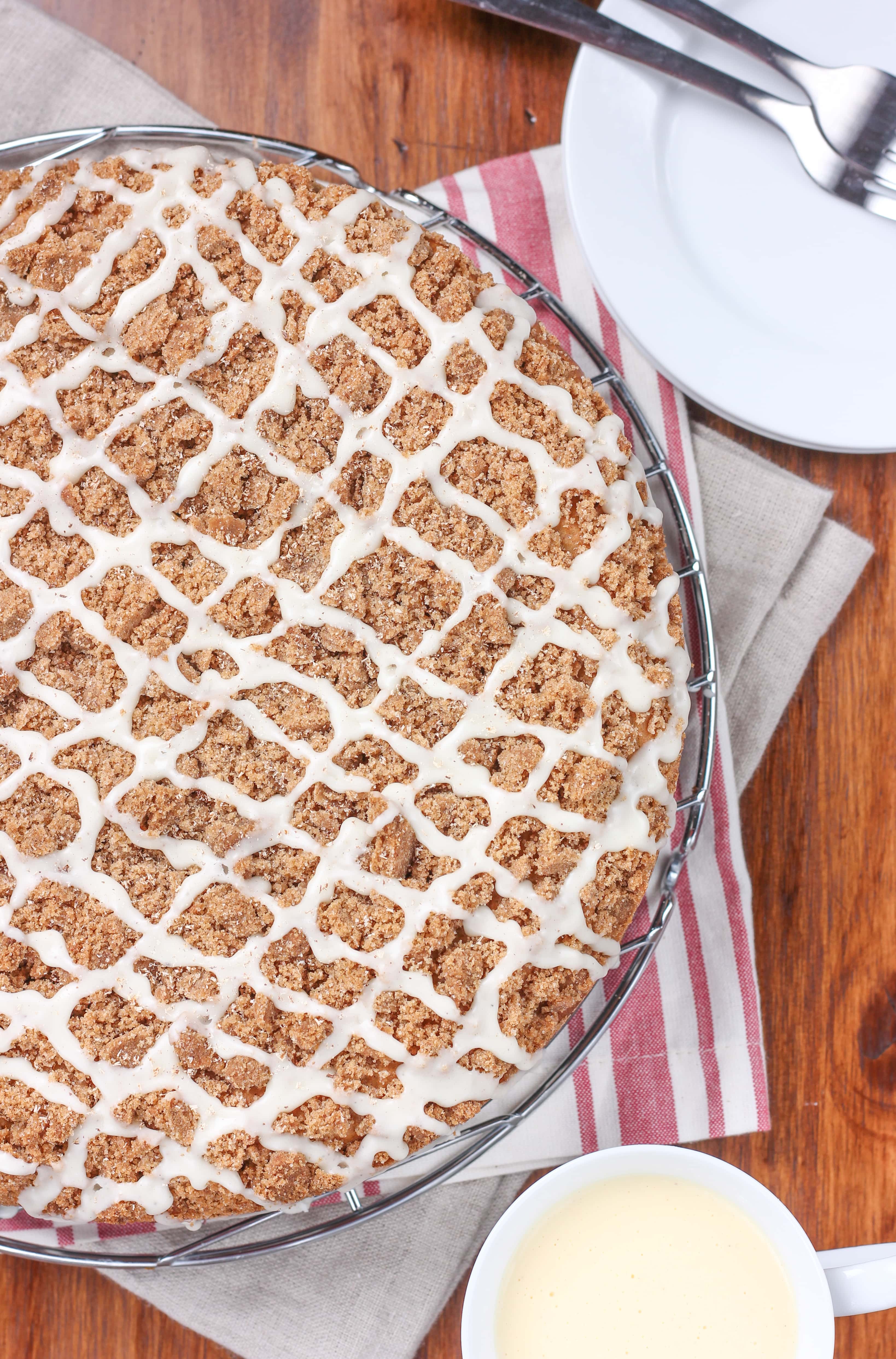 Tips for Making Gingerbread Coffee Cake:
It is important that your liquids are warm enough to activate the yeast, especially if your house is on the cooler side. (If you're like me living where it gets really cold, and you don't heat your house a lot, it's even more important that you have your liquids warm enough!)
If you don't have a warm place to allow your batter to rise, use the "Proof" setting on your oven or preheat your oven to the lowest setting possible, turn it OFF, then stick your batter in the oven and allow to rise.
I've tried using a couple different types of milk (and eggnog!) with this recipe, and milk that was 1% or higher worked the best.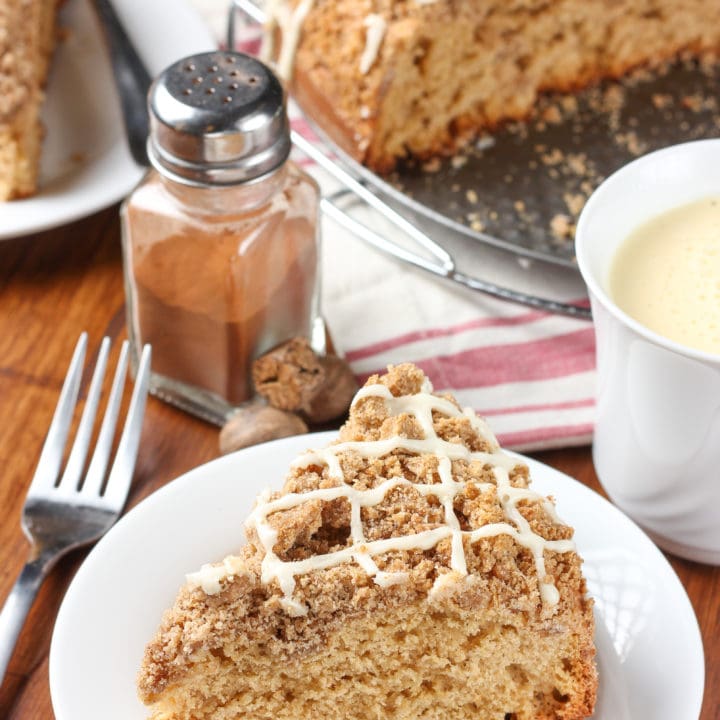 Eggnog Glazed Gingerbread Coffee Cake
Yield:
10 slices of coffee cake
Total Time:
1 hour
30 minutes
This easy Eggnog Glazed Gingerbread Coffee Cake has a light texture with the warm spices of gingerbread, a hearty crumb topping, and a sweet eggnog drizzle!
Ingredients
For the Cake
1 1/2 Cups + 1 Cup all-purpose flour
1/3 Cup sugar
1 package Red Star Platinum Superior Baking Yeast
1/2 teaspoon salt
2 teaspoons ginger
1 teaspoon cinnamon
1/2 teaspoon nutmeg
1/4 teaspoon cloves
1/2 Cup milk
1/4 Cup water
1/4 Cup butter, melted and cooled
2 Tablespoons molasses
1 egg, room temperature
1 teaspoon vanilla extract
For the Crumble
3/4 Cup all-purpose flour
1/2 Cup brown sugar
1/4 Cup sugar
2 teaspoons cinnamon
1 1/2 teaspoons ginger
1/2 teaspoon allspice
1/4 teaspoon nutmeg
1/8 teaspoon cloves
1/4 teaspoon salt
1/4 Cup butter, melted
For the Glaze
1 Cup confectioner's sugar
2 Tablespoons eggnog
1/8 teaspoon nutmeg
Instructions
Spray and flour a 10 inch springform pan. Set aside.
In the bowl of a stand mixer, whisk together 1 1/2 cups flour, sugar, yeast, Red Star Platinum Superior Baking Yeast, salt, ginger, cinnamon, nutmeg, and cloves.
In a small saucepan over low heat (or in the microwave), combine milk, water, butter, and molasses until temperature reaches 120-130 degrees Fahrenheit.
Slowly beat in wet ingredients to dry ingredients until just combined. Increase speed to medium, and beat for 3 minutes. Beat in remaining 1 cup flour, egg, and vanilla extract until combined.
Gently spread/press batter into prepared pan. Cover with plastic wrap or towel and allow to rise in a warm place until puffed and almost doubled in size, about 45 minutes.
Preheat oven to 375 degrees Fahrenheit during last 15 minutes of rise time.
Prepare topping. Stir together flour, brown sugar, sugar, cinnamon, ginger, allspice, nutmeg, cloves, and salt. Stir in melted butter until mixture resembles coarse crumbs.
Gently sprinkle crumb topping over risen batter. Place in preheated oven and bake for 15-20 minutes or until toothpick inserted in the center comes out mostly clean or internal temperature reaches 195-200 degrees Fahrenheit. Do not overbake.
Remove from oven and allow to cool completely.
Stir together confectioner's sugar, eggnog, and nutmeg until smooth. Drizzle over cooled coffee cake. Allow glaze to harden and serve.
Recommended Products
As an Amazon Associate and member of other affiliate programs, I earn from qualifying purchases.
Nutrition Information:
Yield:

10
Serving Size:

1
Amount Per Serving:
Calories:

318
Total Fat:

10g
Saturated Fat:

6g
Trans Fat:

0g
Unsaturated Fat:

3g
Cholesterol:

46mg
Sodium:

253mg
Carbohydrates:

53g
Fiber:

1g
Sugar:

35g
Protein:

4g
Nutrition information shown is an estimate provided by an online calculator and may not always be accurate. It should not be considered a substitute for a medical professional's advice.
Be sure to check out Red Star Yeast's Facebook, Twitter, Pinterest, and/or Instagram pages for more recipe inspiration and baking tips!