Hope all of you have been having a good week filled with Olympic watching and that you have a great weekend doing, well, more Olympic watching! 🙂 I personally am excited for the track and field events to start, especially after watching the top U.S. pole vaulters and meeting Lolo Jones just a couple of months ago.
Since you can't risk missing those key moments and you obviously need something sweet to eat while watching such feats of athleticism, it is important that your choice of indulging take very little time to prepare and bake.
I love monster cookies and as you have found out, really anything that contains oats and peanut butter. However, I really didn't want to got through making cookies since we are still in extreme heat and I have a small oven that really only accommodates one baking sheet at a time.
My solution? This pie! This pie is filled with all of the best of a monster cookie without heating up the house or missing time watching the Olympics! Let me break it down for you. . .The crust is made with oats and brown sugar to give it the taste of an oatmeal cookie. The filling is full of peanut butter, chocolate pudding, a hint of brown sugar, and mini chocolate chips. The topping consists of oats, chocolate chips, and peanut butter M&M's. The best part, it comes together in no time!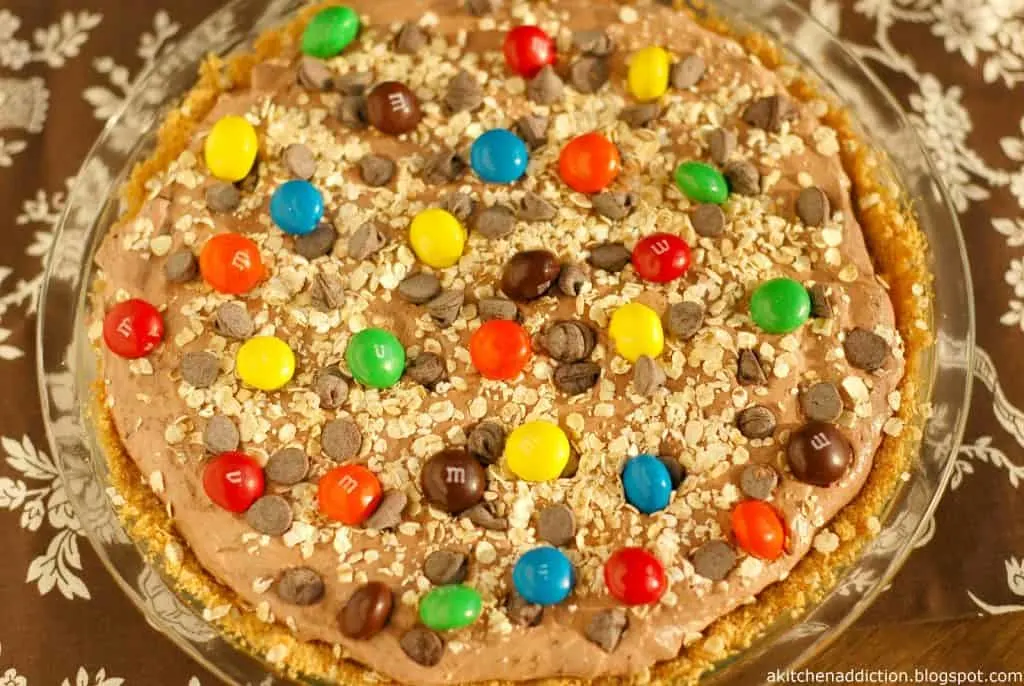 Enjoy and have a great weekend! 🙂
Chocolate Monster Cookie Pie

Filling adapted from Something Swanky
Yield: 8 slices
Ingredients
For the Crust
1 C graham cracker crumbs (about 10 whole graham crackers)
1/2 C quick oats
3 tbsp brown sugar
1/8 tsp salt
1/4 C butter, melted
2 tsp vanilla extract
For the Filling
1.5 oz box fat-free sugar-free chocolate pudding
2 tbsp brown sugar
1 1/4 C non-fat milk
1/4 C peanut butter
1 8oz tub reduced-fat Cool Whip
1/4 C mini chocolate chips
3 tbsp quick oats
3 tbsp semi-sweet chocolate chips
1/4 C peanut butter M&M's
Directions