Ever want to make something, but realize that you do not have all of the ingredients? However, you have no desire to run to the store for that one ingredient, and you are determined to come up with a substitute that doesn't ruin the over all flavor? It seems like this happens to me a lot!
I was really wanting to make pesto but didn't have any pine nuts on hand. So, I was excited to see this recipe from Cooking Light that uses almonds. No grocery store run for me!
I used that recipe as my base and worked from there to come up with a pesto that would work well with pork, specifically, grilled pork.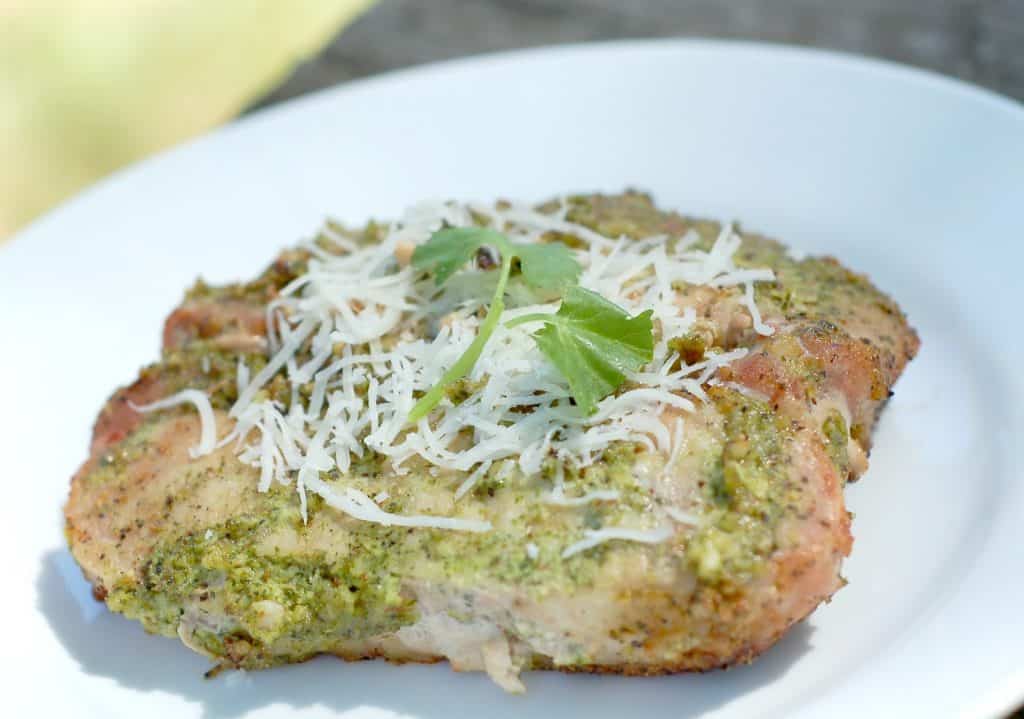 The texture is thicker than a traditional pesto, but works great as a coating for these chops. The pesto provides a crust of flavor to juicy grilled pork chops. Yum! And I didn't even have to waste time going to the store! 🙂
Grilled Cilantro Pesto Pork Chops

Yield: 4 servings
Ingredients
For the Pork
4 butterfly chops, trimmed of fat
1 tbsp salt
2 tsp white pepper
2 tsp black pepper
2 tsp onion powder
For the Pesto
2 C fresh cilantro, large stems removed
1/4 C toasted almonds, coarsely chopped
2 garlic cloves, coarsely chopped
1/4 tsp salt
1/4 tsp black pepper
5 tbsp olive oil
3 tsp fresh lime juice
shredded mozzarella cheese, optional
Directions
Sprinkle pork chops with salt, peppers, and onion powder. Set aside.
Place all of the ingredients for the pesto, except olive oil and lime juice, in food processor. Pulse 8-10 times or until chopped. Drizzle olive oil and juice over the top and pulse until smooth.
Heat grill to medium-high heat. Spread pesto over pork chops, about 1 tablespoon per side. Discard any remaining pesto that comes in contact with raw meat. Lightly oil grill grate. Grill pork chops for 8-10 minutes per side or until done.
Sprinkle with shredded mozzarella cheese and let rest for 5 minutes before serving.
This recipe is linked to Fit and Fabulous Fridays, Kitchen Fun Friday, Seasonal Inspiration, Strut Your Stuff Saturday, Sweet Treats and Swanky Stuff, Totally Tasty Tuesday, and Weekend Potluck.