Comfort food is one of those things that you don't want to mess with. There's a reason that it's called "comfort food!" However, it's not so comforting to read the nutrition information for most comfort foods, chicken potpie included. This recipe meets the comforting requirements without all of the added uncomfortable nutrition information. Warm and filling, this potpie has a thick creamy filling with lots of chicken and vegetables and a soft, tender crust. Both your taste buds and your insides will be happy. 🙂
All ready to dig in 🙂
Soft biscuit topping. . .creamy inside. . .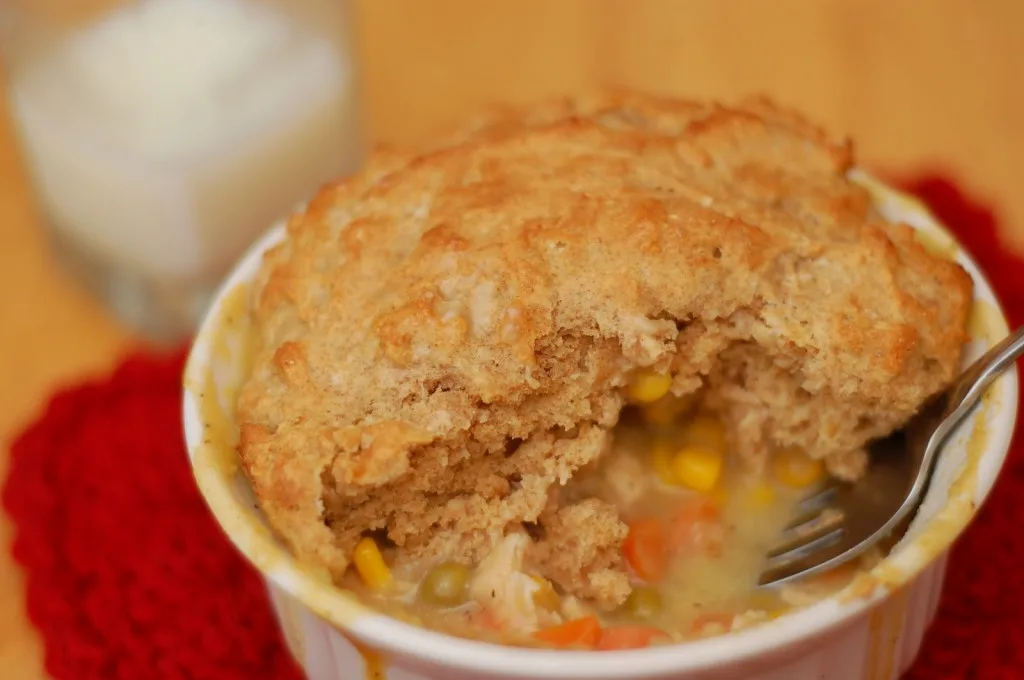 Chicken Potpie – A Comfort Food MakeoverPin It
Yield: Approx. 4 pies
Ingredients:
3 tsp olive oil, divided
1 C fresh carrots, cut into small pieces
1 tsp onion powder
1/2 tsp garlic powder
1 can fat-free cream of mushroom soup
1 can of water using soup can (rinses out the rest of the soup stuck to the can)
1/2 C reduced sodium chicken broth
3 tbsp cornstarch and corresponding cold water to smooth it out before adding
1/2 C frozen peas, thawed
1/2 C frozen corn, thawed
2 1/2 C cooked chicken, shredded/cubed
1/4 tsp salt
1/4 tsp pepper
3/4 C whole wheat flour, sifted
3/4 C all-purpose flour
2 tsp sugar
1 1/4 tsp baking powder
1/2 tsp baking soda
1/2 tsp salt
1 1/2 tbsp cold butter, cut into small pieces
1 C nonfat buttermilk
1 tbsp olive oil
Directions
Preparing Filling: Heat 1 teaspoon olive oil in a dutch oven or large skillet over medium high heat. Add carrots and cook for about 7 minutes or until tender.
Add the soup, water, and broth. Stir until soup blends and there are no more chunks.
Add the onion powder and garlic powder. Bring to a boil; reduce heat to simmer.
Mix cornstarch with about 3 tablespoons water, or enough to made a smooth paste. Add to the skillet and cook, stirring until sauce thickens.
Stir in peas, corn, chicken, salt, and pepper.
Transfer to ramekins (I filled 2 two cup and 2 one and a half cup ramekins) or a 6 quart baking dish.
Preparing Topping: Preheat oven to 400.
Whisk flours, sugar, baking powder, baking soda, and salt together in a large bowl.
Cut butter into dry ingredients with fingers or fork until crumbly.
Add buttermilk and oil. Stir until just combined.
Drop and spread out the dough evenly among your ramekins or your baking dish.
Place ramekins or baking dish on a baking sheet.
Bake 30 to 35 minutes or until topping is golden and filling is bubbling. If you are using small ramekins, you may want to check at around 20 minutes.
Let cool 10 minutes before serving.