It's been one whole month since A Kitchen Addiction has been up! Thank you to all who leave encouraging comments and e-mails!! They are much appreciated and I feel like I am starting to get to know a little bit about some of you. 🙂 That's a good reason to celebrate with some yummy cupcakes! 🙂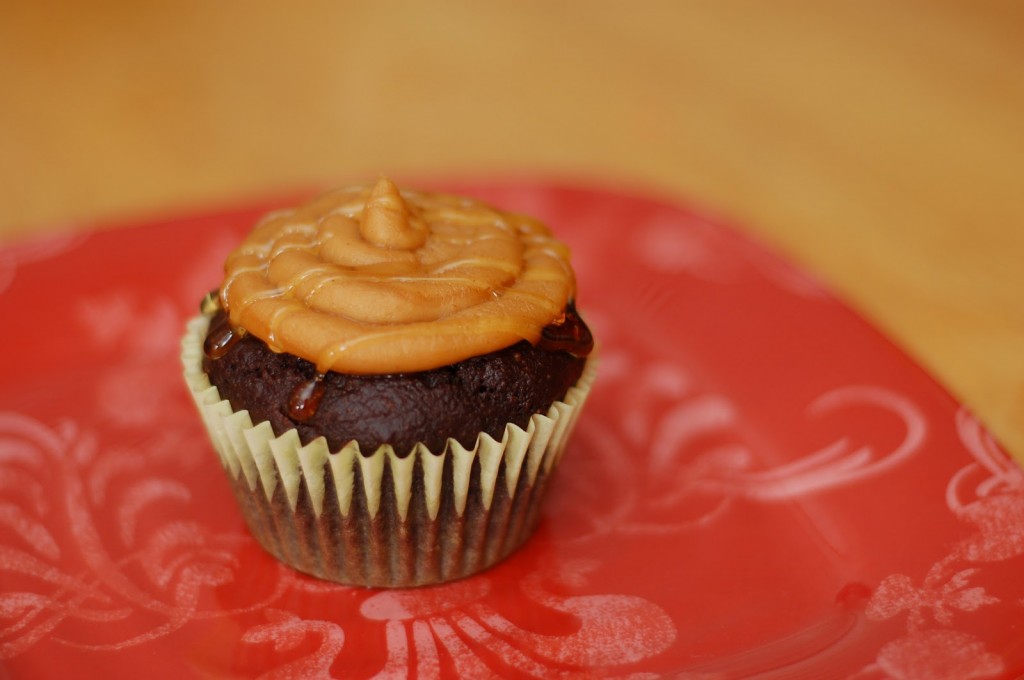 I've been wanting to try out this recipe for awhile and today is the perfect excuse! These cupcakes are made with non-fat yogurt and whole wheat flour making it possible to "indulge" without feeling guilty! So enjoy some Chocolate Graham Cupcakes with Honey-Drizzled Peanut Butter Frosting! 🙂
Light, fluffy frosting!
Chocolate-Graham Cupcakes with Honey-Drizzled Peanut Butter FrostingPin It
Yield: 12 cupcakes
Ingredients
For the Cake
1 C non-fat buttermilk
1/4 C granulated sugar
1/4 C sugar substitute
1/2 C fat-free plain yogurt or canned pumpkin (not pumpkin pie filling)
2 tbsp canola oil
2 tsp vanilla extract
1/2 C all-purpose flour
1/2 C whole wheat flour
1/2 C unsweetened cocoa powder (add 2 tbsp if you want a rich chocolate flavor)
1/2 C graham cracker crumbs
3/4 tsp baking soda
1/2 tsp baking powder
1/4 tsp salt
For the Frosting
1/2 C natural no-stir creamy peanut butter
1/4 C + 1 tbsp non-fat Greek yogurt
2 tsp vanilla extract
2 tsp Splenda or other sugar substitute (or more if you prefer your frosting sweeter)
pinch of salt
honey to drizzle
Directions
Preheat oven to 350 and line muffin tin with cupcake liners.
Mix together milk, sugar, sugar substitute, yogurt, oil, and vanilla. Beat for 30 seconds.
Sift in the flours, cocoa powder, cinnamon, baking soda, baking powder, and salt. Mix together until no lumps remain.
Fold in graham cracker crumbs until combined.
Spoon cupcake batter into muffin tins about 3/4 of the way full.
Bake for 18-20 minutes or until a toothpick inserted into the center comes out clean. Allow cupcakes to cool while you make the frosting.
Stir together the peanut butter, yogurt, vanilla, sugar substitute, and salt until well combined and the yogurt and peanut butter are completely blended.
If you prefer to have a lighter, fluffier frosting you can frost the cupcakes once they are cool using a spoon. If you would like a richer, more dense frosting, place frosting in refrigerator until cold, then pipe onto cupcake in a thin layer.
Drizzle lightly with honey right before serving.
Because of the yogurt in the frosting, these cupcake will need to be refrigerated to keep fresh.