Enjoy the flavors of carrot cake in healthy, portable carrot cake breakfast bars! Warm spices and a light honey cream cheese drizzle pair with oats, whole wheat flour, and flax seed to deliver great flavor and a hearty breakfast bar that will keep hunger at bay!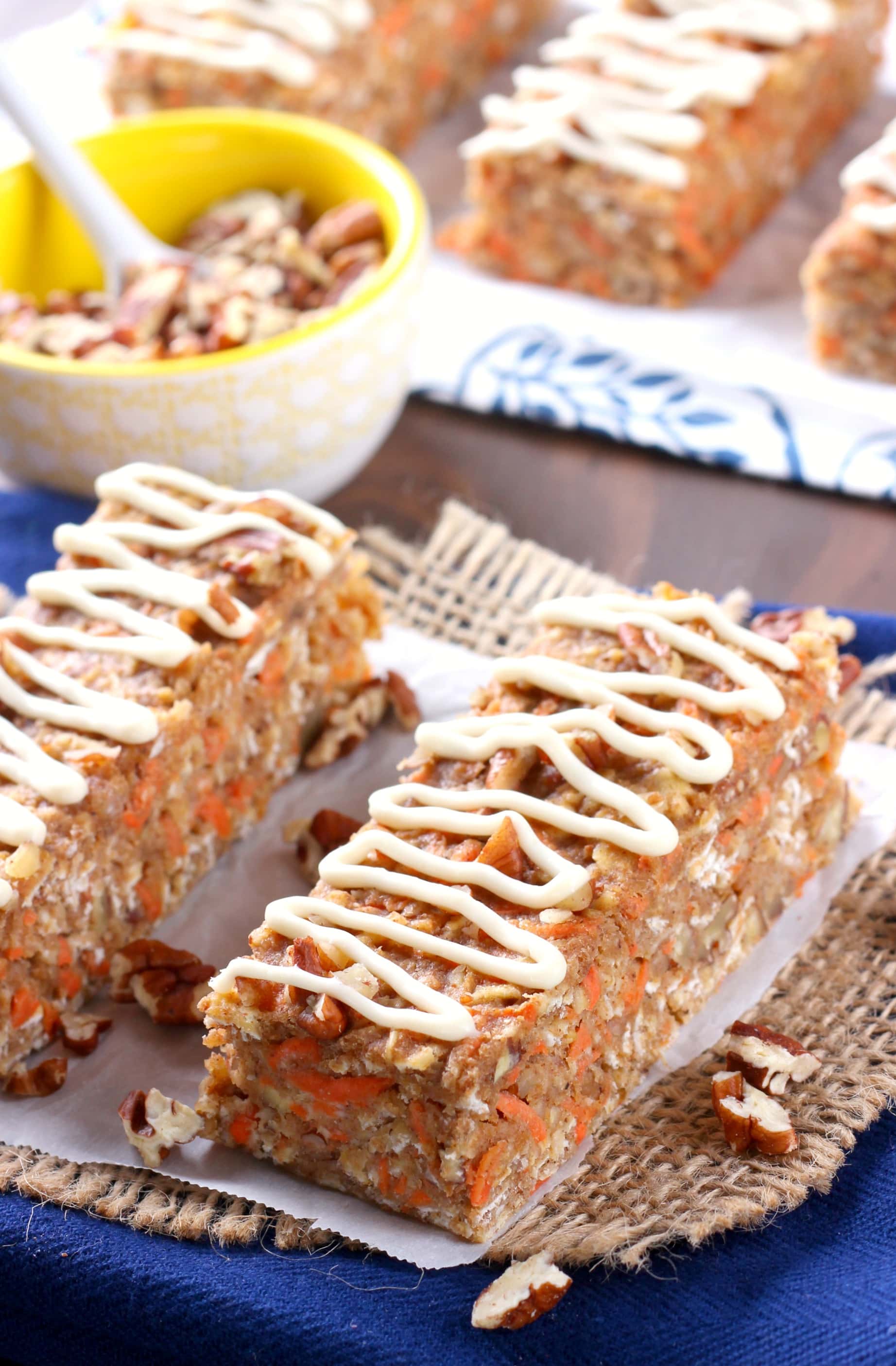 You've probably noticed that all things carrot cake are a favorite around here. I just love that combination of flavors. In fact, skip the chocolate cake for my birthday, I'll gladly enjoy a big slice of carrot cake!
All of the warm spices combined with the sweet carrots and cream cheese frosting just make carrot cake so good. Carrot cake scones, carrot cake donuts, carrot cake bread. . .you name it, we've probably made it! But now we have a new way to enjoy carrot cake at our house!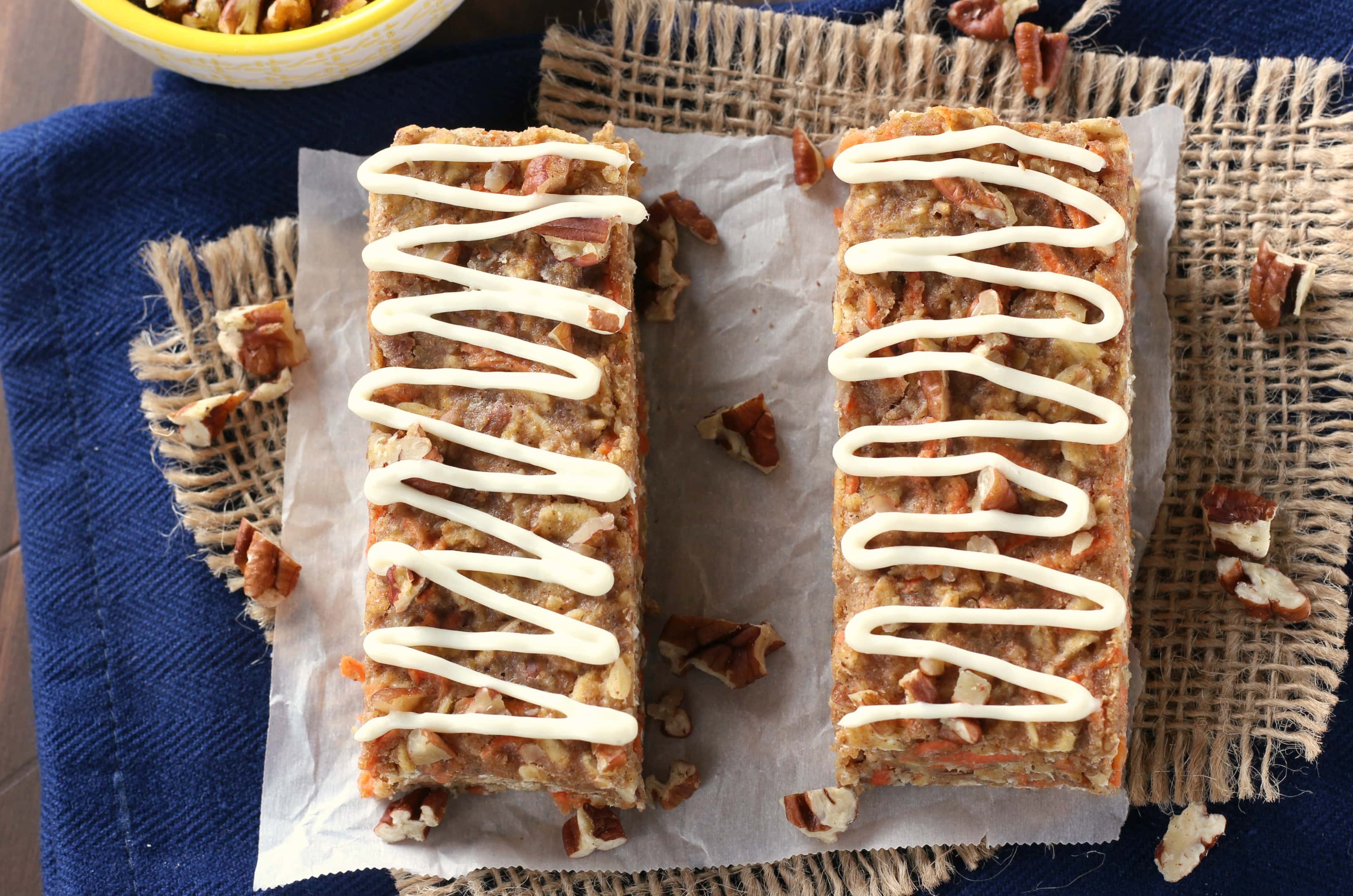 Quick and easy carrot cake breakfast bars! I don't know about you, but if I can have carrot cake for breakfast, it's a good start to the day! These carrot cake breakfast bars are a healthy way to get the flavor of carrot cake in a nutrient rich bar.
Oats, whole wheat flour, and flax seed make them substantial enough that you can eat one or two and not be starving a couple of hours later! And then there's the cream cheese drizzle. A bit of cream cheese is whipped together with some honey to allow you to have that cream cheese frosting flavor without all of the butter and sugar from a traditional frosting.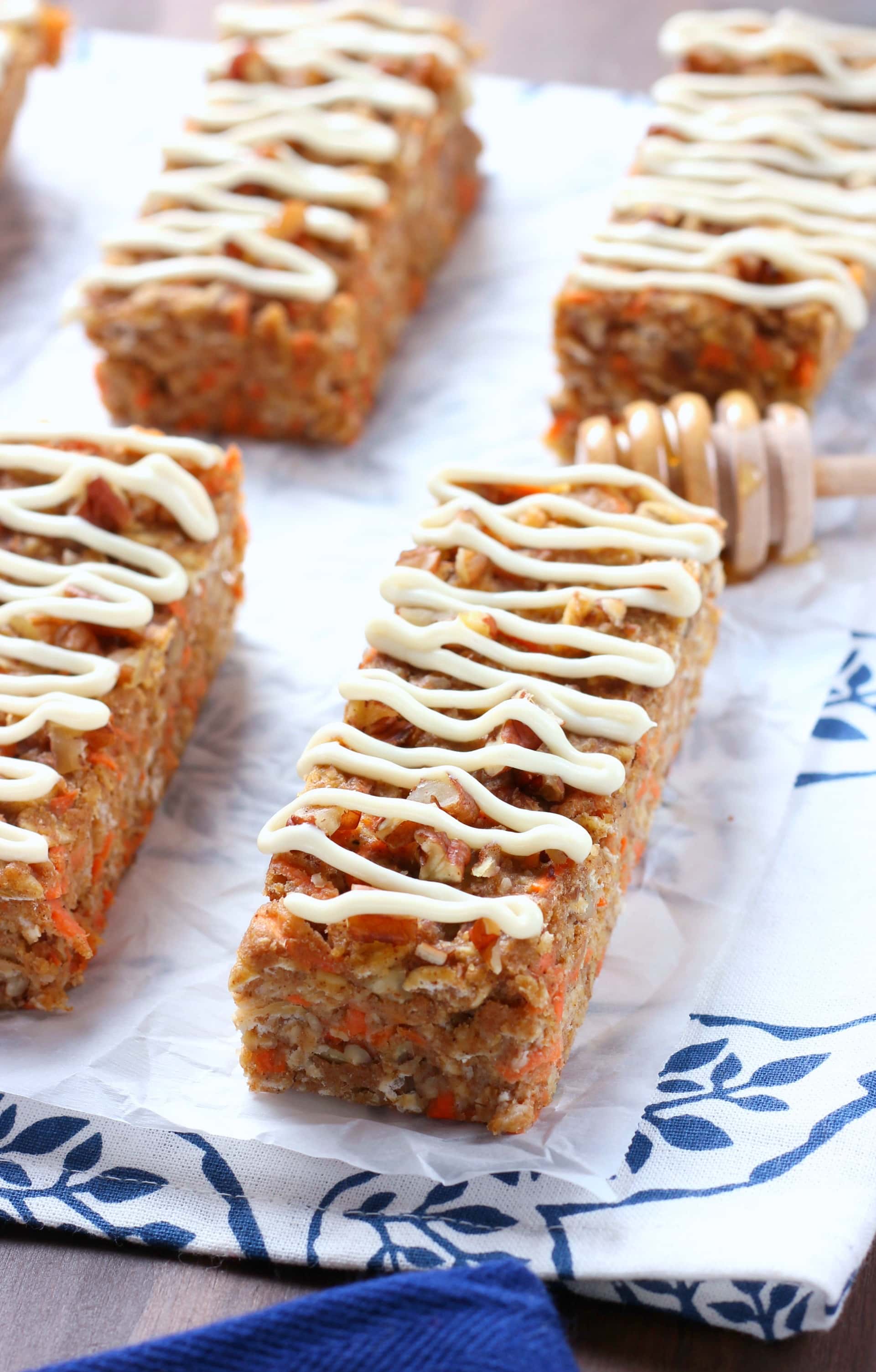 A few notes about these breakfast bars:
They're breakfast bars. Not dessert bars. Therefore, they aren't as sweet as a carrot cake dessert bar. If you are looking for something sweet, you'll want to add a few extra tablespoons of honey.
This applies to the drizzle as well. There's no butter or confectioner's sugar. Just cream cheese and honey. It's going to taste more like cream cheese than just a lot of sweetness.
Don't like nuts? Feel free to leave them out. They'll still taste great!
These breakfast bars store best without the drizzle. Feel free to just put the drizzle in a container in the fridge and spread it on when you want to eat a bar.
And best of all?! (Other than the fact that you get to eat carrot cake for breakfast.) These bars are super easy to make!
Carrot Cake Breakfast Bars
Author:
Ingredients
For the Bars
1 1/2 C regular oats
1 C whole wheat flour
1/4 C ground flaxseed
1 tsp cinnamon
1/2 tsp nutmeg
½ tsp baking powder
¼ tsp ground allspice
¼ tsp salt
1/8 tsp cardamom
3/4 C milk
1/4 C honey
1/4 C melted coconut oil
1 egg
1 tsp vanilla extract
1 1/2 C shredded carrot
1/2 C chopped pecans
For the Drizzle
2 oz cream cheese, softened
1 tbsp honey
Instructions
Preheat oven to 350. Lightly spray an 8×8 inch baking dish with non-stick cooking spray.
In a large bowl, whisk together oats, flour, flaxseed, cinnamon, nutmeg, baking powder, allspice, salt, and cardamom. Add in milk, honey, coconut oil, egg, and vanilla extract. Stir until just combined. Stir in shredded carrot and chopped pecans.
Pour batter into prepared baking dish. Sprinkle with additional chopped pecans, if desired. Bake for 15-20 minutes or until toothpick inserted in the center comes out clean.
Remove to a wire rack to cool.
While bars are cooling, beat cream cheese with an electric mixer until fluffy. Beat in honey until creamy. Drizzle over cooled bars. Allow glaze to harden and serve.