These Almond Joy Blondies are a super easy rich blondie recipe stuffed with all of the flavors of an almond joy bar!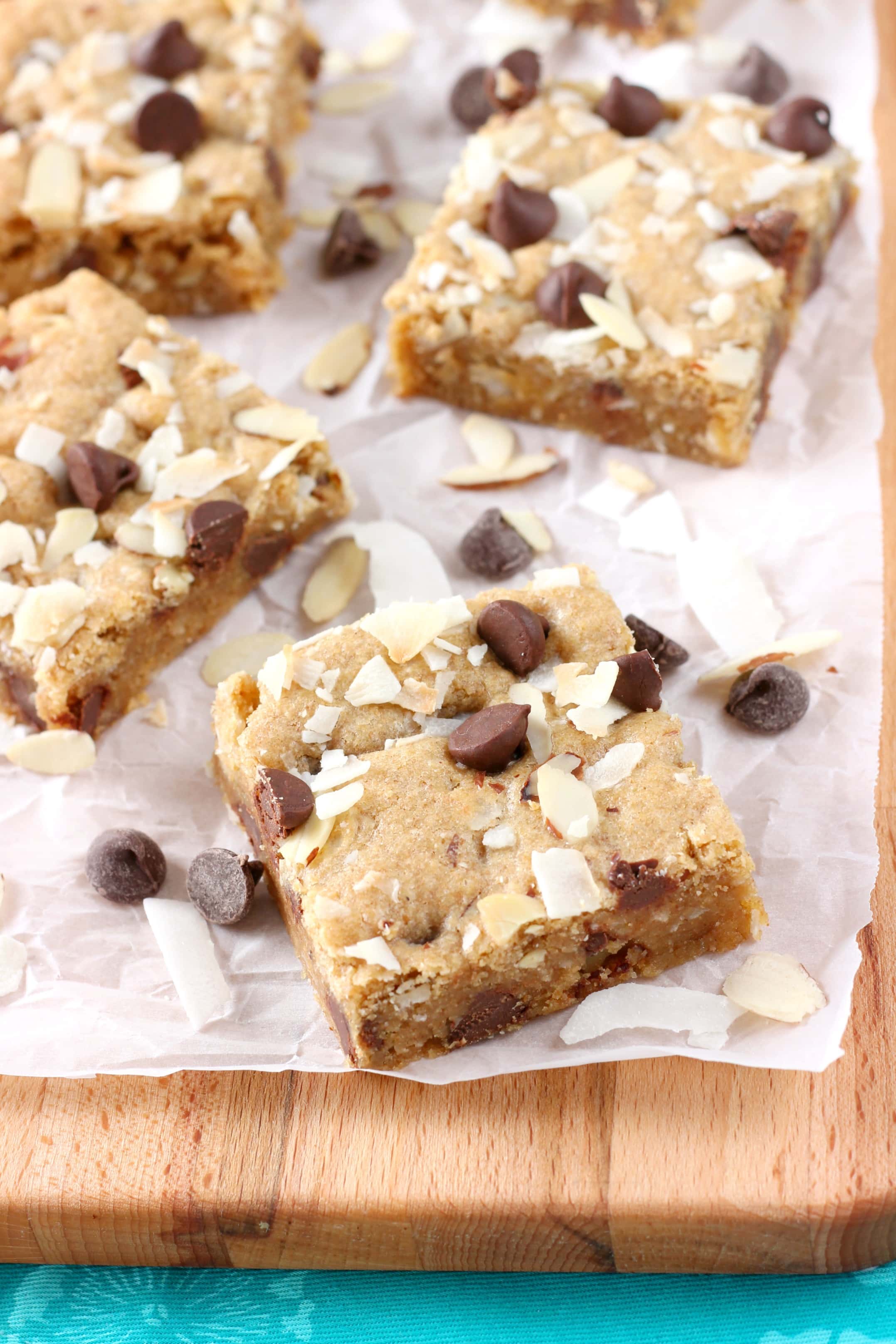 Do you ever just bake to clean out the cupboards? Maybe it's because spring is around the corner, but when it gets to the point where I have more opened bags of chocolate chips, nuts, etc. than unopened, I just have to make something to use up all the random leftovers.
And it usually ends up being blondies or brownies because of how easy they are to make. This time I went with blondies. Definitely a good decision!
The rich, blondie base is stuffed with all of the flavors of an almond joy bar. Since I don't really like milk chocolate, I swapped out the milk chocolate for semi-sweet.
I also used flaked coconut instead of shredded, because that's what I had open. Feel free to use whatever you have on hand. Clean out those cupboards!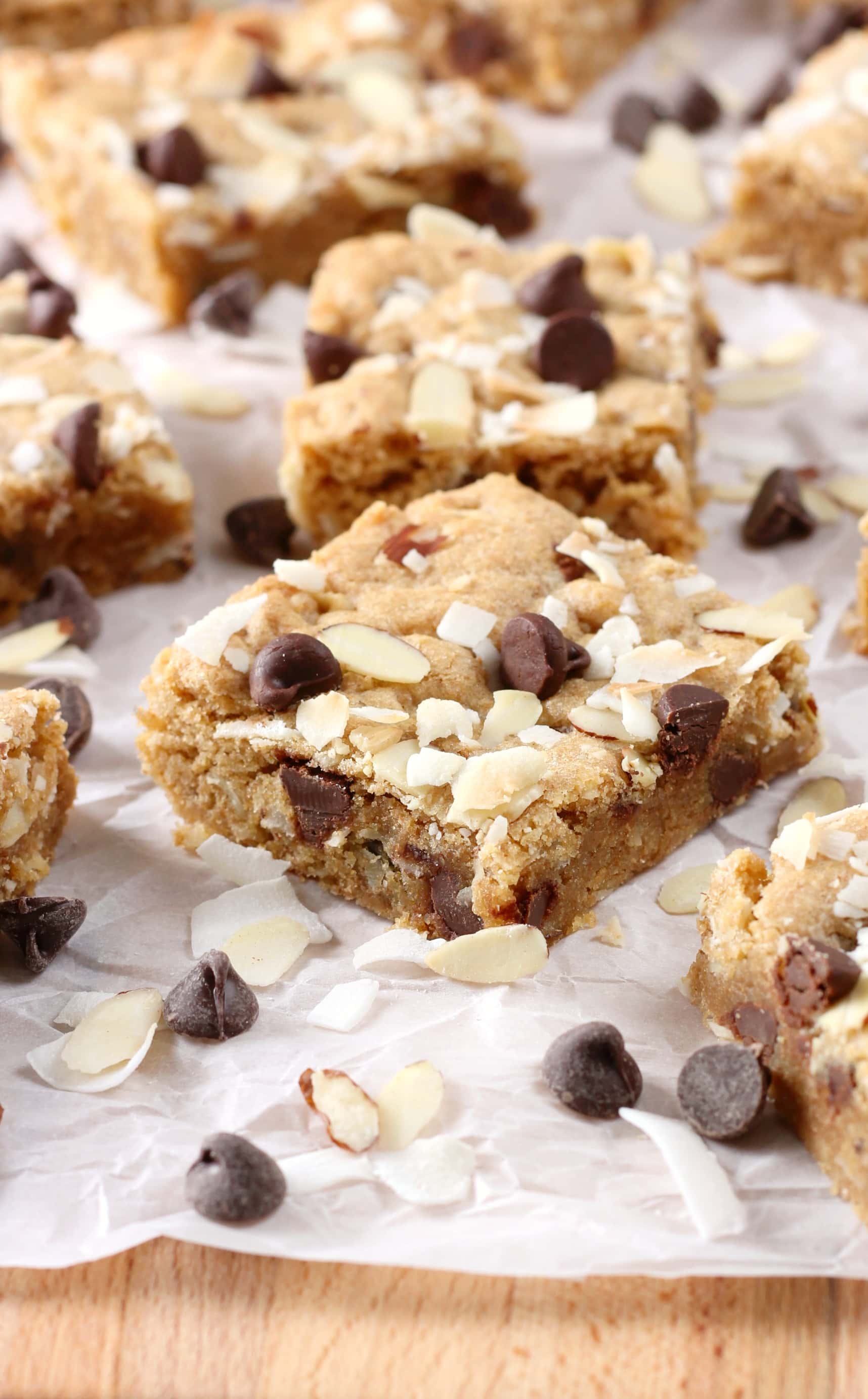 Sliced almonds round out the trio of flavors and give these blondies a bit of a crunch. More chocolate chips, almonds, and coconut are sprinkled on top of the dough right before baking and adds the flavor of toasted coconut and almonds to the bars!
Easy, gooey, crunchy, chocolaty. . .doing a bit of spring cleaning in your cupboards has never tasted so good!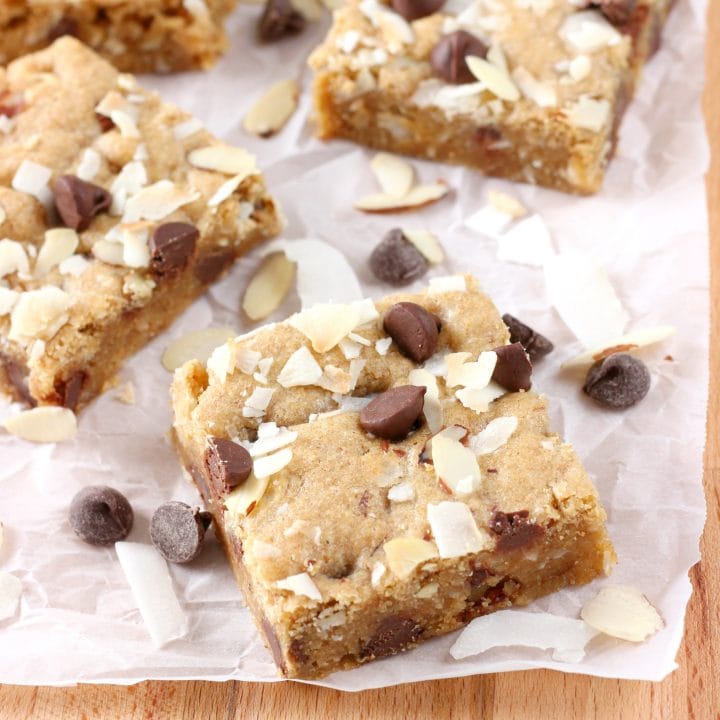 Almond Joy Blondies
Ingredients
1/2 C butter, softened
3/4 C brown sugar
1/4 C sugar
2 eggs
1 1/2 tsp vanilla extract
1 1/2 C white whole wheat flour
1/2 tsp baking powder
1/4 tsp salt
1/2 C + 2 tbsp semi-sweet chocolate chips
1/2 C + 2 tbsp flaked/shredded coconut (sweetened or unsweetened)
1/2 C + 1 tbsp sliced almonds
Instructions
Preheat oven to 350. Spray an 8x8 or 9x9 inch baking dish with non-stick cooking spray. (The bars pictured were made in a 9x9)
In the bowl of a stand mixer, cream together butter and sugars. Add eggs and vanilla and beat until creamy.
In a medium bowl, whisk together flour, baking powder, and salt. Add dry ingredients to wet ingredients and beat until combined.
Stir in 1/2 cup chocolate chips, 1/2 cup coconut and 1/2 cup sliced almonds with a sturdy spoon. Dough will be thick. Spread dough into prepared baking dish. Sprinkle with remaining chocolate chips, coconut, and almonds.
Bake for 20-25 minutes or until just starting to turn golden brown. Do not over bake if you want a gooey bar. If you prefer a more cookie-like texture, bake for the entire time.
Remove to a wire rack and allow to cool for 20 minutes before cutting into pieces.
Recommended Products
As an Amazon Associate and member of other affiliate programs, I earn from qualifying purchases.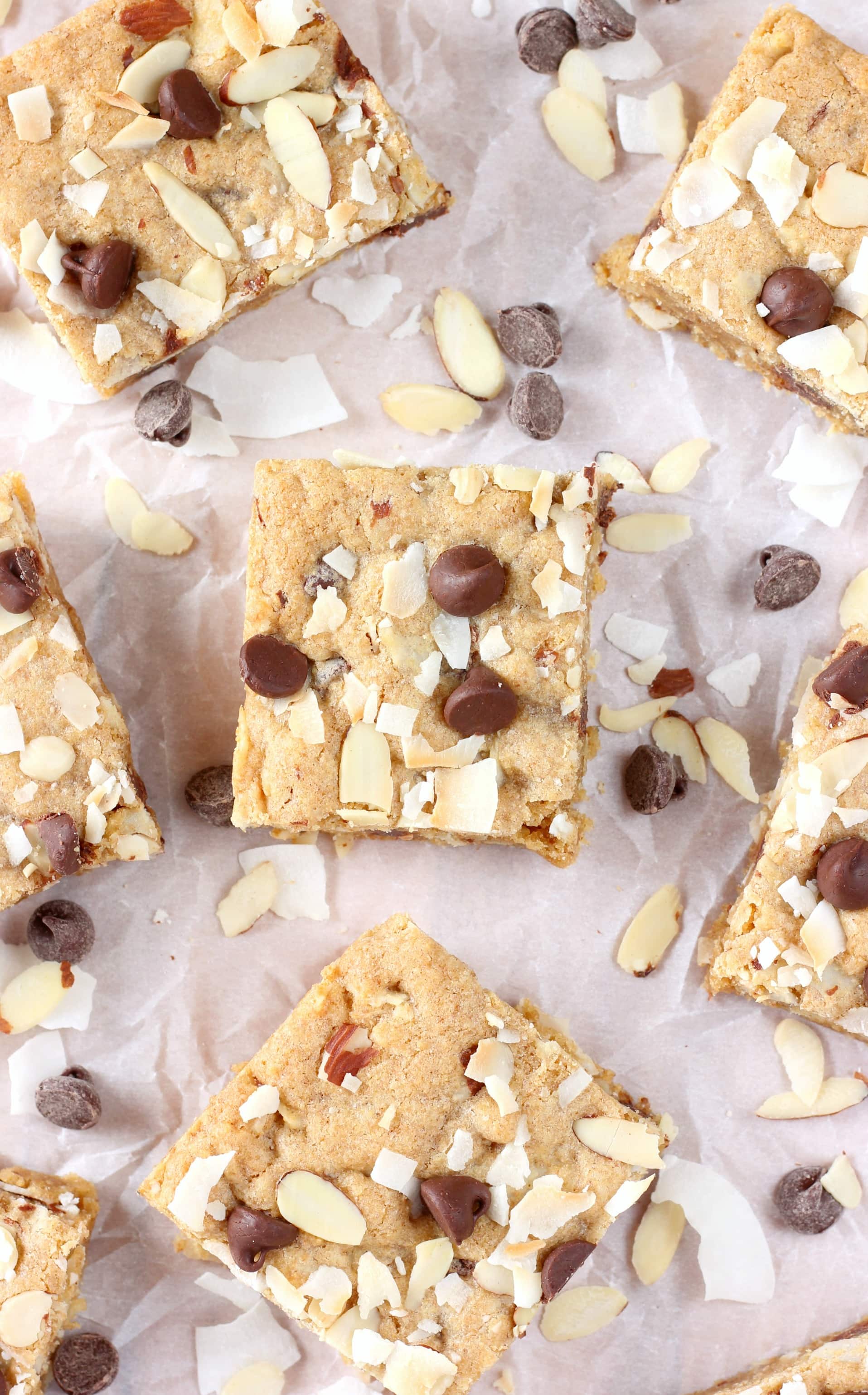 This post contains affiliate links.