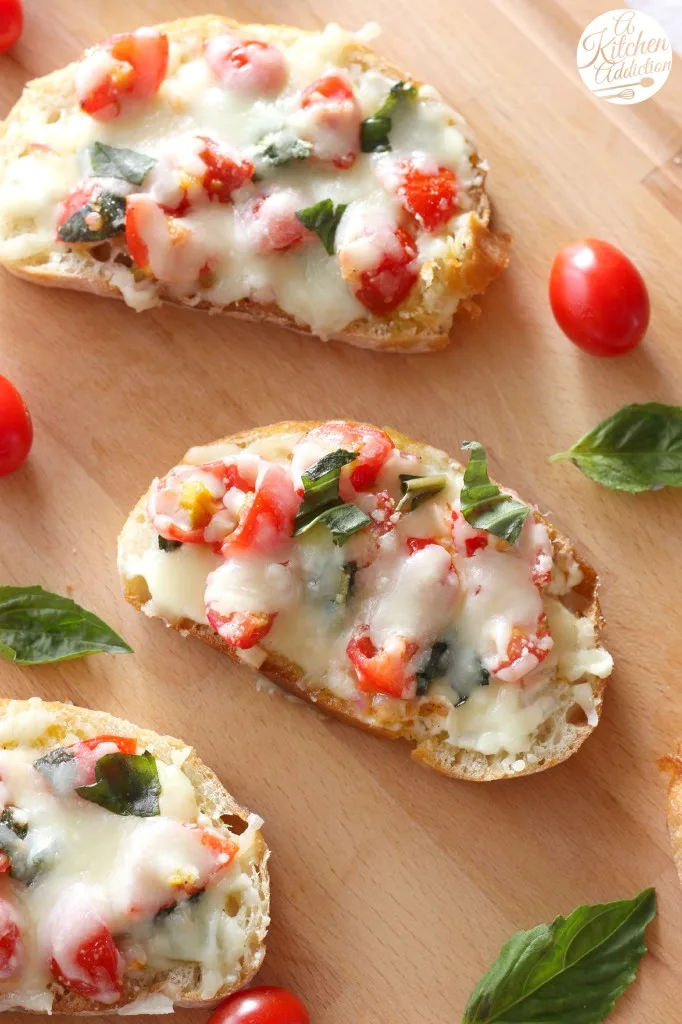 In the process of packing, I'm coming across food magazines that I haven't even touched. (I'm also realizing how many food magazines there are out there!)
Since I don't want to haul all of those magazines from one house to another, I've been trying to scan through a few of them here and there when I have a few minutes.
In doing so I've discovered some great recipe ideas. These bruschetta melts were the first on the list to get recreated!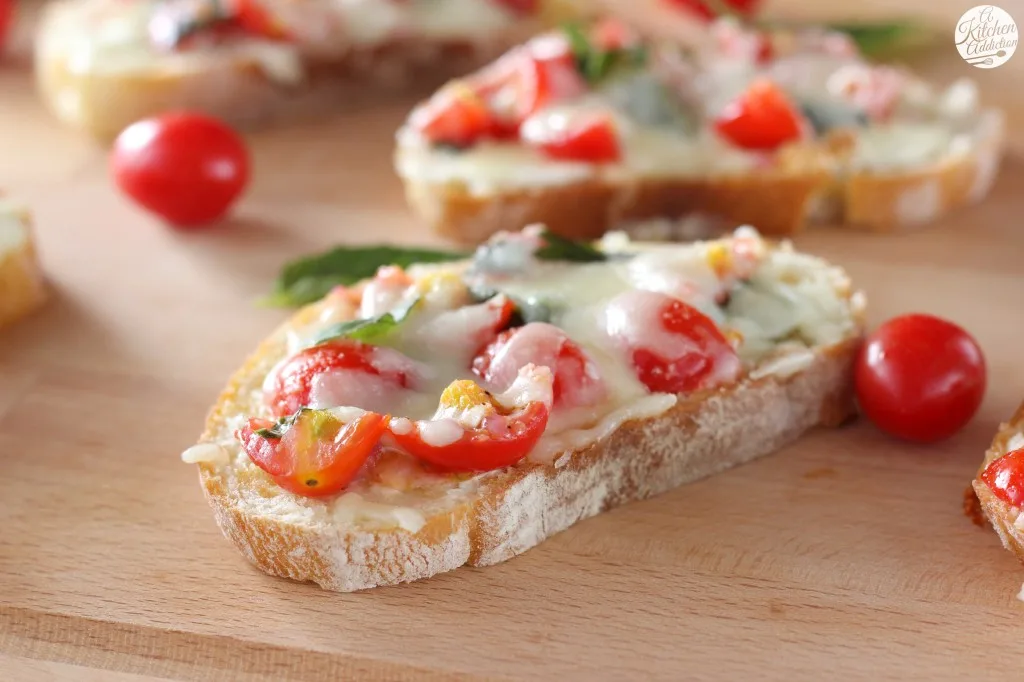 As soon as I saw them, I knew that I wanted to create a version of my own. We love bruschetta, and I was intrigued by the use of cream cheese.
Let's just say that it won't be the last time I use cream cheese when making bruschetta. The layer of cream cheese gives the bruschetta melts a rich, creamy flavor.
Plus, it keeps the bread from getting soggy if they sit for awhile!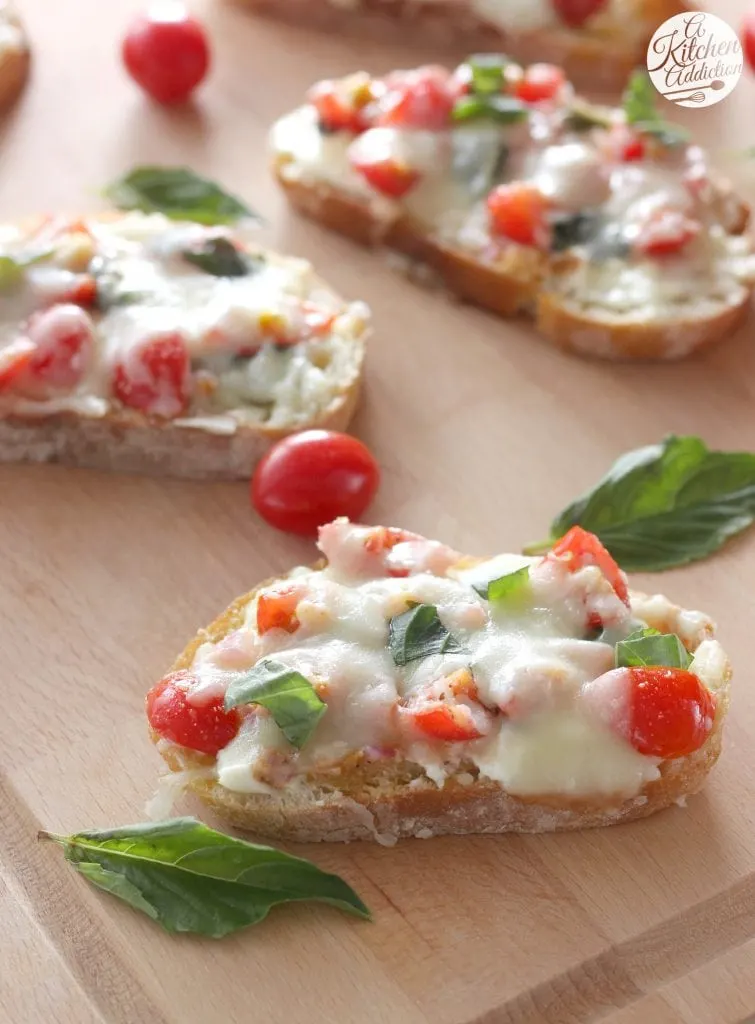 The fresh, bright flavors of tomato and basil make these a great addition to your next summer party. I've made the tomato mixture ahead of time and let it refrigerate until I'm ready to use it.
That way the assembling of the bruschetta melts ends up taking no time at all.
We've had these as appetizers and even turned them into a meal on a lazy Saturday!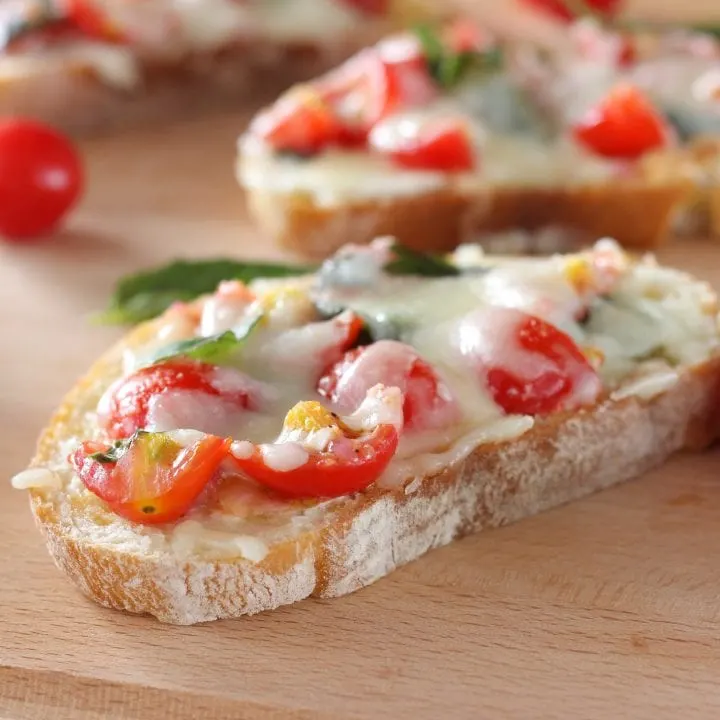 Bruschetta Melts
Ingredients
3 tbsp olive oil
1/2 tsp salt
1/4 tsp pepper
2 garlic cloves, minced
1 1/2 C chopped tomatoes
1/2 C red onion, finely chopped
12 slices french bread, about 1/4 inch thick (if you are using a small loaf, you will want about 24 slices)
4 oz 1/3 of the fat cream cheese, softened
1/4 C torn basil leaves
1 1/2 C shredded mozzarella cheese
Instructions
Preheat oven to 400. Line a baking sheet with parchment paper or a baking mat.
In a small bowl, whisk together olive oil, salt, pepper, and minced garlic. Stir in tomatoes and onion until combined. Set aside.
Spread cream cheese over the tops of the french bread slices. Place on prepared baking sheet.
Top with tomato mixture. Sprinkle with torn basil leaves. Top with mozzarella cheese.
Bake for 8-10 minutes, or until cheese is melted.
Serve.
Notes
Because the size of a loaf of french bread varies, you may find yourself using more or fewer pieces of french bread to use up the tomato mixture.
Recommended Products
As an Amazon Associate and member of other affiliate programs, I earn from qualifying purchases.
This recipe is adapted from
Taste of Home
.