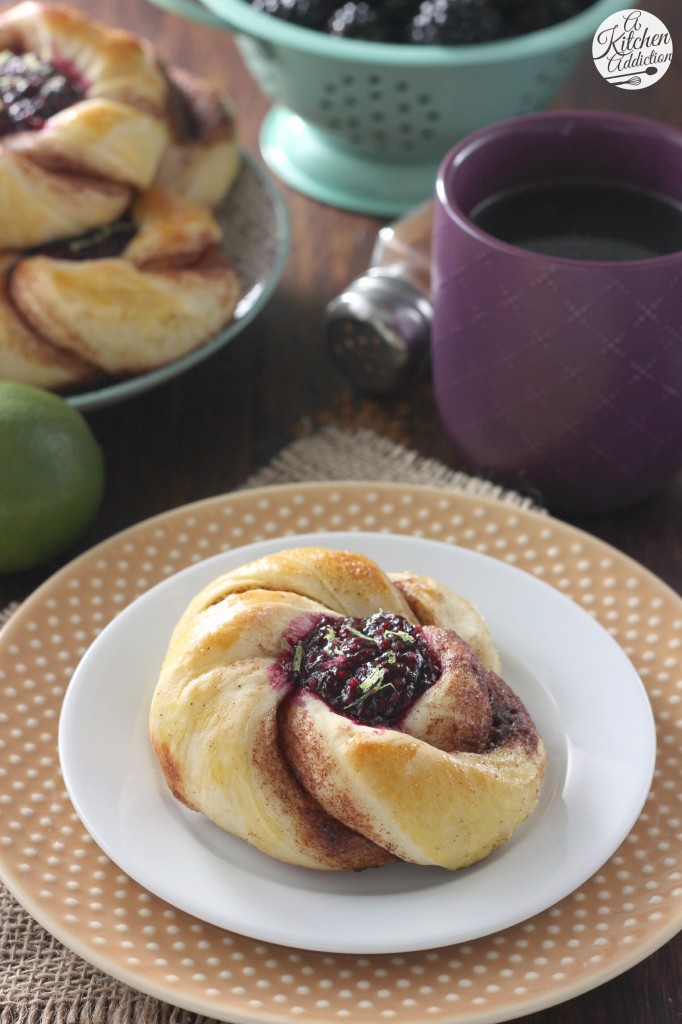 This post is sponsored by Red Star Yeast. As always, all opinions are my own.
If all goes according to plan, we are closing on a house this afternoon. And since we have to be out of our current house tomorrow, today and tomorrow are going to be kind of crazy. (If you send an email, message, tweet, etc. and I don't respond, don't be offended, I'm just going to have limited internet access the next few days!)
In the midst of the busyness, we've been making sure to start the mornings with a good breakfast. The day just goes better when you start it with something delicious! These blackberry lime filled cinnamon twists have been that delicious start for us!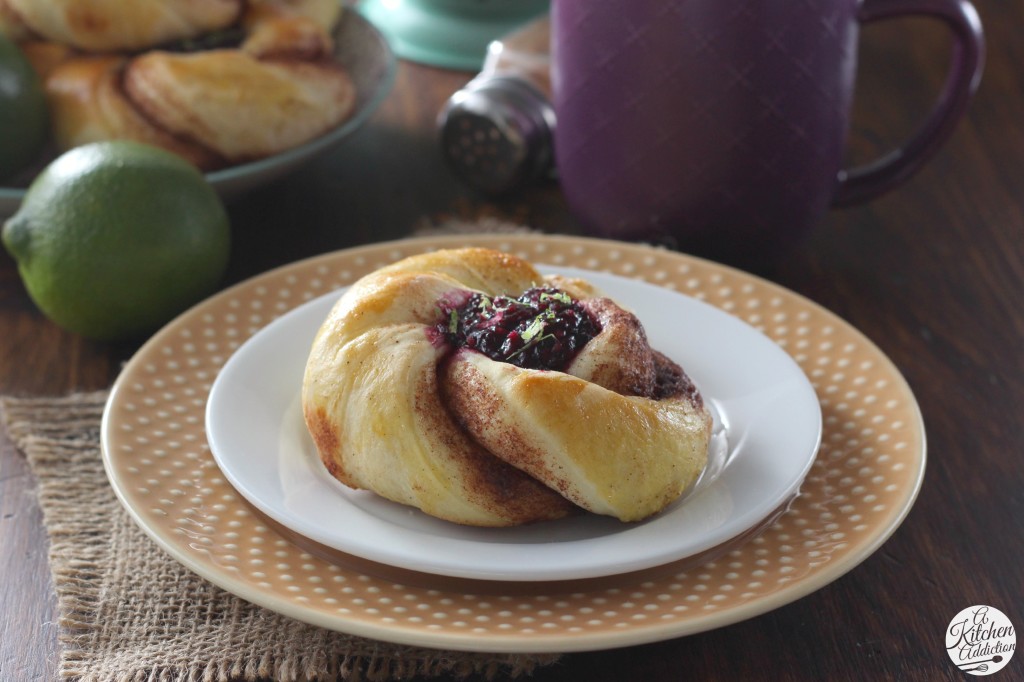 I firmly believe that everyone needs a go-to cinnamon roll recipe! Mine is this base recipe. A few tweaks here and there can produce a variety of cinnamon rolls, cinnamon knots, and cinnamon twists!
It never fails. Overwork it a little. No problem. Underwork it a little. No problem. This recipe takes the fear and guesswork out of making homemade pastries.
I love getting emails from you guys saying that you've given one of my pastry recipes a try, and it worked and now you're trying other yeast recipes. All you need to do is give it a try. You'll be surprised at how easy working with yeast can be!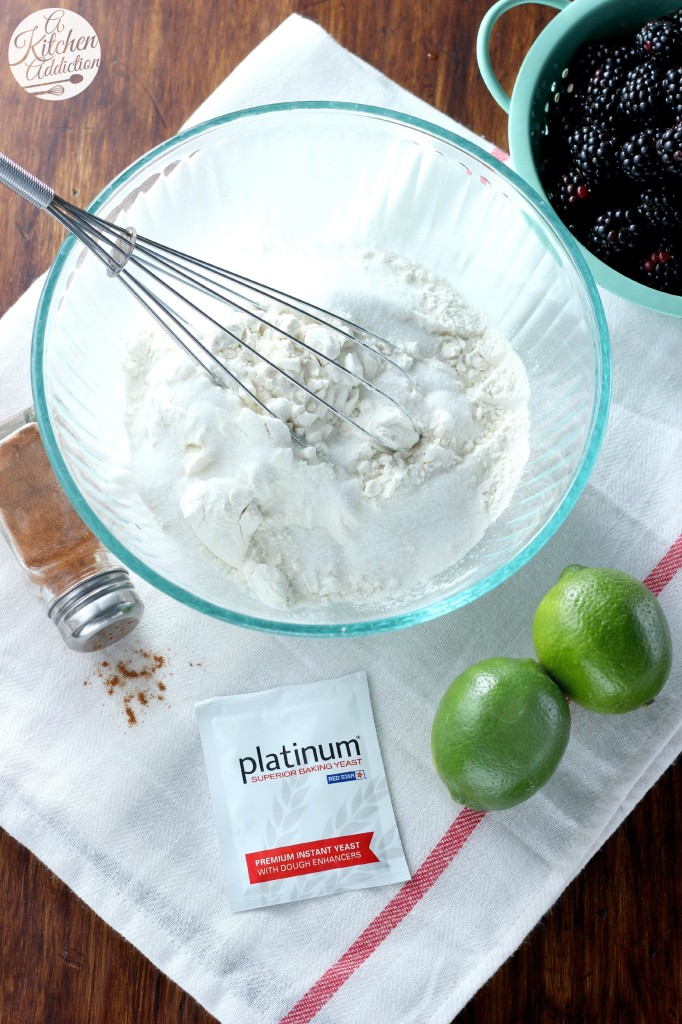 Especially when you use Red Star Platinum Yeast. Simply mix the yeast in with the dry ingredients. It's simple to use and provides consistent results.
But back to these specific cinnamon twists. While a lot of pastry recipes on here contain a cream cheese frosting or drizzle, these don't. I almost couldn't bring myself to leave it off, but in the end, I'm glad I did.
The blackberry lime filling is sweet enough to make up for any missing glaze or drizzle. A simple egg wash gives the twists a rich golden color and locks in moisture keeping them tasting fresh for days after making them.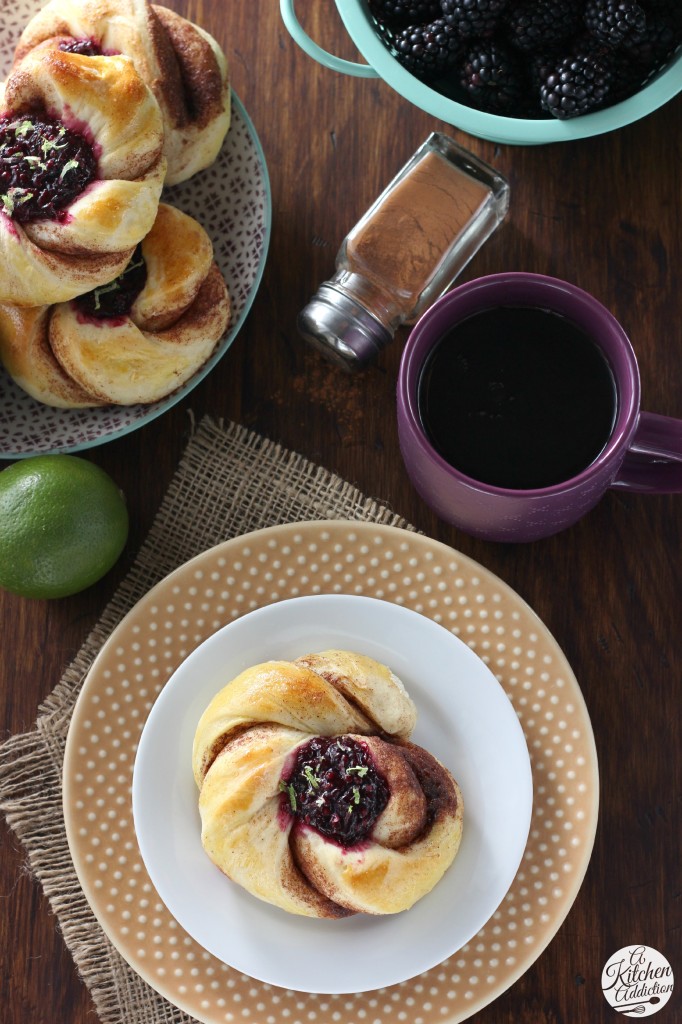 Don't let the shape scare you away. All you have to do is take each of your dough ropes and give it a twist. (The dough will lengthen as you twist it.) Then you'll take the twist and form it into a spiral. You'll then press down the center of each spiral. This will give you the well that you need to put the blackberry lime filling in.
Just spoon in the filling and bake. Now excuse me while I go back to burying myself in packing boxes!
Be sure to check out Red Star Yeast's Facebook, Twitter, Pinterest, and/or Instagram pages for more recipe inspiration and baking tips!
Blackberry Lime Filled Cinnamon Twists
Author:
Ingredients
For the Cinnamon Twists
3 C bread flour
2 1/2 tbsp sugar
3/4 tsp salt
2 1/4 tsp Red Star Platinum Yeast
1 egg, room temperature
2 tbsp butter, melted and cooled
1 C milk, warmed to 120-130 degrees F
For the Cinnamon Filling
3 tbsp butter, softened
1 1/2 tbsp sugar
2 tsp cinnamon
For the Fruit Center
1 1/2 C blackberries, halved
1 1/2 tbsp sugar
2 tsp fresh lime zest
additional lime zest for garnish
Instructions
In the bowl of a stand mixer, beat together 2 cups flour, sugar, salt, and yeast. Add in egg, butter, and milk. Beat until just starting to combine. Add remaining cup flour.
Replace paddle attachment with dough hook and knead on medium speed for 5 minutes or until dough is smooth and starts to pull away from edges of bowl. Dough will be soft and somewhat sticky.
Transfer to a large bowl that has been greased. Roll dough around bowl to coat. Cover with a clean towel and allow to rise until doubled in size, about 45 minutes.
While dough is rising, prepare blackberry lime filling. Combine blackberries and sugar in a small saucepan over medium heat. Bring mixture to a boil. Reduce heat to medium-low and allow to simmer for 20-30 minutes or until blackberries soften and mixture thickens. Remove from heat and stir in lime zest. Allow to cool.
Turn dough out onto floured surface and punch down. Roll out into an approximate 12×10 inch rectangle. Spread dough with softened butter. Sprinkle with sugar and cinnamon.
Gently fold dough in half width wise. Cut dough into 12 strips. Twist each strip and shape each twist into a ring. Press dough down in the center to create a well for the filling.
Place twists on a baking sheet lined with parchment paper or a baking mat. Cover with a clean towel and allow to rise for 20 minutes or until puffed. You may need to press down the center of the twists again before filling with the blackberry mixture.
Preheat oven to 375 while twists are rising.
Fill center of twists with blackberry mixture. Bake for 8-10 minutes or until twists just start to turn golden brown. Remove to a wire rack.
Sprinkle with additional lime zest and serve.
Disclosure: This post is sponsored by Red Star Yeast. As always, all opinions are my own. Thanks for supporting brands that make A Kitchen Addiction possible!