Disclosure: I customized my coffee using Folgers® to pair with a no bake berry cream pie as part of a sponsored post for Socialstars. #MyIcedCafe All opinions are my own.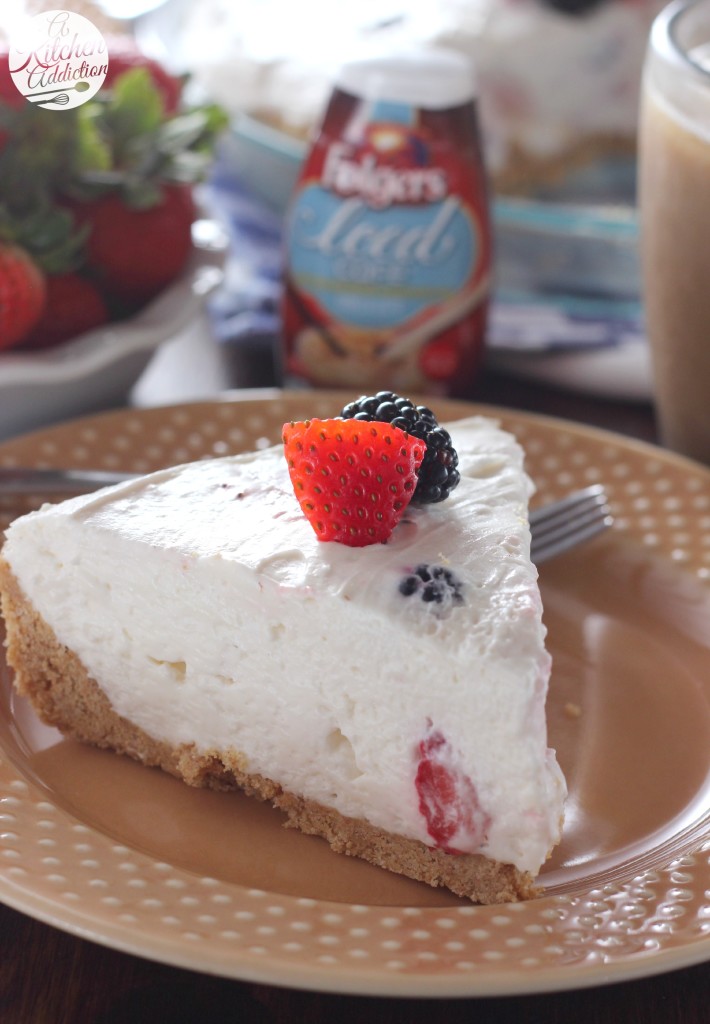 It got up to the 90's the other day, so I guess summer is here! While I'm not a fan of super hot weather, I do enjoy when the weather warms up enough to get out on the lake and kayak without freezing when the water splashes up on you from the waves.
We've been doing a lot of kayaking lately to take advantage of the easy access while we have it. And after spending an hour or more on the lake with the reflections off the water hitting us, we're always in the mood for something cold and refreshing to go with our meal.
The answer? No bake berry cream pie.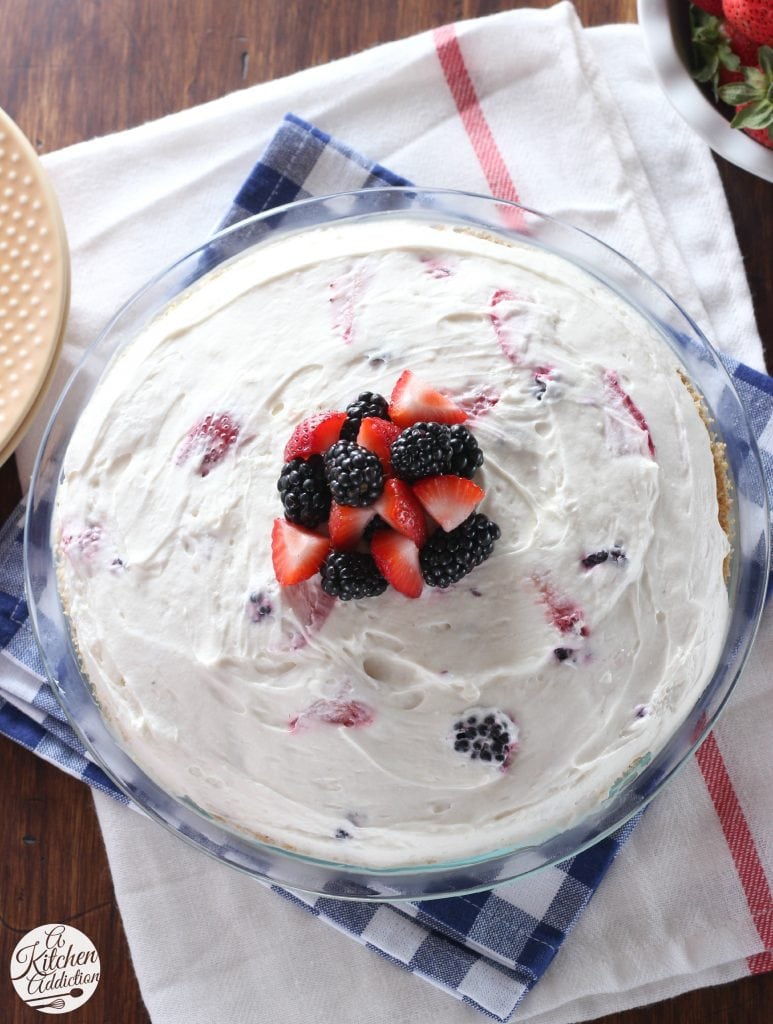 Cool and creamy, no bake pies are perfect for summer. No oven. Just a few simple steps. Perfect for hot, busy summers! And the perfect summer pairing to a no bake pie? Ice coffee! With the help of Folgers® Iced Cafe, it couldn't be easier!
Just add it to cold milk, and you have instant iced coffee. The concentrate is made from Mountain Grown® beans with a fresh, consistently satisfying taste.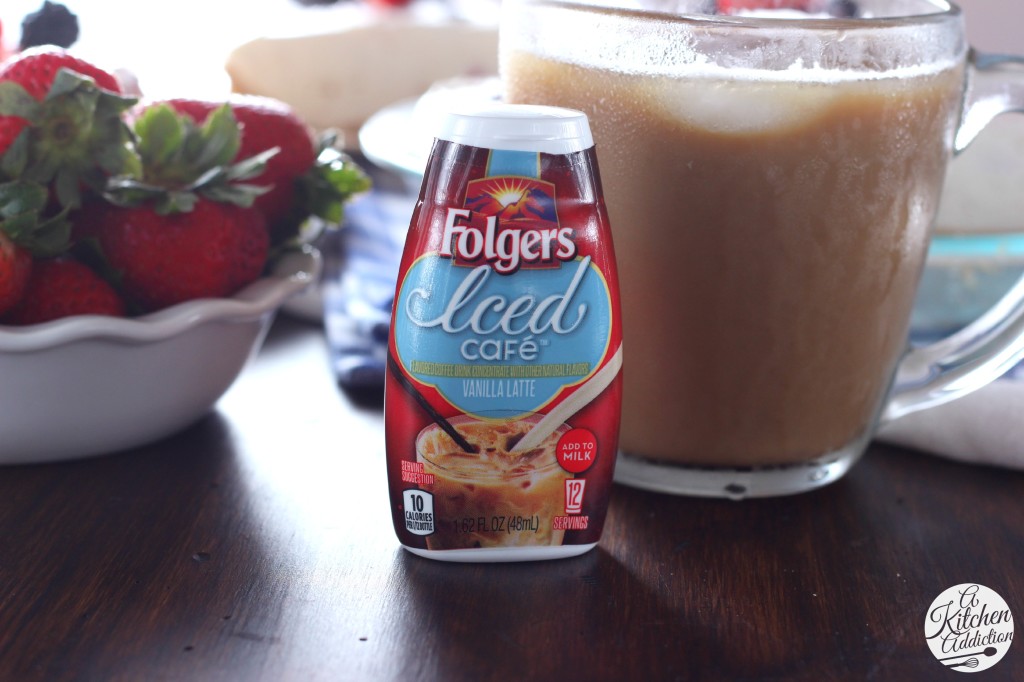 The best part is that you can customize the strength to your liking. If you have guests over they can all make their iced coffee to meet their tastes.
With four flavors to choose from, there's a flavor for everyone! It doesn't get much more convenient than that!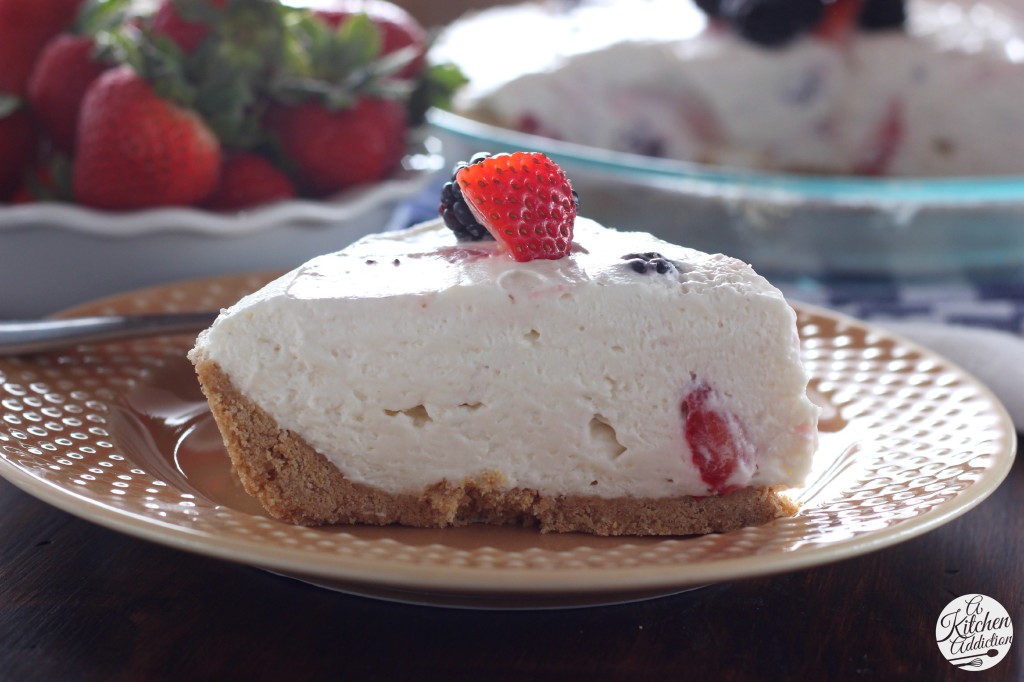 Vanilla Latte pairs perfectly with this light and airy cream pie. A simple combination of homemade whipped cream, cream cheese and vanilla provide the base of this pie.
This allows the flavor of fresh, sweet strawberries and blackberries to shine through and give the pie that summery flavor we all love.
Serve up a slice with a glass of iced coffee and settle in to enjoy the lazy days of summer!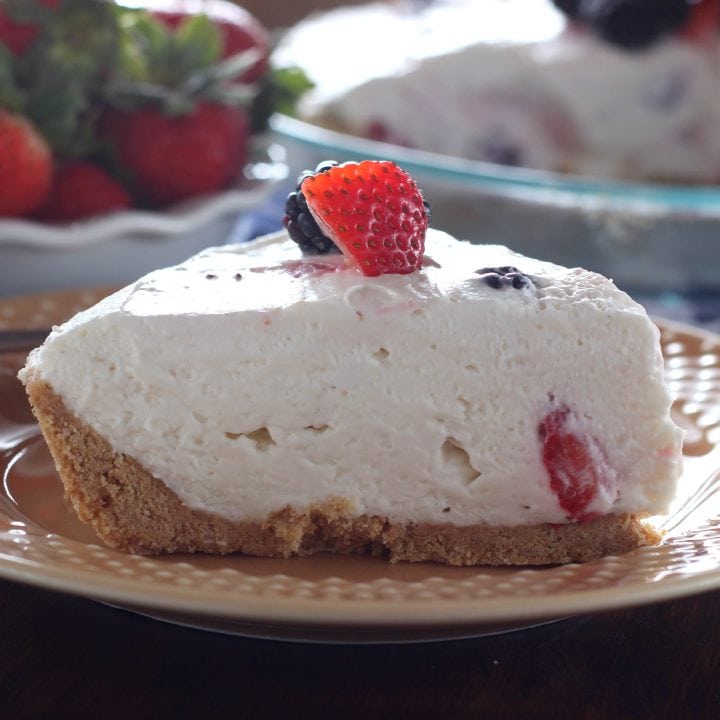 No Bake Berry Cream Pie
Ingredients
For the Crust
1 1/2 C graham cracker crumbs (about 12 whole graham cracker sheets)
1/4 C sugar
1/8 tsp salt
6 tbsp butter, melted
For the Filling
12 oz cream cheese, softened
1 C confectioner's sugar
1 tsp vanilla extract
1/2 C strawberries, washed, patted dry, and quartered
1/2 C blackberries, washed, patted dry, and halved
3 C homemade whipped topping (or an 8 oz container of frozen whipped topping, thawed)
Instructions
Lightly spray a 9 inch pie plate with non-stick cooking spray. Set aside.
In a medium bowl, whisk together graham cracker crumbs, sugar, and salt. Stir in melted butter until combined. Press mixture firmly into the bottom of prepared pie plate. Refrigerate while preparing filling.
In a stand mixer (or with an electric hand mixer), beat together cream cheese, confectioner's sugar, and vanilla extract until smooth and creamy. Gently fold in whipped topping.
Gently stir in chopped fruit. Pour filling into prepared crust. Refrigerate for 4 hours or until set.
Serve.
Recommended Products
As an Amazon Associate and member of other affiliate programs, I earn from qualifying purchases.