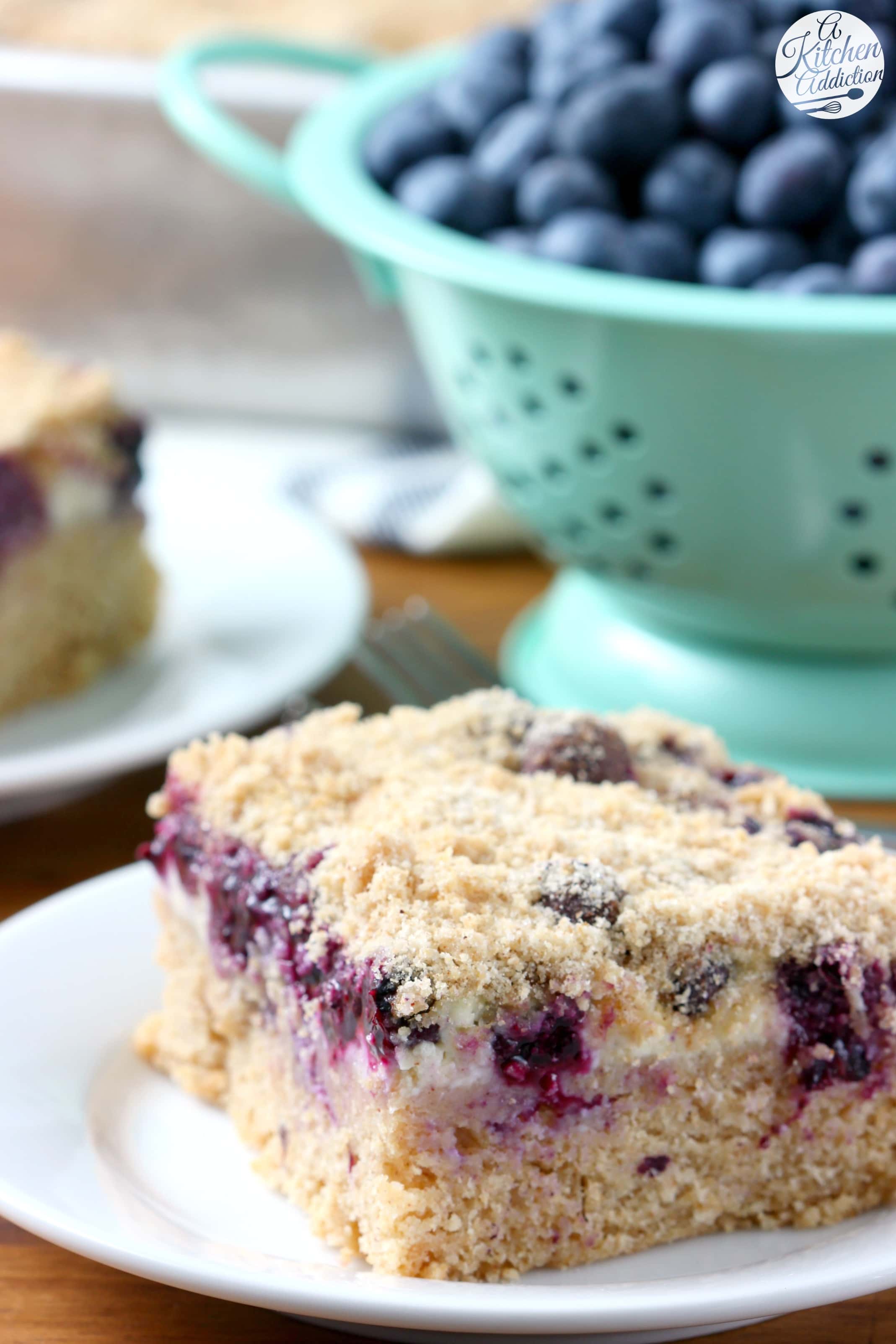 Costco got me again. I walked into their produce section, saw aisles of fresh berries, and just couldn't resist! Into the cart went way more berries than we needed. We've definitely enjoyed snacking on them, but it was getting to the point where I once again needed to do some baking before they went bad!
Of course I turned to breakfast food. Who doesn't like a good coffee cake?! This blueberries and cream cheese coffee cake is just what weekend brunch needs!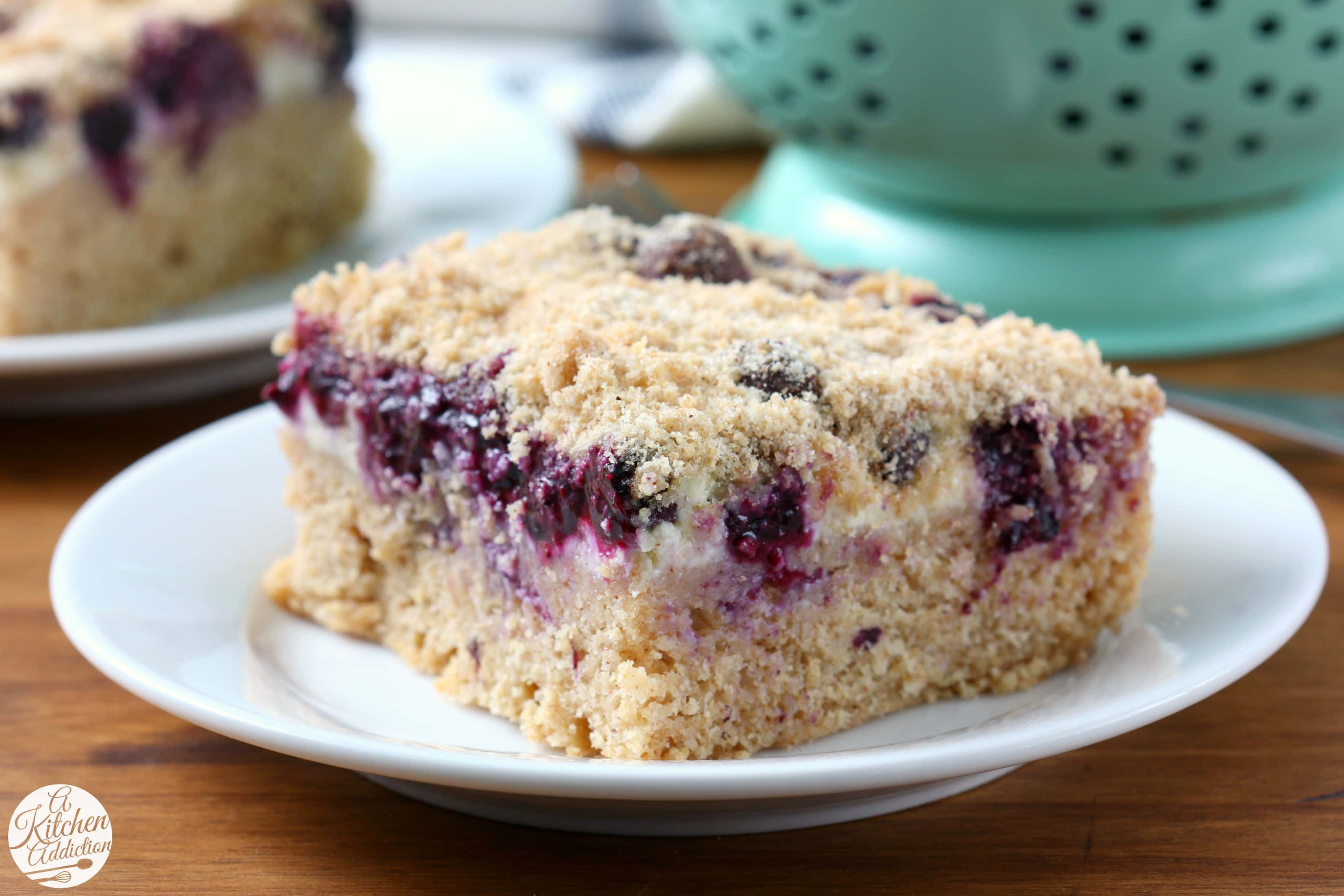 A tender, cinnamon coffee cake is topped with a layer of sweetened cream cheese and fresh blueberries. And, of course, to top everything off a crumb topping. All coffee cakes are better with a crumb topping!
Sometimes I like a really thick layer of crumb topping, but with this cake I wanted to make sure that the fresh blueberry flavor really stood out. So for this cake, we kept the crumb layer to a minimal. But it's just enough for a light, buttery crunch in each bite!
This coffee cake is good both warm and after it has cooled off. In fact, we liked it better after it had cooled and had a chance for the flavors to blend. Perfect for making ahead of time and serving it later in the morning or even the next day!

Whole Wheat Blueberries and Cream Cheese Coffee Cake
Author:
A Kitchen Addiction
Ingredients
For the Cream Cheese Layer
6 oz cream cheese, softened
3 tbsp sugar
1 egg
½ tsp vanilla extract
For the Fruit Filling
1½ C fresh blueberries, washed and patted dry so only slightly damp
2 tbsp sugar
1 tsp cinnamon
1 tsp cornstarch
For the Cake
2 C white whole wheat flour
⅔ C sugar
1 tsp cinnamon
½ C butter, cold and cut into pieces
1 tsp baking powder
¼ tsp salt
½ C plain yogurt
½ C milk
1 egg, lightly beaten
1 tsp vanilla extract
Instructions
Preheat oven to 350. Spray an 8x8 or 9x9 inch baking dish with non-stick cooking spray.
For the cream cheese layer: In a small bowl, beat together cream cheese, sugar, egg, and vanilla extract until creamy. Set aside.
For the Fruit Filling: In a small bowl, stir together blueberries, sugar, cinnamon, and cornstarch. Set aside.
In a large bowl, whisk together flour, sugar, and cinnamon. Cut in butter until mixture resembles coarse crumbs.
Reserve ¾ cup of mixture in a small bowl.
Stir in baking powder and salt into remaining mixture. Add in yogurt, milk, egg, and vanilla extract. Stir until just combined.
Spread batter into the bottom of prepared baking dish. Pour cream cheese mixture over the top. Spread blueberries over the top. Sprinkle with reserved crumb mixture.
Bake for 35-40 minutes or until a toothpick inserted in the center comes out clean.
Remove to a wire rack to cool. Slice and serve.
Store leftovers in the refrigerator.