Saturdays seem to be the only days that I have any time to make "fun" breakfast food. The rest of the week it's cereal, oatmeal, bagels, etc. So, I like to take every opportunity I get to try new breakfast foods. I came across this recipe in my search for just that. I know that Christmas is over and gingerbread is "out of season," but I love the flavor! And I finally have a donut pan, how could I not give these a try! Actually, to be quite honest with you, I don't like donuts, at least I didn't think I liked them. Well, I still don't like the fried kind. There's just something about them that turns me off to even the idea of eating them. However, I have discovered a new "like." I like baked donuts and these gingerbread donuts are addicting! Made with wheat flour, applesauce, and very little sugar (minus the frosting!), these donuts could actually be called healthy. The non-stick pan was super easy to use. The donuts just popped right out and it washed up great. All the more reason to try them! 🙂
Piping in the Batter
All Ready to Go in the Oven
Choices, Choices. . .Powdered Sugar or. . .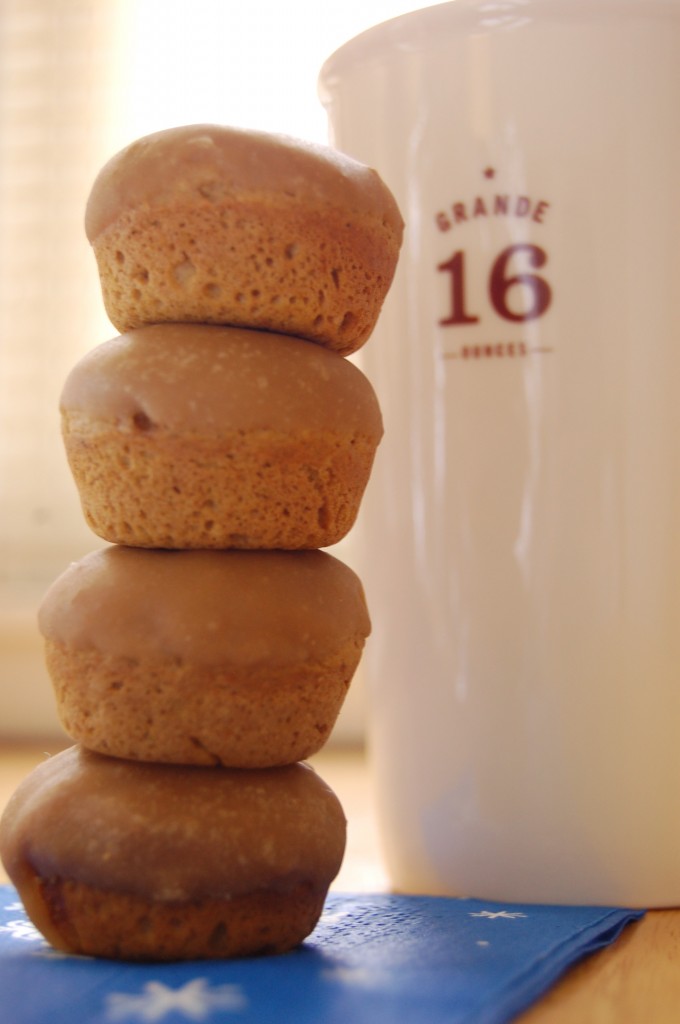 Baked Gingerbread Donuts
Pin It
Adapted from Pinch of Yum
Ingredients:
1 C white whole wheat flour
3/4 tsp baking powder
1/4 tsp baking soda
1 tsp cinnamon
1/2 tsp ginger
1/4 tsp allspice
1/8 tsp cloves
1/4 tsp salt
1/4 C brown sugar
1 egg
2 tbsp reduced-sugar maple syrup
1 tbsp skim milk
2 tbsp butter, melted
Optional Glaze:
2 tbsp butter
1/4 C brown sugar
2 tbsp milk
1/4 C confectioner's sugar
Directions:
Preheat oven to 35o.
Mix together all dry ingredients.
Whisk in wet ingredients.
Pour batter into a gallon-sized bag and cut the corner off or use a pastry bag. Fill cavities about 2/3 full. It's kind of hard to measure since they're mini!
Bake for 5-9 minutes, or until they just start to turn a light golden brown.
**Cool for a couple of minutes and then sprinkle with confectioner's sugar.
Find a nice hot cup of coffee or a cold glass of milk and enjoy!!
**If you are making the glaze as well, for these instructions:
Let donuts cool completely. This will allow the glaze to harden quickly when applied.
In a small saucepan, melt butter and brown sugar together over medium heat. Bring to a boil. Let boil for 2 minutes.
Add 1 tablespoon milk, stir, and bring back to a boil.
Add powdered sugar, stir, and if the glaze is too thick, add the second tablespoon of milk to thin it.
Turn the heat to low and keep it the pan on the heat while glazing. The glaze will begin to crystallize if removed from the heat.
Glaze donuts and follow step seven above! 🙂