*Sorry that this post didn't make it up yesterday like it was supposed to. We had some internet issues that have finally been resolved!!
I hope all of you had a wonderful relaxing weekend! Now back to the work week. Do you ever feel like all you can throw together on a Monday evening is a simple pasta meal?? Well, I certainly do. That is how this recipe came into existence. All I had planned for dinner was a simple pasta meal because of time and available ingredients. I wanted to make it more "upscale." With the use of a bread machine, (which I love and highly recommend you get if you do not own one,) you can throw all of the ingredients together and let it do the work. As soon as the dough is done, you just have to complete a few simple steps and it's in the oven creating amazing aromas and hearty appetites!
All Pressed, Poked, and Ready to Rise!
Out of the Oven and Ready to Eat!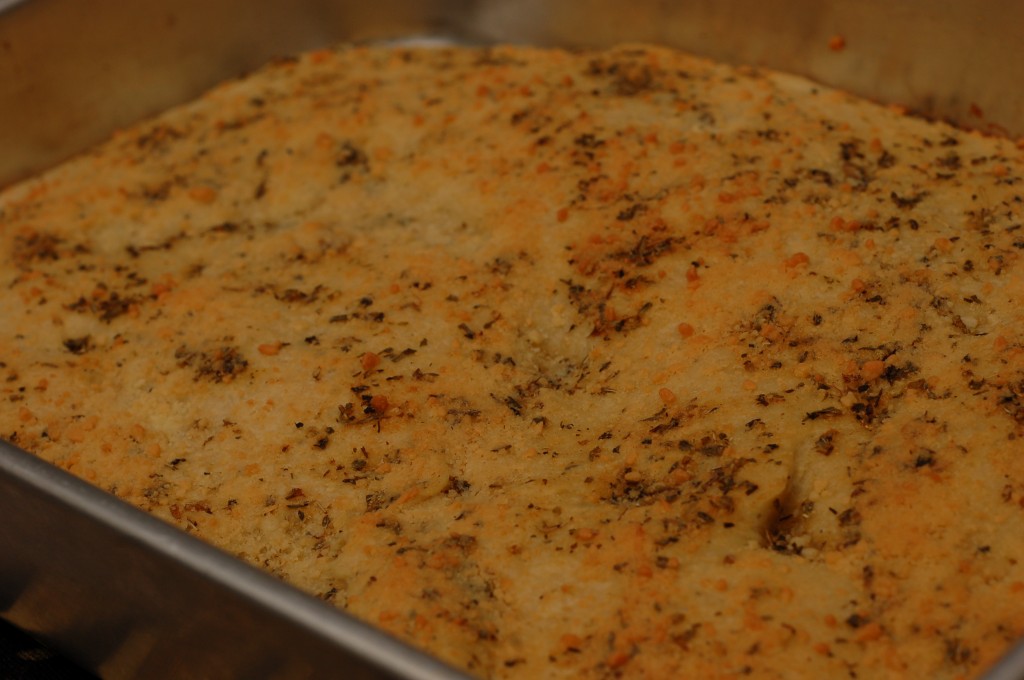 Ingredients for Bread:
1 C warm water (about 80 degrees F)
1/4 C olive oil
2 tsp sugar
1 1/2 tsp salt
3 C bread flour
1 tsp dry Italian seasoning
1 tsp onion powder
1/2 tsp garlic powder
2 tsp instant dry yeast
Ingredients for Topping:
3 tbsp olive oil
1 1/2 tsp dried oregano
garlic powder
1/3 C grated Parmesan cheese
1/4 tsp salt
Directions:
Place ingredients in bread pan according to directions of bread machine.
Select Pizza Dough cycle.
When dough is done, preheat oven to 400, then use oiled hands and press dough evenly into a greased 9×13 pan.
Make indentations in the dough using your fingertips.
Cover and let rise in a warm place for 20 minutes or until doubled in size.
In a skillet, warm oil over low heat and stir in oregano and garlic. Remove from heat.
Spoon the topping mixture evenly over the dough. Sprinkle with Parmesan cheese.
Bake at 400 for 20 minutes or until bread starts to turn light golden brown.