Enjoy the flavors of the season in these healthier Chocolate Chip Pumpkin Snack Bars! Pumpkin and chocolate pair with oats, whole wheat flour, and flax seed to deliver great flavor and a hearty snack bar that will keep hunger at bay!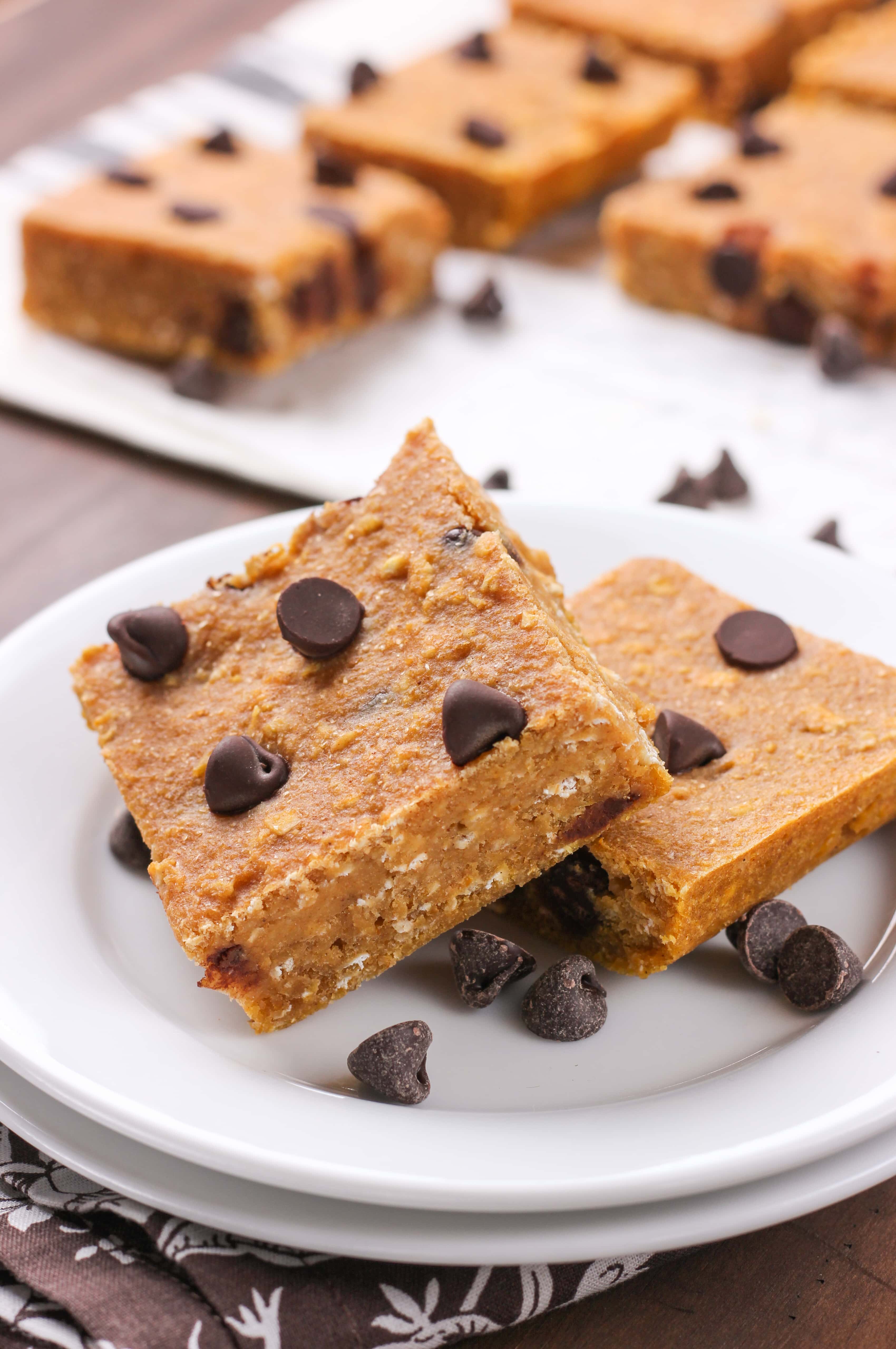 The holiday season and all the busyness that goes with it is about to begin in full force! The last couple of years it's seemed like Thanksgiving was coming way too quickly, but this year it's already snowed a few times making it a lot easier to get excited for the holidays!
While there are definitely a lot of positives to this time of year, one of the downsides can be all of the food. There are so many seasonal flavors associated with this time of year that you don't want to miss out on. However, the fat and sugar content of a lot of the foods is something you often don't want to know!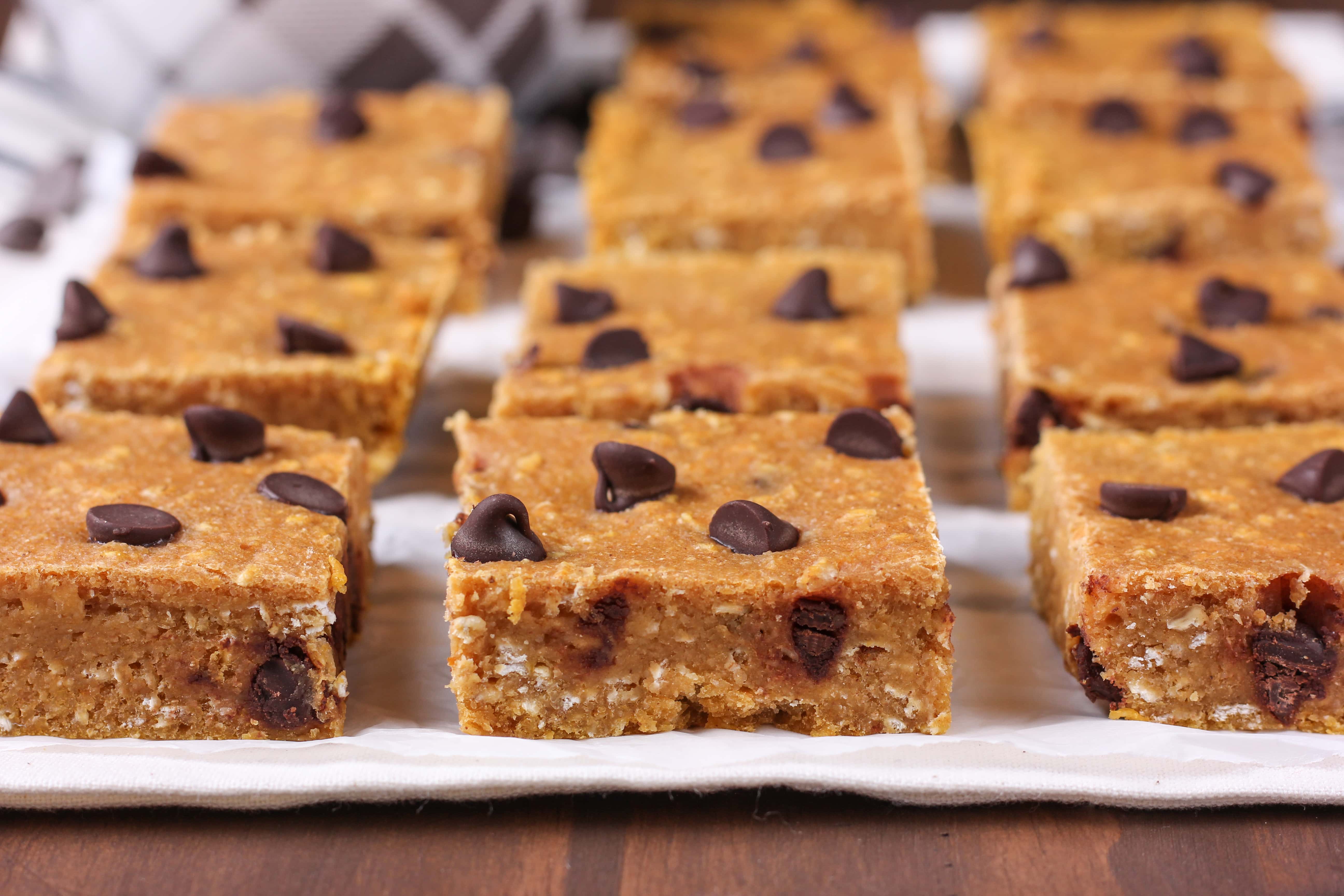 But, you can still enjoy the flavors of the season without overdoing it. These snack bars are a healthy way to enjoy pumpkin and dark chocolate!
Honey, maple syrup, and coconut oil add sweetness and healthy fats while binding the bars together so they don't crumble on your first bite. I couldn't resist throwing in some dark chocolate chips at the last minute.
Oats, whole wheat flour, and flaxseed make these bars substantial enough that you only need to have one or two, and you won't be starving an hour later! Plus, you know exactly what's in these snack bars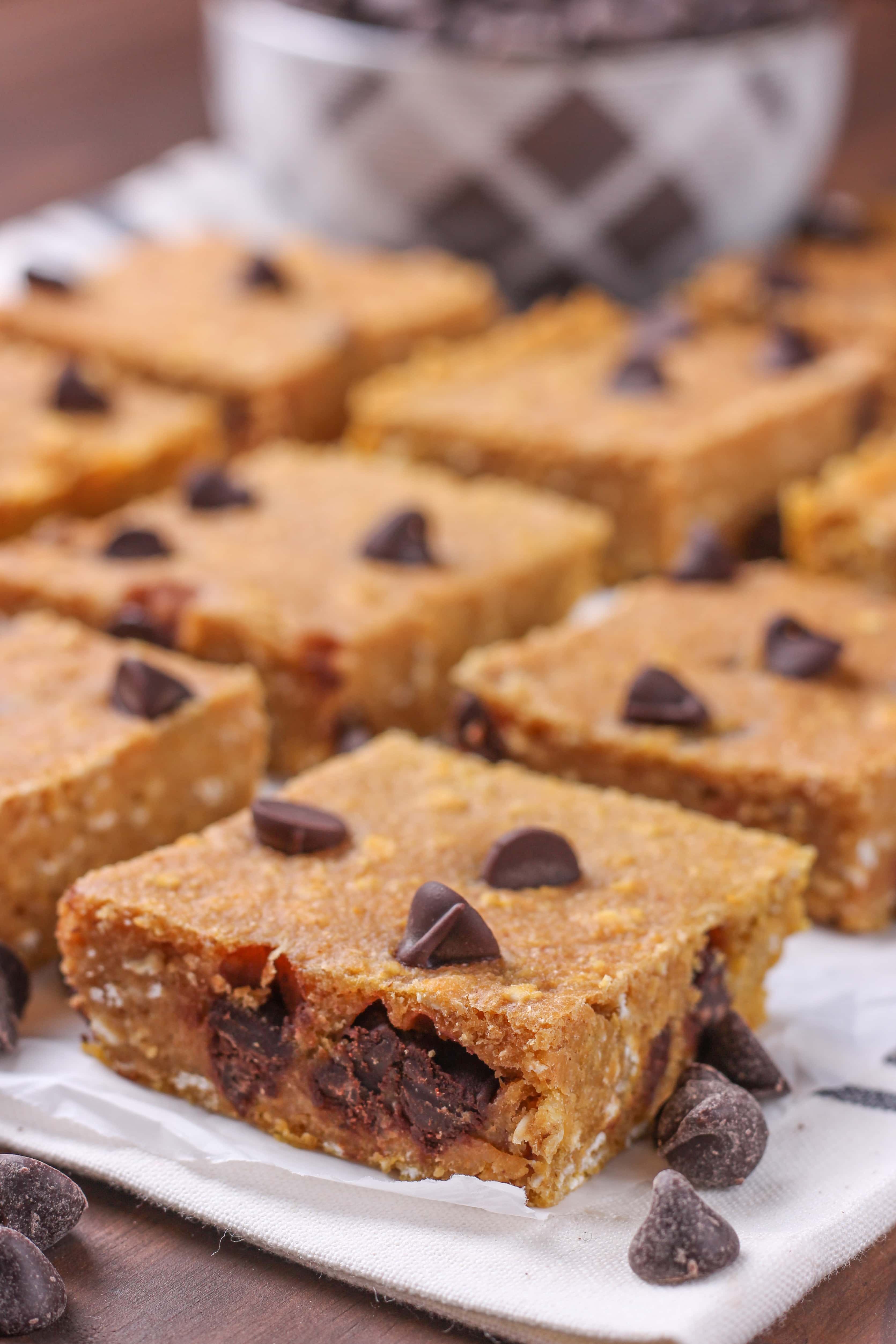 A few notes about these snacks bars:
They're snack bars. Not dessert bars. Therefore, they aren't as sweet as a pumpkin dessert bar. If you are looking for something sweet, you'll want to add a few extra tablespoons of honey or maple syrup.
Because of all of the moisture from the pumpkin, these bars store the best in the refrigerator.
They also taste best when eaten within a week.
And best of all? These bars are also super easy to make, so you don't need to take that much time out of your busy schedules to make them!
Chocolate Chip Pumpkin Snack Bars
Author:
Ingredients
1 1/2 C whole wheat or white whole wheat flour
3/4 C quick oats
1/4 C flaxseed**
1/2 tsp cinnamon
1/2 tsp baking powder
1/4 tsp salt
1/2 C milk of your choice
1/2 C pumpkin puree
1/4 C honey
1/4 C maple syrup
2 tbsp melted coconut oil
1 egg
1 tsp vanilla extract
1/3 C dark chocolate chips
Instructions
Preheat oven to 350. Spray an 8×8 inch baking dish with non-stick cooking spray.
In a large bowl, whisk together oats, flour, flaxseed, cinnamon, baking powder, and salt.
In a medium bowl, whisk together milk, pumpkin puree, honey, maple syrup, coconut oil, egg, and vanilla extract. Add wet ingredients to dry ingredients and stir until combined. Stir in chocolate chips.
Spread batter into prepared baking dish. Sprinkle with additional chocolate chips, if desired. Bake for 15-20 minutes, or until toothpick inserted in the center comes out clean. If you want a drier texture to the bars, you may want to bake for another 5 minutes.
Remove baking dish to a wire rack to cool slightly before cutting into pieces and serving.
Serve warm or at room temperature.
Notes
**You can use an additional 1/4 cup whole wheat flour in place of the ground flaxseed.